Surrounded by the clear blue Mediterranean, Palma de Mallorca really invites for a swim. And while a dip in the ocean is always special, sometimes you want to elevate your swimming to something more. Step in, Palma rooftop pools.
Here you find some truly amazing top floor swimming pools, many with views over the Mediterranean, meaning you get the feeling of swimming in the ocean while you are high above it.
The Rooftop Guide have assembled the ultimate list of the 5 best rooftop pools in Palma de Mallorca, perfect for long and relaxing days in the sun. Enjoy!
1.

Sant Francesc Hotel Singular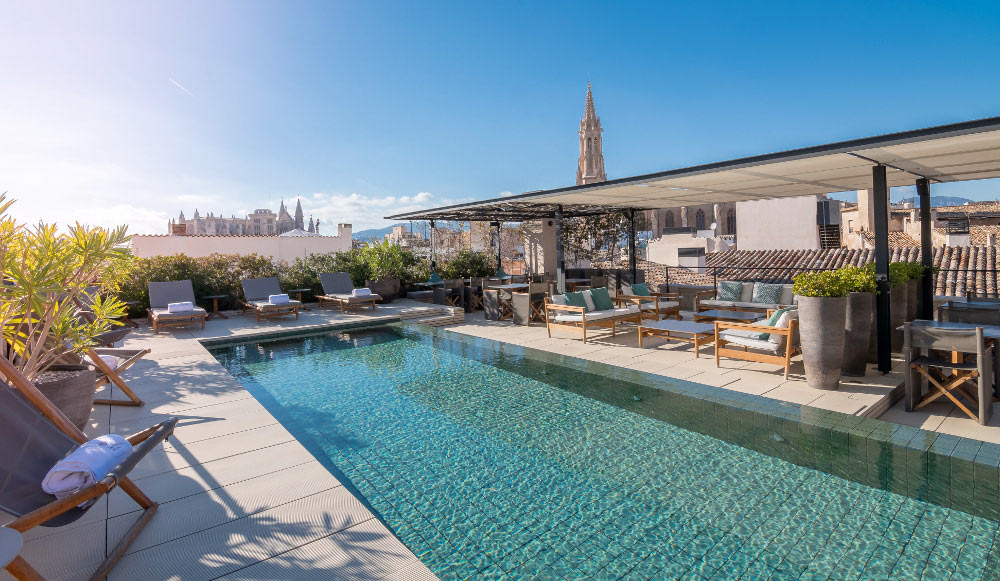 Rooftop pool Palma at Sant Francesc Hotel Singular | Photo: https://hotelsantfrancesc.com/
On top of the truly amazing Sant Francesc Hotel Singular you find the Singula Rooftop, a rooftop terrace that has everything you could ask for to relax and enjoy yourself.
With roughly 200 square meters of space, the Singular Rooftop Terrace boasts a beautiful rooftop swimming pool, poolside sun loungers, stylish and comfortable lounge sofas, and a large and well-stocked bar.
Up here, you can enjoy panoramic views of Palma's rooftops, as well as the nearby Sant Francesc Basilica, while enjoying delicious cocktails, a cold glass of champagne, and a sophisticated and relaxed atmosphere.
Though this rooftop terrace is exclusive to hotel guests during most of the day, it does open to the public at night, albeit only during the summer.
2.

NAKAR Hotel
Rooftop pool Palma at NAKAR Hotel | Photo: https://nakarhotel.com/
Located on the 9th floor of the beautiful NAKAR hotel, this rooftop terrace offers jaw-dropping sea views and a lovely place from which to watch the rest of the city.
Up here, you can enjoy stunning panoramas of Palma's Cathedral, the Bellver Castle, the port and the bay.
Though the rooftop isn't unusually large, it does feature a 12-meter infinity pool, an open sun terrace perfect for tanning, comfy sun loungers, and a rooftop bar.
The rooftop terrace and rooftop pool is open only to hotel guests during the day, making it an excellent choice for those trying to get away from the crowds and enjoy a relaxing atmosphere. At night, the ambiance picks up as the CUIT Bar and Restaurant one floor below also moves up to the rooftop, with modern music and refreshing drinks.
3.

Hotel Can Alomar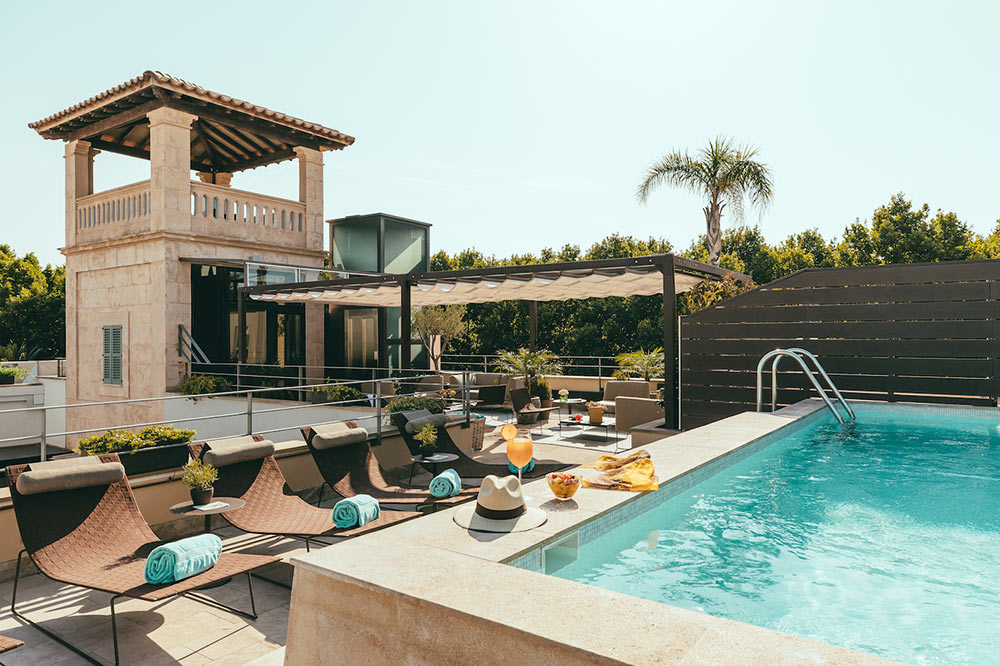 Rooftop pool Palma at Hotel Can Alomar | Photo: www.boutiquehotelcanalomar.com
Located in the heart of Palma de Mallorca, the fantastic Boutique Hotel Can Alomar holds both a top floor rooftop pool and spa, as well as a bit lower rooftop restaurant and bar.
The 4th floor Solarium Terrace is a veritable rooftop heaven. Home to the hotel's spa, this is an exclusive spot for guests, offering a jaw-dropping panoramic view of Palma, the Cathedral and the bay.
Up here you'll find the refreshing rooftop swimming pool, along with a large jacuzzi, pool-side loungers, and the spa proper.
The spa features several massage treatments, which can take place both indoors and outdoors.
The 2nd floor restaurant/bar is another special treat. Known as De Tokio a Lima, this two-story venue offers both indoor and outdoor seating and is open for lunch and dinner; as the name implies, it features flavors from Asia and South America, resulting in creative and healthy fusion dishes.
4.

HM Gran Fiesta
Rooftop pool Palma at HM Gran Fiesta | Photo: www.hmgranfiesta.com/
Gran Fiesta is well known for its quality service and excellent installations, and this beach-front property is no exception.
Offering jaw-dropping views of Palma and the ocean, as well as all-inclusive packages and incredible facilities, the Gran Fiesta may not be the most intimate hotel in Palma Mallorca, but it sure is one of the coolest.
Nowhere is this more obvious than in the hotel's infinity rooftop pool, where you can enjoy not only a swim but also spectacular views of the Mediterranean ocean.
Though small, the hotel's rooftop terrace is furnished with wooden floors and numerous sun loungers and lounge sofas for your comfort and enjoyment.
5.

El Llorenc Parc de la Mar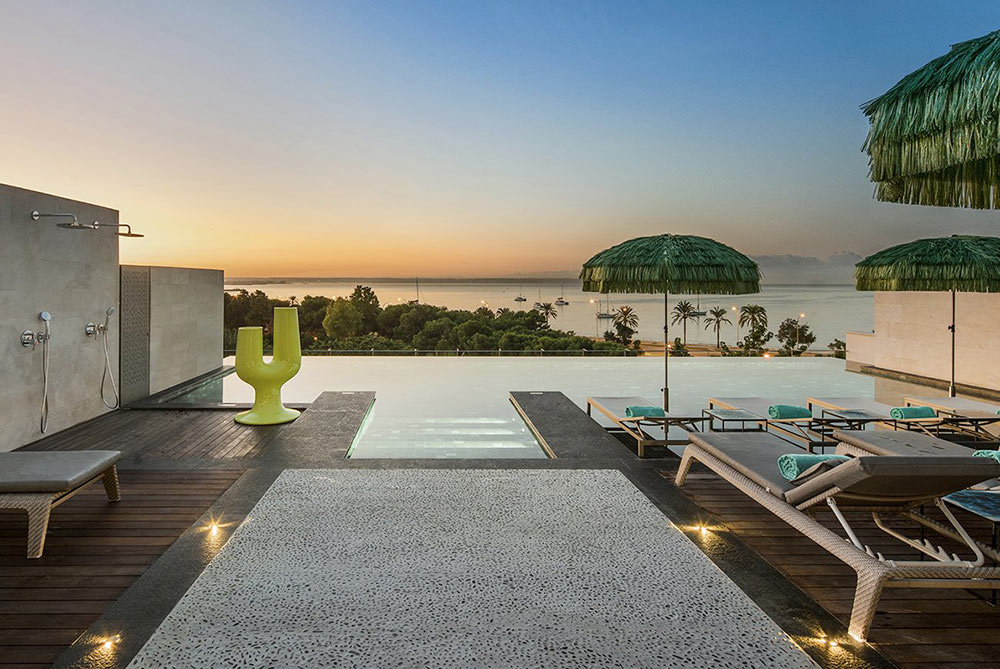 Rooftop pool Palma at El Llorenc Parc de la Mar | Photo: www.elllorenc.com
Found in the historic quarter of Palma, the fantastic hotel El Llorenc Parc de la Mar comes with an equally fantastic multi-level rooftop.
On the very top floor is a stylish rooftop cocktail bar available to all, but the lower level might be even better. Exclusive to hotel guests, here you find the longest rooftop infinity pool in Palma.
Surrounded with comfortable sun loungers, Balinese beds and amazing views over the ocean, the El Llorenc Parc de la Mar is a great spot to enjoy relaxing hours above the bustle of the city.