Widely known as the party island of the Mediterranean, Ibiza also comes with a sense of luxury. Which you really can get a taste of at the amazing Ibiza rooftop pools.
The perfect place to build up your energy for the evening, or just as perfect to spend a whole relaxing week under the Ibiza sun, these glittering infinity pools makes you feel both on top of the world and as one with the Mediterranean.
The Rooftop Guide have assembled the ultimate list of the 4 best rooftop pools in Ibiza. Enjoy!
1.

Aguas de Ibiza Grand Luxe
Rooftop pool Ibiza at Aguas de Ibiza Grand Luxe | Photo: https://aguasdeibiza.com
An innovative and ambitious eco-friendly hotel, Aguas de Ibiza brings comfort and style to a whole new level, providing guests with top-notch services, wonderful rooms, and a fantastic array of pools perfect for any occasion.
One of such pools? The fantastic infinity pool located right by the hotel's bar, which overlooks one of Ibiza's busiest harbors and the ocean.
Up here, you can enjoy delicious and fresh drinks, while watching the spectacle that is a sunset in Ibiza, all while relaxing to mellow tunes and a laid-back atmosphere.
The infinity pool is also complemented by another refreshing rooftop pool, so swimming with a view is almost offered at abundance here.
Rooftop pool Ibiza at Aguas de Ibiza Grand Luxe | Photo: https://aguasdeibiza.com
Each of the hotel's pool is equipped with the latest technology in photovoltaic rails, which coupled with the hotel's state of the art smart building automation makes for a system that saves both water and energy.
Truly an eco-friendly marvel!
All of the numerous pools, including the rooftop ones, comes surrounded with a variety of comfortable lounge sofas and sun recliners, as well as giant umbrellas for those guests eager to get away from the sun.
What's more, hotel staff is always making their rounds near the pools, eager to provide guests with food or drink of the highest quality.
2.

Belvue Rooftop Bar
Rooftop pool Ibiza at Belvue Rooftop Bar | Photo: www.amarehotels.com
Located on top of the fantastic Amàre Beach Hotel Ibiza, and overlooking the waters of the San Antonio bay, Belvue Rooftop Bar provides exclusivity and a laid-back atmosphere surrounded by impeccable taste.
Located right by the bar, the infinity pool gives you unparalleled views of the sea, and, coupled with the delicious ocean breeze you get up here, makes you feel like you're right there in the middle of it all.
The bar, stylishly designed and wonderfully stocked, offers international brands, exclusive champagne, excellent classic and signature cocktails, and a decent collection of wines.
The Amàre Ibiza hotel is adults-only, which means the atmosphere isn't only exclusive but also reserved: Up here, you can enjoy a relaxing splash and top-notch drinks without worrying about noise and crowds.
It's location, right by the beautiful Bou Cove, translates directly into stunning views, and some of the best sunset vistas you'll find in town.
3.

Bless Hotel Ibiza
Rooftop pool Ibiza at Bless Hotel Ibiza | Photo: www.blesscollectionhotels.com
A hedonistic destination from top to bottom, Bless Hotel aims to provide unforgettable sensory experiences from the moment you walk inside the hotel.
With peculiar architecture, a one-of-a-kind focus on water, beachfront vistas, and a private beach; Bless Hotel is both stylish and unique, the kind of destination that you need to experience to believe.
Nowhere is this more apparent than at the hotel's state-of-the-art infinity pools, where you can swim and refresh yourself while overlooking the beach and the ocean.
Lively music, expertly mixed cocktails, and unbeatable service make a visit to the Epic Infinity Louge an obligated must, and if that's not enough, wait until you find out about the food.
Mixing flavors of Asia and Latin America, the Infinity Lounge offers a stunning selection of ceviches, salads, dim sum, sashimis, tacos, and other exotic specialties made fresh with local ingredients.
Truly a visit you won't regret.
4.

Sol Beach House Ibiza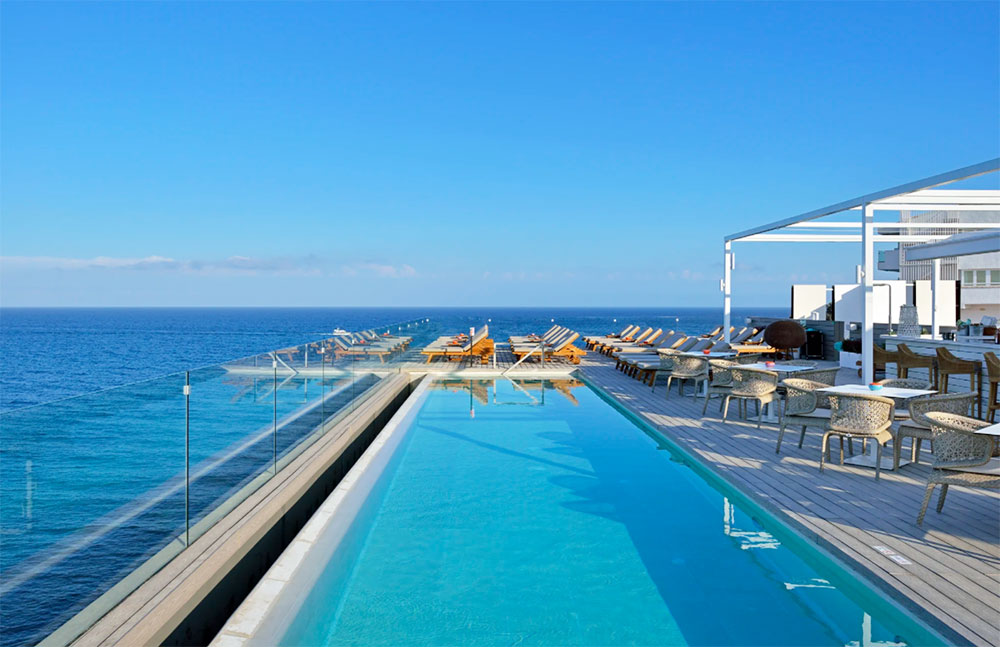 Rooftop pool Ibiza at Sol House Ibiza | Photo: www.melia.com
The house of the sun, as this hotel is called, is a well-known spot not only for its spacious installations and comfortable rooms but also for its grand rooftop terrace.
Occupying almost the entire span of the hotel's rooftop, Sol Beach House offers one of Ibiza's largest rooftop pools, and numerous seating options designed to accommodate large numbers of people.
One of three outdoor pools at the hotel, and also one of three offering views over the ocean, the rooftop pool is still the winner of the bunch, with some truly amazing vistas out over the Mediterranean.
As the Sol Beach House Ibiza is an exclusive adult-only resort, you can expect a premium and relaxing experience, right in the heart of a tropical paradise.