While Bali often is synonymous with amazing beaches, you should not miss the chance to elevate your swims even more. The best Bali rooftop pools will let you splash around right where the ocean meets the sky, all with breathtaking views over the tropical island beneath you.
Bali has some truly amazing infinity pools and rooftop pools. Not the highest ones in the world, but often integrated perfectly with the surrounding elements and the ocean, creating a fantastic setting. From glittering masterpieces on the Uluwatu cliffs, to vibrant poolside drinks in Seminyak.
The Rooftop Guide have assembled the ultimate list of the 10 best rooftop pools on Bali. Enjoy!
1.

AYANA Resort Bali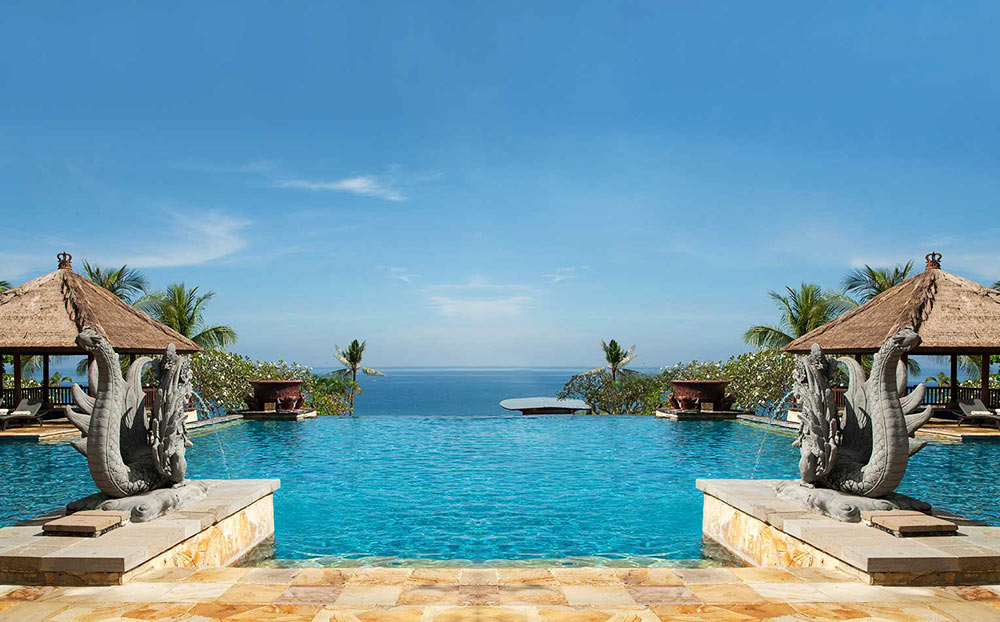 Rooftop pool Bali at AYANA Resort Bali | Photo: www.ayana.com
Home to not one but 12(!) swimming pools, AYANA Resort Bali in the heart of Jimbaran is truly heaven for anyone who loves swimming.
The true gem of the bunch is the two level main pool, with an infinity edge that really creates the feeling of connecting you with the ocean.
Available from early morning to after sunset for anyone staying at the hotel, the impressive rooftop pool comes surrounded with comfy sun loungers and generous umbrellas. There is also an international menu with tropical drinks and tasty bites, keeping you satisfied throughout the day.
2.

The Akmani Legian
Rooftop pool Bali at Akmani Legian | Photo: https://akmanilegian.com/
Located in the middle of Legian Street, one of Bali's favorite shopping streets, the 4-star hotel Akmani Legian offers an oasis of calm right in the hustle and bustle. Especially at the rooftop, with the H8S Sky Bar.
Found on the 7th floor, this modern rooftop bar features a minimalistic chic design, gorgeous views of Kuta Beach, and a relaxing ambiance that you're sure to appreciate. Best of all, it also features a crystal clear rooftop pool, which, coupled with the bar's wooden terrace and lush greenery, ensures visitors can get away from the hustle and bustle of the city even before they get their drink on.
As for drinks, expect local liquors, world spirits, cocktails, beers, and wines, as well as a small selection of bar bites in case you get hungry.
3.

Bisma Eight
Rooftop pool Bali at Bisma Eight | Photo: https://bisma-eight.com/
Found in the heart of Ubud, the fantastic hotel Bisma Eight offers an equally fantastic rooftop experience, including both rooftop bar and rooftop pool.
While the contemporary Copper Kitchen, Bar & Rooftop is open to all, the 4m x 18m infinity rooftop pool is an exclusive oasis for guests staying at the hotel.
Ovelooking the Ubud wilderness, here you can enjoy refreshing swims during the day, and unwind in the heated water during the colder evenings.
4.

MAMAKA by Ovolo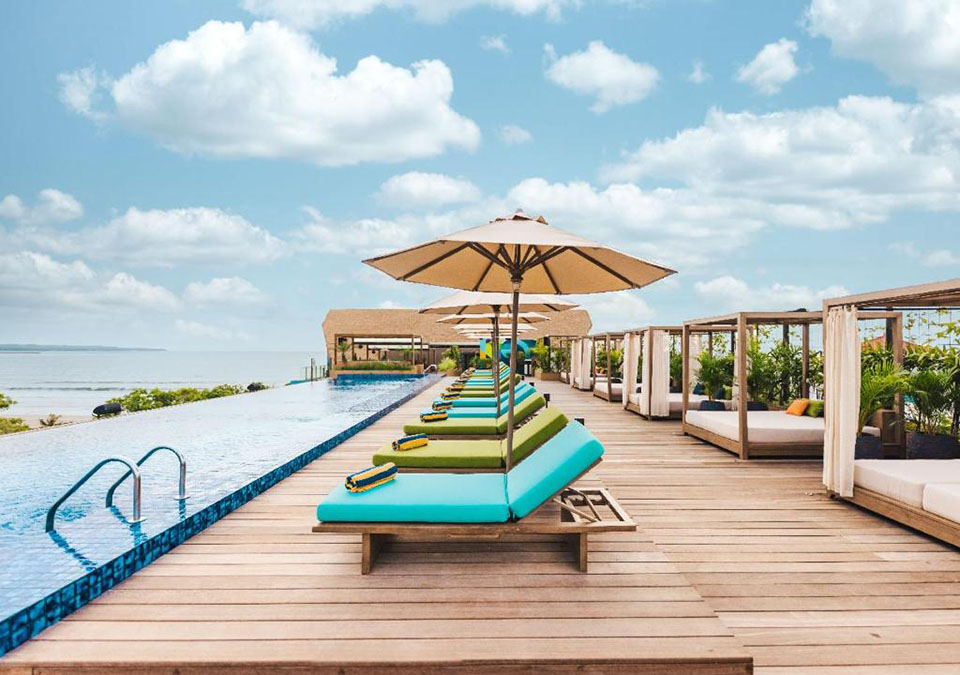 Rooftop pool Bali at MAMAKA by Ovolo | Photo: https://ovolohotels.com/
Located right next to Kuta Beach, MAMAKA by Ovolo is a luxurious beachside oasis, equipped with Bali's most exclusive rooftop pool club, where fun and flavour collide..
Called Kuta Social Club, the stylish terrace is set around a gem-blue rooftop infinity pool, surrounded with weeping views over Bali's western beaches and the ocean.
Apart from a glittering pool, the rooftop also holds plenty of luxurious cabanas, daybeds and comfy lounge spots.
Pretty much offering two experience, by day Kuta Social Club is a poolside retreat with beach club vibes, turning into a vibrant and social lounge and night, where you can toast to the sunset and DJ beats.
5.

Koa D' Surfer Hotel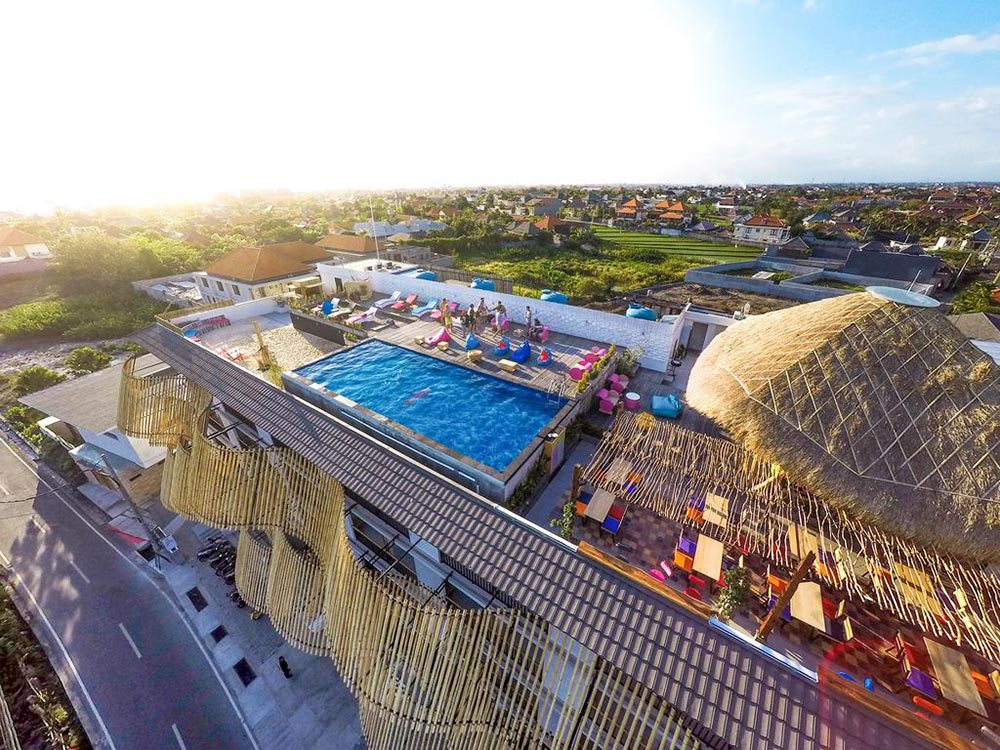 Rooftop pool Bali at Koa D' Surfer Hotel | Photo: www.koasurferhotel.com/
Located in the heart of Canggu, and overlooking the famous Brawa Beach, Koa D' Surfer Hotel is a beautiful retreat perfect for practicing yoga and surfing to your heart's content.
This philosophy extends to the hotel's rooftop bar, which offers spectacular views of the ocean and front-row seats to some of the world's most spectacular sunsets.
This spacious rooftop bar takes up the entirety of the hotel's roof and features a beautiful rooftop pool, numerous colorful sun loungers and a small 'indoor' area under a palm tree roof furnished with hammocks, where you can relax just as comfortably whenever you're not in the mood for sunbathing.
6.

Aryaduta Bali
Rooftop pool Bali at Aryaduta Bali | Photo: www.aryaduta.com
Situated close to Bali's most renowned attractions such as Kuta Beach and some of upmarket shopping malls, Aryaduta Bali holds a great location, as well as a great rooftop.
At the Rooftop Pool Ba you can enjoy your favorite drink and snack while overlooking the great Kuta beaches and Indian Ocean, or swim up to the bar and enjoy your beverage inside the refreshing rooftop pool.
7.

U Paasha Seminyak
Rooftop pool Bali at U Paasha Seminyak | Photo: www.sbe.com
U Paasha Hotel is not only one of the most luxurious and exclusive hotels in Bali, but it's also home to one of the island's largest rooftop pools.
Surrounded by stylish day beds, comfortable bean bags, and giant cushions, U Paasha's rooftop pool is the hotel's relaxation center, a peaceful location to relax and enjoy yourself while overlooking the ocean and witnessing Bali's legendary sunsets.
Located on a 4th floor and open only to hotel guests, the rooftop pool deck also serves as an urban oasis of sorts, as its close location to one of Seminyak's most famous restaurant streets puts you close to the action while giving you a place to get away from the crowds.
Speaking of restaurants, the terrace also offers lunch and dinner options available to all, mixing local cuisine with international flavors, as well as an all you can eat buffet, though the latter only takes place three times a week.
8.

de Vins Sky Hotel
Rooftop pool Bali at de Vins Sky Hotel | Photo: https://devins-sky.com/
Another fantastic Seminyak rooftop pool, de Vins Sky Hotel features unrestricted views of the ocean and the beach, as well as comfortable sun loungers, giant umbrellas, and mouthwatering meals.
The de Vins Sky Hotel's location in a private cul-de-sac of Jalan Petitenget ensures the exclusivity of the area. If that wasn't enough, the hotel's guest-only policy seals the deal.
The infinity rooftop pool is one of the largest in Seminyak, spanning most of the rooftop terrace it's located on, and though the entire area is al-fresco, perfect for sunbathers, the terrace also features a small shaded area for when you want to get away from the sun.
Up here, you can also find BLU Sky Restaurant Bar, an al-fresco dining offering featuring Asian and International fare, and featuring a small but beautiful library corner, perfect for those looking for a more relaxed setting.
9.

The Kuta Beach Heritage Hotel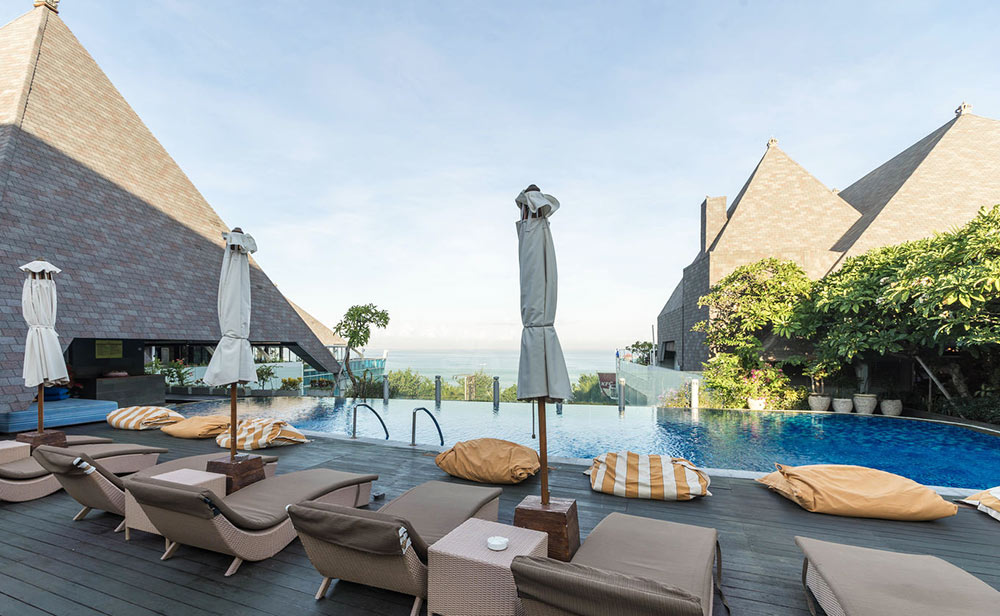 Rooftop pool Bali at The Kuta Beach Heritage Hotel | Photo: https://all.accor.com/
Located right next to the Kuta Beach coastline, this luxurious hotel boasts jaw-dropping views of the world-famous beach, as well as the ocean. This goes double for Kuta Beach's rooftop bar, where you can enjoy the stunning views while sipping a refreshing cocktail.
Numerous luxurious daybeds surround the smashing rooftop infinity pool and give guests front-row seats to Bali's glorious sunsets, and the rooftop bar makes sure guests enjoy their visit with both classic and signature cocktails, ice-cold beers and world spirits.
The rooftop's laid-back atmosphere makes it an ideal location for those looking to relax, but that's far from the only thing this gorgeous hotel has to offer.
Kuta Beach Heritage is a family-friendly hotel, featuring 159 marine-themed rooms and numerous kid-friendly activities, as well as state of the art wellness facilities specializing in full-body massages and invigorating treatments.
The hotel is located in the Kuta Beach strip area, meaning you'll be steps away from malls, restaurants, art galleries, and more.
10.

MaxOne Hotel at Bukit Jimbaran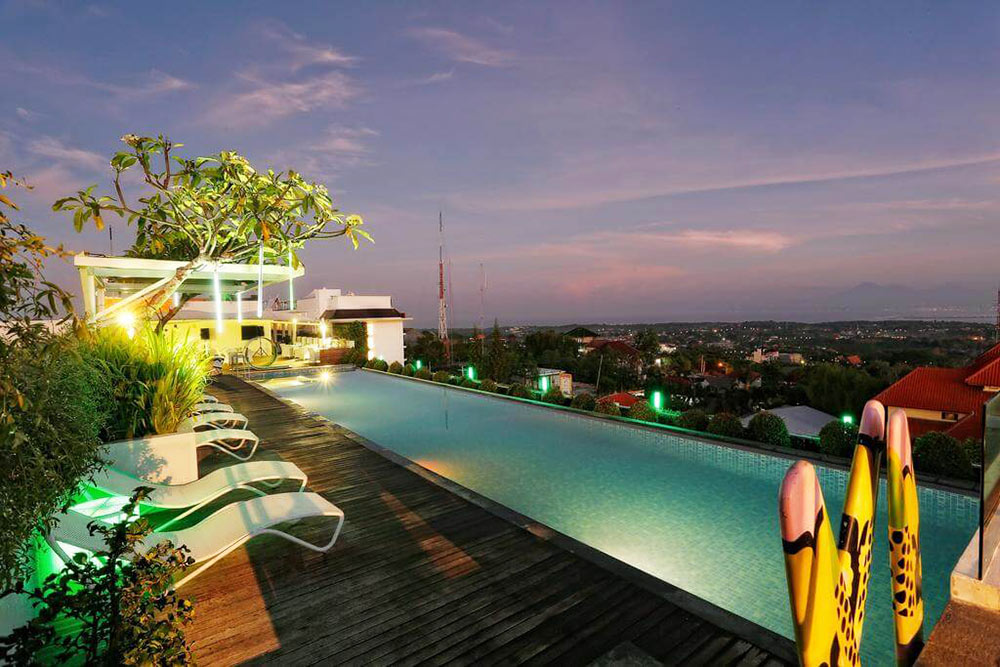 Rooftop pool Bali at MaxOne Hotel at Bukit Jimbaran | Photo: www.maxonejimbaranbali.com/
MaxOne Hotel offers one of the tallest rooftop venues in Jimbaran, which features a beautiful and comfortable infinity pool, a sense of privacy and gorgeous views of the city.
Next door to the pool is Skymax Rooftop Bar, which above all else is a cozy bar where you can get away from the crowds and enjoy refreshing drinks with a sense of privacy.
Its location near the Jimbaran Beach and the Ngurah Rai International Airport makes it a particularly popular spot amongst local, and while the bar has a relaxed atmosphere most of the week, it turns into a popular party spot every Saturday, so make sure to dress to impress.