Best infinity pools in Santorini
Published: March 14, 2017
Infinite sky, infinite beauty – a breathtaking experience only an infinity pool on a rooftop deck might give you.
Here are the 5 best infinity pools in Santorini, Greece.
1. Aenaon Villas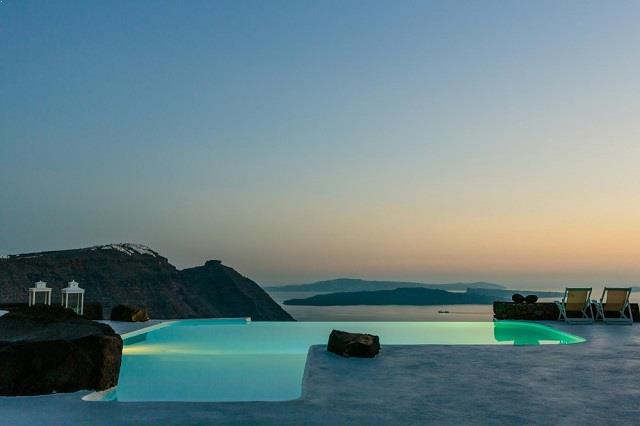 Photo: http://tripadvisor.com
Often described as "heaven on Earth", the Aenaon Villas open the gates for new adventures and a whole new level of relaxation and rest. The beautiful infinity pool in Santorini brings a heart-capturing feeling of joy and happiness.
The friendly staff shall serve you fresh juices and seasonal food, while you challenge your senses during the majestic sunset over the infinity pool.
Website: http://www.aenaonvillas.gr/
2. Pezoules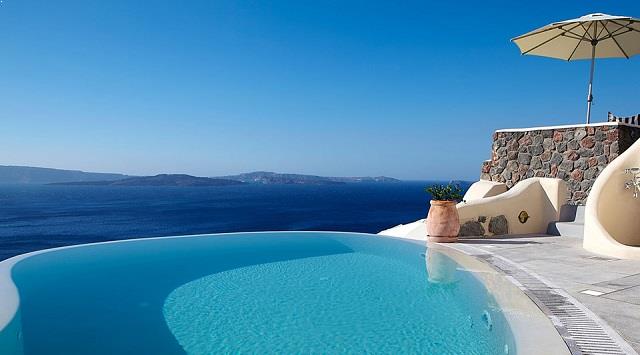 Photo: http://www.pinterest.com
The beauty and charm of Santorini can be easily recreated through this simple in design, but rich in senses and experience boutique hotel. The typical Greek atmosphere is accompanied by delicious seasonal treats and fresh drinks.
Bring some sunscreen with you, because the Greek sun is hot and you will be tempted to not leave the sunny pool throughout the day.
Website: http://pezoules.gr
3. Chromata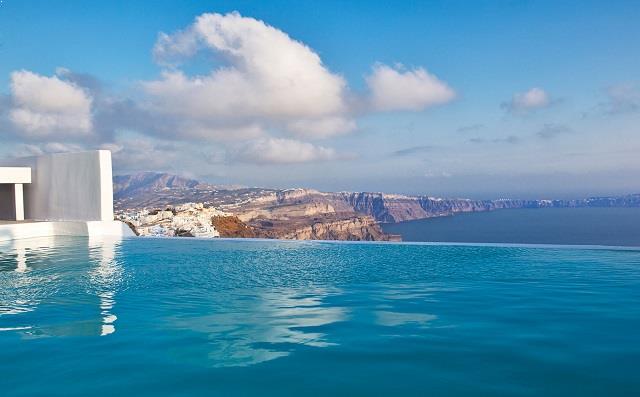 Photo: https://www.katikies.com
Chromata is your typical modern Greek hotel. The beautiful and clean design reminds of a minimalistic pattern, while the cleanness of the rooms lets you experience the typical Greek surrounding. The hospitality of the staff shall make your stay a nice and pleasant experience, while the picturesque view, overlooking the near islands, will let you turn off from your daily duties and switch to a fully-functional vacation mode.
Chromata Hotel provides a bunch of joyful experiences, including a wonderful list of relaxing spa procedures and a gastronomic adventure with typical Greek cuisine and fine wine.
Website: https://www.katikies.com
Collaboration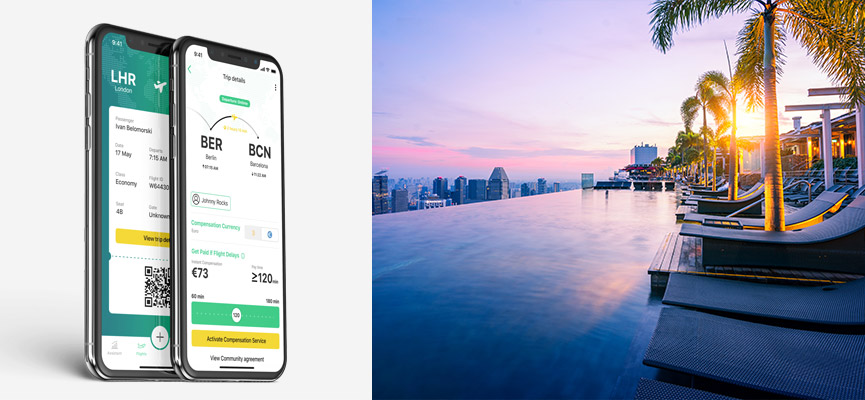 Smart travel
Colibra is a new app that gives you compensation EVERY time.
4. West East Suites
Photo: http://westeastsuites.com
The West East Suites bring the infinity pool experience to another level. This boutique and chic vacation accommodation provides the visitor with unique interior design, accompanied by one of a kind personal infinity pool, overlooking the beauty of the Greek island Santorini.
The staff is there to make your stay as good as possible, while you can enjoy a relaxed and fresh breakfast on your room's private terrace.
Website: http://westeastsuites.com
5. Perivolas
Photo: http://www.perivolas.gr/
Magnifique. This is probably the simplest way to describe the beauty of Perivolas The endless horizon meets up with the clear still water of the endless pool. Your stay is guaranteed to be great by the friendly professional staff.
While spending time on the beautiful island, and definitely enjoying the moment in one of the best infinity pools in Santorini, you can as well book an appointment for a spa procedure, hit the gym for a proper workout or explore the nearby island on a boat tour.
Website: http://www.perivolas.gr/