Found on the south west corner of the iconic Leicester Square, the luxury design hotel The Londoner is an urban resort, and the world's first super boutique hotel.
Here, a perfectly engineered collection of spaces, tastes and textures is brought to life over 16 storeys. Home to 350 exquisite bedrooms and suites, it is a prime destination for a memorable London stay, but with six concept eateries and bars, also for a memorable London dining experience.
From tavern to rooftop bar, we will take you through the whole culinary experience at The Londoner.
Whitcomb's
Whitcomb's
Inviting to a corner of the French Mediterranean, Whitcomb's at the Londoner captures a sense of tradition and modernity in the heart of the West End and Soho.
Serving lunch, pre-theatre and à la carte dining, the restaurant offers contemporary French cooking, with influences from surrounding Mediterranean cuisines, where the simple yet elegant cuisine is prepared using carefully selected seasonal ingredients.
During spring 2023, Whitcomb's launched a new à la carte menu of seasonal fine dining French classics and sharing dishes, intended to be enjoyed over working lunches and dawn-out dinners.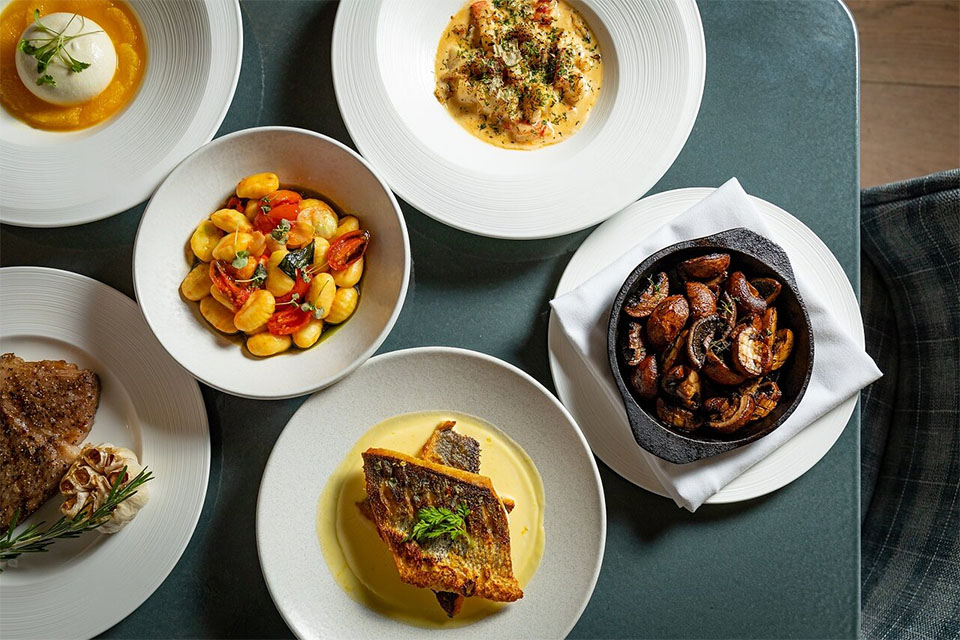 Whitcomb's
The menu features small plates such as Steak tartare, Yellowtail carpaccio, and Thinly sliced octopus with lemon and green chili dressing. Larger dishes include fresh pasta, such as Lamb tortellini in Parmesan brodo, Linguine au homard, with seared lobster and San Marzano tomatoes, as well as A5 Wagyu rib-eye steak, fresh off the grill.
There is also a dessert menu with a steady stream of French sweet treats, and the food is accompanied with a reserve wine list that explores a coveted collection of wineries from across the world, paying special homage to the terroirs of France.
While reservations are recommended, Whitcomb's also reserves a small number of tables for walk-ins. And during summer, the stylish interior dining room is complemented with an outdoor terrace, presented (summer 2023) in association with Gusbourne – England's most awarded sparkling wine. Every year, there's a new partnership.
WHITCOMB'S
Reservations: +44 20 7451 0167 / reservations@whitcombs.co.uk
Opening hours: Lunch: Mon-Fri - 12:00-14:30 / Sat & Sun - 12:30-14:45 | Dinner: Mon-Sun - 17:00-22:00
Joshua's Tavern
Joshua's Tavern
Situated in the corner of The Londoner, with both street access and access from the hotel lobby, Joshua's Tavern is a neighbourhood tavern that meets speakeasy gin apothecary.
A new hub for the creative communities around Leicester Square, Joshua's Tavern specialises in terroir led gin and tonics, a beverage favoured by the venue's namesake, 18th-century portrait artist and Leicester Square local, Sir Joshua Reynolds.
Designed by Yabu Pushelberg, the venue is welcoming and characterful, featuring exposed copper tanks on the ceiling, full to the brim with fresh beer, wide glass panelled, exterior doors - which allow guests to sprawl out onto the streets in sunnier months, drinks resting on the wide bronze outer ledge - and concertina windows which can be pulled back to let the sunshine and buzz of Leicester Square seep in.
Joshua's Tavern
The drinks menu features over 50 regionally sourced gins, with each going through a five-stage matching process. Overseen by The Londoner's Specialist Beverage Team, each match includes a unique combination of garnish, house-infused bitters and tonic, to harmonise, elevate and compliment the botanicals, led by the nuance of the spirits' terroir.
Offering the opportunity to try early expressions of dry gin, there is also a selection of vintage gins available, with some dating back to 1950.
Joshua's Tavern also offers a selection of copper tank beers, wines and a considered selection of other spirits. To complement, a selection of "Tavern Tid-Bits" including Roquefort-filled biscuits and 'nduja and taleggio pastry bakes lend themselves to the food menu, to be shared amongst locals and visitors alike.
Championing Leicester Square's historic position as a hub of entertainment, art and music, Joshua's Tavern also boasts a curated lineup of live musicians every Thursday and Friday evening.
The Stage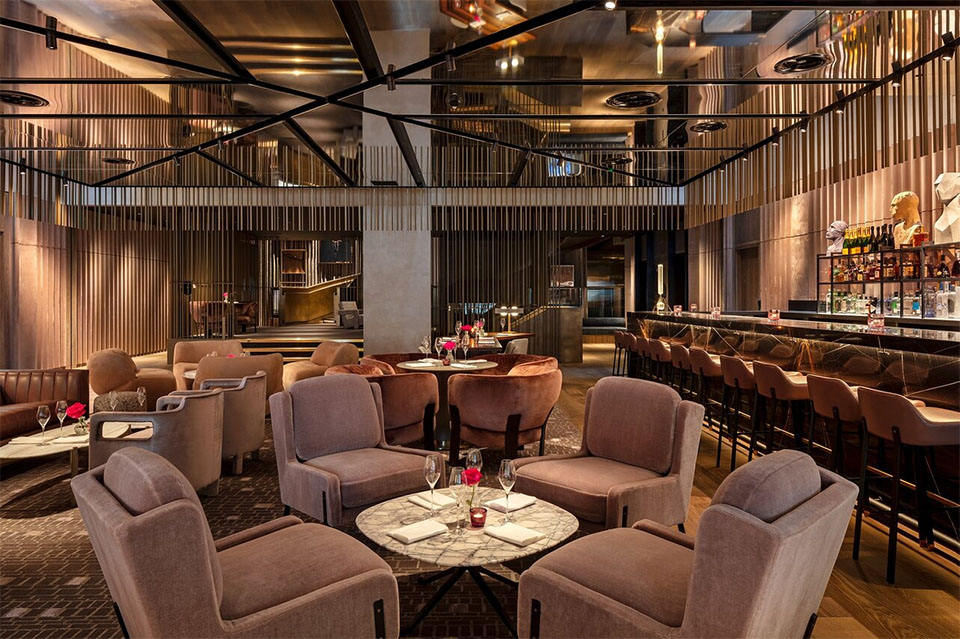 The Stage
Radiating from the lobby of The Londoner, The Stage features an all-day programme of menus centred around the luxury, glamour, elegance and sophistication of its headliner, Champagne.
The Stage's offering brings about a fusion of classicism through coveted vintages, prestige cuvées, and the finest ingredients with a cosmopolitan and modern attitude, fitting of The Londoner's central London location and state of the art design.
The Stage's Champagne Breakfast begins the day: Served from 8am, early risers are invited to take a seat in the warm surroundings and enjoy a selection of dishes from the breakfast menu, each expertly paired with a recommended Champagne. These include scrambled eggs and caviar, and king crab omelette. For those seeking a fleeting breakfast, The Stage's viennoiserie cart will be wheeled from table to table, piled high with patisseries that include pear and cinnamon brioche; and black truffle and Parmesan roll.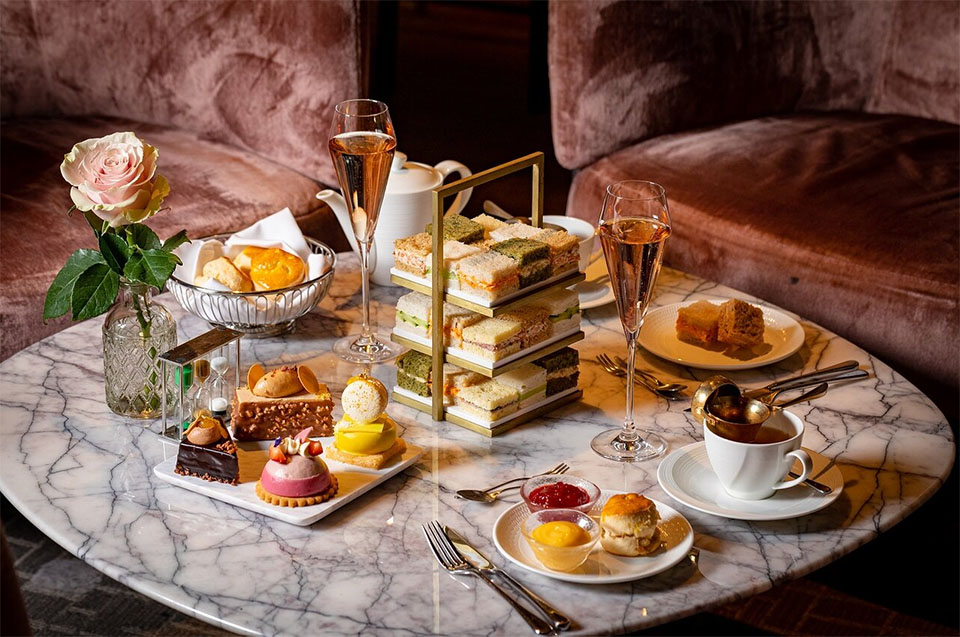 The Stage
Following a short interval, Act Two at The Stage commences with a Champagne Afternoon Tea. Created by The Londoner's Executive Chef, the Afternoon Tea brings together traditional dishes and the chef's contemporary style, with savouries including smoked salmon and Devon crab with yuzu kosho crème fraîche, served alongside freshly baked plain and sultana scones, complemented with Cornish clotted cream, homemade strawberry preserve, and bergamot curd. To finish, guests can choose two artisanal delicacies from the pastry trolley, each created by The Londoner's Executive Pastry Chef, Sarah Mountain.
As night draws in, lights will dim and The Stage's Grand Finale will commence. The Grand Finale sees tables dressed with the most luxurious of rarities, including seasonal rock oysters, Oscietra and Beluga caviar, charcuterie, and artisan cheeses, once again complemented by Champagnes from The Stage's informed list of cuvees, and a selection of Champagne cocktails.
The Stage also offers live entertainment on Thursday & Friday evening and Saturday & Sunday during afternoon tea service.
THE STAGE
Reservations: +44 20 7451 0139 / thestage@thelondoner.com
Opening hours: Act One - Champagne Breakfast - 8:00-10.30 | Act Two - Champagne Afternoon Tea - Sat-Sun: 12:00-16:00 | Grande Finale - Champagne Bar - Sun-Wed: 12:00-00:00 / Thur-Sat: 17:00-01:00
8 at The Londoner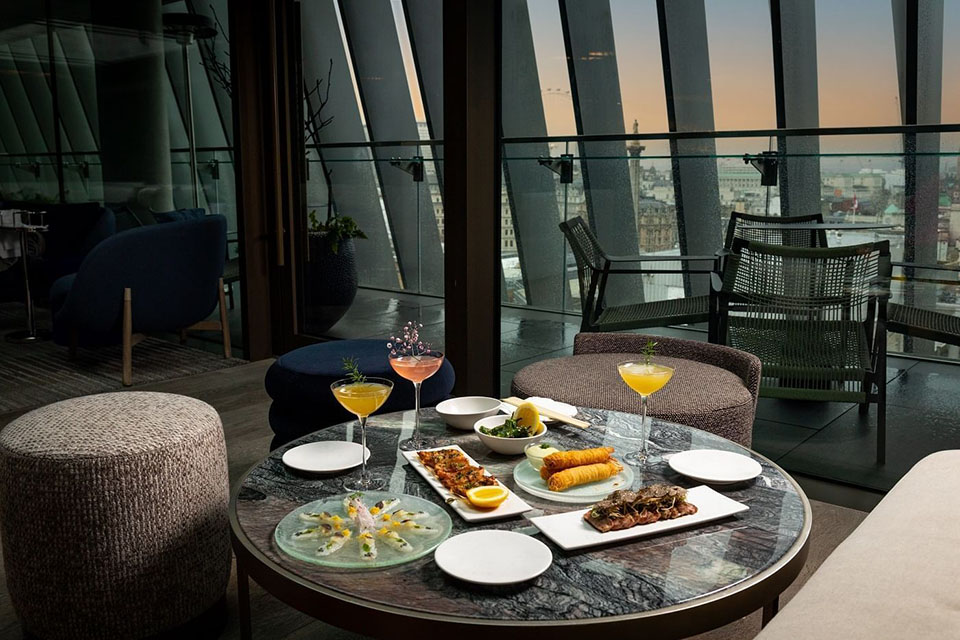 8 at The Londoner
8 at The Londoner, the rooftop izakaya bar at the top of The Londoner Hotel, brings a palette of world-class modern Japanese cuisine, innovative mixology and dramatic design to the English Capital.
A place to see and be seen, 8 at The Londoner showcases an expertly curated blend of the finest dishes made with traditional techniques and a truly sparkling cocktail list, all overlooking London's most iconic neighbourhood.
Very much the jewel at the top of The Londoner's crown, 8 at the Londoner is a mesmerizing space, comprising of a bar, terrace and Izakaya Lounge – designed by Yabel Pushelburg to be a simultaneously dramatic and refined space in Shima garden, that reflects the striking London skyline it's set against.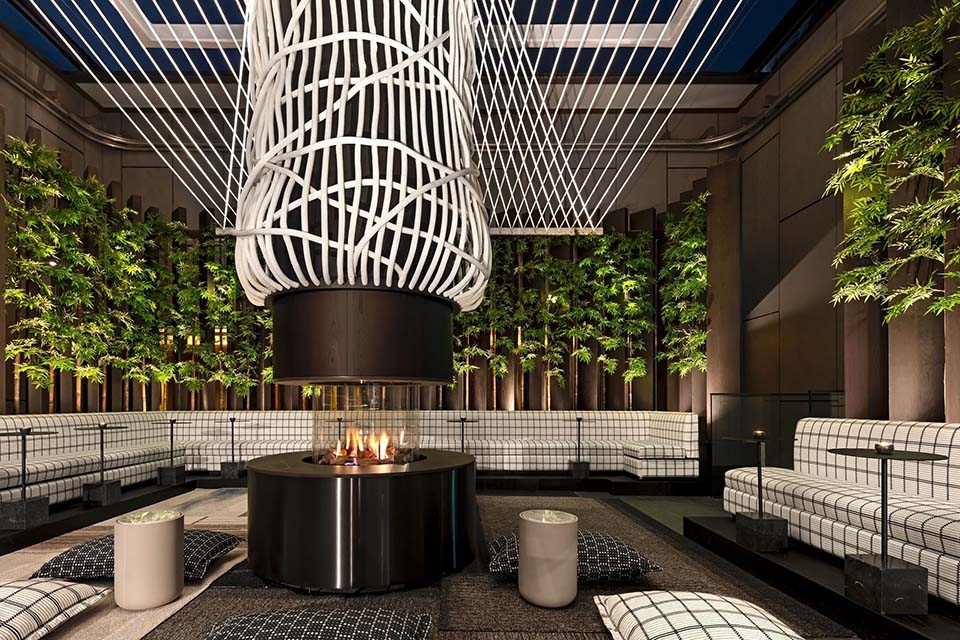 8 at The Londoner
Coordinated by The Londoner's Head Chef, Kuenhi Won, menus at 8 at The Londoner offer Japanese dishes, created with simplicity and finesse. Indoors, an a la carte menu filled with light bites created for sharing, features small eats such as grilled padron peppers with ama miso and lemon butter, Wagyu with Gorgonzola dolce crème and baby chicken roasted with lemon and miso butter. A Moriawase section with tartare, sashimi and sushi is also available.
Out in the lush and year-round Shima Garden, a more refined selection of small eats is available alongside an extended cocktail list. Dishes include sea bass carpaccio with Fuji apple, citrus and black sea salt and beef tataki with black truffle ponzu, alongside a delicious selection of gyoza tacos, including the chef's signature grilled lobster with chilli and cilantro.
Equally as important as the food, drinks lists at 8 at The Londoner are excellently put together to include an impressive Champagne and wine selection as well as a list of reserve sake, and Japanese whisky.
In addition, 8 at The Londoner offers an exciting and explorative selection of cocktails created by the Londoner's Head Mixologist, Peirpaolo Schirru. Whether you are opting for a Lychee Rose Martini or a non-alcoholic Calamansi Mojito, there is something suitably creative to fit everyone.