The idea was founded in 2006 by two Belgian entrepreneurs who had a childhood dream to be able to dine up the air. Their dream is now available in over 45 countries around the world. From the day everything started, they have organized over 5,000 dinners up in the air. Where each event has been unique.
Or what about a Michelin chefs who cooked food in Monaco, poker tournament in Jerez with snacks, a beach bar in the sky, opera in the sky in London and an Internet cafe in Las Vegas. The concepts changed and here you can experience most things at a high altitude.
The whole thing has been observed in a variety of major media companies and sky dinners have been arranged at some of the coolest places on earth. Or what about on The Strip in Las Vegas, Copacapana in Rio, Dubai Marina, among the historical relics in Rome, in Cape Town and in many more places.
There are two words that control the whole concept. Exclusivity and Safety. Customers can participate to determine what should be done in the air. Business meetings, dinner, concert, etc. It's all about exclusivity. In collaboration with its partners around the world, they do everything to have the best possible security at all its events.
Innovation is also one of the key words. Here, customers can decide what dreams they want to experience. New ideas are hatched all the time and the concept develops at regular basis. But still the most popular thing to do is to eat and drink up here.
Being able to take a glass of Champagne with good friends high up in the air while looking out over the magnificent views are something most people dream about.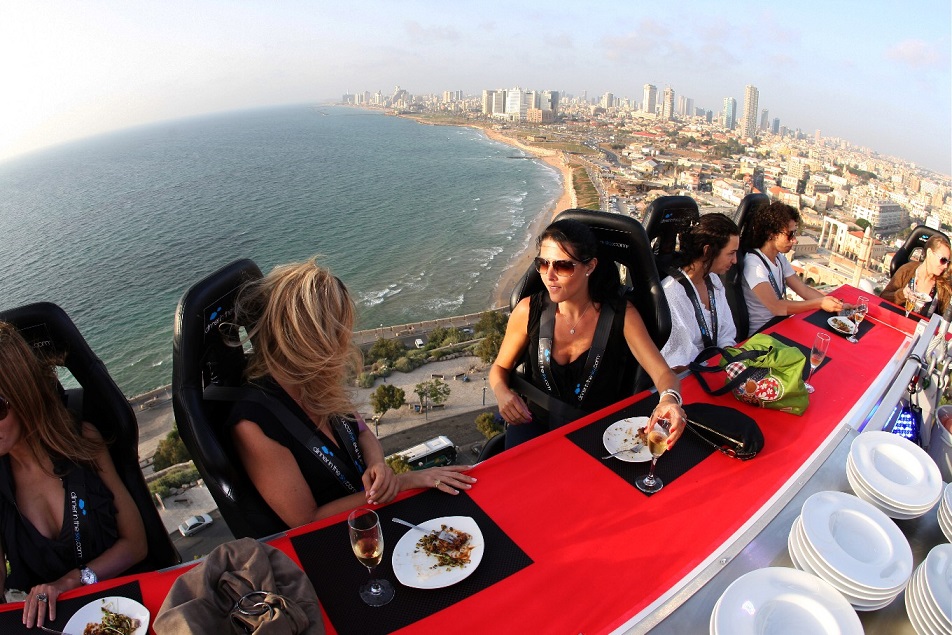 Here you can read more about Dinner in the Sky.
How cool than the concept sounds we rather prefer a mighty rooftop bar where you have the freedom to move around how you want. And how do you do, for example, if you need to go to the bathroom in the air?