Are you into yoga? If you are, and you are also an avid traveller, then yoga at rooftop bar might be the best mix you can experience while taking a break from your everyday hectic agenda. We have a bunch of awesome ideas of how to spend a great, relaxing and peaceful morning 10-15 stories above the ground in the heart of the largest cities in the world. So let's dive in!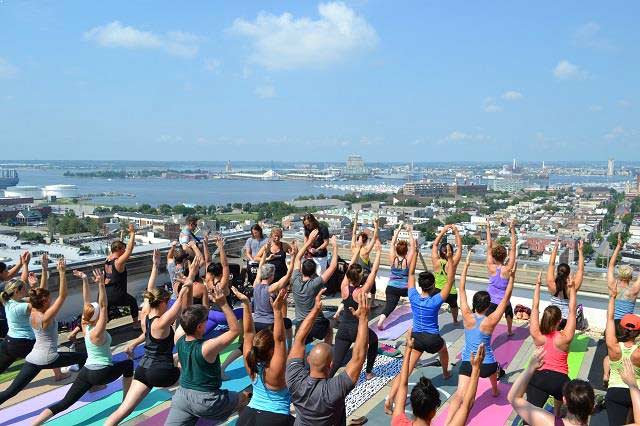 Rooftop Yoga | Photo credit: www.sunshineandthebear.com
1. Z Hotel, NYC
Yep, right in the heart of the Big Apple, this hotel's rooftop turns into a yoga heaven for all the visitors that have reserved their spots. Located in Queens, it's your favorite local spot to grab a drink or simply chill while stretching on your yoga mat.
2. Yoga at Dalston Roof Park, London
A secret yoga club has popped recently. It's called, well... "Secret Yoga Club" and it's likely to become the hottest thing on the menu for the upcoming months of preparation for that bikini body everybody seems to be talking. Right in the center of the busy British capital, Secret Yoga Club introduces the best way to relax after indulging on some guilty pleasures during the weekend.
3. Yogarise, London
Again in London, but this time on the top of Bussey Building, Yogarise mixes up the best cocktail of chill and yoga, while overlooking a nice patch of London.
4. The Hotel of South Beach, Miami
It's hot, it's sunny. It's Miami. And the hottest and sunniest spot to take a yoga class is the Hotel of South Beach. It's rooftop yoga is reserved for Saturday, but if you still want to enjoy a great day sunbathing and sipping on some nice cocktails, join the old Art Deco baristas on the rooftop of the famous building. Be sure to give their pool a proper swim before you go.
5. Palomar, San Diego
Luxurious feel, great view and a list of fascinating cocktails is what you can find if you join Palomar's baristas for a quick drink after work. But what's hidden is their rooftop yoga, that introduces you the secrets of relaxation and flexibility. With a very themed zen surrounding and minimalistic design, you get the vibe instantly your foot crosses the terrace.
6. London West Hollywood, LA
With its 200 specious rooms, London West Hollywood is a favorite spot for a lot of celebrities to crash at. One of its beautiful features is the rooftop, where a regular yoga class is being held on weekend mornings.