Sydney, the largest city in Australia, has numerous places to go and have some good time. And it definitely warmly welcomes the yoga culture that has been trending worldwide during the past two decades.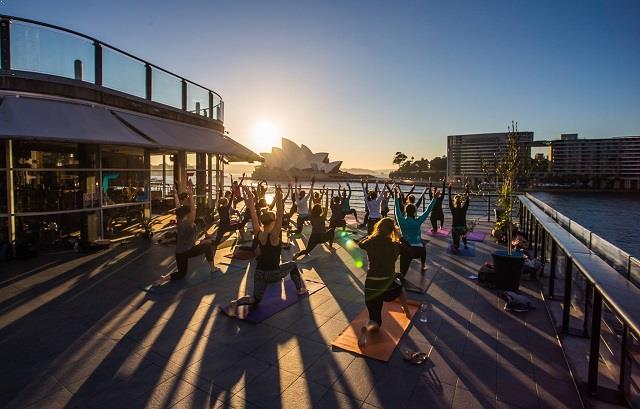 Photo: https://events.ticketbooth.com.au
Where to go for a lovely yoga class in the hot Australian city? Here's our list of the best places for some rooftop yoga Sydney.
And if you don't feel like doing yoga, you can always visit any of the best Sydney rooftop bars.
1. Sunrise Rooftop Yoga
The early sunrise, accompanied by a good stretch, is a wonderful escape from the everyday madness. It is now possible, under the hot Australian sun, on the top of Sunrise Rooftop Yoga. Book your place and enjoy a relaxing and stress-releasing yoga session, while overlooking Circular Quay.
Website: http://www.haveyouheardevents.com/sunrise-rooftop-yoga-tickets
2. Rooftop Yoga at Sydney Community College
If you are a student, and your schedule is full of studying sessions, internships and a full-blown madness in between appointments and meetings, stop for a yoga class at Sydney Community College. The guaranteed outcome will bring you joy and strength, both for your body and your mind.
The college holds classes for beginners too, if yoga is a completely new adventure you are willing to explore.
Website: https://www.sydneycommunitycollege.edu.au
3. Rooftop Yoga at Greenwood Plaza
Hosted atop Greenwood Plaza, these wonderful rooftop yoga classes help you stretch, relax and improve your flexibility and body strength. Rooftop Yoga, as well as most yoga studios, encourages visitors to bring their own yoga mat, as well as sunscreen and sunglasses.
Website: http://www.greenwoodplaza.com.au/
Apparently, rooftop yoga is becoming a thing. The Glenmore introduces a rooftop yoga class in Sydney that is suitable for yoga admirers in town. The morning view overlooking the Sydney Harbor, accompanied by calming music and the fantastic guidance of the qualified yoga instructors will turn the simple morning into morning bliss to hold on to.
Website: http://theglenmore.com.au/
5. Rooftop Yoga, Hard Candy Fitness
Hence it is popular, rooftop yoga is not to be practiced like Zumba or fitntess. There are only a handful of places in Sydney, where you can truly indulge on that mystic art of putting your mind in completely peace. Rooftop Yoga at Hard Candy Fitness is a great way to chill after an intense cardio workout.
Bring a friend and your own yoga mat. It's worth it.
Website: http://www.hardcandyfitness.com/