San Diego is the second largest city in California and the eight largest one in the States. It is busy, it is alive, and it definitely has its own groove.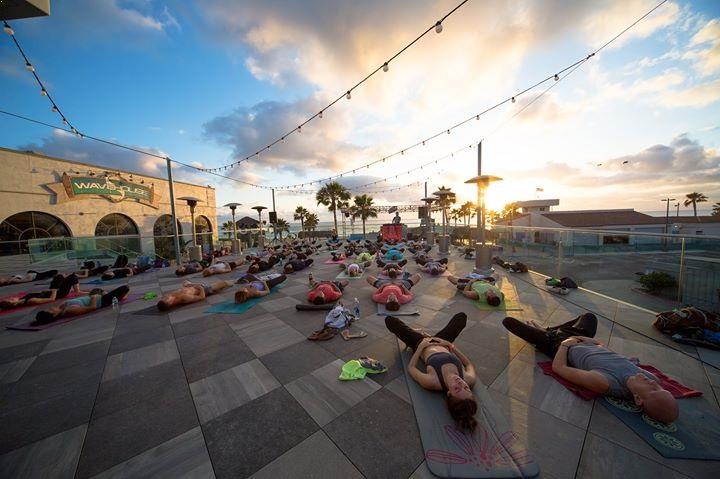 Photo: https://allevents.in
Being a little multicultural gem, the beautiful city in sunny California has a lot to offer. From lively amusement parks and pools to luxurious places for fine dining. The warm and sunny weather attracts people from all over the world to touch the well-known Californian sun and, last, but not least, get some fresh and glowing skin tan.
Here's our list of the best rooftop yoga in San Diego. And don't forget to check out the best rooftop pools in San Diego and the best rooftop bars in San Diego.
1. Yoga One
Regardless if you are beginner, an intermediate or a very advanced yoga admirer, Yoga One welcomes yoga fans to experience an inspiring session under the guidance of some of the best instructors in town. Yoga One has a vast variety of yoga styles, as well as flexible schedule hours so that everyone can.
Website: http://www.yogaonesandiego.com/
2. La Jolla Yoga
A rooftop experience on another level is what you are going to enjoy during your rooftop yoga session in La Jolla Yoga. A one of a kind sanctuary, La Jolla provides a wonderful sky deck for amazing rooftop yoga in San Diego, as well as variety of themed spaces for infrared classes and workshops for intermediate and advanced visitors.
Website: http://buddhiyogalj.com/
3. Rhythm & Moves Rooftop Yoga
It is what it says it is – rhythm and moves. This lively and truly fantastic place welcomes San Diego residents and guests for a refreshing rooftop yoga session under the hot California sun. Situated on Ocean Front Walk, it exposes a great view to those yoga fans, who decide to join the experienced instructors.
Website: http://www.belmontpark.com/
4. Rooftop Yoga at Porto Vista Hotel
Another trending and hot spot in town is the rooftop yoga class at Porto Vista Hotel. Atop the building, guests and visitors can spend a refreshing Sunday morning while hibernating from the day-to-day routines, which often drain our energy and stress us out.
The yoga class is held by popular and very experienced instructors and is open for guests of the hotel only.
Website: http://www.portovistasd.com/rooftop-yoga/
5. Preburn Yoga at Sunburn Pool
This 60-minute yoga class will help you shape your dream body and relax and tone your muscles. The inner fire awakening starts at 10:30. The location is fairly easy to find: the rooftop deck of Hard Rock Hotel in San Diego. Personal equipment and towels are required. Stick to this 60-minute yoga class, and get your body shape calculator that helps you to determine the shape of your body instantly. Also, you can try body type calculator to get an idea about your body shape category more accurately than making a random estimation.
Great plus: the deck and yoga sessions are open for everyone, so a cocktail with a view afterwards is absolutely mandatory.
Website: https://www.wepartynaked.com