Start the 2020 rooftop season early! The Rooftop at Pier 17 on Lower Manhattan offers a fantastic Winterland, including NYC's only outdoor rooftop ice rink, skyline views and warming drinks.
Located in the Seaport District NYC, Pier 17 hosted a fun-filled winter-debut last season, and is back again for the 2019/2020 season. Now even larger in size, which means an even more magical Winterland up on The Rooftop at Pier 17.
The winter schedule at the rooftop has one major unique selling point: NYC's only outdoor rooftop ice rink. The ice rink is open daily from November 22nd. So just put on the warm jacket an skate away to panoramic views of the Brooklyn Bridge, Statue of Liberty, East River, and the Empire State Building.
You can either buy a daily admission ticket for $15-27 or, if you love your skating with a view, a season membership pass for $150 (see link below to purchase). Skates can also be rented if you do not have your own.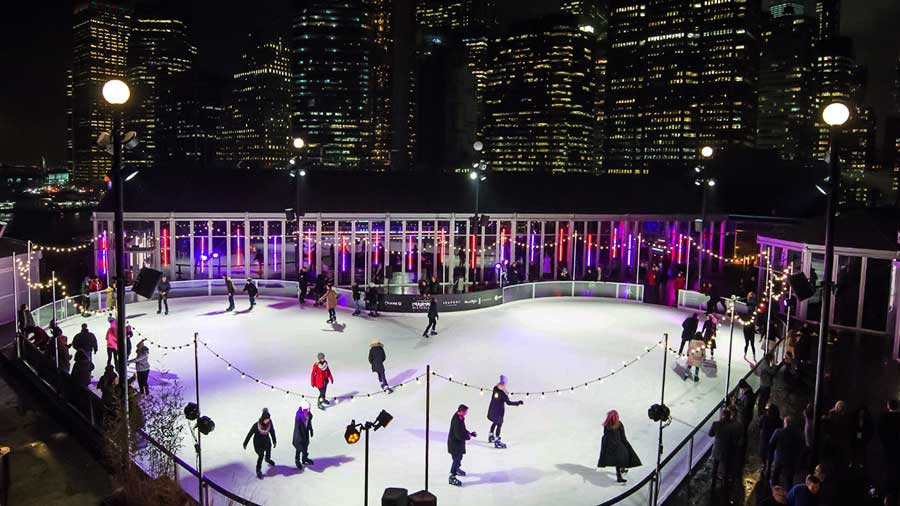 Photo: www.pier17ny.com
Eat & drink
It wouldn't be a rooftop winter wonderland if you could not get cosy with some food and drinks in between the activities. At The Rooftop at Pier 17 the options are multiple. Warm up at the chalet-style Tank, a day-to-night warming hut, bar and restaurant overlooking the Winterland Rink. Here you can enjoy ski lodge-style food and seasonal drinks, like squash soup, flat breads and freshly baked cookies.
For a bit more fine and filling drinks and bites, head over to the R17 rooftop restaurant and lounge. Indulge in inventive New American small plates and order something from the large drink menu, ranging from crafted cocktails to Red Winter Cider on tap and a fine selection of wines and bubbles.
Where: 89 South Street NY, New York 10038
When: Start November 22, 2019
Hours:
Ice Rink & Rooftop - Mon-Thu 3pm-10pm, Fri 12pm-11pm, Sat 10am-11pm, Sun 10am-10pm
R17 - Mon-Tue closed, Wed-Thu 4pm-10pm, Fri 4pm-11pm, Sat 12pm-111pm, Sun 12pm-9pm
Find your hotel close to Pier 17