New York City, the place where rooftop-dreams come true. And even though winter might not be the prime season for elevated wining and dining, there are plenty of venues to enjoy a sky-high rooftop New Year's Eve NYC.
To end 2022 in the best way possible, and to welcome 2023 with a bang, we have gathered the best NYC rooftop bars throwing an end-of-the-year fiesta.
Wondering where to watch ball drop NYC? Or where to get a New Year's kiss with majestic Manhattan views? We got you covered!
1.

Bar 54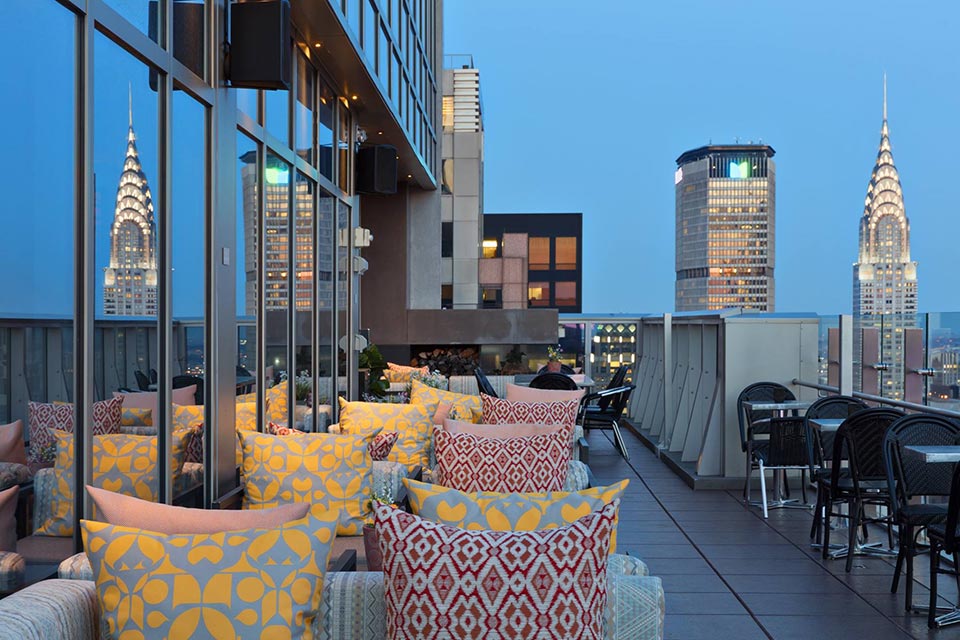 Bar 54 - Photo: www.hyatt.com/
The elevated Bar 54 is the tallest rooftop bar in Times Square. As the name hints, it is set on the 54th floor of the fabolous Hyatt Centric Times Square New York.
Mixing a stylish indoor lounge with panoramic windows and an outdoor terrace, up here you get some truly superb river-to-river views, including the Chrysler Building and all of lower Manhattan.
To end 2022 in high fashion, Bar 54 will host a New Year's Eve Gala, including amazing and direct views of the Ball Drop at Times Square.
Through the evening you can enjoy a 5 hour premium open bar and 3 hours of passed appetizers, all served in an exclusive and intimate atmosphere, perfect to ring in 2023.
Make sure to dress to impress, as this Black Tie optional soiree will surely be the place to see, and be seen, on the last night of the year.
Tickets to the once-in-a-lifetime New Year's Eve experience at Bar 54 range from $1399 to $5899, and can be found here.
BAR 54
135 W 45th St, New York, NY 10036
2.

St. Cloud Rooftop Bar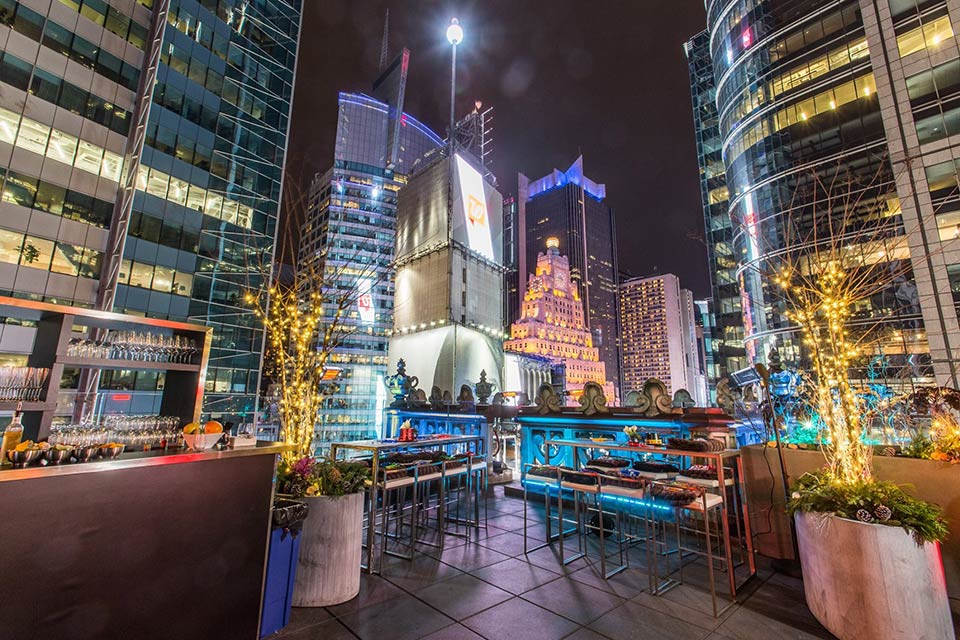 St. Cloud Rooftop Bar - Photo: https://theknickerbocker.com/
Found at the five star Knickerbocker Hotel, just off Times Square, St. Cloud Rooftop Bar is a truly a luxurious and exclusive venue for elevated NYC experiences.
Offering stylish indoor lounges and private rooms, as well as lush outdoor seating options, here you really get the feeling of beeing right among, but also above, the very heart of the city.
This never feels more true than at the last evening of the year, when you can ring in 2023 with an over the top celebration, just 150 feet below the Times Square Ball. Which mean the closest live view of the event in the world.
Apart from the best Time Square-views, the evening also offers DJ's and dance floor, premium open bar, champagne toast at midnight and entertainment throughout the night.
You can choose to only attend the rooftop cocktail reception, or also enjoy a communal seated buffet dinner at Charlie Palmer before. There is also packages that includes reserved outdoor seating with table service at the rooftop.
Tickets range from $1.495 to $3.750, and can found here.
ST CLOUD
The Knickerbocker, 6 Times Square, New York, NY 10036
3.

Castell Rooftop Lounge
Castell Rooftop Lounge - Photo: https://www.castellnyc.com/
Nestled atop AC Hotel New York Times Square, the contemporary and cozy Castell Rooftop Lounge recaptures the spirit of the classic lounge.
This all-season refuge offers iconic views and a sophisticated but comfortable atmosphere, perfect to enjoy elevated hours above the bustling streets of the Garment District.
To make those elevated hours the last ones of 2022, Castell Rooftop Lounge invites to an All That Glitters NYE experience, filled with food, drinks and vibes.
An open bar with five specialty cocktails and premium spirits all evening (+ a midnight toast), is complemented with passed heavy hors d'oeuvres and desserts.
To keep the atmosphere sky-high, entertainment includes live DJ, Lollipop Lyra Aerial Dancers, LED Light Dancers and a live feed of Times Square Ball Drop.
Tickets are $360 per peson and can found here.
CASTELL
AC Hotel, 260 W 40th St, New York, NY 10018
4.

Elsie Rooftop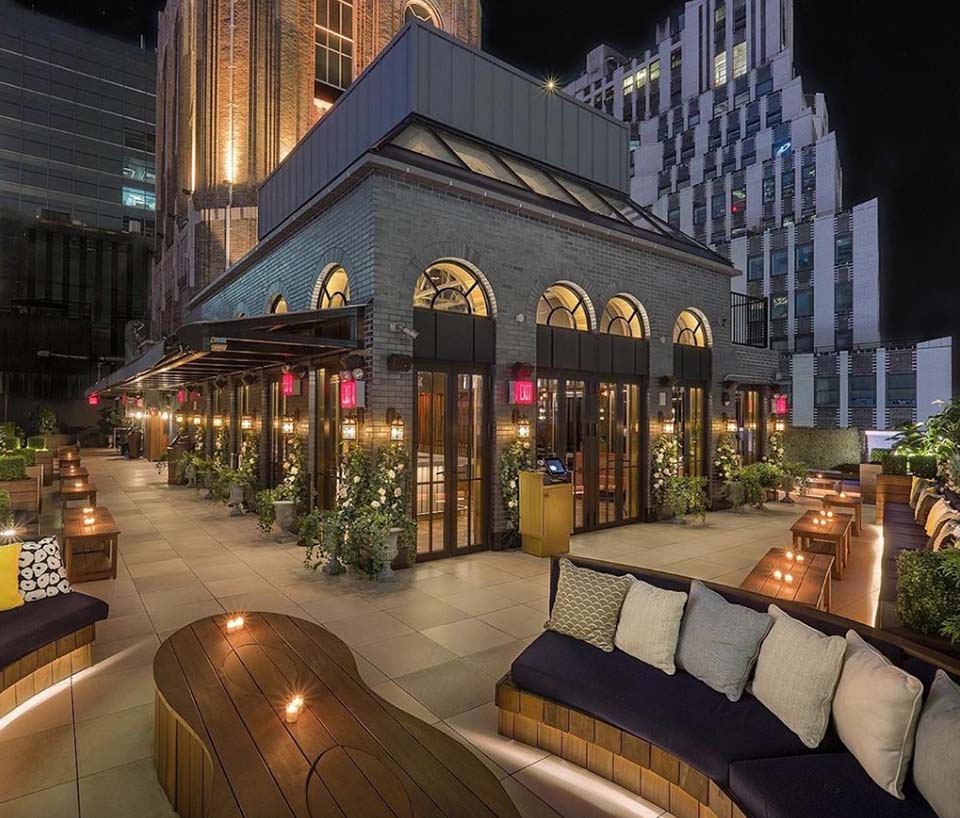 Elsie Rooftop - Photo: https://elsierooftop.com/
Twenty-five stories up, near Bryant Park, the lavish Elsie Rooftop brings a slice of fashionable 1920s cocktail bar to the heart of Midtown Manhattan.
An all-season destination for bespoke cocktails and seasonally-focused light fare, here you find sophisticated indoor and outdoor seating options, with majestic views over the Manhattan skyscrapers.
Since the rooftop is named after Elsie de Wolfe, the world's most famous interior decorator, and a prominent social figure knew how to throw a party, it should come as no suprise that Elsie Rooftop is geared up to throw a great NYE celebration.
The last night of 2022 will include 5 hours of premium open bar, a selection of passed hors d'oeuvres, and a complimentary glass of champagne to toast the New Year at midnight. There will also be a live DJ keeping the atmosphere on top.
Choose from either a full view of the dazzling Empire State Building fireworks on the Empire Terrace, or grab a spot in the Main Bar with a chance of seeing the famous midnight ball drop.
General Admission start at $299, with plenty of VIP packages with bottle service also available. Tickets and more info can be found here.
ELSIE ROOFTOP
1412 Broadway, New York, NY 10018
5.

Refinery Rooftop
Refinery Rooftop - Photo: https://refineryrooftop.com/
Perched on the 13th floor of Refinery Hotel in Midtown Manhattan, Refinery Rooftop is a fashionable, dymanic and all-season rooftop venue for many occasions.
Rustic and charming, here you find an indoor lounge and bar with a retractable glass roof atrium, leading out to a wooden decked rooftop terrace, surrounded with amazing views over the Empire State Building and Manhattan skyline.
As the year is winding down, Refinery Rooftop is gearing up for its annual spectacular New Year's Eve Party, where the unobstructed vistas of the Empire State Building is complemented with music all night long.
Above Midtown, guests are invited to enjoy a premium open bar, live DJ, passed hors d'oeuvres, a live feed of the Times Square Ball Drop on flat screens throughout the rooftop, and a champagne toast at midnight.
Tickets are available as General Admission ($150) to Platinum VIP package with private VIP table including bottle/cocktail service (from $250), and can found here.
REFINERY ROOFTOP
63 West 38th Street, New York, NY 10018
6.

Beast & Butterflies at M Social
Beast & Butterflies at M Social - Photo: www.millenniumhotels.com/
Beast & Butterflies is an urban retreat above the electrifying hustle and bustle below, found at the modern M Social Hotel Times Square New York.
With unobstructed views over the most buzzing parts of NYC, this intimate yet social venue mixes an indoor glass perch with a spacious wrap-around outdoor terrace, available from early morning to late night.
To enjoy a New Year's Eve with some of the best Ball-Drop views of Times Square, you can either book an exclusive Ball-Drop view room at the M Social, or join in on the celebration at Beast & Butterflies.
This unique NYE party will include fancy bites, an open bar, champagne toast at midnight, DJ sets, live entertainment and, as mentioned, top Ball-Drop views of Times Square.
General Admission to the party is $850, and more info on tickets, VIP Tables and Ball-Drop view rooms can be found here.
BEAST & BUTTERFLIES
226 W 52nd St, New York, NY 10019
7.

230 Fifth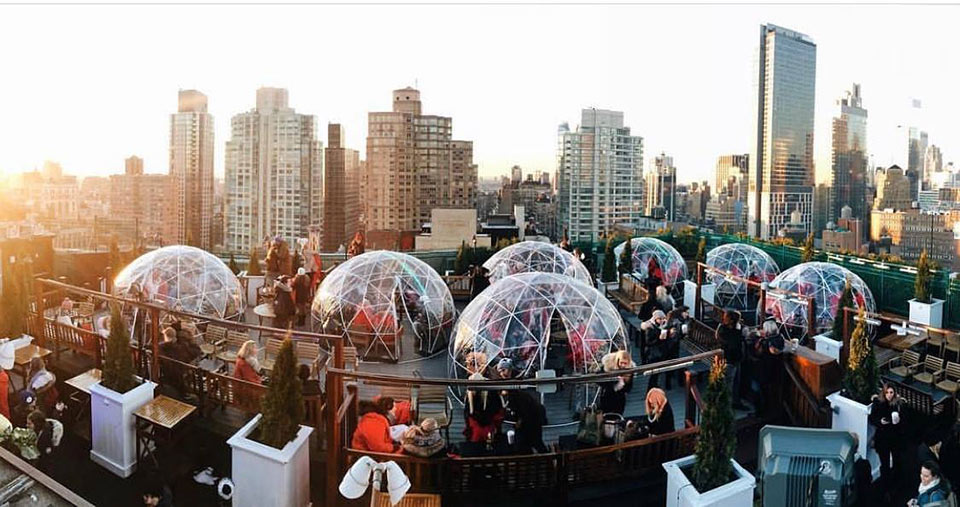 230 Fifth - Photo: www.230-fifth.com/
One of the largest, and also one of the most famous rooftop bars in NYC, 230 Fifth is named after its location at 230 5th Ave.
This indoor/outdoor rooftop bar and lounge features breathtaking views of the Empire State Building and the Manhattan skyline. Perfect for vibrant summer days and nights above NYC during summer, but the lush outdoor garden is actually available year-round, thanks to both heaters and cosy rooftop igloos.
As always, 230 Fifth will host a New Year's Eve Extravaganza, where you can welcome 2023 with good friends, good food, and good times.
The evening will include an open bar and light bites, a Champagne toast, two dance floors and two live DJs playing non-stop dance, rock, top 40s, and classic 80s. So you can expect vibes pretty much as amazing as the views.
Make sure to dress to impress, as this Black Tie optional soiree will surely be the place to see, and be seen, on the last night of the year.
All tickets to the annual New Year's Eve party at 230 Fifth will provide access to both the penthouse and rooftop levels. Prices range from $180 for GA to $3000 for a table for 12, and tickets can be found here.
230 FIFTH
230 Fifth Avenue, New York, NY 10001
8.

JIMMY
JIMMY - Photo: www.jimmysoho.com/
Set 18 stories high in Soho, JIMMY is an iconic NYC rooftop, that after a 2020 redesign looks more modern and beautiful than ever.
Stylish in setting, the prime feature here is still the unobstructed and breathtaking views of New York. You have the Freedom Tower in the south, New Jersey in the west and the Empire State Building in the northeast. Literally all of Manhattan is at your feet.
To end 2022 with these vistas, take aim for the 2023 Black Tie New Years Eve Gala at Jimmy.
From 9pm-1am there is a premium open bar with passed canapés, and a champagne toast at midnight, as well as performance by celebrity impersonator. This is followed by a cash bar from 1am-4am, meaning the celebrations continue well into the first morning of 2023.
Standing Room tickets are $300, while tables for 2-15 people range from $700-$5250. Tickets can be found here.
JIMMY
15 Thompson Street, New York, NY 10013
9.

Monarch Rooftop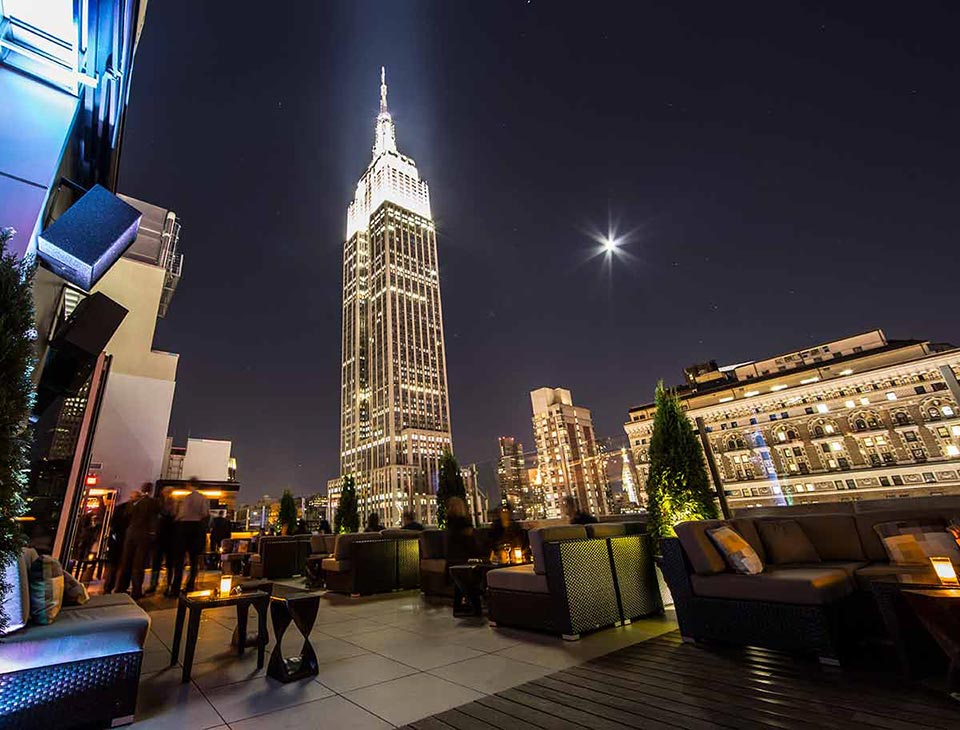 Monarch Rooftop - Photo: www.monarchrooftop.com/
Monarch Rooftop offers 5,000 square feet of outdoor and indoor lounge, hundreds of feet above West 35th Street in Herald Square. With an 18th floor location, here you get stunning views over midtown Manhattan and the Empire State Building.
Modern and Scandinavian-chic in decor, this is a popular NYC rooftop for both sunny afternoon bites and drinks, as well as highly energetic nights high above the Big Apple.
Most likely, the most energetic night of 2022 will be on Saturday December 31st, when Monarch host a NYE Celebration to welcome 2023.
Indulge in a 5 hour premium open bar, delicious appetizers, midnight champagne toast and festive party favors, and get down to a live DJ playing favorite beats of Top 40, rock, hip hop & dance.
For an extra special evening, check out the special VIP seating options, where you can indulge in Table & Bottle Service for larger groups, or Couples Champagne Packages to celebrate with that special someone.
Tickets to NYE party at Monarch Rooftop ranges from $174 to $599, and can found here.
MONARCH ROOFTOP
71 W 35th St, New York, NY 10018
10.

The Empire Rooftop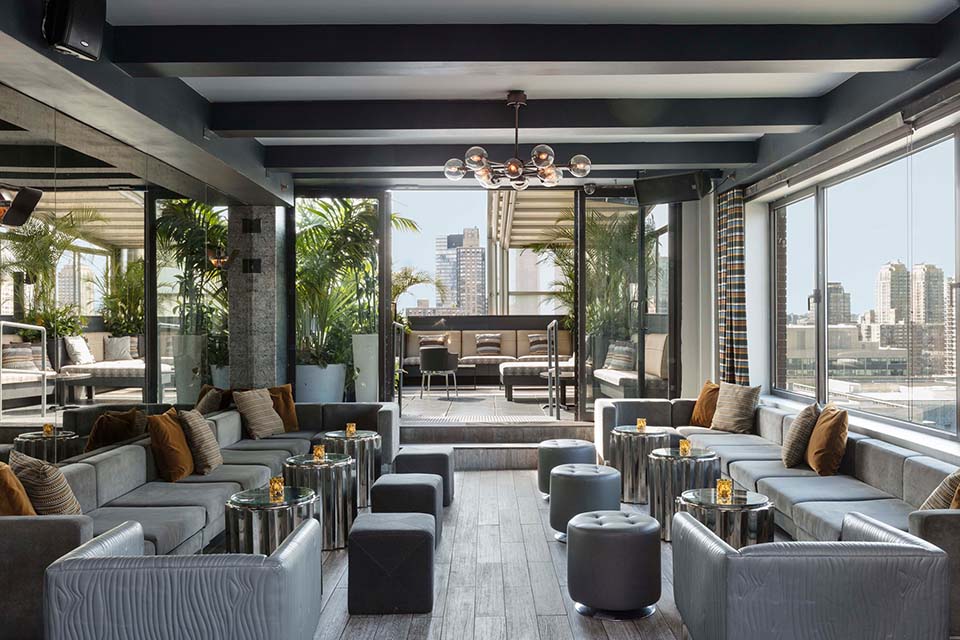 The Empire Rooftop - Photo: www.theempirerooftop.com/
Located on the top floor of the iconic Empire Hotel, the spacious and stylish The Empire Rooftop offers adorable views over the close by Lincoln Center, Brodway and Central Park.
Features two bars and mixing interior and exterior space, the rooftop also has a retractable roof cover, making it the perfect location for all seasons.
Saturday, December 31st, from 9pm to 1am, you are invited to celebrate New Year's Eve at The Empire Rooftop, where a wonderful mix of music, drinks, bites and views is promised.
There will be an open bar all night, complemented with hors d'oeuvres, desserts and a champagne toast at midnight. The live entertainment features Steven Maglio and The Stan Rubin Orchestra, as well as a DJ at midnight.
Standing Room General Admission is $175, while a guaranteed seat cost $275. Tickets can be found here.
THE EMPIRE ROOFTOP
44 W 63rd St, New York