Perth often stands behind the popular cities in Australia, but it actually is the fourth-most populous city area in Australia, as well as the capital of Australian state of Western Australia.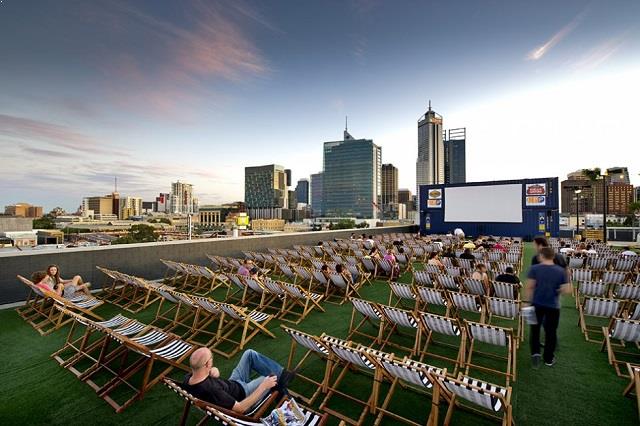 Photo: http://paidcontent.traveller.com.au
It is colorful. It is bright. It is urban. And it definitely is Australian. You will find the hidden exotic spots with wonderful sea and crystal-clear water; you will also find an endless party life, as well as great historic value while walking and exploring the old streets of the city.
1. Rooftop Movies
Perth is nice and warm and exotic. And while the perks of living in the big city are pretty obvious – you get the best of the nightlife, there are certain moments when you simply need to indulge on something simple, relaxing and funny.
Rooftop Movies is the first outdoor rooftop cinema in Perth. You can find it on the top floor of City of Perth Roe Street Carpark. The 6-levels above views are marvelous, and the movie collection sets the bars pretty high.
Website: https://www.rooftopmovies.com.au/
2. Camelot Outdoor Cinema
While the rooftop cinema in Perth might not be as popular as in other cities, Perth is quite keen on outdoor activities and movie gatherings. Camelot Outdoor Cinema is a great choice if you feel like taking a breath of fresh air, while catching up on the filmography of your favorite movie director.
The great setting is located in the gardens of the Art Deco Mosman Hall.
Website: http://camelot.lunapalace.com.au/
3. Luna Outdoor Cinema
Located on Oxford Street, Leederville, Luna Outdoor Cinema brings admirers of cinema from all parts of Perth. The modern and hip outdoor cinema features a cozy atmosphere with tropical garden and relaxing lighting. You can both grab a drink from the bar or bring your own basket of goodies for a picnic adventure.
Website: http://outdoor.lunapalace.com.au/
4. Moonlight Cinema
Following the night theme, Moonlight Cinema presents to the public a great collection of classic movies in Synergy Parkland in Kings Park. The gates open usually around 7pm and a reservation prior is required.
Website: https://www.moonlight.com.au/perth
5. Somerville Auditorium
The University of Western Australia opens up the doors for a marvelous venue with a large screen and over 200 grass seats for an outdoor movie experience. And although it might not have the greatest views as a rooftop cinema in Perth might have, it still brings a joyful experience to all of the guests.
Website: http://www.ticketswa.com/venue/somerville-auditorium
Also, check out the best rooftop bars in Perth.