If you're looking for one of the best rooftop bars in Athens, you should look no further. NEW Art Lounge has some of the most important elements that characterize a good rooftop. Beautiful view, tasty food and a great atmosphere. Located within New Hotel, the only contemporary design hotel in Athens.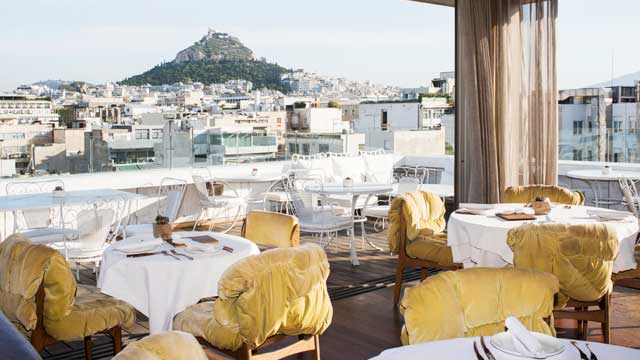 Source: https://www.yeshotels.gr
VIEW AND VIBE:
Once you walk out of the lift and into the terrace, you'll be stunned by the fantastic view that meets your eyes. Sweeping panoramic views of the city with Acropolis as a mighty backdrop. The Art Lounge is a perfect place to relax and enjoy breathtaking 360-degree views over Athens and all its historic landmarks including the Lycabettus Hill and Acropolis. The view is spectacular both during day and night.
Designed by the Campana Brothers, in conjunction with architectural students from the University of Thessaly, the Art Lounge is situated on the 7th floor of New Hotel. The perfect blend of both old and new, unusual custom-made furniture and handmade fixtures make guests feel as if they live and breathe in a major art installation The Art Lounge is run by Yes! Hotels – a hotel chain well known for their passion to incorporate contemporary art into the everyday life. Apart from authentic installations of contemporary art, there's an art library up here with over 2000 art books to browse, ensuring that you'll never be short of inspiration.
All these things make this rooftop bar one of the most popular and sought after in Athens. Don't be surprised if your run into someone you recognize up here. The Art Lounge is frequented by celebrities, Athenian jet-seters and international travelers staying at exquisite New Hotel.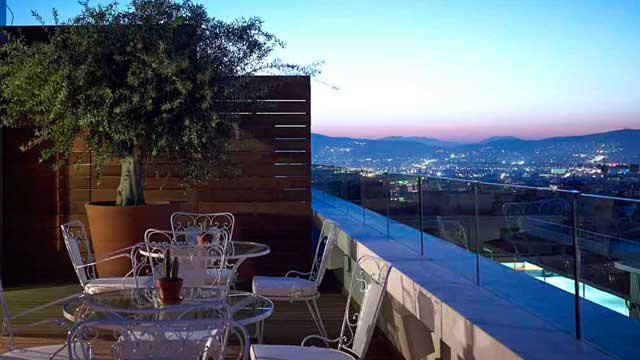 Source: https://www.yeshotels.gr
FOOD AND DRINKS: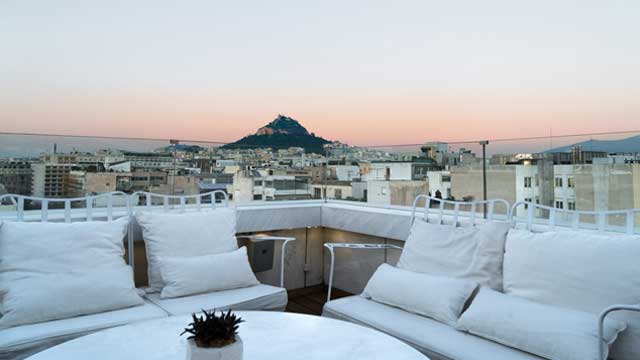 Source: https://www.yeshotels.gr
The rooftop restaurant with its welcoming ambience and remarkable seating, creates a very intimate and private experience.
Some of the signatures are Kritharoto, Mozzarella buratta, Beef filet tartare and of course the NEW Taste hamburger. And for desserts you must try the lemon pie and Chocolate opera! If the food is excellent, so are the drinks. Local wines and delicious cocktails are among the best and most popular choices here. The signature cocktails such as Twisted Mai Tai and Ginger Rush are very popular. An insider tips is to try the local Greece wine to your dinner. You won't be disappointed.
And best for last; The Weekend Brunch! NEW Restaurant has led the charge in creating a brunch culture in Athens. Homemade breads, delicious viennoiseries, egg-cellent recipes, and much much more! There's nothing quite like spending your Sunday enjoying the innovative "breakfast-meets-lunch" this city has to offer.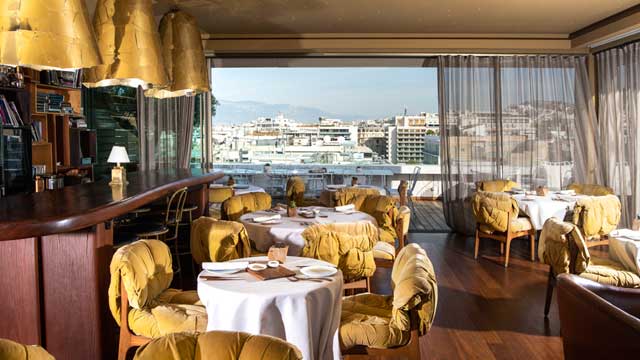 Source: https://www.yeshotels.gr
CONCLUSION:
NEW Art Lounge is a must visit when in Athens! And if you like the ultimate experience you should definitely book your stay at the hotel as well. You can book your stay at NEW Hotel here.