On the 12th floor of the 5-star VP Plaza de Espana Design hotel resides the Ginkgo Restaurant and Skybar. Want to get all your sightseeing done in one go? Gingko boasts panoramic views over Madrid, taking in the Spanish Royal Palace, Debod Temple and more.
In an unbeatable location on the Plaza de Espana, this bar and restaurant should be added to any itinerary when visiting the city. This flexible and multi-character space offers slick urban gourmet dining, a buzzing evening life, and unrivalled views all in one place.
The restaurant serves up a very en-vogue combination of Spanish-Asian cuisine, showcasing some incredible local ingredients. Some of our favourites include Octopus carpaccio and fried artichokes, followed by Mains Galician sirloin steak with roasted Piquillo peppers, or Terrine of Oxtail and foie.
The vibe is relaxed but not too casual, an ideal place for a romantic evening if you want somewhere that has atmosphere without being too full on. For extra romance points, stop by in the golden hour for some incredible sunset dining and to take full advantage of that outlook!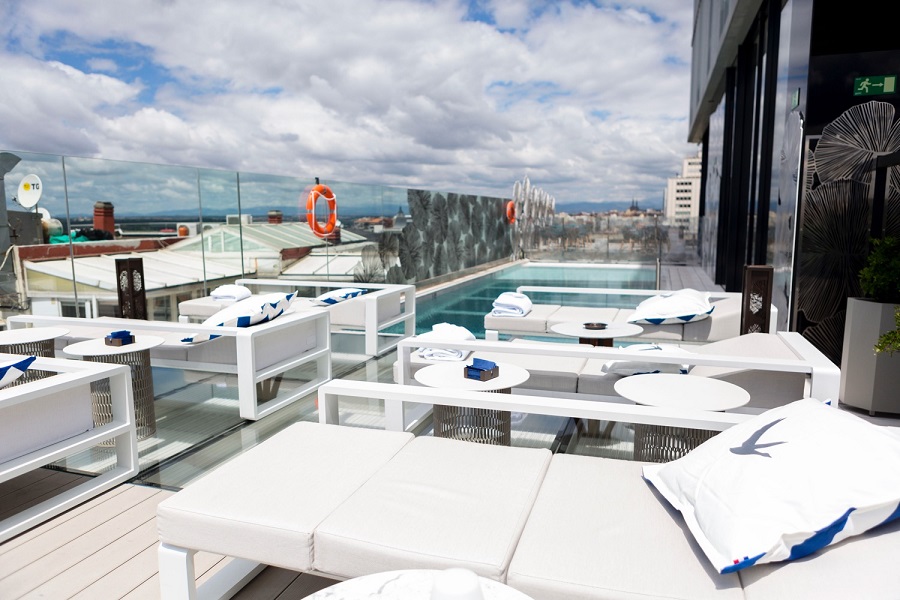 And it's not just the food which impresses. Gingko benefits from some talented and knowledgeable mixologists too. The cocktail list is extensive with the usual suspects popping up, but we think its worth trying the house specials such as the comically named 'Daiquiri of the Rising Sun' (Bacardi, Yuza juice, jelly and egg white).
The space itself is stylish, flexible and well considered. A strong geometric theme runs throughout, a pattern you see played out on the floor and on the multi-faceted ceiling. Furnishings are contemporary with vibrant punches of colour and texture. We adore the vertical gardens interspersed throughout and combined with the floor to ceiling windows, the outside is brought in.
These sliding glass walls can be opened to enjoy the sights and sounds of the city to its fullest, whilst the outdoor terrace is a lovely spot to enjoy the longer summer days, glass of Rioja in hand.
After the sun sets it's when Gingko puts on its dancing shoes. With a fully sound-proofed late-night bar, the live music keeps things moving well into the early hours. Jazz sessions take place each Wednesday from 10pm and on Thursday to Saturday revellers can enjoy various DJ sets from 11pm onwards. Sundays are a more chilled out affair with live bands playing requests throughout the day.
At night, a clever glass floor slides over the hotel's clear bottomed swimming pool to create more required terrace space leaving pleasure seekers with a view right down into the hotel lobby space where they can marvel at the stunning 25m metallic waterfall sculpture cascading below.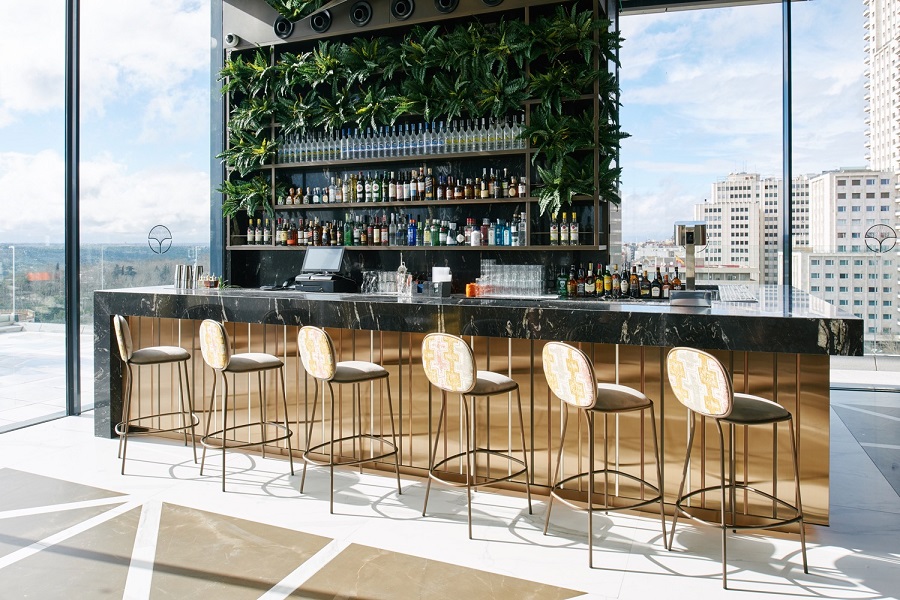 Incredible views, great cocktails, and stunning food, all in a sophisticated one stop destination. See you at the bar!