Chill-out vibes, fantastic Latin American food and an oh so caliente atmosphere at one of Kuala Lumpurs very best rooftop restaurants, Fuego at Troika Sky Dining.
Troika Sky Dining is a slice of rooftop & food-lover heaven, with not less than 5 different restaurants and bars up on the 23rd floor of the The Troika KLCC building in central KL.
The restaurant up here with the very best terrace and views is Fuego, and that is where we enjoyed a long and lovely dinner-sitting on a Saturday night in February. Read and watch our full review below:
Video Review
Atmosphere & Views
Fuego is situated on the "far end" of the Troika Sky Dining establishment, so the walk from the elevator means you pass by and get a glimpse of many of the other restaurants available up here. All of which looks very nice, most of them with mainly indoor seating, complemented with smaller balcony-terraces. When arriving to Fuego you are however all outdoors, although the spacious terrace is covered by a roof, so not to weather sensitive.
We arrived at around 8.30pm for the second and later seating available, and the terrace was really buzzing. Not an empty table in sight and a lovely mix of South American tunes, people chatting and the sounds of the chefs working in the open kitchen.
This is what Fuego is all about: open, friendly and vibrant vibes, dishes made to share and talk about, open kitchen and bar to catch all the action, people moving around and tables that are private but almost also blending together. It is not at all calm, but it is still very relaxing. You just have a seat in one of the colourful chairs and enjoy the ride.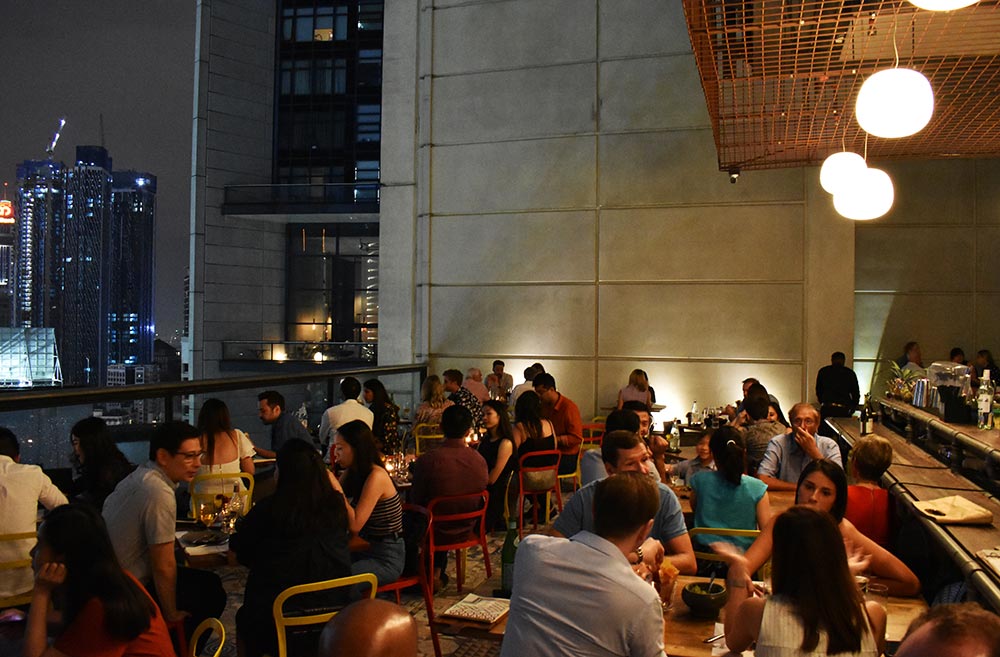 Outdoor, covered terrace
Looking away from the action in the kitchen, you have a fantastic and framed panoramic view of the Kuala Lumpur skyline, with all the major landmarks included. You'll see both the Petronas Twin Towers, the KL Tower and so much more. While really cool, the view did actually use to be even better, since now the large, black and rather boring Four Seasons hotel block some of the Twin Tower-views.
With a late reservation we missed out on the favourite sunset views, but the night time skyline do really look awesome from here. There was also some kind of construction going on a couple of blocks away, and the fumes rising up right in front of the Four Seasons building created a cool 'Gotham City feeling'.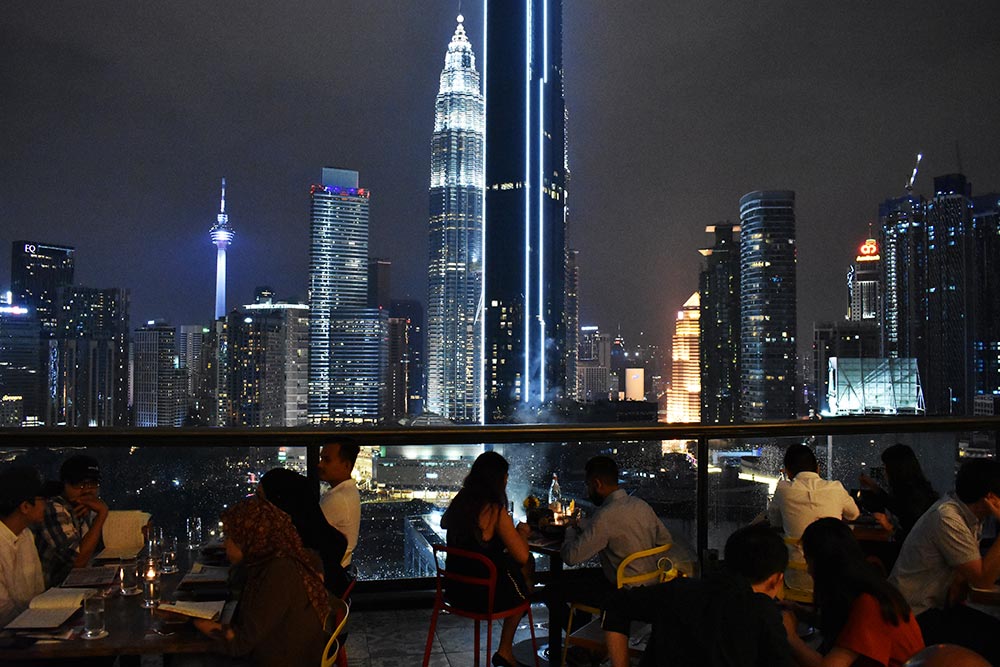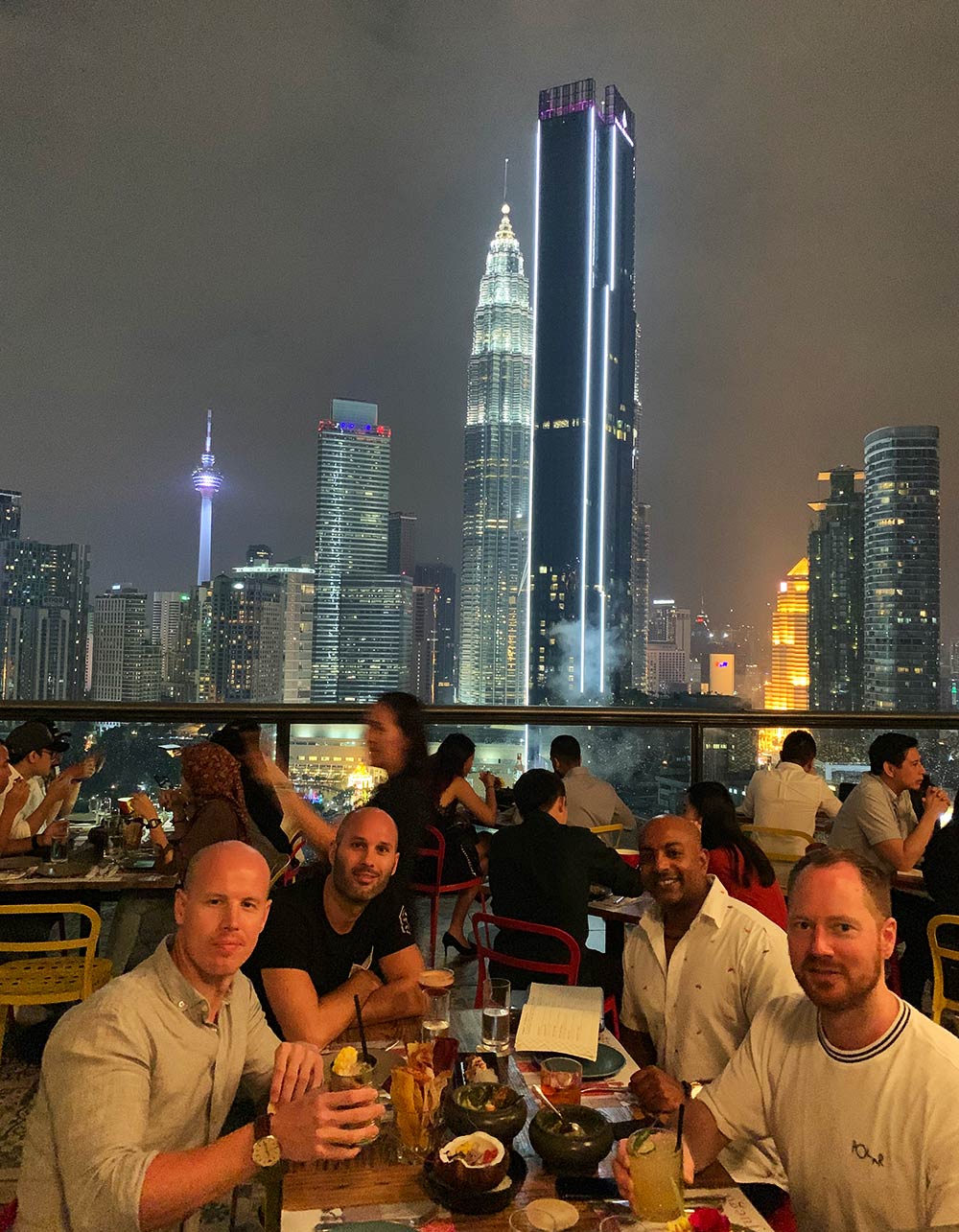 Skyline views
Food & Drinks
However great the Fuego atmosphere and views are, they are still beaten by the fantastic Fuego food! We decided to go with a special menu, letting the experts on the floor and in the kitchen do the picking and choosing for us. And we would not be disappointed (nor would we leave Fuego hungry...)
But before the munching started, we did actually pick out some drinks, all on our own. It's always nice with a pre-dinner cocktail and Fuego has a good selection of classics, but with their own touch.
All our choices were very fresh in taste and nicely presented, where the Fuego Whiskey Sour came in a tin cup and decorated with a cob. But winner of presentation was the Barrel Aged Negroni, served in a pocket flask hidden away inside a large book.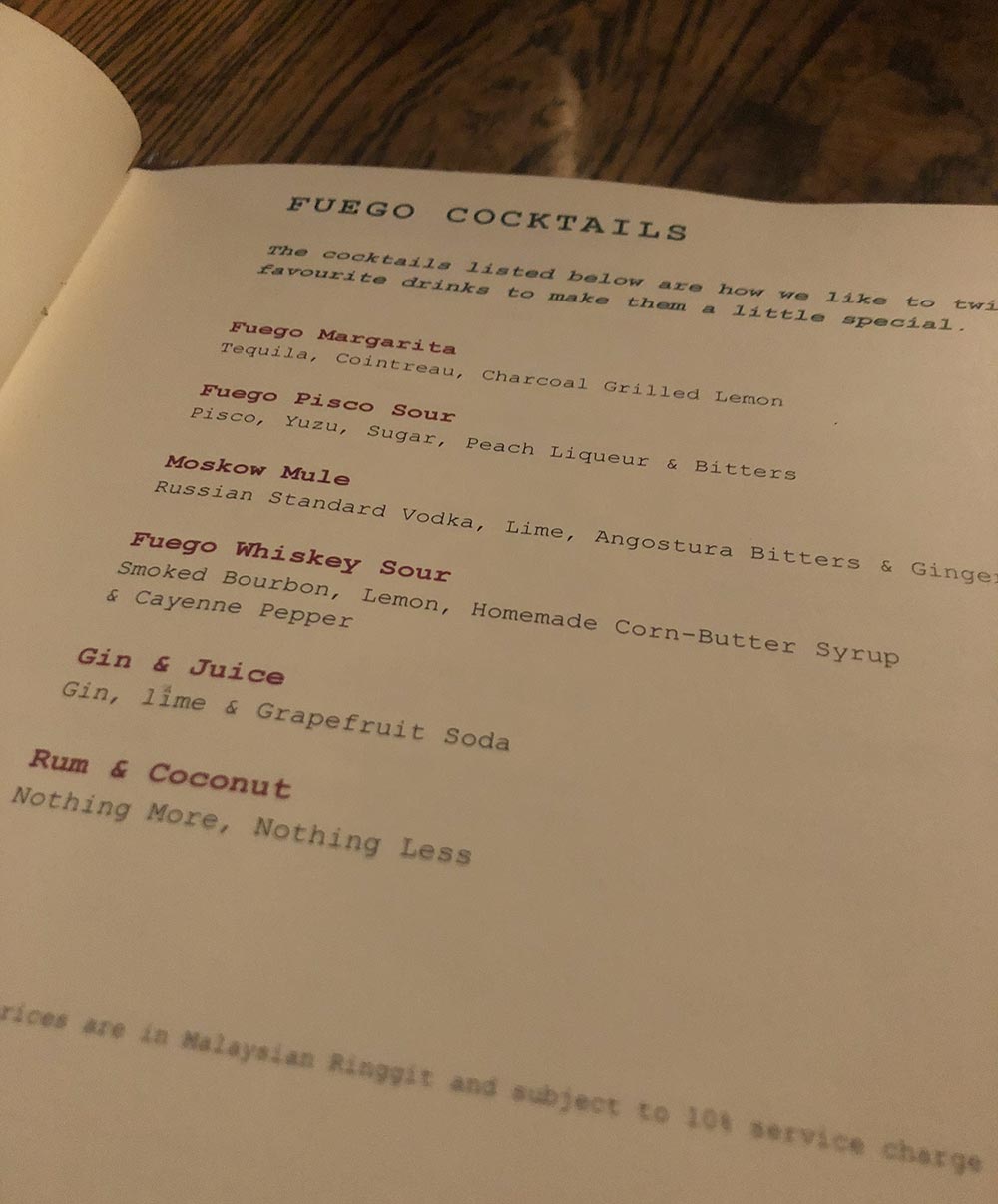 Cocktail menu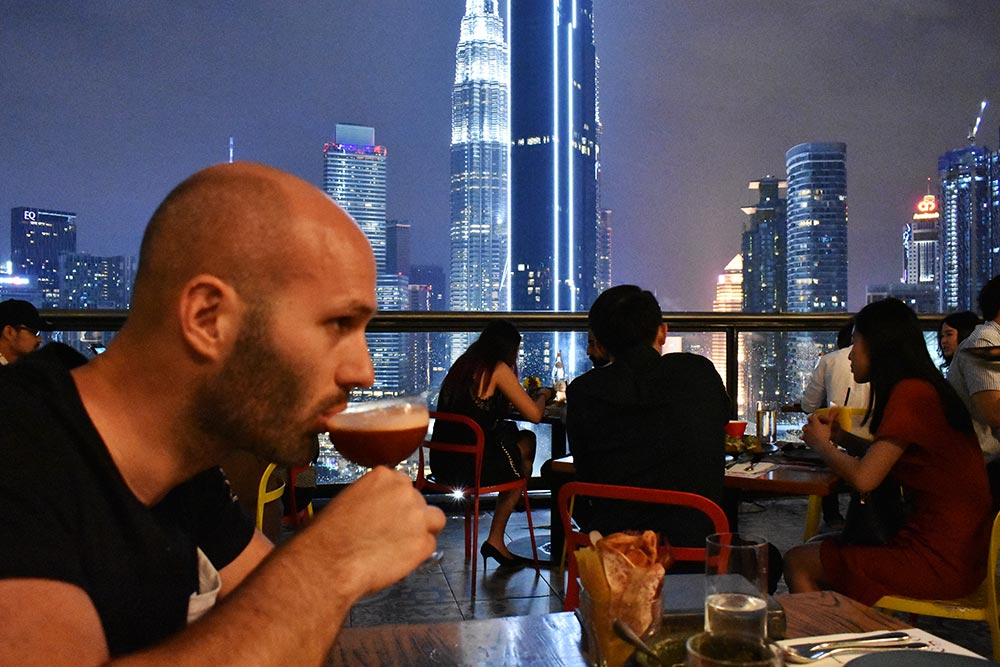 Sipping with a view
Then the food started rolling in, and oh boy, here we go: first up were some dishes from the 'Little Plates' section of the menu. Chips with two bowls of guacamole, one Pickled Prawn and one Olive & Caper. Hands down some of the best guacamole we ever had.
This was followed with a very tasty Fuego Ceviche and Torched Salmon Ceviche, a cool and special Cauliflower Steak and and a final Fresh Corn on the Cob with Pecorino Cheese. The last one was probably the only dish we did not say 'wow' about.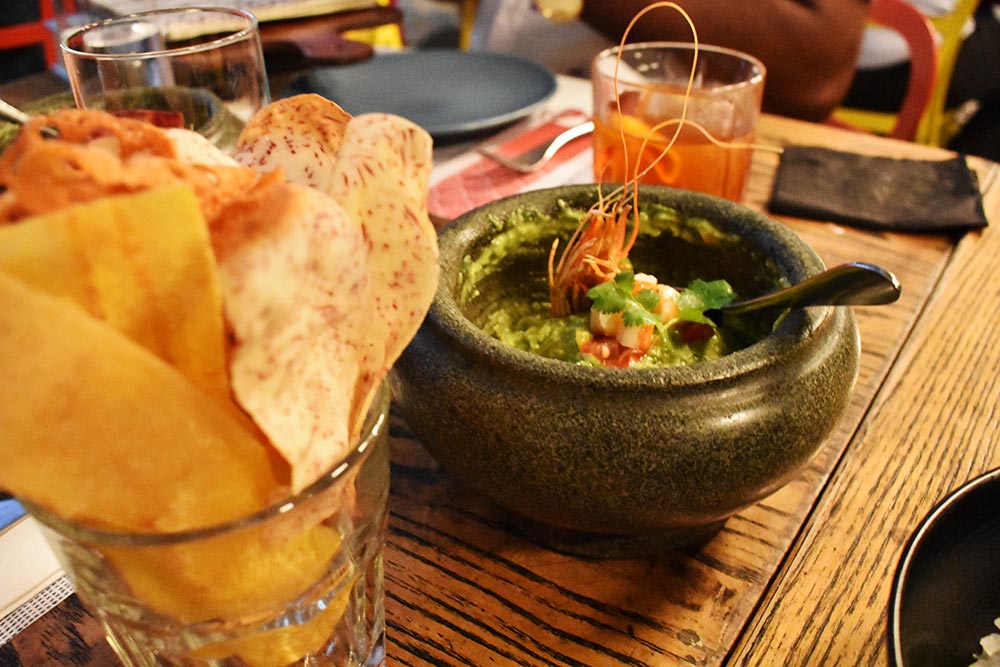 Guacamole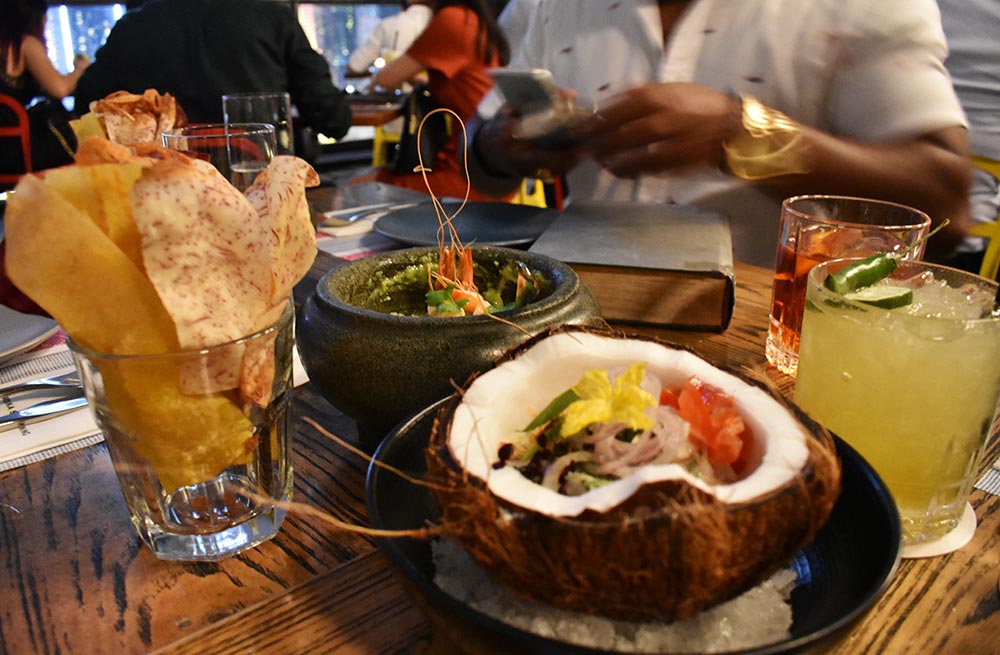 Fuego Ceviche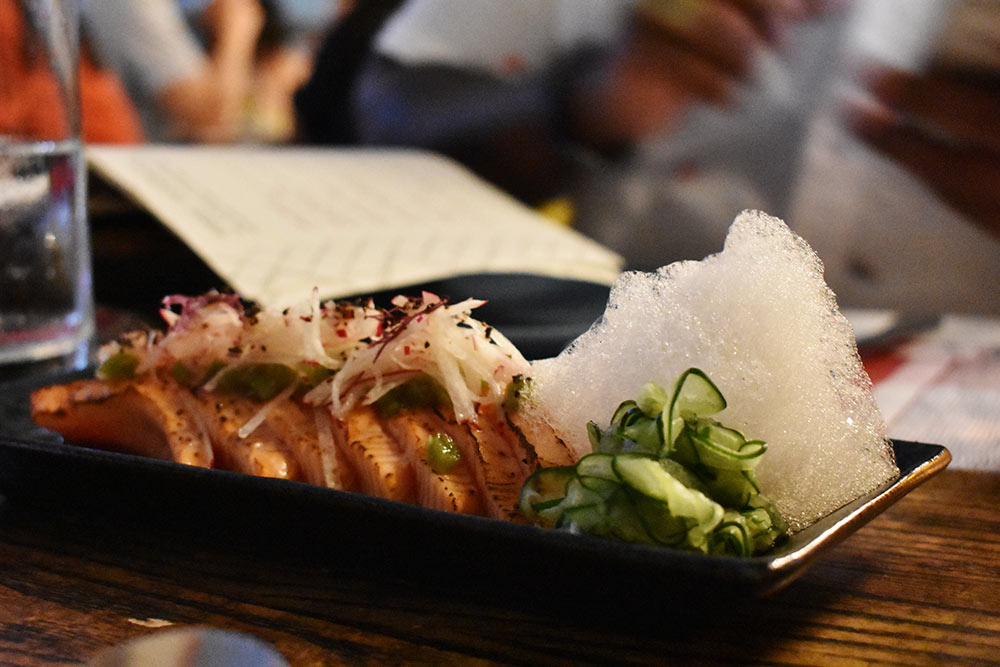 Torched Salmon Ceviche
Fresh Corn on the Cob with Pecorino Cheese
Moving on to the 'Big Plates' we were served a juicy and fantastic plate of Rare French Beef Flank, complemented with a really nice Spinach Hashbrown, and a Seafood Moqueca with Snapper, Brown Clam, Mussel, Stuffed Habanero and Brazilian Rice. Then there was also a side of mixed salad, that did not look anything special but that tasted devine.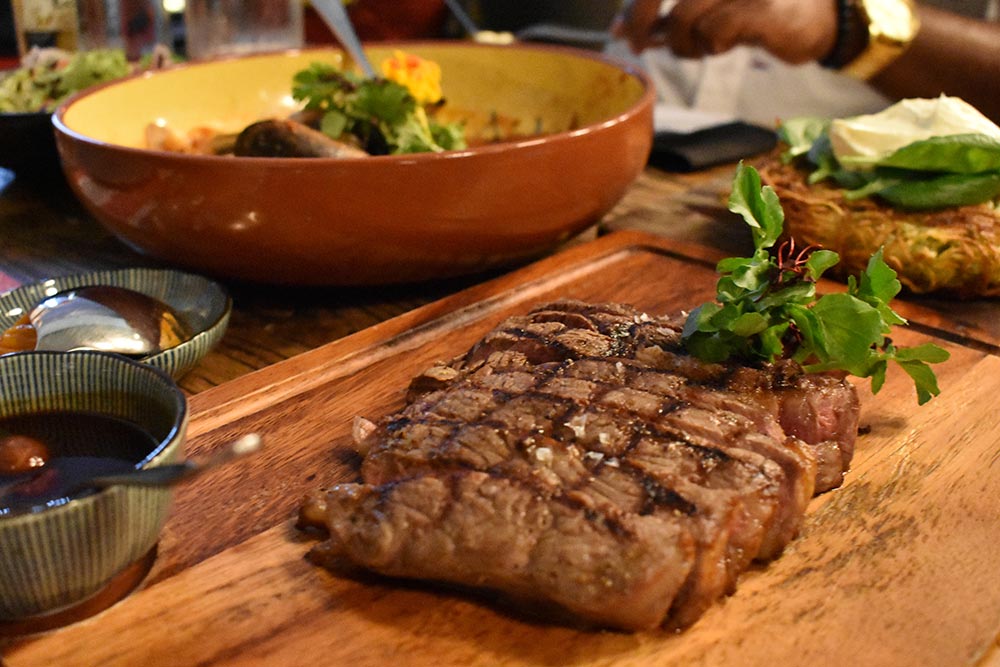 Rare French Beef Flank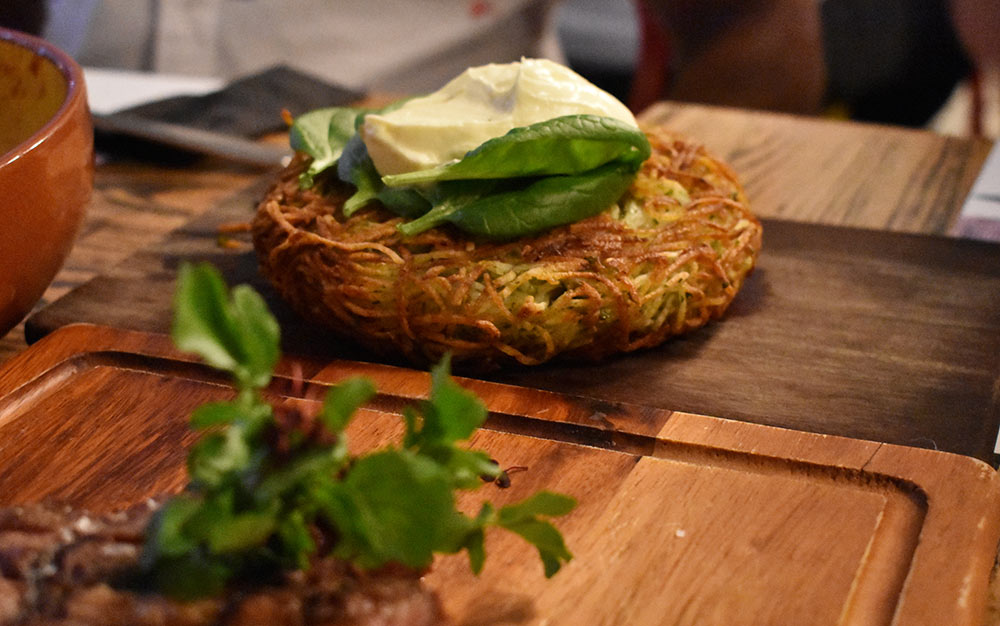 Spinach Hashbrown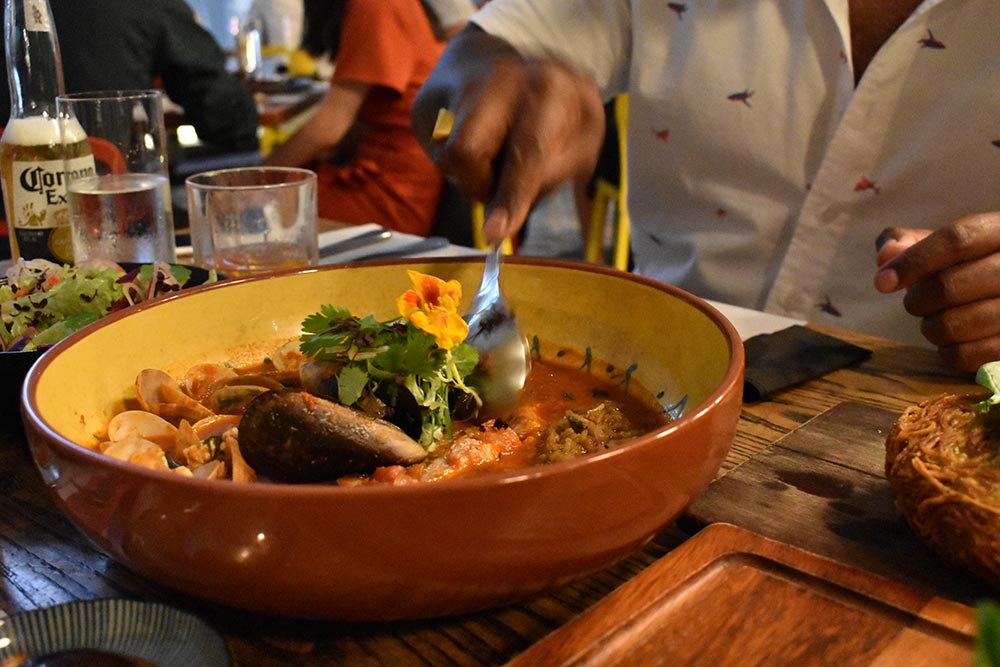 Seafood Moqueca
Full, but not at all wise, when the talk about desserts started we trusted the information that "they are not that big" and picked one each. "Big" is of course subjective, but we can at least establish that we did not need one each. But then again, they were so good we almost managed to end all of it anyway.
With some live action the Chef Ivan's Opus Ice Cream was frozen at the table and the Berries Pavlova also got its flambé Brandy at the table. The N2 Chocolate Rock and the Fuego Churros with Dulcey Cremeux came with a bit less action, but maybe tasted even better.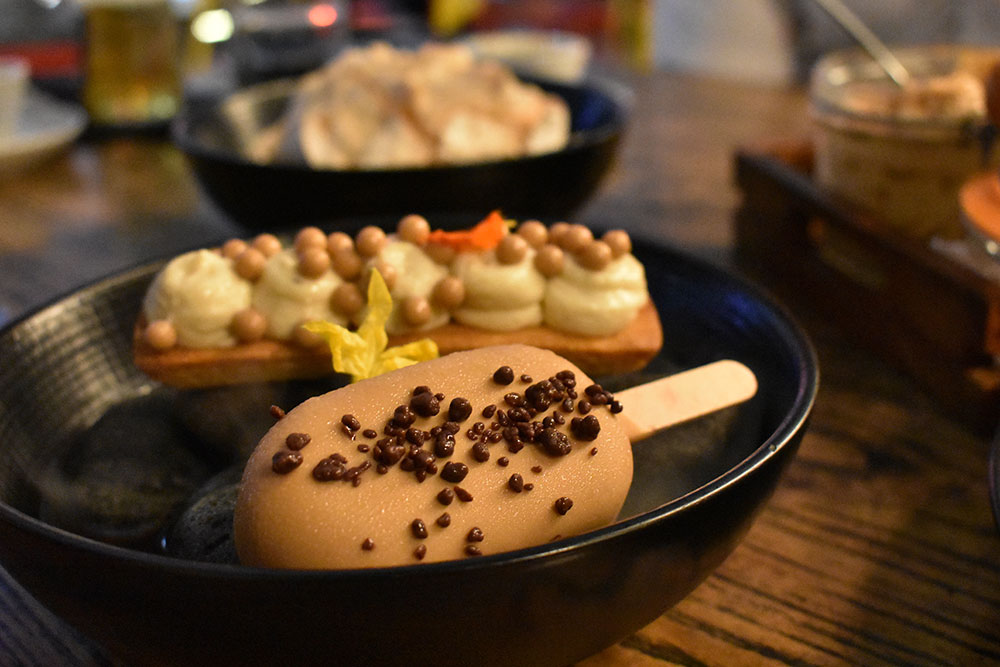 Chef Ivan's Opus Ice Cream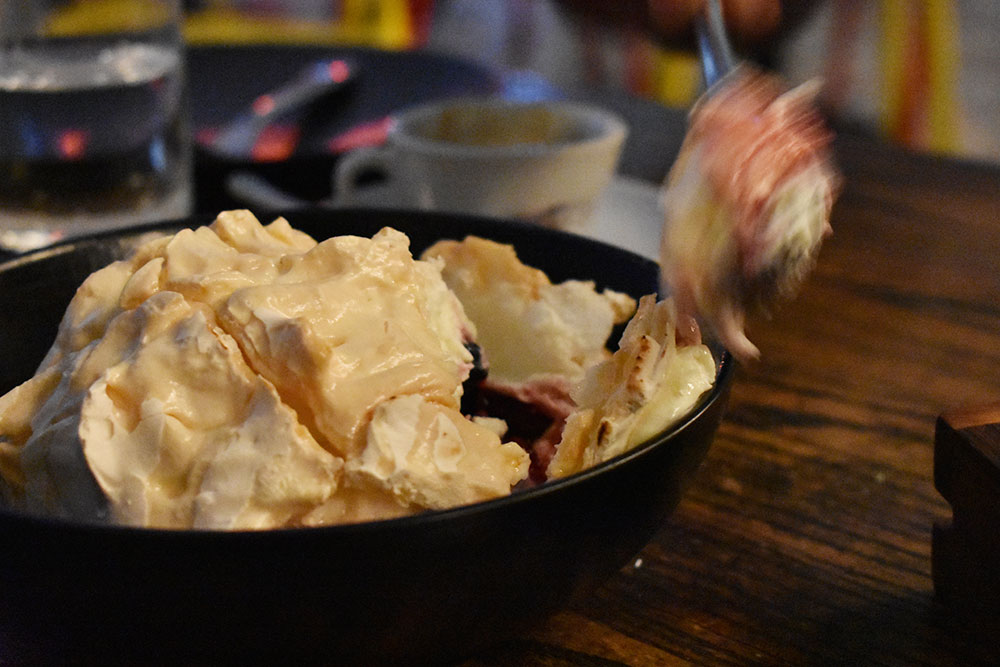 Berries Pavlova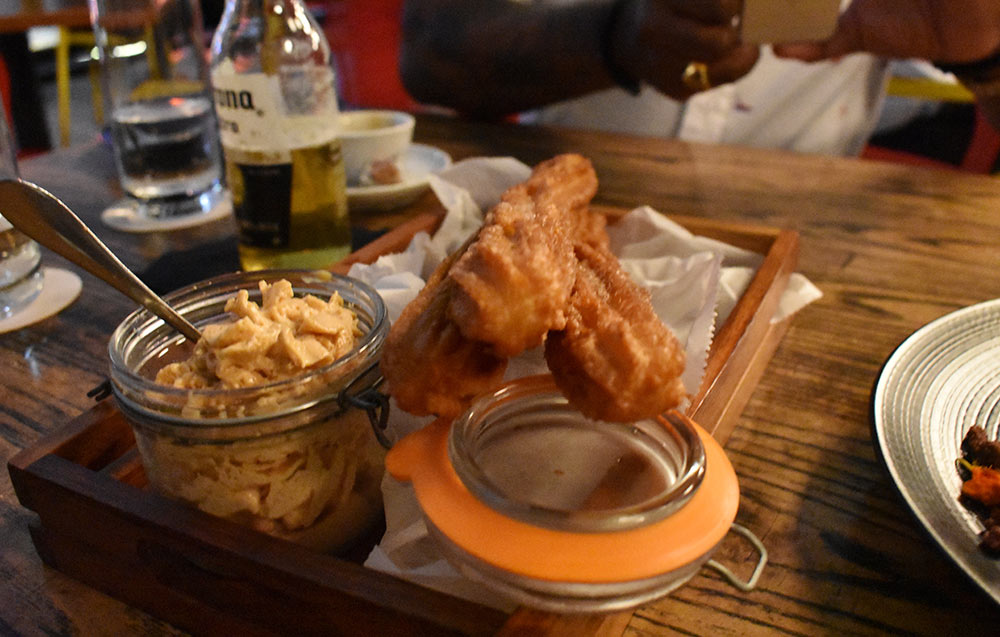 Fuego Churros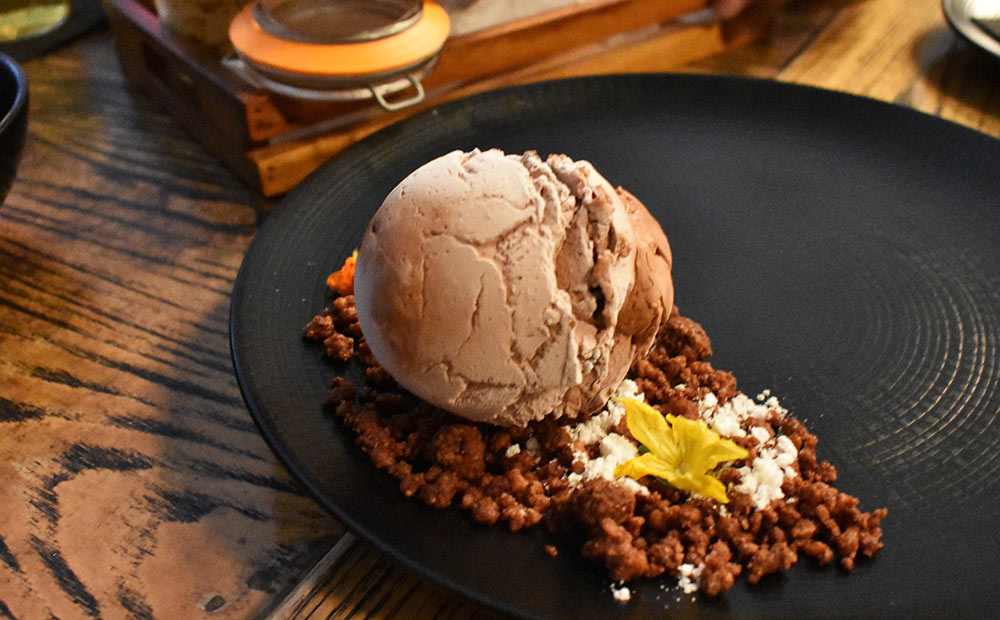 N2 Chocolate Rock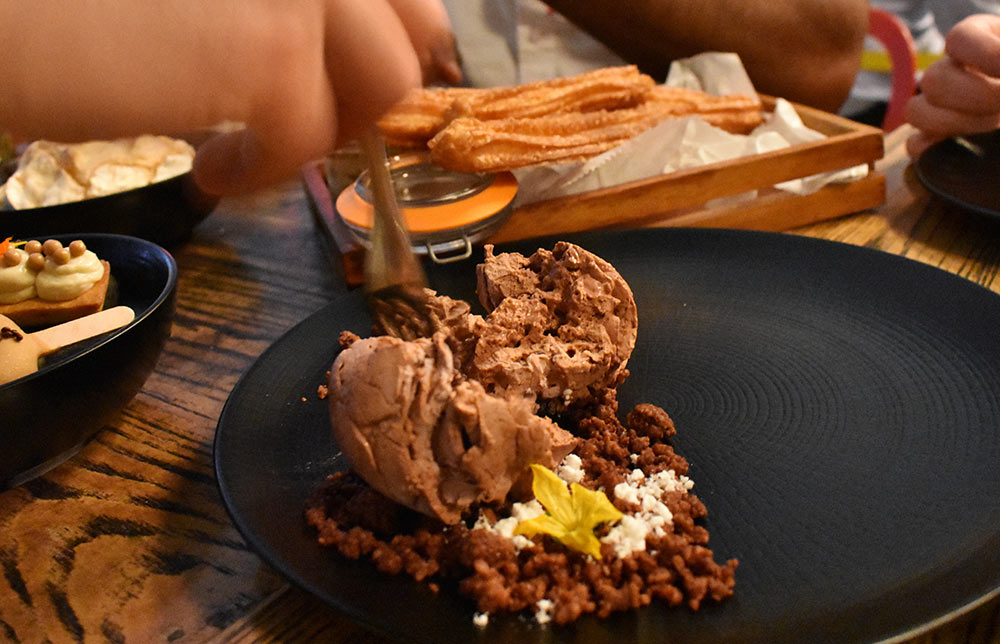 Dig in!
Even more full, happy and pleased, we were not completely ready to leave the nice atmosphere and decided to finish the night of with a fine Tequila. Then it was really a wrap!
Tequila
Conclusion
We can only highly recommend a visit to Fuego at Troika Sky Dining, partly for the lovely view and the fun, relaxed and vibrant atmosphere, but mostly for the amazing food. We had a 3.5 hour dinner with just fantastic tastes all around.
The service was also top notch, friendly and also informative about what was served. An extra nice touch was that our chef came to the table and told us what they had prepared and how.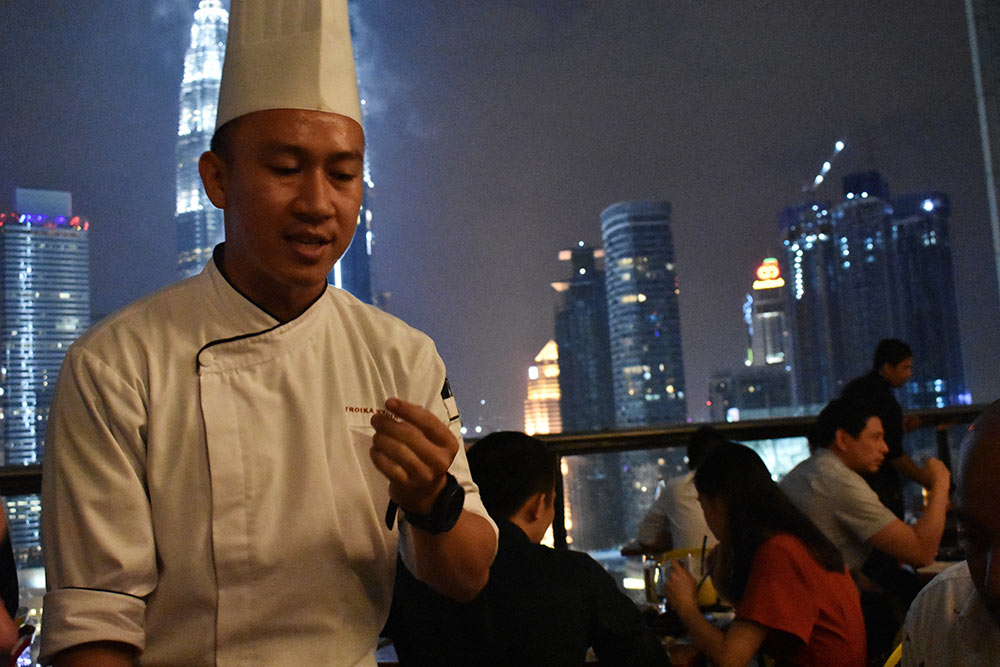 Mr. Chef
Address: The Troika, Persiaran KLCC, Kuala Lumpur
• Fantastic food, made to share
• Vibrant and fun atmosphere
• Amazing skyline views
• Friendly and great service