Rooftop bars are different. The ambiance, the views, the heights! If you haven't been to one yet, then now is the time to consider it. Nothing beats feeling like you're on top of the world- quite literally if your rooftop bar is on top of the tallest building around. Without a doubt, there's nothing more thrilling than finding the perfect viewpoint with your favorite cocktail in hand and watching the world go by as the clouds pass blissfully above you.
The serene scene of the cityscape beckons you to find the hidden gem which is a rooftop bar. Discover quirky decoration, bespoke surroundings, and an atmosphere unlike any other. Enjoy some delicious food with a colorful drink and consider the world below you. If you're unfortunate enough to live in an area that doesn't have a rooftop bar, then, by all means, go out of your way to find one. You won't regret it. Make a weekend of it. Do some research into the best venues around and grab some friends, or go by yourself and bask in the glorious views - with alcohol, of course.
Now, you might be wondering what all the fuss is about, but until you experience it yourself, here are some pretty obvious reasons you should visit a rooftop bar.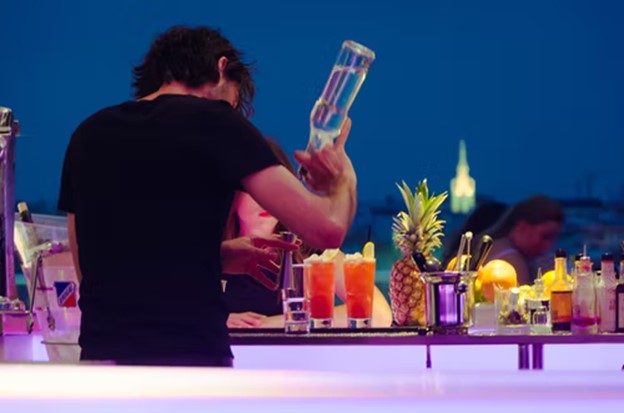 Rooftop Bars are Unique
There's just something unique about these types of bars. It's definitely the views, but it's also the exclusivity it provides. They're just different from regular bars. When you step onto one, there's a slight 'members only' vibe, you won't get anywhere else - unless you're going somewhere really posh and expensive.
They stand out from the crowd, emphasizing customer service and food and drink choice. They are always one step ahead of their competition and remain up to date with an all-you-can-drink alcohol section, unmatched cocktail-making abilities, and sumptuous ingredients to entice more visitors.
But another great thing about rooftop bars is the cost of food and drinks. They're priced the same as the local bar around the corner from you. Despite the VIP treatment, you can still go out on the same budget you normally would, but experience something you wouldn't usually get to experience.
Rooftop Bars Offer Stunning Views
When was the last time you were in a location that offered a sunrise (depending on opening and closing times), sunset, paramount views, people watching, and stargazing all in one place?
Research has found that it's scientifically proven that views of the outside world help us recharge mentally and reduce stress. And what better way to improve your mental health than on a rooftop bar and a view that stretches on for miles?
If you're on holiday right now, find a rooftop bar and experience the town you're staying in from a point most other tourists wouldn't think about visiting. A 360-degree panoramic photo will spice up your social feed and be the envy of your adventure-seeking friends.
Enjoy the warm sunshine and experience the chilly nights as the city below changes with each shifting patch of shade. When it's raining, forget struggling with an umbrella that won't stop folding inside out in the wind. Almost all rooftop bars will be prepared for unpleasant weather conditions, so they will have some roofing mechanism installed. Imagine being so high up you can see the rain falling from the clouds before it lands on the heads of those below you.
The Drinks
There's something elegant about a rooftop bar that makes you want to sip on martinis when you're usually a beer drinker. Reimagine your holiday in the sun that is too far in the past to remember, while sitting on top of a rooftop bar with the same Pina Coladas you sipped on while your toes burned in the heat of the sand. The different types of alcohol and drinks can leave you with a sore head in the morning after you let the fun times take over. But what's a sore head compared to a great night, unlike any other?
When you want something more than basic bar treatment and service, a rooftop bar will provide comfort, good music, fun cocktails, and fantastic food you wouldn't receive anywhere else.
A Place to Socialise Unlike Any Other
There's no denying that bars and socializing go hand in hand. But what do you think happens when a group of people who have never met before find themselves on a rooftop when there is alcohol involved? Extreme socializing at its best. Not only is the adrenaline pumping from being so high up, but the excitement coupled with the once-in-a-lifetime opportunity creates a sense of togetherness.
A popular venue will usually have a lot of visitors coming in and out to experience the views and atmosphere, so there'll be plenty of guests to mingle and chat with. The arrangement of the tables and chairs on a rooftop bar is usually very guest-centered, so why not take advantage of the many health benefits of socializing and enjoy the company of strangers in this new and exciting location?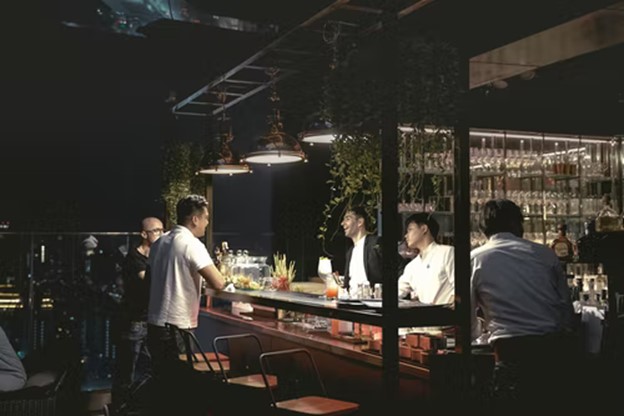 Rooftop bar owners like to offer as much space as possible to keep the number of visitors at capacity. This means you'll be eating your food while close to the people at the table next to you. A setup like this tends to encourage our social aspects to emerge while we're having fun.
Forget stale bar rooms and salted peanuts, leave the slot machines at the local bar, and shout from the rooftops -literally- in excitement as you make the most of a rooftop bar for a day or night out.
Experience a crazy night out with friends or relax with a good book while soaking up a charming and unique venue that is difficult to find anywhere else. Although the top of the Empire State Building and the heights of skyscrapers are famous for their views, the quiet moments of watching the world slip by far below you really set the tone for your day on the rooftop bar. Pack a warm jacket for the cold evenings or sunscreen for a warmer day, sip on a cocktail or whiskey on ice and enjoy the landscape in front of you.