The city of Chicago is located in the heart of the United States, Midwest, to be precise. It is amongst the largest metropolitans in North America, having gathered a diverse list of amazing galleries, museums, concert halls and more.
But aside of the cultural aspect of Chicago, there is an amazing nightlife out there to be explored. We have prepared a great list of places to visit to grab a bite or sip on some red wine.
When talking about dress code for roof bars in Chicago, it is like we talk about a menu that fulfills everyone's taste. It's diverse, just like the city itself. It's casual and formal at the same time, giving you the opportunity to choose from the best locations to a low-key wonderful spots to enjoy the great city skyline.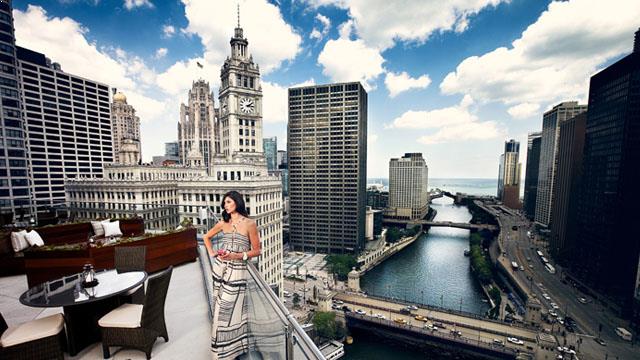 Fancy dress code at Terrace 16 | Photo credit: Terrace 16
Check out the best rooftop bars in Chicago and which dress code each rooftop aquire. You'll find all info under each rooftop.
1. Fancy dress code at Terrace 16
Terrace 16 is located right in between the Wrigley Buidling and Tribune Tower. It's exposing a wonderful view of the Chicago nightlights. Dress up for an occasion. Although the staff shall probably let you in, being underdressed in not the best of ideas when visiting this spot. Be sure to make a reservation, as it is a very popular rooftop restaurant in the area.
2. Rock an everyday look at The Chop Shop
The Chop Shop like to keep it simple. Rock your everyday look and don't bother about a specific dress code. This rooftop bar in Chicago has it all – great drinks list, simple dishes menu and an awesome view of the city.
3. Casual at Drumbar, Rafaello Hotel
Don't spend way too much time thinking of an appropriate dress code for rooftop bars in Chicago. Just put a nice shirt and your favorite shoes on and hop on the board of Drumbar on the top of Rafaello Hotel in Chicago.
This place has an amazing outdoor terrace where you can have a calm dinner, while relaxing with the endless Chicago skyline in front of you. The inside interior reminds of an old wood cabinet, and is suitable for business meetings as well as a casual date for a drink.
4. Formal attire at Celeste
It is fancy. It is popular. It is Celeste. This particular rooftop bar has a strong Victorian inspired décor. Make your reservations and prepare an outfit to be remembered. Celeste rooftop bar is located on 111 W. Hubbard St., and is ready to take your reservation for the night.
5. Gene's Sausage Shop
Yep, it is exactly what it says. It's a sausage shop. The only exception is that it offers the finest sausages and typical Western European cuisine to indulge on. It's located on Lincoln Street, having the easiest locations to find.
Fun fact: you can pick up a basket full of homemade goodies from the shop inside the rooftop restaurant. No formal attire is required.