Divina Terrazza has one of the best views in all of Florence. From this amazing rooftop bar, you'll be close to many of the historical and beautiful buildings you can find in this city. It's hard to find a better place than Divini Terrazza to see all these buildings from.
OPEN ALL YEAR LONG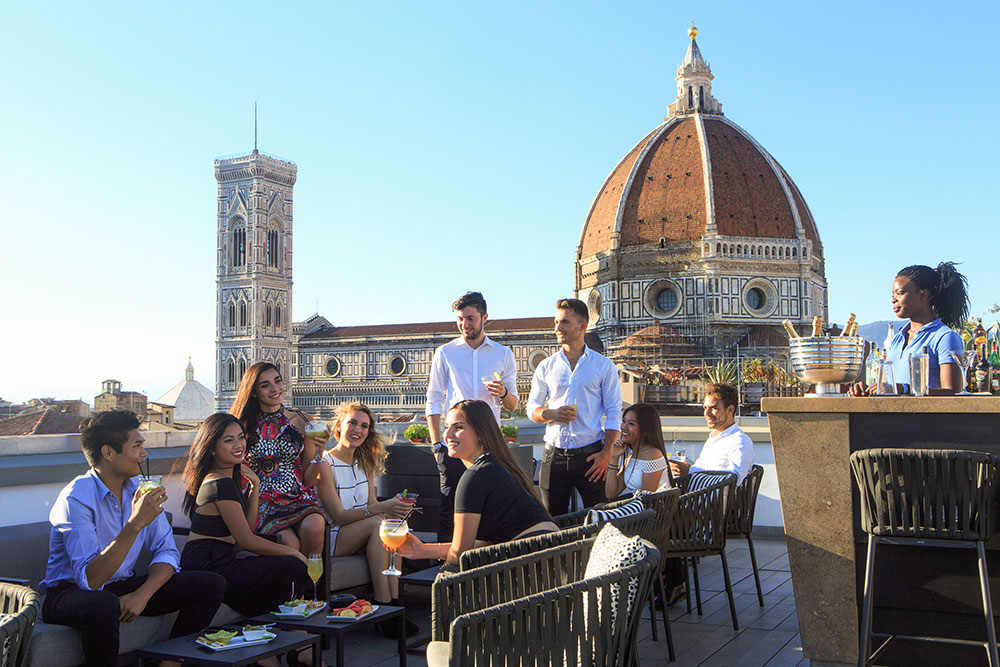 Photo: www.albergocavour.it
Unlike many other rooftop bars in Florence and Italy, Divina Terrazza is open all year long. The opening and closing time are variable depending on the season. So, make sure to look that up before your visit. The best thing is to book your table in advance, which is available for both non hotel guests and hotel guests. There is, however, a reservation fee for this which is variable as well.
During the winter season there is a transparent waterproof cover over the rooftop, so you can visit also while it's raining. The menu is changed twice a year with different wine labels and signature personalized cocktails.
IT'S ALL ABOUT THE VIEW
Divina Terrazza is located at the 4-star Grand Hotel Cavour right in the middle of the buzzing streets of Florence. Take the elevator or stairs to the 6th floor and you'll end up at the terrace.
If you turn to your head to the left, you'll be faced in front of the Palazzo Vecchio which dominates the Piazza Signoria, and the whole city just a few meters away.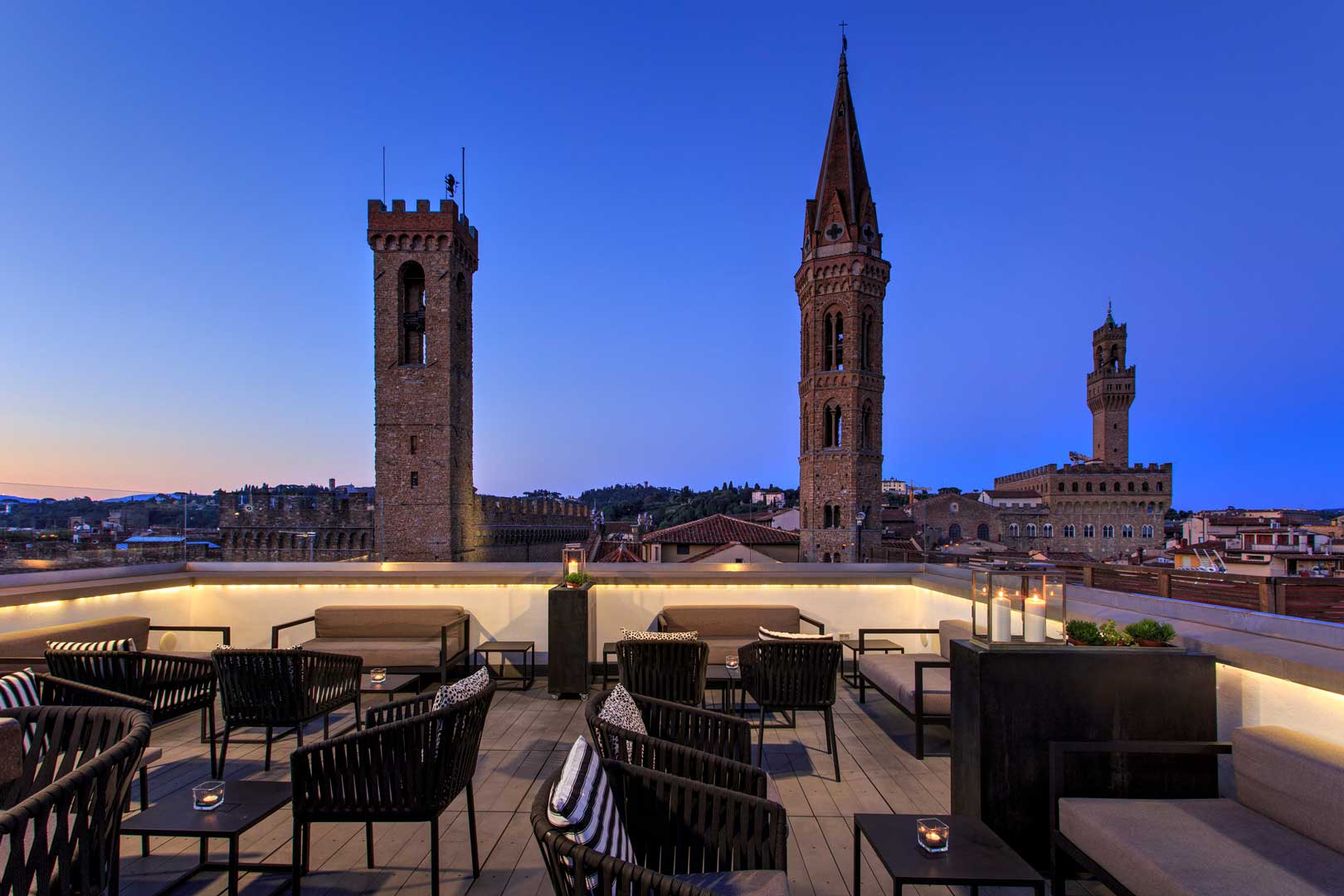 Photo: www.albergocavour.it
Look beyond Palazzo Vecchio and you'll find the bell tower of the Mediaeval Abbey (Badia Fiorentina). Everything seems so close like you can almost touch the buildings. A short distance away the crenellated walls of the Bargello Museum building stand facing the hotel.
And the most famous building of them all, The Duomo, works as a mighty backdrop of the terrace. Like mentioned. It's hard to find a better view of Florence than this.
THE APERTIF GIFT CARD
The "Divina Terrazza Aperitif Gift Card" is the perfect present for Christmas or birthdays. The cards are made with quality materials and enclosed in a modern and attractive package. They have designed 3 different values of €20, €40 and €60 that can be used exclusively for consumption from the rooftop bar.
The gift cards will not expire and can be used all year round. You can purchase them at the hotel reception or directly from the bar. You will not only give your loved ones a gift card, but also an experience they will never forget.
Where: Via del Proconsolo, 3, 50122 Firenze
When: All year long
Famous views:
Palazzo Vecchio - The Palazzo Vecchio is the town hall of Florence, Italy and overlooks the Piazza della Signoria.
Badia Fiorentina - The Badìa Fiorentina is an abbey and church now home to the Monastic Communities of Jerusalem.
Duomo di Firenze - Florence Cathedral, formally the Cattedrale di Santa Maria del Fiore is the cathedral of Florence.