The French Riviera is synonymous with luxury and the jet-set life. And the rooftop bars go hand in hand with that same feeling, surrounding all of this magical coastline.
One of the most well-known coastlines in the world. Here you find hundreds of luxurious hotels, many which offer grand rooftops, perfect for relaxation close to the sky. Many of them with great Riviera beach clubs.
In this article, The Rooftop Guide have assembled the 8 best rooftop bars on the French Riviera. Enjoy!
1.

Marea

/ Cannes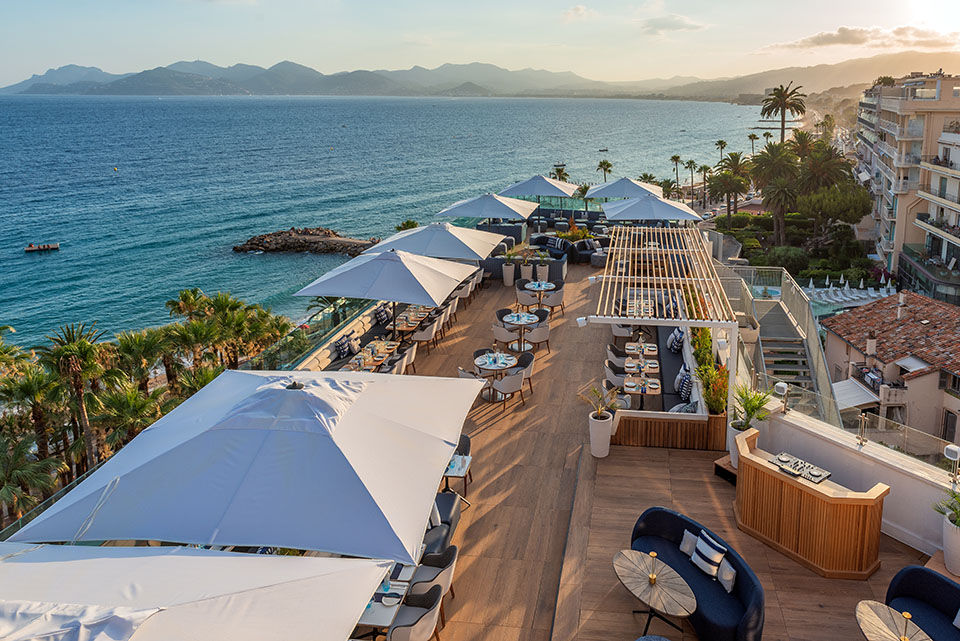 Marea - Photo: https://marea-restaurant.com/
To embrace the best and most elevated life of the Côted'Azur, take aim for the 7th floor of the superb Canopy by Hilton Cannes, where you find Marea rooftop restaurant and cocktail bar.
Recreating the world of yachting, the beautiful rooftop blends interior seating with a spacious outdoor terrace, surrounded with uninterrupted and panoramic 360° view of the shimmering Mediterranean sea and the Suquet old town.
Open nightly, you can visit the rooftop bar for amazing sunsets and cocktails drawing on the flavours and products of the region, citrus fruits and syrups.
The rooftop restaurant offers a menu full of surprises. Raw or marinated, from land or sea, savoury or sweet, always light, the dishes pay tribute to the natural elements, and comes filled with flavors from around the world.
Filled with a warm, intimate and stylish atmosphere, Marea offers a French Riviera rooftop experience out of the ordinary.
MAREA
2 Bd Jean Hibert, 06400 Cannes
2.

Horizon Rooftop

/ Monaco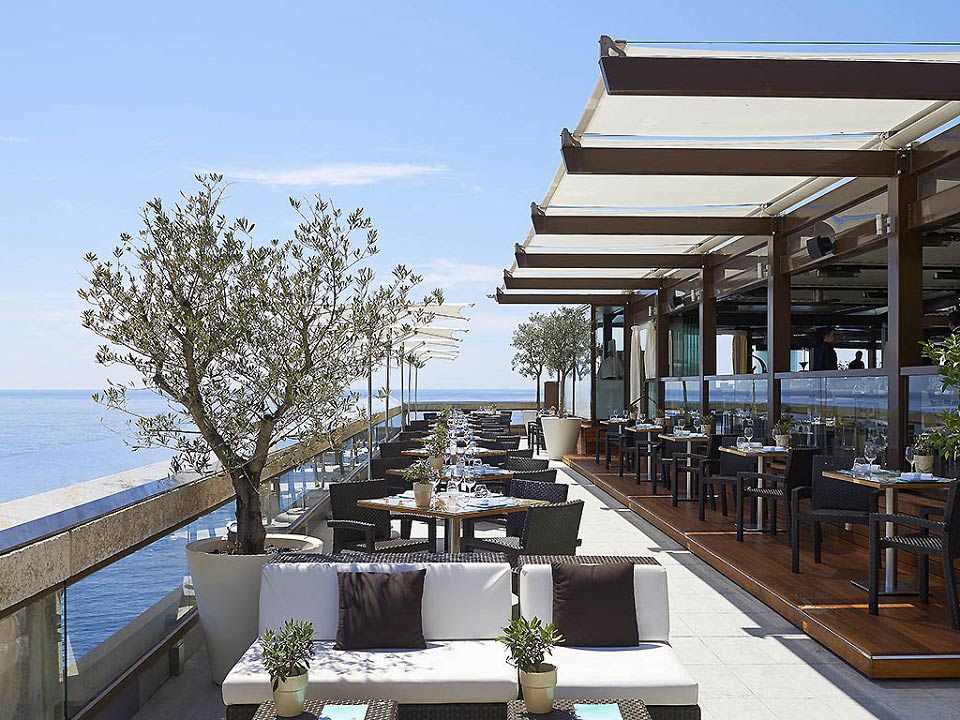 Horizon Rooftop - Photo: www.fairmont.com
Located on the 7th floor of the famous Fairmont Monte Carlo, Horizon Rooftop is the perfect place to enjoy jaw-dropping views and a fantastic upscale atmosphere.
Stunning 360-degree views of the Casino, the Opera House, the Prince's Palace, and the Mediterranean make this rooftop an unbeatable location. If that wasn't enough, the food, the drinks, and the service are all of the highest quality.
Open from breakfast to late dinner; the restaurant focuses on classic French cuisine made with local and seasonal ingredients, as well as a fantastic seafood menu.
Drink-wise, expect fine wines, delicious champagnes, and high-quality liquors.
Reservations are a must and keep in mind that while the restaurant has long opening hours during the summer, it only opens for breakfast and lunch during winter.
HORIZON ROOFTOP
12 Avenue des Spélugues, 98000 Monaco
3.

Calade Rooftop Restaurant at Radisson Blu

/ Nice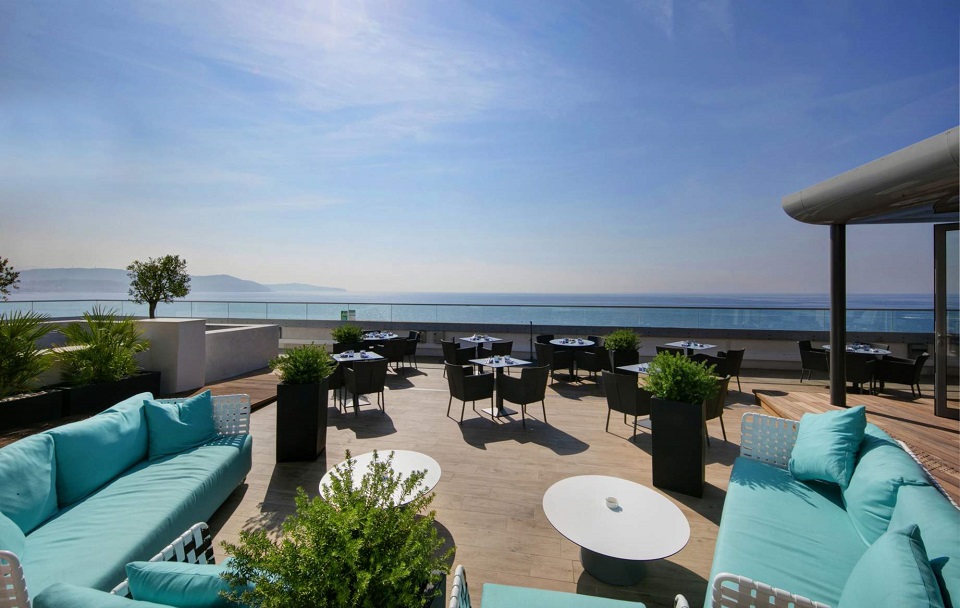 Calade Rooftop Restaurant at Radisson Blu - Photo: www.calade-rooftop-restaurant.com
The Calade Rooftop Restaurant is a relatively new addition to Nice's skyline, but it has gathered quite a reputation in its short time in the city.
Offering incredible views of the Promenade des Anglais, the Mediterranean, and the bay, Calade is an excellent location for romantic dinners and celebratory events.
Open daily for lunch and dinner, and serving delicious Mediterranean food prepared by Chef Maxime Bernard, Calade offers both indoor and outdoor seating options, as well as a sophisticated decoration and a relaxing atmosphere that'll make any visit one you'll remember.
While the restaurant proper is only open for lunch and dinner, the terrace is open to hotel guests most of the day, as well as the rooftop bar located up here, where you can order beers cocktails, wine, and other fresh drinks while taking a dip in the rooftop pool.
The rooftop pool is exclusive to guests staying at Radisson Blu Hotel Nice. So if you want to take a dip in one of Nice's coolest rooftop pools, make a reservation!
CALADE ROOFTOP RESTAURANT
223 Prom. des Anglais, 06200 Nice
4.

Eden-Roc Lounge

/ Antibes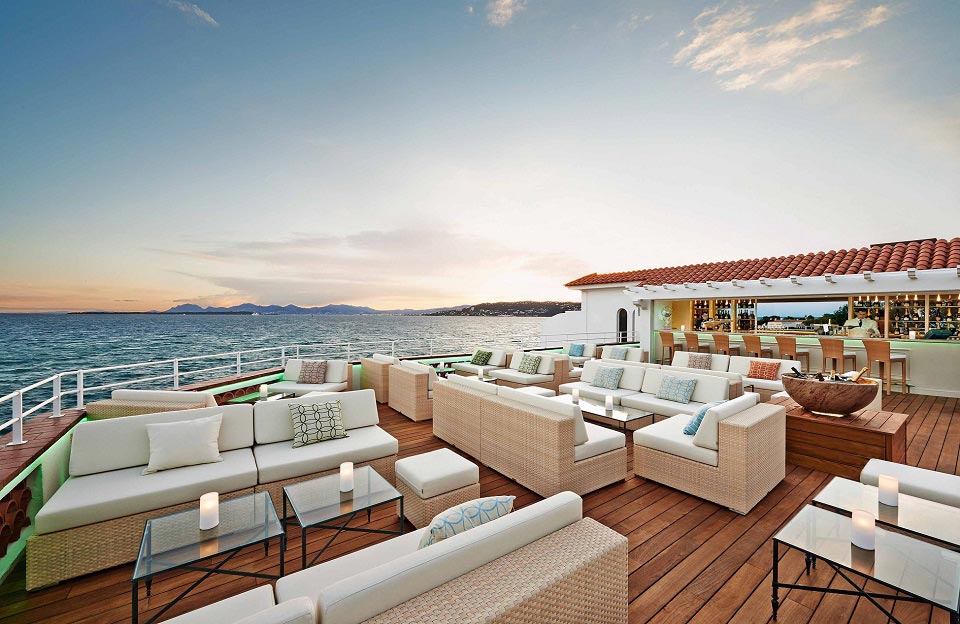 Eden-Roc Lounge - Photo: www.oetkercollection.com
Overlooking the crystal blue waters of the Mediterranean, the Eden Rock is an ideal venue for champagne connoisseurs.
The Eden Roc collaborates exclusively with 14 different champagne houses, all carefully selected by the lounge's head sommelier.
Thanks to this, the Eden-Roc boasts the most prestigious signature champagnes in the entire country, making it a must-visit for people looking for more than just a bar.
Each Thursday, the Eden-Roc hosts a champagne showcase and educates visitors on the many qualities of this incredible drink.
Glasses are served alongside a delicate Bento box, created by Koori, which is savory before 10pm and intriguingly sweet after 10pm.
EDEN-ROC LOUNGE
167-165 Boulevard J. F. Kennedy, 06160 Antibes
5.

Le Restaurant & Le Bar at Hôtel le Versailles

/ Villefranche-sur-Mer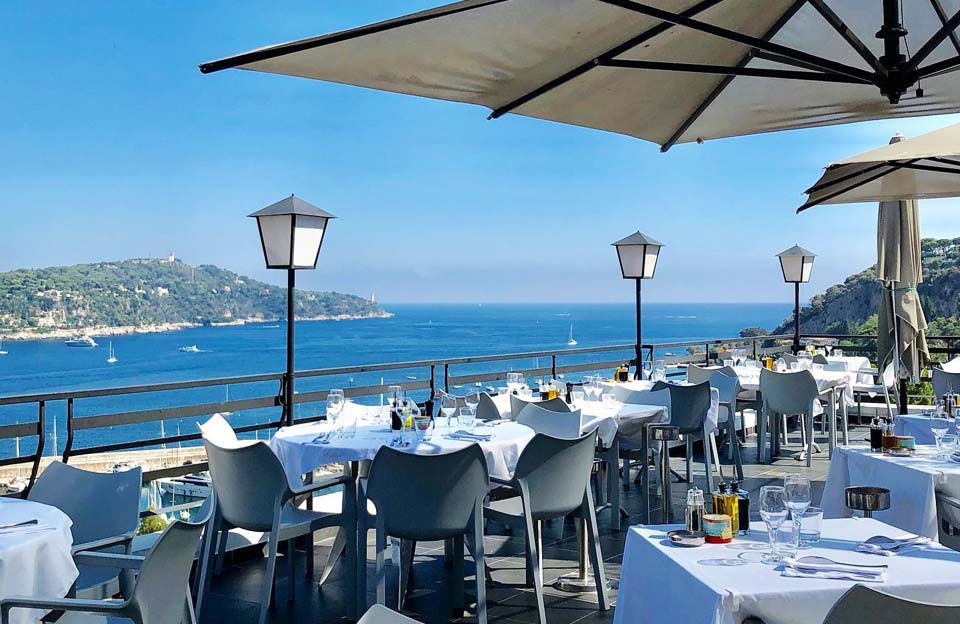 Le Restaurant & Le Bar at Hôtel le Versailles - Photo: https://hotelversailles.com/
A short ride outside Nice, in the charming village Villefranche-sur-Mer, you find the equally charming Le Restaurant & Le Bar at Hôtel le Versailles.
Perched on top of Hôtel le Versailles, the beautiful terrace offers amazing views over the Villefranche-sur-Mer's bay. Watching the crystal clear Mediterranean and all the boats can keep you busy for hours.
Open for dinner every night, and sometimes also from Thursday to Sunday for rooftop lunch, Le Restaurant & Le Bar at Hôtel le Versailles serves delicious Mediterranean cuisine, faithful to tradition and with attention to details.
Complemented with a fine wine list and a full bar menu, including both signature and classic cocktails as well as a range of beers, this terrace is close to a 'must-visit' while traveling the French Riviera.
LA RESTAURANT & LE BAR
7 bd Princesse Grâce, 06230 Villefranche-sur-Mer
6.

Les Toits, Hotel de Paris

/ St Tropez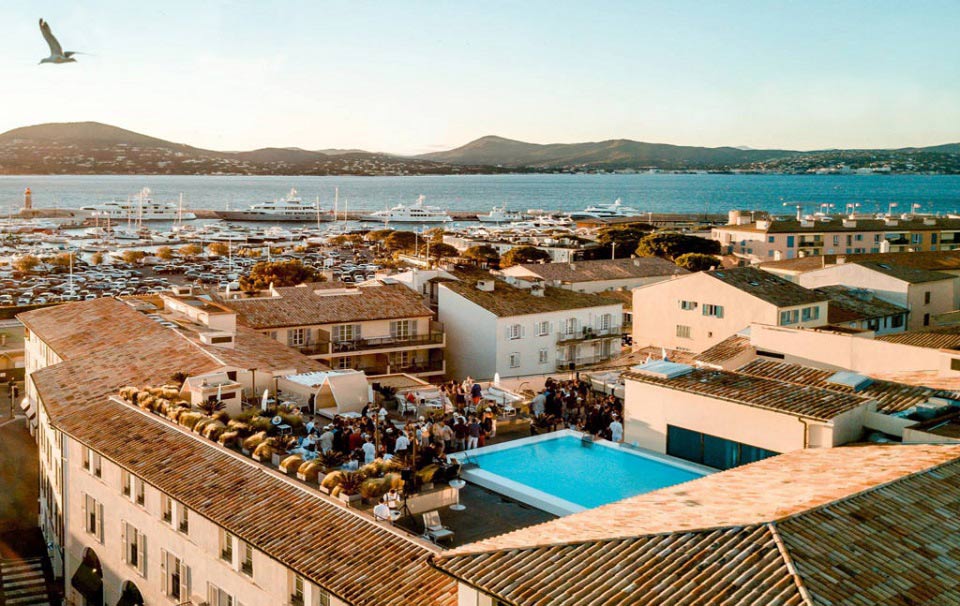 Les Toits, Hotel de Paris - Photo: www.hoteldeparis-sainttropez.com
While St Tropez isn't known for its tall buildings, it sure is known for its class, and Les Toits is no exception.
This ultra-sophisticated lounge bar and restaurant offer incomparable views of the city, a one-of-a-kind rooftop pool, and a comfortable open-air terrace perfect for relaxing and enjoying life.
Les Toits is the perfect venue to enjoy long lazy days under the sun, swimming, drinking Champagne, and sunbathing, all while enjoying the views and the live DJ music shows.
Because of its excellent service and unmatched beauty, Les Toits tends to attract an A-list crowd, meaning the prices are high and reservations are required.
However, the wait and the expense are more than worth it, as the fantastic Mediterranean menu, the world-class drinks, the unparalleled service, and the views make this a location you won't regret visiting.
Locally sourced drinks, fresh fruits, vegetable juices, expertly-mixed cocktails, liquors from around the world, and an exclusive atmosphere makes Les Toits a must-visit.
LES TOITS
1 Traverse de la Gendarmerie, 83990 Saint-Tropez
7.

La Terrasse at Le Méridien Nice

/ Nice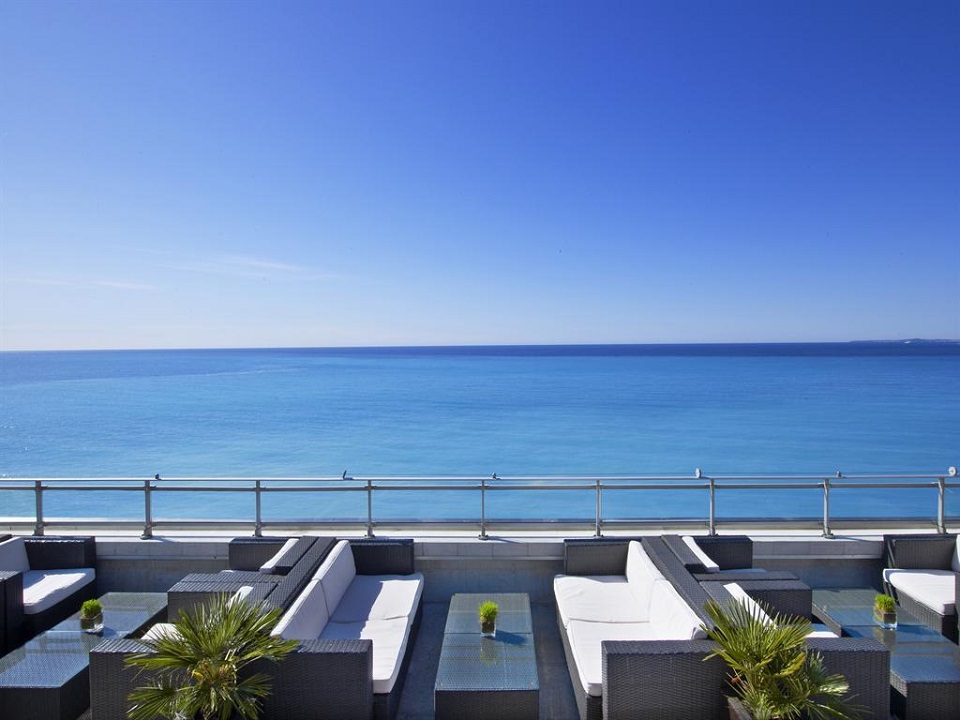 La Terrasse at Le Méridien Nice - Photo: www.laterrasse-nice.com
Located on the 10th floor of the fantastic hotel Le Méridien Nice, this rooftop bar is called La Terrasse and is known for offering top-notch service and stunning views of the city.
La Terrasse is one of the highest terraces on the entire Promenade des Anglais and offers both indoor and outdoor seating, as well as restaurant and lounge settings, which makes it an excellent location for drinks with friends or romantic dinners.
The restaurant focuses on French dishes, Asian bowls, and a few Italian specialties, while the bar is known for its variety, high-end liquors, and delicious wines, and cocktails.
The atmosphere is calm and inviting, perfect for relaxing after a busy day in the city.
There is also a gorgeous rooftop pool, though this one is accessible only by hotel guests.
LE MERIDIEN NICE
1 Prom. des Anglais, 06000 Nice
8.

Mayssa Beach

/ Villefranche-sur-Mer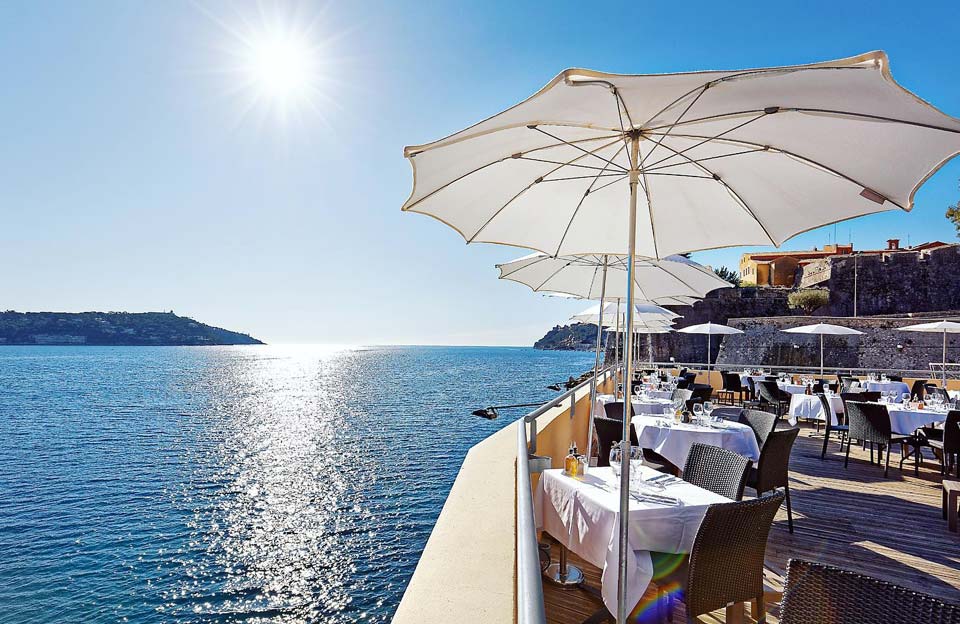 Mayssa Beach - Photo: www.mayssabeach.fr/
Right down by the water in Villefranche-sur-Mer you find Mayssa Beach (also known as Mayssa Restaurant). As you probably can guess given the location, this panoramic restaurant offers amazing views over the bay and the harbor.
Open daily for lunch and dinner, the second floor terrace is always a fantastic idea to visit, and not only because of the views.
In a friendly and lovely atmosphere you can enjoy an impressive selection of wines and a Mediterranean style food menu, where the speciality is a whole fish prepared at your table.
Mayssa Beach is a popular rooftop, so reservations are recommended, even though walk-ins are also welcome.
MAYSSA BEACH
Place Wilson, 06230 Villefranche-sur-Mer