Vietnam is one of those Asian countries with a great all year-round climate for rooftop bars. Most of the best rooftop bars in Vietnam are located in the bigger cities like Ho Chi Minh City, Hanoi and Da Nang. But you can also find some superb rooftops along the coastline in smaller cities or paradise destinations.
Many roof terraces are located at hotels and some of them can brag with luxurious rooftop swimming pools as well. The prices here are very human as well, compared to many other rooftops around the world.
Here's a list made by The Rooftop Guide of the 10 best rooftop bars in Vietnam. Enjoy!
1.

Zion Sky Lounge & Dining

/ Ho Chi Minh City
Zion Sky Lounge & Dining - Photo: www.facebook.com/ZionVN/
Floating 14 floors above the heart of bustling Saigon, Zion Sky Lounge & Dining is a luxurious and futuristic sunset and nightlife rooftop.
Surrounded by amazing panoramics over the Saigon river and the cityscape, the rooftop blends the rust with the contemporary, offering a unique architecture with a striking steel-and-sandstone structure.
Visit the rooftop bar early evening (5.30pm-8pm) for Sunset Hours, which include amazing sunset views, as well as special promotions on the crafted cocktails and elevated bites. Elegant and relaxing, this is bound to be some fantastic hours with friends and loved ones.
As darkness falls, the architectural elements starts to shift colours to the beat of the music, and the rooftop turns into a buzzing and fun-filled venue, packed with live music, DJs and a large crowd.
ZION
87A Hàm Nghi, Phường Nguyễn Thái Bình, Quận 1, Ho Chi Minh City
2.

Vivid Rooftop Bar & Pool

/ Da Nang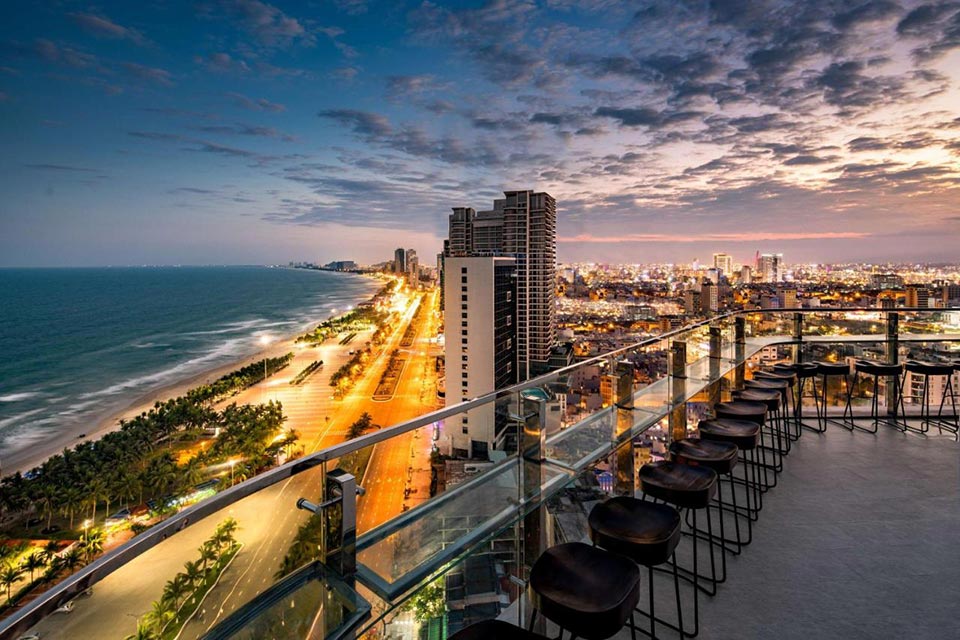 Vivid Rooftop Bar & Pool - Photo: www.radissonhotels.com/
Vivid Rooftop Bar & Pool is a trendy and elevated oasis, perched on the 21st floor of the modern Radisson Hotel Danang.
Located within walking distance of the famous My Khe Beach, the hotel and rooftop bar holds a prime location, and also comes surrounded with prime views over the ocean and the Da Nang skyline.
Equipped with an amazing infinity pool that blends into the ocean, Vivid Rooftop also offers a spacious and sleek indoor / outdoor lounge.
Here you can settle down in the comfy and colorful lounge furniture, or the front-row bar stools that really puts you right in front of the panoramic views.
The rooftop bar serves an extensive selection of drinks, including signature cocktails crafted by the talented mixologist, as well as a nice selection of wines.
To go with the drinks, there is also a snack menu that features fresh and roasted nuts, dried fruits, and marinated vegetables.
VIVID ROOFTOP BAR & POOL
170 Võ Nguyên Giáp, Phước Mỹ, Ward, Da Nang
3.

Social Club Rooftop Bar

/ Ho Chi Minh City
Social Club - Photo: www.accorhotels.com
If you're looking for an exclusive and high-end experience, the Social Club is a great option, as it showcases some of the best food in the entire city.
With a European-inspired menu and a comfortable lounge area with stunning views of the city, the Social Club is the perfect place for when you want to enjoy yourself away from large crowds.
Wooden details, wicker chair bar stools, and an open terrace give this beautiful bar a relaxing atmosphere; A true oasis in the middle of one of Vietnam's largest cities, set on top of Hotel Des Arts Saigon.
Though its laid back atmosphere invites contemplation, the Social Club Rooftop Bar also offers live DJ music and a more party ambiance, but that's usually reserved for late nights.
SOCIAL CLUB
Hotel des Arts Saigon, 76-78 Nguyen Thi Minh Khai District 3, Ho Chi Minh City
4.

Chill SkyBar Saigon

/ Ho Chi Minh City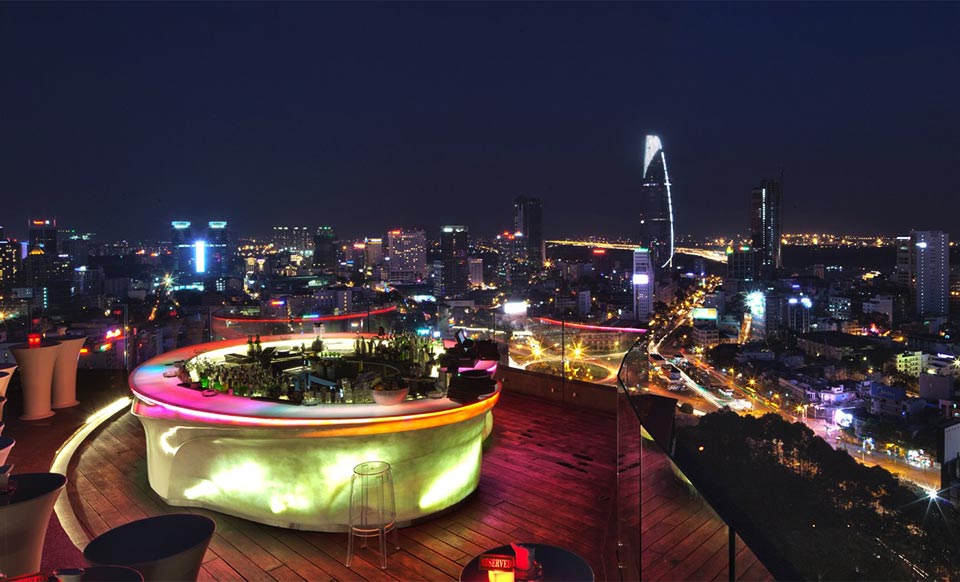 Chill SkyBar - Photo: http://chillsaigon.com
Located on the 26th floor, this is one of the tallest bars in the city, as well as one of the most popular bars.
Offering unmatchable panoramic views of the entire city, this stylish and modern bar is known for its eclectic furniture and top-notch service.
Classic and signature cocktails, artisanal beers, and champagne and wines from around the world are readily available, as well as an extensive and delicious collection of bar foods.
Visit early in the afternoon for a more lounge-like experience and front-row seats for a stunning sunset.
Come late at night for a party atmosphere, live music shows and plenty of dancing!
The Chill SkyBar share space with the Chill Dining, a restaurant that specializes in steak and seafood.
Both places are popular, so reservations are encouraged.
CHILL SKYBAR
AB Tower, 76A Le Lai, District 1, Ho Chi Minh City
5.

Skylight

/ Nah Trang
Skylight - Photo: https://skylightnhatrang.com
One of the largest, if not the largest, sky bar in Nah Trang, Skylight is here to surprise you with fantastic service and unbeatable views.
From your vantage point on one of the bar's comfortable lounge areas, you'll be able to see everything the city has to offer:
The giant Buddha statue watching over Long Son Pagoda, the beautiful islands of Nha Trang Bay, the hustle and bustle of this lively city, and even the Po Nagar Temple.
If you're all about the view, then you can't do any better than Skylight.
With a relaxed yet classy atmosphere, this bar invites you to relax while admiring the sights.
Enjoy a delicious coffee or a cocktail while watching the afternoon pass you by; Or if you're feeling adventurous, walk over the glass-bottomed walkway this bar is famous for!
You won't get more vertiginous views anywhere else!
SKYLIGHT
Premier Havana Nha Trang Hotel, 38 Tran Phu, Loc Tho, Nha Trang City
6.

F29 Golden Beef & Sky Bar

/ Da Nang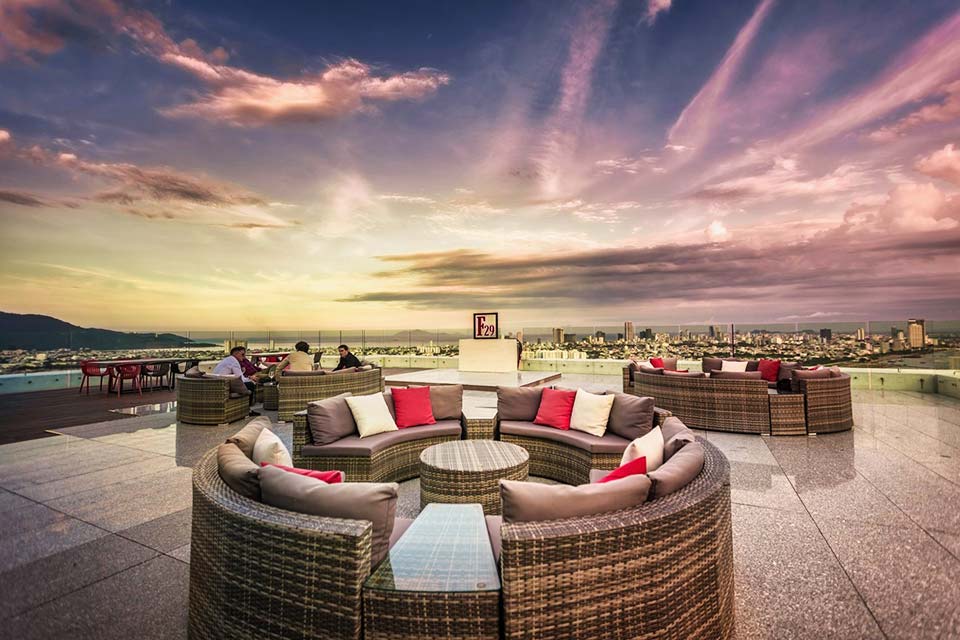 F29 Golden Beef & Sky Bar - Photo: https://dananggoldenbay.com/
Perched on the 29th floor of the fantastic hotel Danang Golden Bay, F29 Sky Bar Restaurant does not only offer panoramic views over the city, it is also one of the best French restaurants in Da Nang.
Stylish and modern in decoration, F29 works as both rooftop bar and restaurant, mixing comfy lounge sofas and standing tables with sleek dining tables.
From the rooftop bar you can order signature cocktails, beers, whiskey, champagnes, as well as enjoy an extensive collection of international wines.
If you visit for dinner, the F29 rooftop restaurant serves an á la carte menu with tasty French dishes, cooked by professional French chefs.
Sophisticated and towards upscale in setting and atmosphere, F29 Sky Bar Restaurant is a great choice for a romantic Da Nang dinner with views, or some stylish cocktails with a group of friends.
F29 SKY BAR RESTAURANT
Floor 29, Danang Golden Bay Hotel – 01 Le Van Duyet, Son Tra, Danang
7.

Ink 360

/ Phu Quoc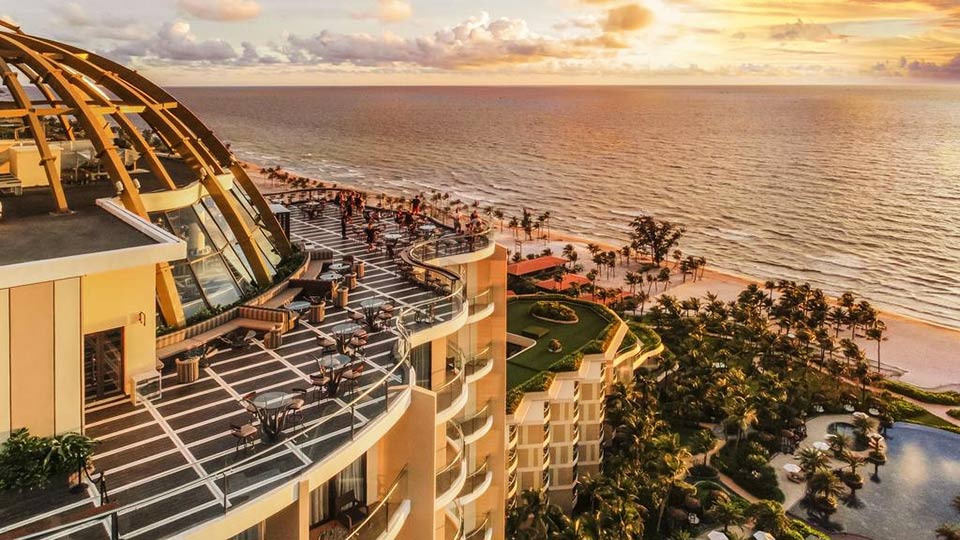 Ink 360 - Photo: https://phuquoc.intercontinental.com
A truly unique kind of bar, Ink 360 is a pleasure to see, inside and out!
Offering stunning panoramic views of the Phu Quoc island, and transporting visitors into Kraken infested waters thanks to its uncommon decorations, this is the kind of bar you need to see to believe.
Sleek, sophisticated, and mysterious, Ink 360 has a vast drink menu, including a collection of nautically inspired signature cocktails.
Drink alongside tentacles while enjoying the kind of sunset only an island can provide. The experience is more than worth the wait.
INK 360
Bai Truong, Duong To Ward, Duong To, Phu Quoc
8.

Brilliant Top Bar

/ Da Nang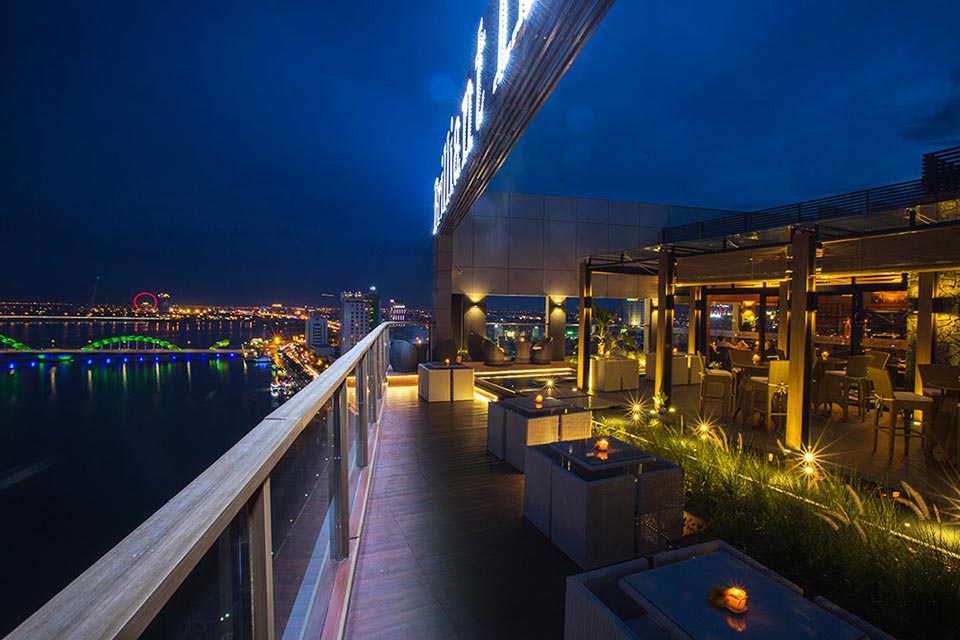 Brilliant Top Bar - Photo: www.brillianthotel.vn
A comfortable bar with a more relaxed atmosphere, Brilliant is known not only for its incredible views but also for its menu.
Large enough to accommodate up to 100 people, but still quiet enough to allow conversation, this sky bar has turned into a favorite amongst the locals who are just looking for a place to relax.
Located on the Rooftop of the Brilliant Hotel, this bar provides jaw-dropping views of the Han River and Da Nang's skyline.
Warm lighting, rattan chairs, and floor-to-ceiling windows allow guests to enjoy said views without getting up from their seats.
The bar offers a standard menu that features beer, wines, and cocktails.
The restaurant, overlooking the Dragon River Bridge, offers local cuisine as well as salads, pasta, and steaks.
If you're visiting, make sure to order a Tiger draught beer. Your visit to Vietnam won't be complete without one.
BRILLIANT TOP BAR
162 Bach Dang Street, Hai Chau I Ward, Hai Chau District, Danang
9.

Moonlight Sky Bar

/ Hanoi
Moonlight Sky Bar - Photo: https://skybars.vn/
Moonlight Sky Bar covers the top floor of La Siesta Classic Ma May, offering amazing 360° views across Hoan Kiem Lake, the Red River and the Old Quarter rooftops of Hanoi.
Dramatically constructed, up here glass, metal and wood complement a monochromatic color palette of black, grey and hints of cream creating an Indochina feeling.
Filled with a friendly yet vibrant atmosphere, this is a great spot for relaxing sunset drinks, as well as more vibrant night time lounge vibes under the Hanoi stars, with live music and DJs during weekends.
From the octagon-shaped and sleek rooftop bar you can order from a wide selection of crafted classic and signature cocktails, fine wines and spirits.
MOONLIGHT SKY BAR
94 Ma May, Hang Buom Ward, Hoan Kiem District, Hoan Kiem, Hanoi
10.

Sky36

/ Da Nang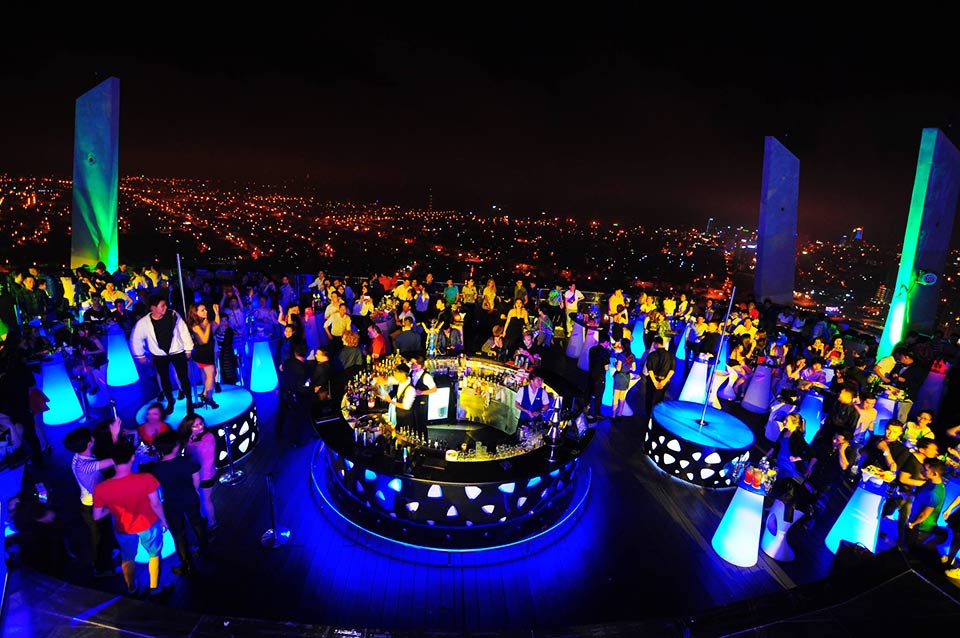 Sky36 - Photo: http://sky36.vn
The highest rooftop bar in Da Nang, this high-end sky bar offers amazing views of the City Center and the Bach Dang Street.
Split between three stories, this is one of the hottest nightlife spots in Da Nang, as it offers not only stunning views but also delicious cocktails.
Top-notch sound systems, neon-lit fixtures, comfortable sofa beds, and VIP lounges make it clear that this is a place for parties, and that's precisely what you'll find here.
Set on top of Novotel Danang, the Sky36 Bar is well known for its thematic parties, live performances, water drum shows, and even firework displays.
Though walk-ins are welcome and there are no cover charges, the drinks served here are quite expensive, though you won't worry about the price once you're having fun.
SKY36
36 Bach Dang, Da Nang