The second largest US state by both area and population, Texas has a whole lot to offer. A diverse and impressive landscape, but also several major cities with elevated venues to enjoy dining and driking with a view.
From Houston and Dallas to Austin and El Paso, this guide will take you to the very best rooftop bars Texas has available. And while it is a large state with multiple climate zones, the Texas summer is in most cases both long and hot, perfect for al fresco fun.
Here's our list of the best Texas rooftop bars. Check it out!
1.

Azul Rooftop at The Westin Austin Downtown

/ Austin
Azul Rooftop - Photo: www.marriott.com/
Perched on top of the luxurious and superb The Westin Austin Downtown, Azul Rooftop offers a perfect mix of daytime relaxation and night time leisure.
20 floors above downtown Austin, the roof terrace is surrounded with some truly spectacular views over the city skyline.
Modern and sleek in decor, with comfy lounge furniture and cosy fire pits, you can enjoy both a lunch in the sun or dinner at sunset, with live DJs playing chill tunes. The rooftop bar serves refreshing cocktails, both on draft and as frozen libations, along with wine, brews and a selection of bar bites.
Not only a top rooftop bar, the top floor at The Westin Austin Downtown is also home to an amazing rooftop pool. Heated and surrounded with loungers and private cabans, the pool is mainly exclusive to guests staying at the hotel. But outsiders can also rent a cabana for the day.
AZUL ROOFTOP
310 E 5th St, Austin, TX 78701
2.

Skylawn at POST Houston

/ Houston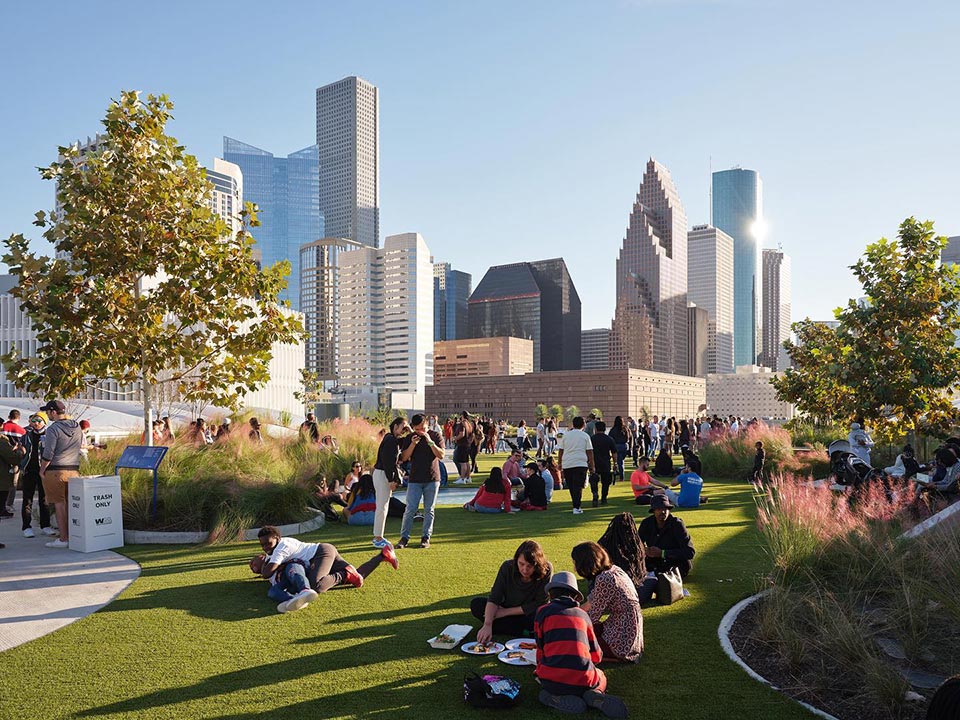 Skylawn at POST Houston - Photo: www.posthtx.com/
Opening during fall 2021, POST Houston is a former post office turned into a massive cultural hub, including concert venue, food and market hall, as well as work space. Best of all, the entire rooftop of the building has been transformed into a Texas sized rooftop park with an urban farm.
Called Skylawn, the terrace holds seven distinct gardens, each with its own plant palette, and it is truly a lush oasis.
Surrounded with panoramic views over Houston in all directions, the rooftop park integrates the downtown experience with Buffalo Bayou park.
Up here you can just settle down on the lawn and take in the views, take a walk on the skyline promenade, or watch both amateur and professional performers at the Stage. And of course, take some fantastic photos.
Areas of the rooftop can also be reseved to host private events, and it is bound to be a prime spot for those very special occasions.
SKYLAWN
401 Franklin St, Houston, TX 77201
3.

Otopia Rooftop

/ Austin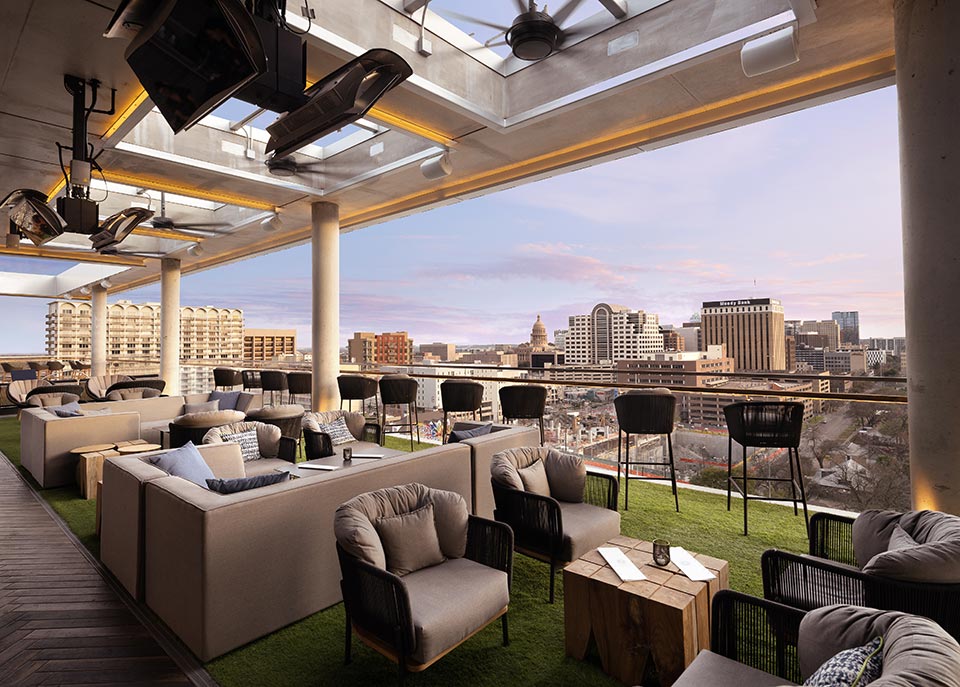 Otopia Rooftop - Photo: www.otopiarooftop.com/
Otopia Rooftop is the only luxury rooftop pool bar and lounge in Austin's Campus District, offering unique experiences from sun up to sundown.
Set on the 11th floor of The Otis Hotel, during daytime the rooftop is an exclusive oasis for hotel guests (or anyone with a Day Pass) to enjoy swims in the heated rooftop pool, and relaxing hours in a cabana under the Austin sun.
At night, everyone are welcome to the Otopia rooftop lounge, where crafted signature cocktails and refreshing lite bites are served together with amazing views over the Austin skyline.
Settle down in some of the comfy loungers, by the stylish rooftop bar, or in the bar stools right by the edge, and indulge in luxurious and elevated evenings in a great atmosphere.
Perfect for summer-fun, but Otopia Rooftop also offers fire-pits and cosy rooftop igloos to keep the sky-high vibes going all year-round.
OTOPIA ROOFTOP
1901 San Antonio St Unit 1100, Austin, TX 78705
4.

Lot 12 Rooftop Bar

/ Fort Worth
Lot 12 Rooftop Bar - Photo: www.lot12tcu.com/
Lot 12 Rooftop Bar is a new, hot and fun rooftop bar, located on the Texas Christian University's campus in Fort Worth.
Perched on top of the Hyatt Place Fort Worth/TCU, the rooftop bar is named after the Lot 12 parking lot, which is where the hotel and rooftop bar is found.
With a setting towards an elevated sports bar, you can visit to watch all the major games, while enjoying a selection of beer and wine, an extensive and surprising list of TCU-inspired cocktails, as well as shareables and bites.
But you can alos get a lot more active, by reserving the Topgolf Swing Suite simulators. The perfect space to gather for some fun and play anything from a virtual round of golf, to baseball, football and many more sports.
LOT 12 ROOFTOP BAR
2512 W. Berry Street, Fort Worth, TX 76109
5.

Gallery Rooftop Lounge

/ Dallas
Gallery Rooftop Lounge - Photo: www.canvashoteldallas.com/
Located in the Cedars area, just south of downtown Dallas, Gallery Rooftop Lounge is found perched on top of the stylish boutique hotel Canvas Hotel Dallas.
From the 6th floor terrace you get one of the very best views Dallas has to offer, with magical panoramics of the city skyline and other surroundings.
The most striking feature of the rooftop is the fantastic rooftop infinity pool. Usually only available for guests staying at the hotel, but from time to time there are also vibrant rooftop pool parties. And otherwise the Gallery Rooftop Lounge is open for everyone to enjoy a sunset drink or a full weekend night out.
The rooftop menu includes refreshing and art-inspired cocktails, domestic and imported craft beers, bubbles, Ice Wine pops and smaller bites to share.
GALLERY ROOFTOP LOUNGE
1325 S. Lamar St., Dallas, TX, 75215
6.

Rooftop at the Fairmount Hotel

/ San Antonio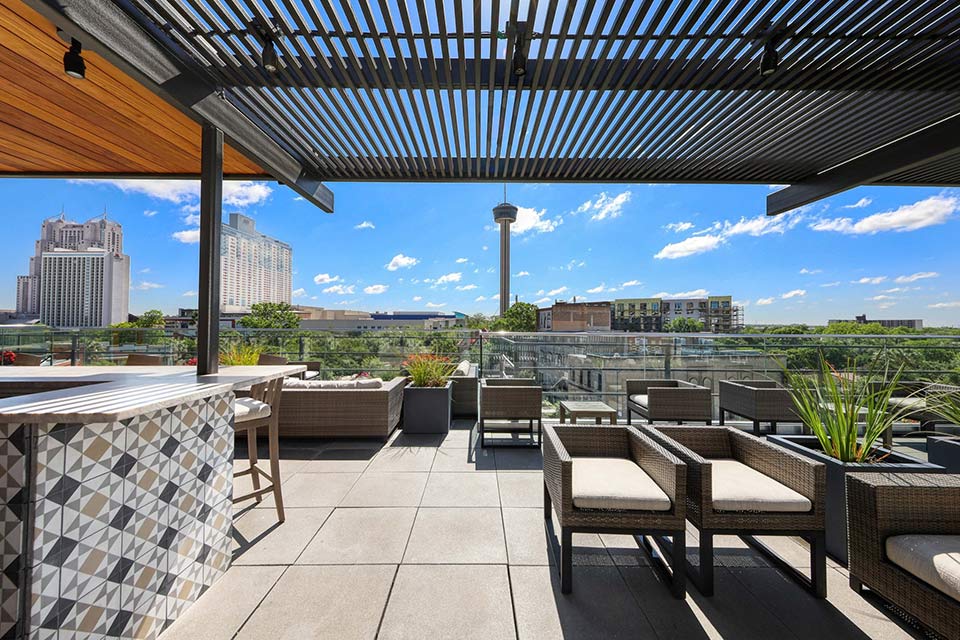 Rooftop at the Fairmount Hotel - Photo: www.fairmountsa.com/
Set atop the Fairmount Hotel, right in the heart of downtown San Antonio and next to the Hemisfair Park, the Rooftop at the Fairmount offers one of the best views the city has to offer.
While the space date all the way back to 1906, the rooftop bar is much more new and modern. Equipped with comfy lounge furniture, as well as a partially-shaded rooftop.
Open daily for dinner and lunch on weekends, the rooftop menu features the freshest oysters from East Coast boutique harvesters and American Seafood prepared with meticulous attention to detail. There is also a full bar menu, including well-crafted cocktails
Sophisticated and towards upscale in atmosphere and setting, the Fairmount rooftop is a great venue to start or finish any evening with some drinks and views.
ROOFTOP AT THE FAIRMOUNT HOTEL
401 South Alamo Street, San Antonio, TX 78205
7.

Ático Ft. Worth

/ Fort Worth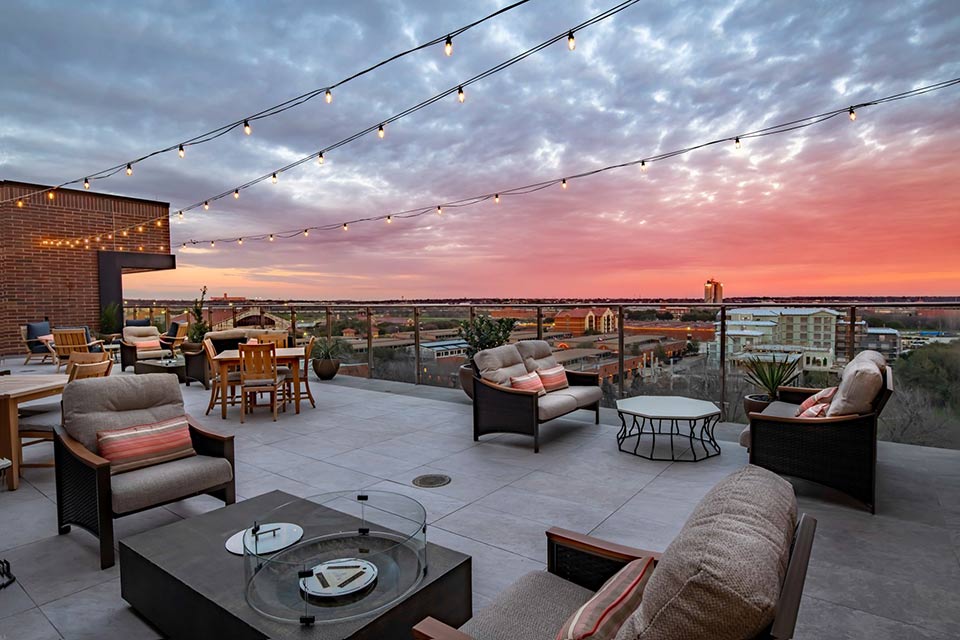 Ático Ft. Worth - Photo: www.aticoftworth.com
Created by world-renowned Chef Tim Love, Ático Ft. Worth takes you on a tapas-trip to Barcelona, right in the most historic parts of Fort Worth.
Perched on top of the new and superb SpringHill Suites by Marriott Fort Worth Historic Stockyards, the rooftop is stylish, intimate and luxurious both inside and out, surrounded with amazing views, over the Historic Fort Worth Stockyards and the downtown skyline.
Settle down in one of the comfy loungers or by the long bar/open kitchen and enjoy fine tapas dishes, complemented with crafted cocktails and a large selection of beer and wine.
ÁTICO FORT WORTH
2315 N Main St, Fort Worth, TX 76164
8.

La Perla

/ El Paso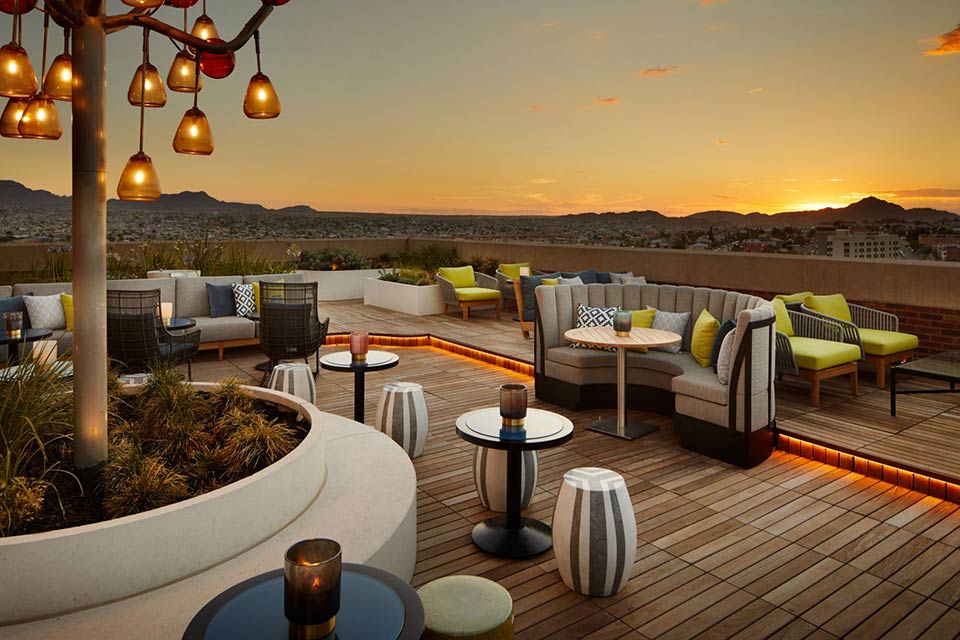 La Perla - Photo: www.plazahotelelpaso.com/
La Perla is a contemporary rooftop bar and restaurant, occupying what was once the penthouse suite of The Plaza Hotel Pioneer Park in downtown El Paso.
From the rooftop you can enjoy some truly panoramic views, over El Paso, the surrounding Rocky Mountains, all the way over the borders of Mexico and New Mexico.
The setting at La Perla is about as beautiful as the view, and the menu includes reinvented classic cocktails as well as seafood-driven plates, like oysters, ceviches and coctel classico.
Located on the 17th floor, La Perla is the tallest rooftop bar in El Paso, and it might also very well be the best.
LA PERLA
106 W Mills Ave, El Paso, TX 79901
9.

Rules & Regs

/ Austin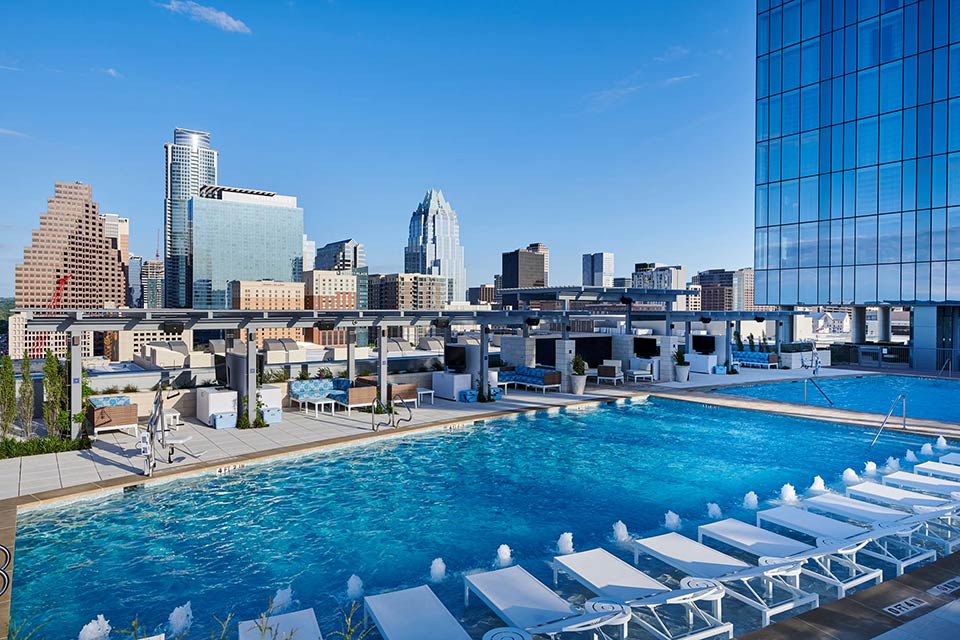 Rules & Regs - Photo: https://fairmont-austin.com/
The 7th floor of the fantastic Fairmont Austin is not only home to a fantastic rooftop pool, but also a lovely cocktail rooftop bar called Rules & Regs.
Overlooking Austin's cityscape, R&R invites you to enjoy fresh Latin flavors with a taste of the tropics. Here you find crafted and unique cocktails made to perfection, along with a nice selection of beers, wine, bubbles and a nice selection of bites.
Visit for relaxing and sunny rooftop cocktails in the afternoon, or come at night to enjoy the vibe and great tunes from live DJs. You can also make it a full 'rooftop-pool-and-bar-day' by reserving a cabana.
RULES & REGS
101 Red River St, Austin, TX 78701
10.

Waterproof

/ Dallas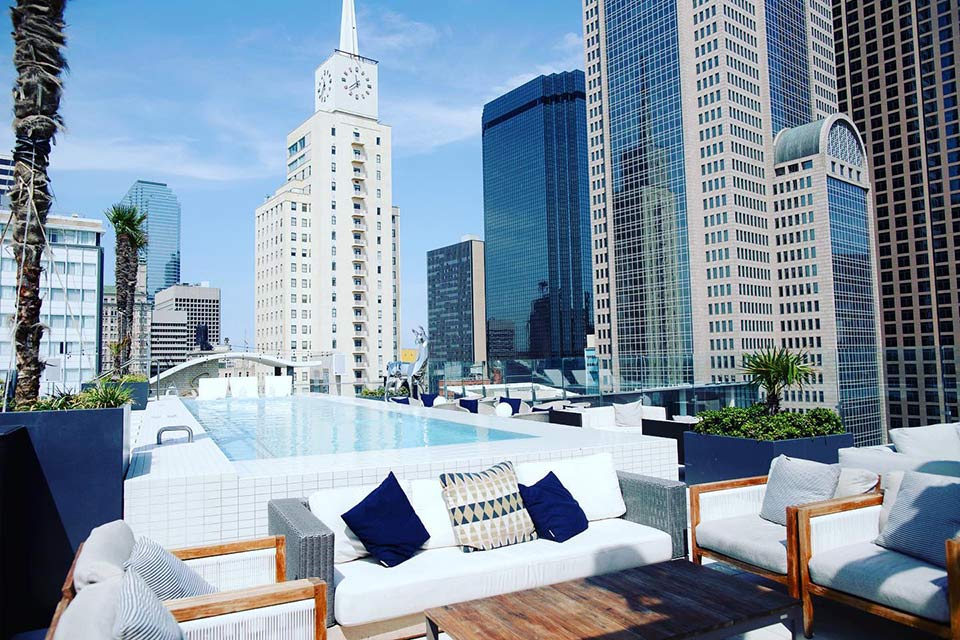 Waterproof - Photo: www.waterproofdallas.com/
Pool bar by day and a rooftop lounge by night. The beautiful Waterproof does both, perched on top of the classic hotel The Statler in downtown Dallas.
To swim with panoramic views over the Dallas skyline during the day, you need to stay at the hotel or make reservations for one of the six private cabanas.
When the sun sets, Waterproof turn into one of Dallas' most unique destinations for nightlife, with live entertainment and other special events.
The Waterproof rooftop bar serves a nice set of signature cocktails, as well as wine, beer and bubbles, available both by the glass, or as buckets / bottle service. There is also a selection of bar bites, like sliders, flatbreads and platters great to share.
WATERPROOF
1914 Commerce St, Dallas, TX 75201