Set in the Pacific Northwest region of the US, right between Washington and California, Oregon is a vivid and diverse state. From sea level along the Pacific Ocean to a highest point of 3 429 meters at Mount Hood, you also find valleys, high desert, small towns and larger cities in between.
While the Oregon climate is also pretty diverse, in general the winters are pretty cold, so you need to hold on until the warming spring months for the Oregon rooftop bars to open up in full bloom. But elevated food and drinks are always worth waiting for.
From skyline views in Portland to more scenic mountain vistas in Redmond, this listing will take you to every Oregon rooftop bar worth a visit.
1.

The Rooftop at SCP Redmond

/ Redmond
The Rooftop at SCP Redmond - Photo: www.scphotel.com
Found on top of the superb SCP Redmond Hotel, located in the High Desert in Central Oregon, The Rooftop is an intimate, charming and lush venue. And the only rooftop experience in Redmond.
With 1 500-square-foot divided into indoor space and a lovely wooden decked outdoor terrace, The Rooftop comes surrounded with amazing and panoramic views of the Cascade Range, including Three Sisters volcanic peaks, Mount Bachelor, Black Butte, and Smith Rock State Park.
Opened in 2019, the terrace feels natural and modern at the same time, with comfy lounge sofas and dining tables mixed with greenery and a cool vertical garden. There is also umbrellas offering shade on the warm and sunny days, as well as warming heaters for cooler evenings.
The rooftop menu include locally-inspired small plates, like 'Three Sisters Chili' and 'Greek Lamb Burger, along with beer, wine and handcrafted cocktails. Many of the dishes and drinks feature herbs, fruit and spices grown in The Rooftop's own gardens.
While walk-ins are welcome, The Rooftop is not huge, so reservations are recommended to be on the safe side. And try to make them around sunset hour, as it is something truly special to experience from on top of the SCP Redmond Hotel.
Apart from a great rooftop, the SCP Redmond Hotel also offer more grounded but great options for food and beverages, including the farm-to-table restaurant Terra Kitchen, and the exploration-inspired lounge Wayfarer Club.
THE ROOFTOP AT SCP REDMOND
521 SW 6th Street, Redmond, OR 97756
2.

Departure Restaurant + Lounge

/ Portland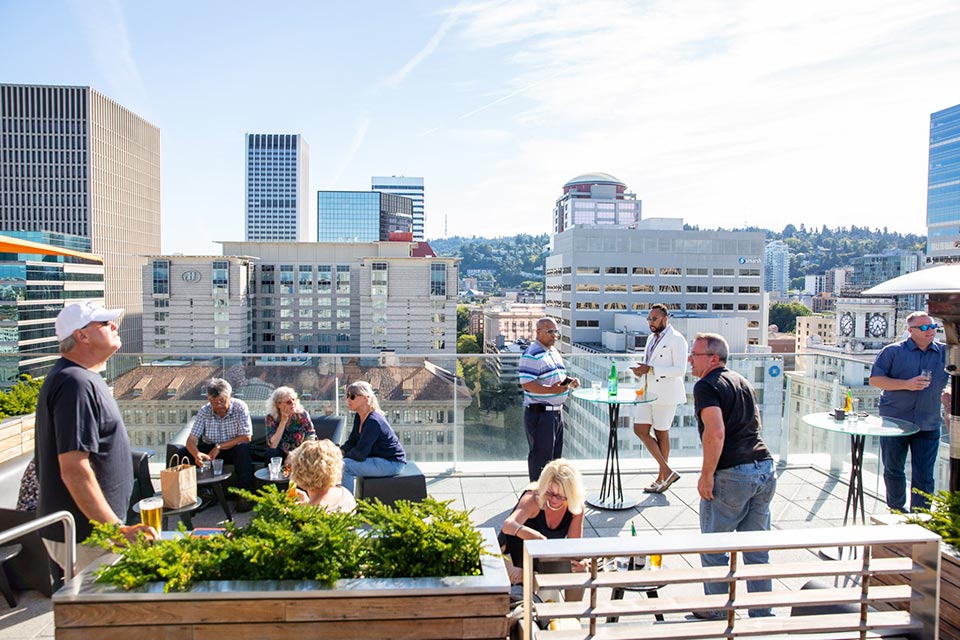 Departure - Photo: www.departureportland.com/
A modern Asian rooftop restaurant and bar, perched on the 15th floor of the luxurious The Nines Hotel in downtown Portland.
With a sleek and daring indoor dining room, Departure also holds a dual set of fantastic rooftop terraces. One that is an extension of the restaurant, with full menu and seated service, and one that operates as a lounge and bar. Whichever you choose, you can expect amazing views over the Portland skyline, with its river and bridges.
At this sky-high retreat you can indulge in a pan-Asian food menu, including everything from street food-styled starters to market-fresh sushi, dim sum and kushiyaki skewers. Or just try some of the crafted signature cocktails.
DEPARTURE
525 SW Morrison St 15th floor, Portland, OR 97204
Sun-Thu: 4pm-11pm / Fri-Sat: 4pm-midnight
3.

Roof Deck at Revolution Hall

/ Portland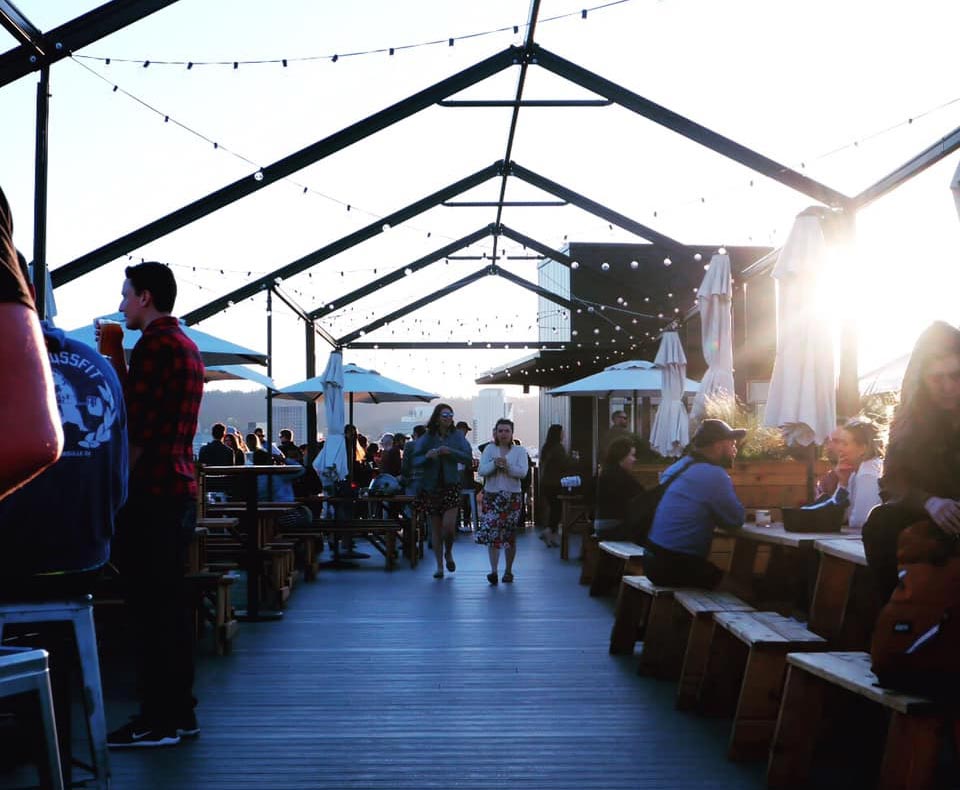 Roof Deck at Revolution Hall - Photo: www.revolutionhall.com/
Located in the Historic Washington High School in Portland, Revolution Hall is a concert venue that also holds several dining and drinking spots with outdoor seating. Both the Show Bar burger shack and Marthas bar & cafe offers ground floor patio seating, but the prime spot is definitely the top floor Roof Deck.
Open during the sunny, summer months, the spacious and impressive rooftop comes with equally impressive 360-degree views over Portland, including both downtown and Mt. Tabor.
Serving cockatils, craft beers and a yummy grill menu in a casual atmosphere, the Roof Deck is a prime spot to mix sun and views with a good time. Since it is seasonal and weather dependent, always check the website for a daily update on the open/close schedule.
ROOF DECK AT REVOLUTION HALL
1300 SE Stark St #110, Portland, OR 97214
4.

Rooftop Bar at McMenamins Hotel Oregon

/ McMinnville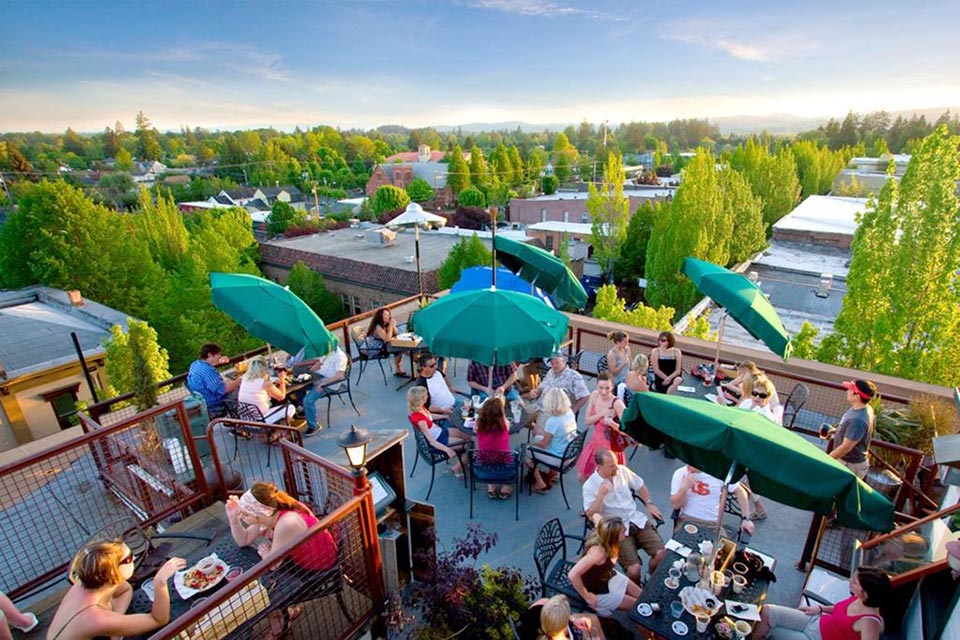 Rooftop Bar at McMenamins Hotel Oregon - Photo: www.mcmenamins.com/
Located in an historic building in downtown McMinnville, the McMenamins Hotel Oregon comes with a lovely indoor / outdoor rooftop venue.
Simply called Rooftop Bar, the charming 5th floor terrace offer an unobstructed look at Oregon's lush wine country, the impressive Coast Range and beyond.
The Rooftop Bar serves a menu including McMenamins' handcrafted ales, ciders, wines and spirits, as well as specialty cocktails and a filling food selection, from burgers and pizza to fish & more.
A perfect spot for relaxing alfresco drinks and bites as soon as the sun is out, you can also visit the McMenamins Rooftop Bar for Monday to Friday happy hour between 3–6pm & 9pm–close.
ROOFTOP BAR AT MCMENAMINS HOTEL OREGON
310 NE Evans St, McMinnville, OR 97128
5.

Noble Rot

/ Portland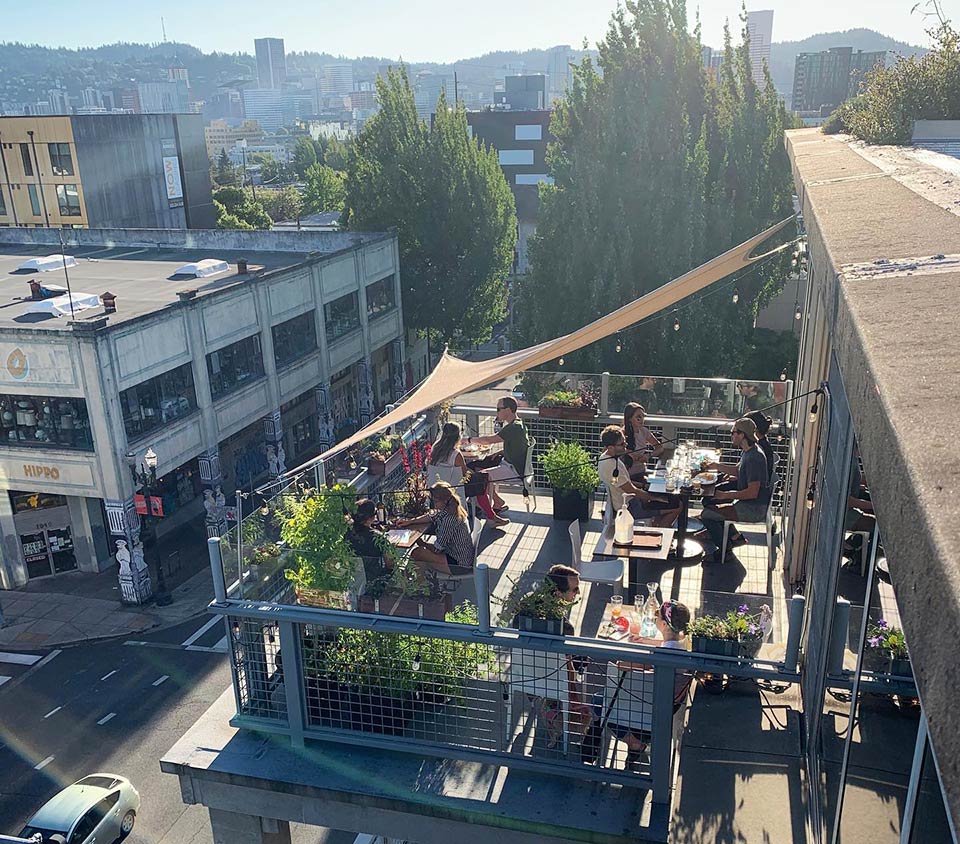 Noble Rot - Photo: https://noblerotpdx.com/
Located on East Burnside Street in Portland, Noble Rot is a fouth floor restaurant and rooftop wine bar, mixing locally-sourced food, wine flights and views.
Part indoor restaurant, where the south and west walls are windows offering a great view over the city, Noble Rot also has a small but lovely balcony terrace, where the alfresco feeling is in full bloom and the views are even better.
The most impressive rooftop-part is however the 3000 square foot rooftop garden, which supplies most of the vegetables and herbs to the seasonal and refreshing food menu.
To go with the food there is a full bar, including a 300+ bottle list and over 40 wines by the glass. But the best way to drink the Rot is probably through the wine flights offered every day.
NOBLE ROT
1111 East Burnside Street, Portland, OR 97214
6.

10 Barrel Brewing Company

/ Portland
10 Barrel Brewing Company - Photo: https://10barrel.com/
Founded 2006 in Bend, Oregon, 10 Barrel Brewing Company now has pubs at several locations, including in the Pearl District of Portland.
Here you find a vibrant venue set over two floors, where the prime spot is the expansive rooftop deck, surrounded with cool views over downtown.
Not surprising, the tap list at 10 Barrel is impressive, with most of the options made on site. There is also an elevated pub fare menu, featuring pizza, gourmet burgers and locally sourced seafood.
Packed with chill vibes and a fun and friendly atmosphere, the 10 Barrel Brewing Company rooftop is a popular venue on any sunny day / evening, so be in good time to catch a spot.
10 BARREL
1411 NW Flanders St, Portland, OR 97209