Maine is the northeasternmost US state, bordering the Altantic Ocean and Canada. Known for its rocky coastlines, smoothly contoured mountains, lush forests and picturesque waterways, Maine offers a diverse and dramatic scenery. Best enjoyed, of course, from a Maine rooftop bar.
Most of the Maine rooftop bars can be found in Portland, the most populated city, but there are elevated venues to enjoy all over the state. Perfect for some craft beer and seafood with a view.
From historic city views in Portland to soothing water vistas in Camden, this listing will take you to every Maine rooftop bar worth a visit.
1.

Salt Wharf

/ Camden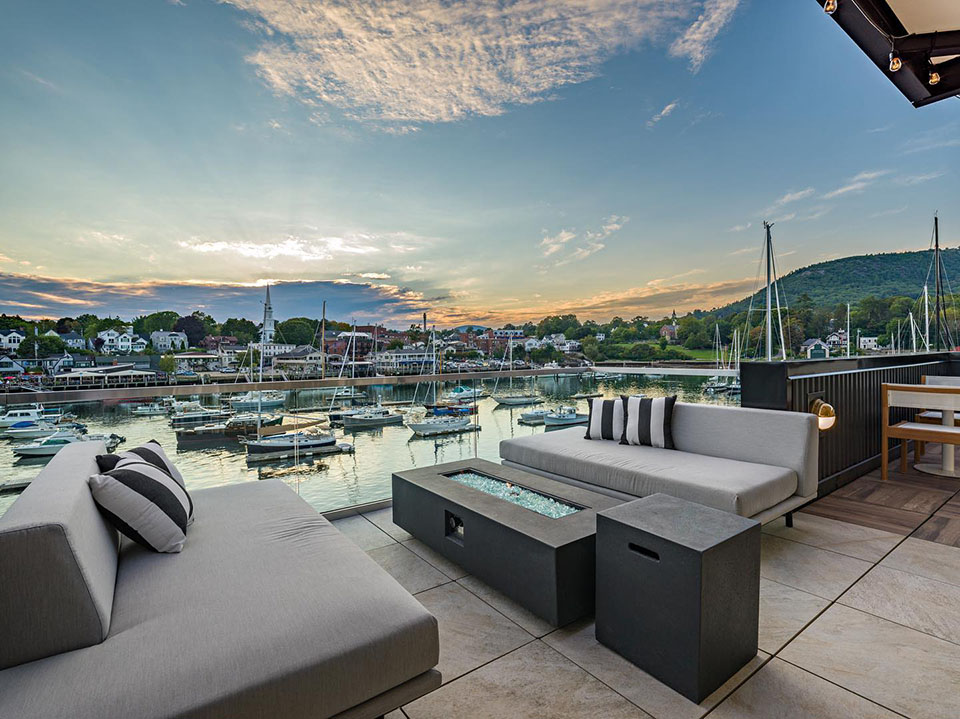 Salt Wharf - Photo: www.saltwharf.com/
Located directly in Midcoast Maine's Camden Harbor, within the Lyman-Morse Marina, Salt Wharf Restaurant & Rooftop Bar invites to small town vibes, and big time views.
With a bright and stylish year round dining room downstairs, the place to go for breezy summer sessions and amazing coastal views is the boatyard chic rooftop terrace.
Up here, the scenic vistas span from beyond Curtis Island to Mt Battie, with all the boats in Camden Harbor in between.
In the restaurant you can indulge in full dinner menu filled with fresh seafood and farm-to-table fare, created by Chef Chris Pierce. The rooftop menu features smaller plates with the same orientation, along with seasonal and crafted cocktails, beer and cider.
Filled with a friendly and relaxing vibe, the Salt Wharf rooftop terrace is a prime spot for sunny sessions with family and friends. Every Thursday also means 'Bands on the Wharf', with live music filling the terrace.
SALT WHARF
3 Wayfarer Dr, Camden, ME 04843
2.

Bayside Bowl

/ Portland
Bayside Bowl - Photo: www.baysidebowl.com/
Found in downtown Portland, ME, Bayside Bowl is mostly famous as a top bowling alley, with 20 USBC sanctioned lanes of ten-pin bowling.
But, it's also a place for award-winning food and craft cocktails. And best of all, during summer you can enjoy sips and nibbles up on the spacious rooftop.
Overlooking the Portland skyline, the industrial-chic rooftop features plenty of different seating, cosy string lights, and a 1960s airstream where tacos, bowls, wine, brews and frozen cocktails are served.
Open from 4pm each day weather permitting, The Rooftop at Bayside Bowl is always a great spot for relaxing drinks and amazing sunset views. But often it is also a venue for fun and vibrant events, ranging from rooftop cinema to themed party's.
BAYSIDE BOWL
58 Alder St, Portland, ME 04101
3.

The View at 16 Bay View

/ Camden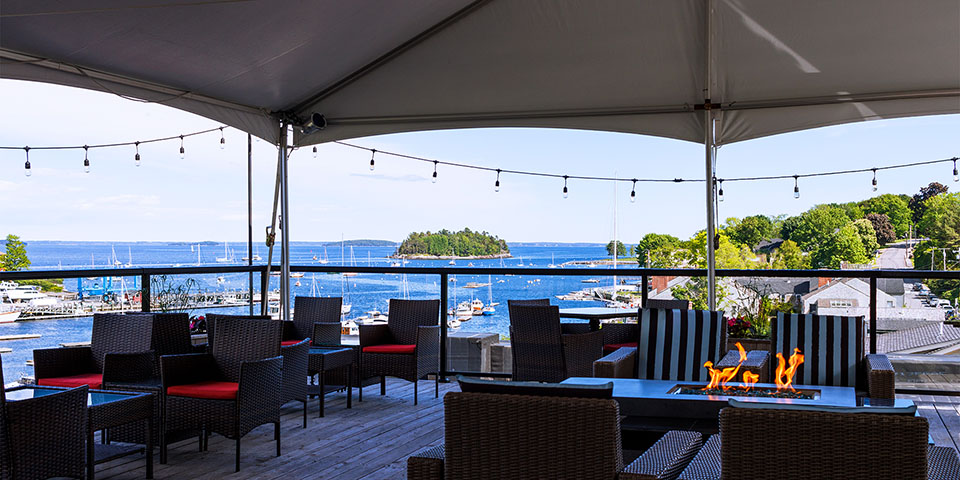 The View at 16 Bay View - Photo: https://16bayview.com/
At the superb 16 Bay View, located in the heart of downtown Camden, you find The View, an iconic rooftop bar and terrace.
Set over 2,000 sq ft, the charming terrace really lives up to its name, offering cinematic views of Camden Harbor and the surrounding Camden Hills State Park.
Settle down by the bar, in a lounge chair, or by the fire table, and enjoy a menu that features signature cocktails, a chef-curated selection of wines, local and domestic beers, as well as seasonal bites.
Usually open from June to October, The View invites everyone: guests at the hotel, the general public, and even dogs.
THE VIEW
16 Bay View St, Camden, ME 04843
4.

Top of the East

/ Portland
Top of the East - Photo: www.topoftheeast.com/
Perched on top of The Westin Portland Harborview you find Top of the East, an iconic cocktail lounge that has welcomed guests from near and far to cozy up and soak in the amazing views for decades.
Recently refurbished, the sleek and elegant rooftop comes in a modern suit, filled with old-school charm.
And while lovely in interior, the most impressing part is still the views: panoramics over Portland, the waterfront, the distant mountains, and boats winding their way between the islands of Casco Bay.
The innovative rooftop menu blends the best of yesteryear with local ingredients and a fresh perspective, and includes some amazing, unique and crafted cocktails, as well as premium spirits, craft brews, sparkling, and some elevated small plates.
For a stylish and vibrant evening high above Portland, Maine, Top of the East is hard to beat. You can also visit the rooftop for Sunday brunch.
TOP OF THE EAST
157 High St, Portland, ME 04101
5.

Joseph's By the Sea

/ Old Orchard Beach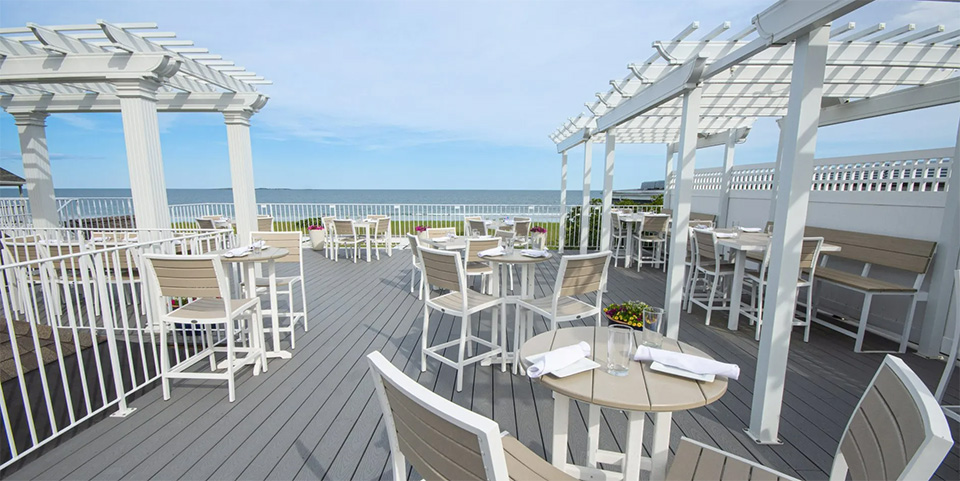 Joseph's By the Sea - Photo: www.josephsbythesea.com/
Found in Old Orchard Beach, in the southern part of Maine, Joseph's By the Sea has offered a seaside dining experience for a long time.
And while the waterfron patio is lovely enough, Joseph's By the Sea does even better, offering a bright and breezy rooftop deck, with fantastic views over the ocean and sandy beaches.
Here you can enjoy a relaxing and sunny lunch, indulging in American cuisine with a focus on fresh and local seafood. Or visit in the evening and enjoy cocktails or a local brew under the stars.
One thing is for certain: dining and drinks with the sounds of waves crashing on the beach is always a good idea.
JOSPEH'S BY THE SEA
55 W Grand Ave, Old Orchard Beach, ME 04064