Bordered by the Mississippi River to the east and the Missouri River to the west, the Midwestern state of Iowa is pretty much set in the heart of the US. With average winter temperaures often below freezing, it is during summer that the rooftop bars Iowa is in full swing.
Iowa rooftop bars can be found all over the state, from the state capital Des Moines, to Iowa City and Davenport. With a few sky-high exceptions, most of the Iowa rooftops are on more moderate levels.
Enjoy our complete listing, taking you to every Iowa rooftop bar worth a visit.
1.

Vue Rooftop

/ Iowa City
Vue Rooftop - Photo: www.vuerooftop-ic.com/
Perched on the 12th floor of the fantastic Hilton Garden Inn in Iowa City, Vue Rooftop is a contemporary and high-energy venue made for food, drinks, music and views.
Up here you find a comfy interior with panoramic windows, as well as a spacious outdoor terrace, all surrounded with breathtaking views over the Iowa City skyline.
A venue made to socialize and relax in style, Vue Rooftop Bar serves a menu filled with cutting-edge gastronomic selections, from small plates to contemporary and filling entrées. The food is complemented with a rotating selection of craft beers, creative locally-inspired cocktails, as well as flights of martini, bourbon and beer.
Open nightly for bites, drinks and sunset views, the rooftop also offer brunch on the weekends. There is also HDTV's for watching the game, plenty of live music, along with other fun events.
VUE ROOFTOP
328 S Clinton St UNIT A, Iowa City, IA 52240
2.

UP Skybar

/ Davenport
UP Skybar - Photo: https://thecurrentiowa.com/
Located in downtown Davenport, just blocks from the Mississippi River, the luxurious hotel The Current Iowa offers a sparkling and elevated rooftop destination.
Called UP Skybar, this is the only outdoor/indoor luxury rooftop bar, lounge and restaurant in the area, and blessed with unmatched views of Davenport's River scene it is well worth a visit.
Dressed with comfy loungers and cosy firepits, here you can enjoy carefully crafted cocktails and tapas perfect to share, along with a fun atmosphere and events, from sunset sessions and live music to rooftop brunches.
UP Skybar can also be reserved for memorable private events.
UP SKYBAR
215 N Main St, Davenport, IA 52801
3.

The Republic on Grand

/ Des Moines
The Republic on Grand - Photo: https://thecurrentiowa.com/
The Republic on Grand is a crafted and elevated venue, found in the East Village of downtown Des Moines.
Located on the the 6th floor of AC Hotel by Marriott Des Moines East Village, this is a stylish place to pair craft cocktail and artisanal chef favorites with exquisite city views.
Mainly covered, but offering open-air seating when the weather allows, The Republic on Grand menu includes everything from charcuterie boards, small bites, flatbreads and sliders, to craft beers, wine flights and creative cocktails.
Expect a sophisticated yet relaxing atmosphere, with a strong lineup of local artists performing live on a weekly basis.
THE REPUBLIC
401 E Grand Ave, Des Moines, IA 50309
4.

300 Craft & Rooftop

/ Des Moines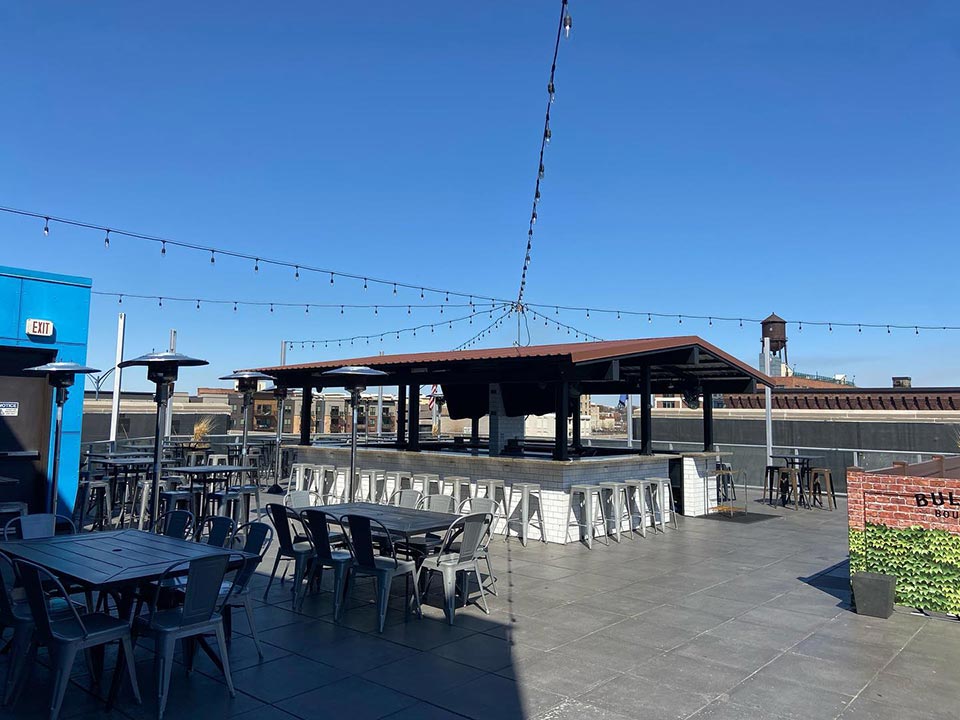 300 Craft & Rooftop - Photo: www.facebook.com/300craftandrooftop/
Overlooking Principal Park and the Des Moines downtown skyline, 300 Craft & Rooftop is a prime spot for both daily and nightly fun.
Serving (unsurprisingly, given the name) a great selection of beer, but also one of a kind craft cocktails and plenty of wine, the rooftop bar has something for everyone.
Enjoy relaxing sunshine sessions and happy hour on the rooftop terrace in the afternoon, or vibrant nights with live music and DJs.
The outside terrace is complemented with an inside space, so 300 Craft & Rooftop is available year-round. At times during the colder season, there are also cosy rooftop igloos at the outside terrace.
300 CRAFT & ROOFTOP
300 W Martin Luther King Jr Pkwy, Des Moines, IA 50309
5.

30hop

/ Coralville & Cedar Rapids
30hop - Photo: www.30hop.com/
30hop is an Iowa grown restaurant and craft beer bar that started in Coraville 2014, and 2018 also expanded to Cedar Rapids. Best of all: both locations come with a rooftop patio.
Made for good times with friends, 30hop offers a large modern-American food menu, including everything from tacos and signature bowls to burgers and other handhelds.
The drink selection is about as impressive, with 90 draft beers mules, cocktails from the barrel and a large array of wines.
Visit for a sunny lunch or weekend brunch, happy hour session, casual dinner or events like 'Rythm & Brews'.
6.

Wellman's Pub & Rooftop

/ Colorado Springs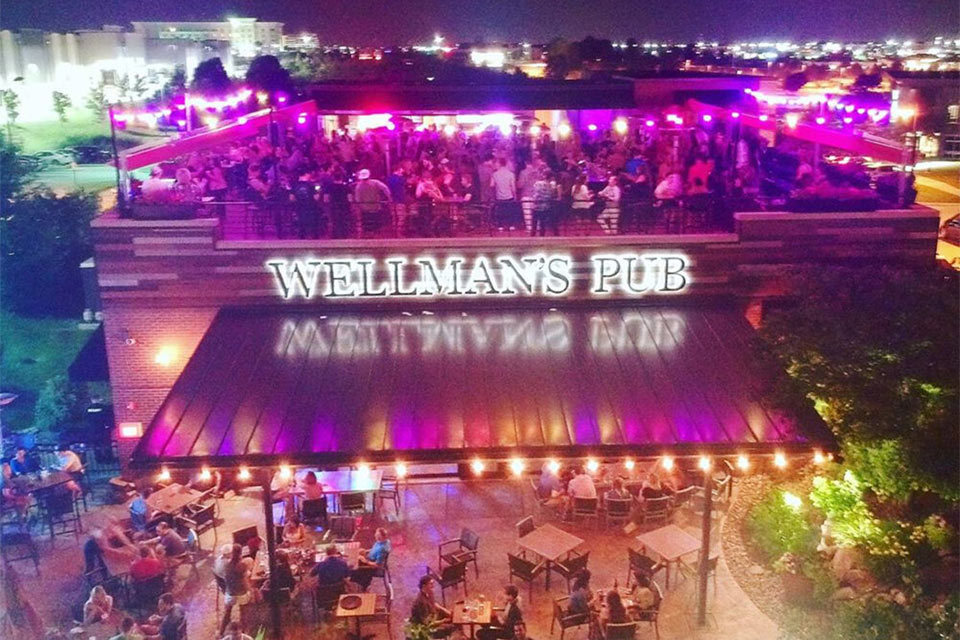 Wellman's Pub & Rooftop - Photo: www.wellmanspub.com/
Wellman's Pub & Rooftop is not only West Des Moines' premier sports bar and nightspot, it is also home to a lovely open-air rooftop.
Spacious all around, Wellman's menu offer a menu that is a mix of American, Irish and English pub fare, avialable as lunch, dinner and weekend brunch.
Complementing the food is a wide selection of craft beers, as well as mixology cocktails and a nice array of wines.
Filled with atmosphere and events, you can visit Wellman's Pub & Rooftop fo a trivia night, live local artists, late night dancing or summer sessions on the rooftop.
WELLMAN'S
597 Market St, West Des Moines, IA 50266