Greece is one of the most beautiful and paradise-like destinations in the world. The many islands and warm Mediterranean climate make this a heaven for all lovers of the good life.
Despite the absence of big metropolis (except Athens), Greece is a great country for rooftop bars. Many of the best rooftop bars in Greece are located along the water or around Acropolis in Athens.
The best time to visit a Greece roof terrace is between April – October, when the climate is warm and pleasant. Here is our complete listing of the 10 best rooftop bars in Greece.
10.

Orizontes Roof Garden

/ Thessaloniki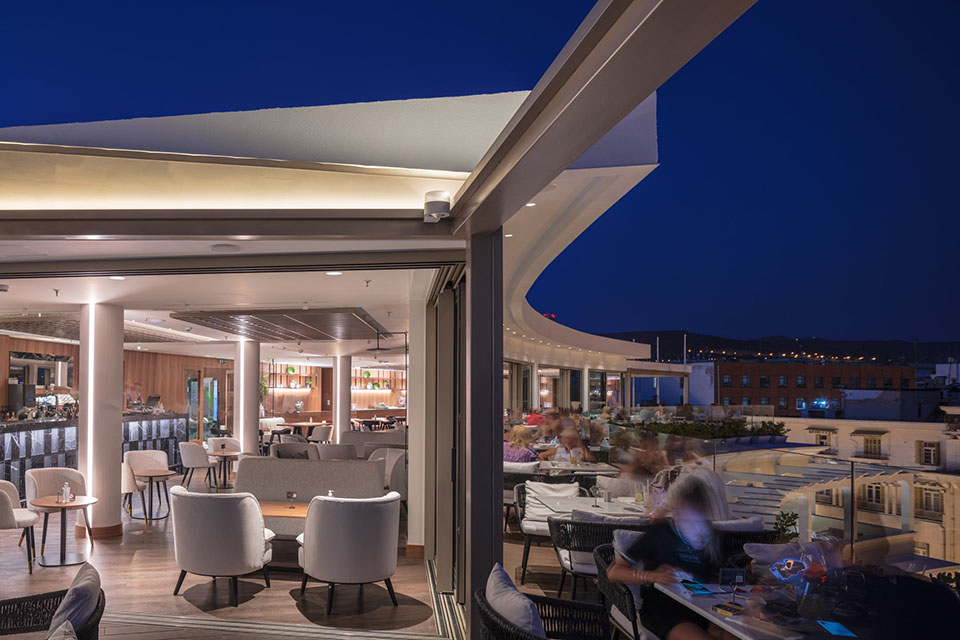 Orizontes Roof Garden - Photo: www.electrahotels.gr
Thessaloniki is one of Greece's top vacation venues. Chosen by the rich and famous, and non-celebrity visitors, it is the perfect mixture of affordability and luxury. Orizontes Roof Garden is part of that equation.
With breathtaking views of the Olympus mountain, the sea and the city's Walls, and Sheikh Sou forest, Orizontes Roof Garden serves an acute selection of breakfast bites, delicious lunch menu and a dinner plates to savor the rooftop experience to the fullest.
One of Thessaloniki's most romantic venues, so don't be shy and bring your date for a cozy night out. The rooftop venue transforms into a bar, located atop the Electra Palace Hotel in the town's heart.
Featuring panoramic views of Aristotelous Square and the legendary mountain, Orizontes is more than just a bar. With an elegant decor and a decadent set of gourmet bites and drinks, it is a perfect spot for a casual business dinner, too.
ORIZONTES ROOF GARDEN
Pl. Aristotelous 9, Thessaloniki 546 24
9.

Sky Bar

/ Mykonos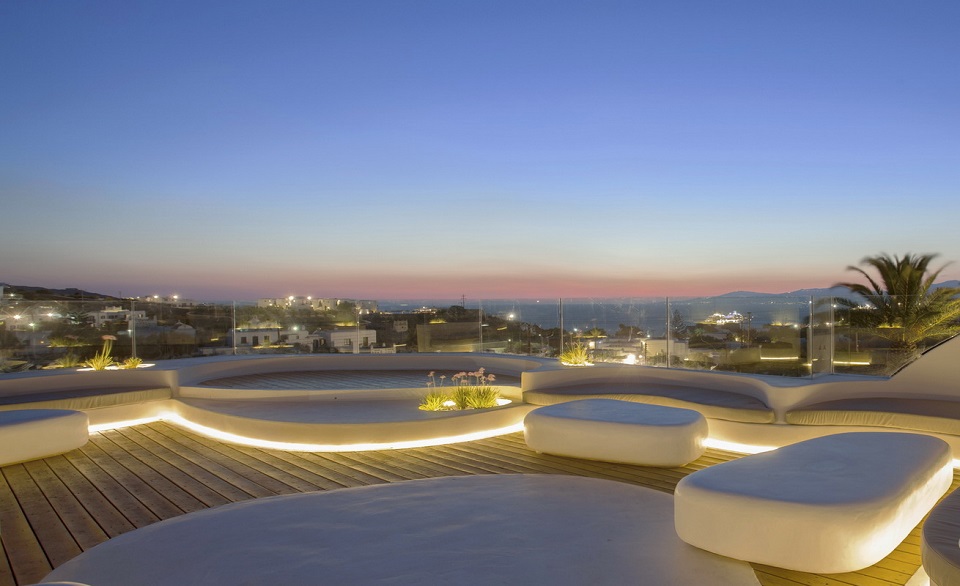 Sky Bar - Photo: www.andronikos.gr
If you have booked your vacation in Mykonos, we guarantee you a party to tell stories about long after the summer is over. Sky Bar is worth including.
Hosted at the Andronikos, this bar is Mykonos's hottest rooftop location for a party under the stars. Foodies will be tempted to try out the culinary delights such as exotic drinks and signature dishes, along with a fusion gourmet specialties with a Greek twist.
Every evening from 6 to 9pm, visitors can indulge in a signature cocktail during bar's happy hour.
Live jazz or pop music events, DJ sets and poolside entertainment guarantee for a good night.
And if you're looking for other things do to while here, this is a complete guide to the best beach clubs in Mykonos.
SKY BAR MYKONOS
Drafaki, Mikonos 846 00
8.

Tudor Hall Restaurant

/ Athens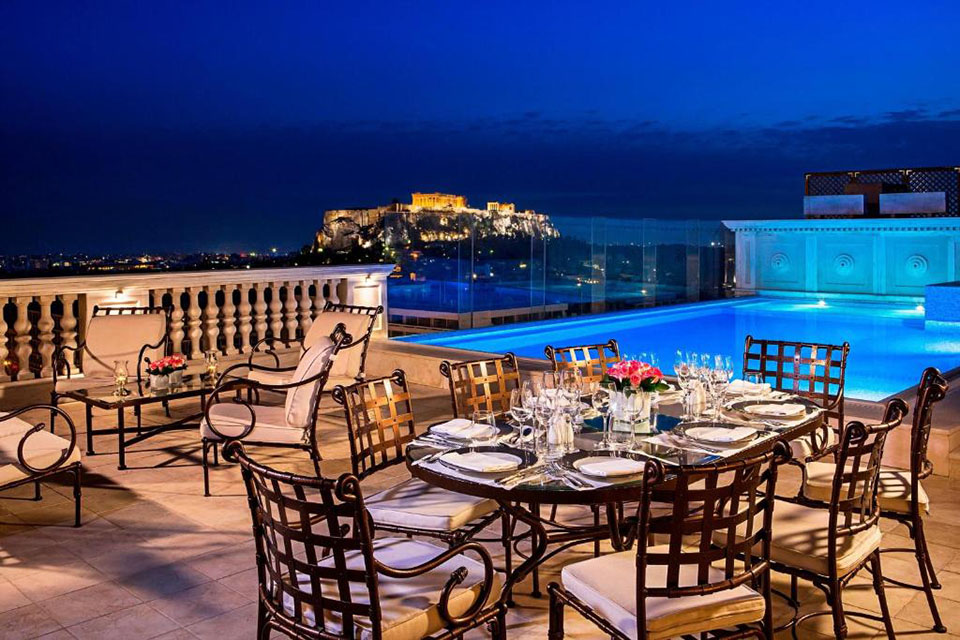 Tudor Hall Restaurant - Photo: www.tudorhall.gr
Tudor Hall Restaurant is yet another gem in Athens's crown is soon to be discovered by the popular crowd in Greece's capital.
Located at the very heart of the city, atop the 7th floor of the fab King George II Palace Hotel, Tudor Hall Restaurant is a rooftop restaurant experience you need to cross over from your bucket list of places to visit in this lifetime. Overlooking signature spots in old Athens, such as the Acropolis, we guarantee you will have a great time with a fantastic view.
Inspired by the classic Greek cuisine, the restaurant's chef serves fresh dishes, sourced by a local produce. Tudor Hall Restaurant has been a constant winner in all lists of top-notch restaurants in Greece for the past five years.
It serves all of its drinks and dishes with a class. You can stop by whenever - for an early breakfast, or an afternoon cocktail. The classy decorated restaurant is among Athens' most upscale venues, so book your visit in advance.
TUDOR HALL RESTAURANT
Vasileos Georgiou A 3, Athina 105 64
7.

Air Lounge Roof Bar

/ Athens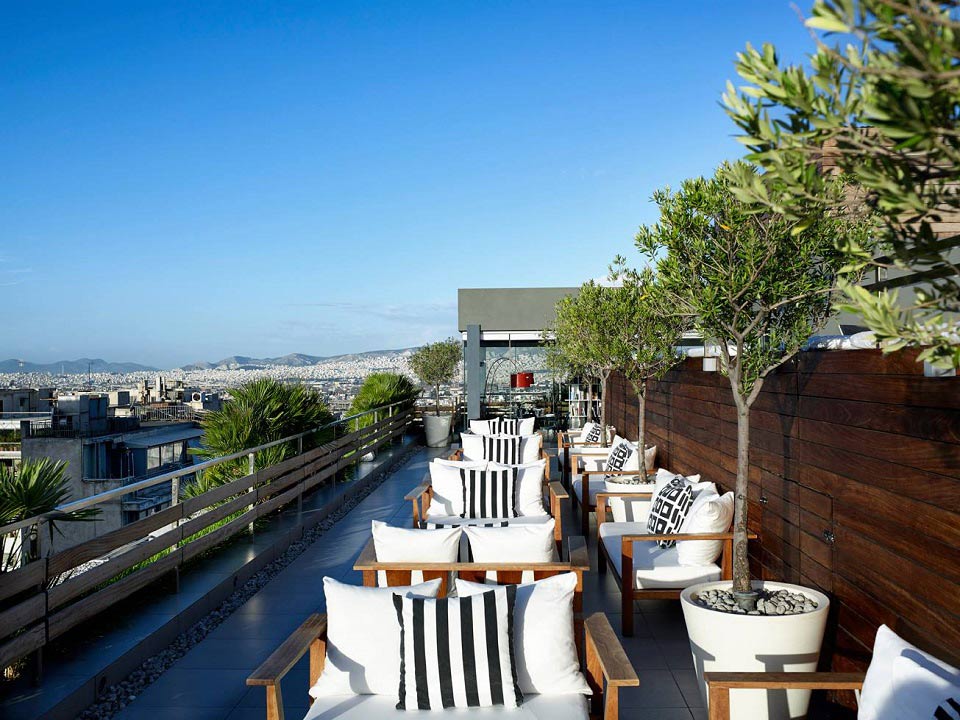 Air Lounge Roof Bar - Photo: www.freshhotel.gr
The Air Lounge Roof Bar is the perfect mixture of bar delights and a rooftop swimming pool extravaganza. It offers a fantastic restaurant and a cool spot to grab a refreshing drink at. Perched on the 9th floor of the modern Hotel Fresh, the rooftop bar is close to Monastiraki.
Both the restaurant and the rooftop bar serve a classic, fresh and healthy Mediterranean cuisine, offering a robust of signature and vintage cocktails along with an impressive list of fine wines.
With a modern interior design, both the terrace deck and the restaurant create a very calm and atmospheric environment. The large open-air terrace is the perfect spot to spend the evening at, enjoying a picturesque skyline view at sunset.
Open day and night, you can choose between a place to grab a bite at, or a place to get your party animal unleashed. To enjoy the perks of the rooftop pool, you must book a stay with the hotel first.
AIR LOUNGE ROOF BAR
Fresh Hotel Athens Sofokleous 26 Athens 105 52
6.

V Lounge Cafe & Cocktail Bar

/ Santorini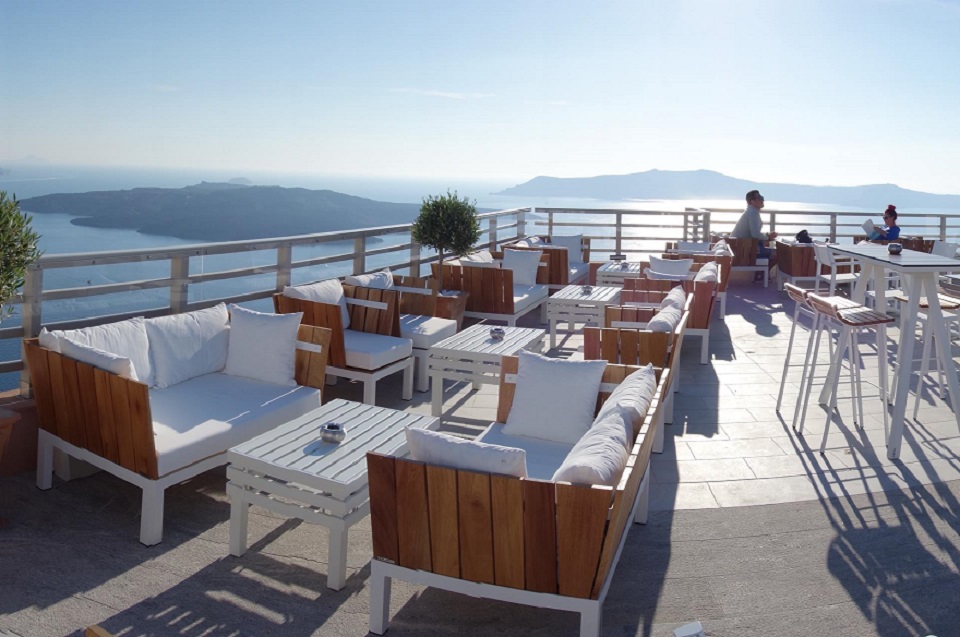 V Lounge Cafe & Cocktail Bar - Photo: www.santorini-vlounge.com
Escape the ordinary in V Lounge Cafe & Cocktail bar. Exposing the eye to unobstructed views of the Aegean Sea, Volcano and Caldera, the lounge bar is the perfect go-to location if you're wondering what to do when vacaying in one of Greece's finest holiday resorts.
Situated atop the Panorama Boutique Hotel, the bar has a fantastic and accessible location. Known for its quality of service and friendly staff, the V Lounge ensures all of its guests are well taken care of.
The indoors romantic setting sets the tone for a chill and laid-back atmosphere, whereas the view and the menu guarantee for an excellent experience. V Lounge Cafe & Cocktail Bar has made its name known by using the highest quality products, all sourced from local farmers.
With a simple, yet very classic menu, you can enjoy a fresh salad, tasty sandwiches or delicious bites, accompanying the coffee and fresh fruity cocktails.
The beverages list is long enough for pickier visitors, having combined a robust of fine wines, rare bourbons, vodkas and some world's most delicious rums.
V LOUNGE CAFE & COCKTAIL BAR
Ipapantis Walkway, Thira 847 00
5.

Sky Lounge Rooftop Dining Bar

/ Athens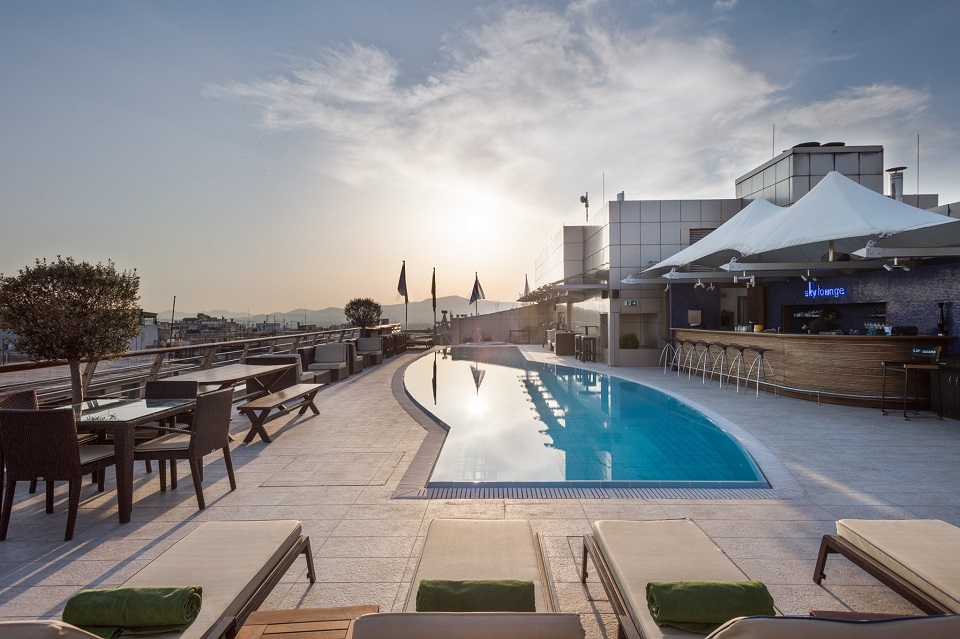 Sky Lounge Rooftop Dining Bar - Photo: www.melia.com
Melia Athens Hotel, part of Melia Hotels International, is the home of one of Athens' best rooftop places. The Sky Lounge is exactly what its name suggests - perched on the 9th floor of the hotel, the wine and dine rooftop venue is right in the heart of the Greek capital city.
The seasonal rooftop terrace offers a spectacular view of the Acropolis and the Lycabettus Hill. Equipped with a modern rooftop pool, during daytime the terrace transfers into a pool party venue and lounge for guests staying at the hotel underneath.
You can choose between the fantastic pool, or chill in one of the jacuzzis. At nighttime, the bar transforms into a contemporary club where hip crowd joins for an unforgettable party experiences while in Athens.
Relaxing in vibe, you can taste a creative Greek cuisine from the large a la carte menu and check out the cocktails or their local wine produce. The Sky Lounge Rooftop Dining Bar operates from mid-May until mid-October.
SKY LOUNGE ROOFTOP DINING BAR
Melia Athens, 14 Chalkokondili & 28th October Ave, Athens 106 77
4.

Rosto Roof Garden

/ Zakynthos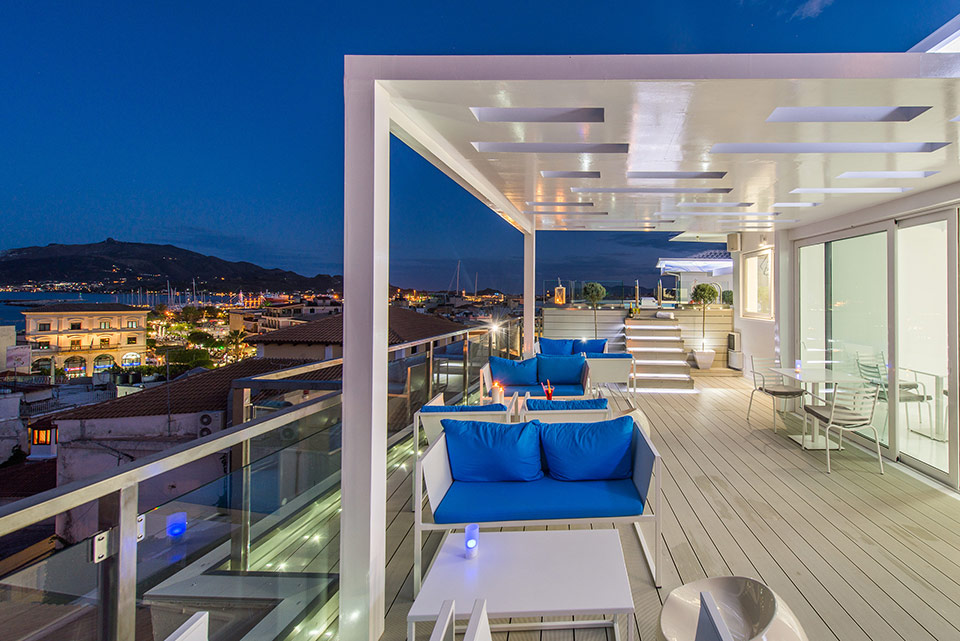 Rosto Roof Garden - Photo: https://www.dianahotels.gr/
Located in the Venetian Square of St. Marcos, next to the Catholic Church and only 200 meters from the nearest beach in Zakynthos Town, the lovely Diana Hotel has a great location. But that is not all, it is also home to a fantastic rooftop.
Called Rosto Roof Garden, this is both a rooftop bar and a pool bar, located right next to a refreshing and very inviting rooftop pool.
Part stylish indoor lounge, and part amazing and wooden decked outdoor terrace, the rooftop comes surrounded with panoramic views over the Ionian Sea, Zakynthos Town and Bohali Hill.
Up here you can settle down in one of the comfy loungers and enjoy delicious, crafted and freshly made cocktails.
With an intimate atmosphere, excellent service and soft background music, Rosto Roof Garden is a fantastic venues to let relaxing hours turn into even more relaxing hours.
ROSTO ROOF GARDEN
Diana Hotel, Saint Marco Square, Zakynthos 291 00
3.

180 Sunset Bar

/ Mykonos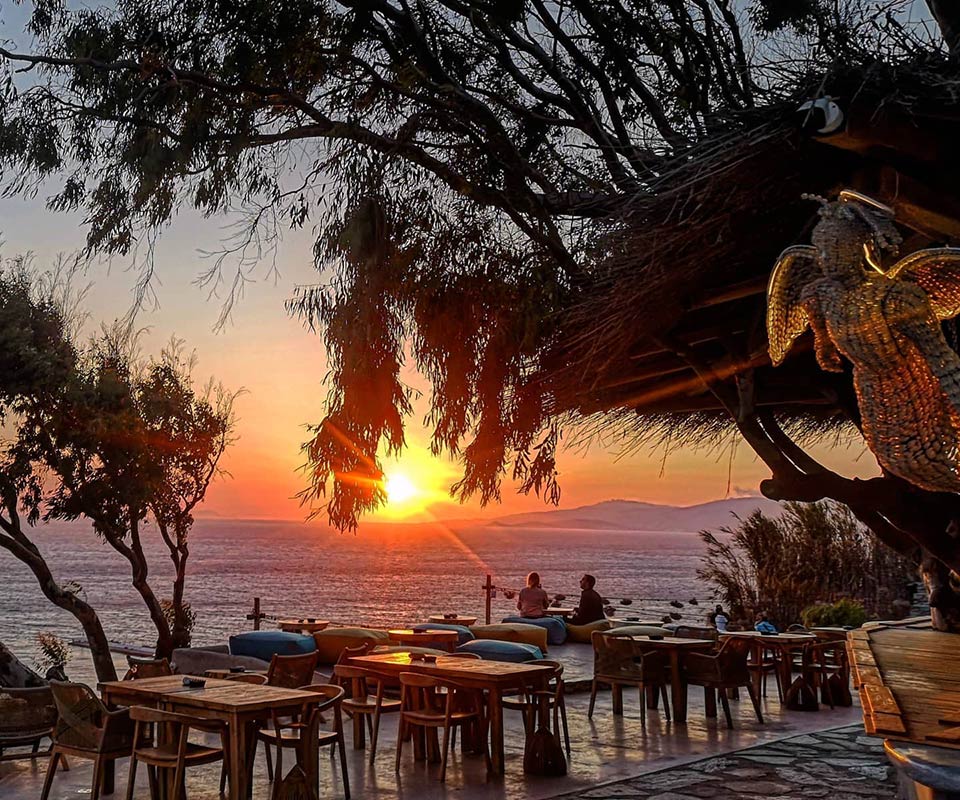 180 Sunset Bar - Photo: www.mykonoscastle.eu
If you haven't visited Mykonos yet, maybe it's time for you to consider a well-planned party vacation on the Greek island. With a ton of places to stay at, and even more to party at, Mykonos hosts one of the world's most delightful rooftop bars - the 180 Sunset Bar.
Situated atop the Mykonos Blu Hotel, this luxurious bar overlooks the gardens, the pool and the popular Psarou Beach from its deck. The view from this open-air bar can really touch you, awaken your senses and fill your eyes with the illuminated colors of sunset and Mykonos Chora.
A typical live jazz music will fulfill the surroundings while the nice staff serves one of their signature drinks under the Greek sky.
180 SUNSET BAR
Epar.Od. Mikonou, Mikonos 846 00
2.

Thea Terrace Bar

/ Athens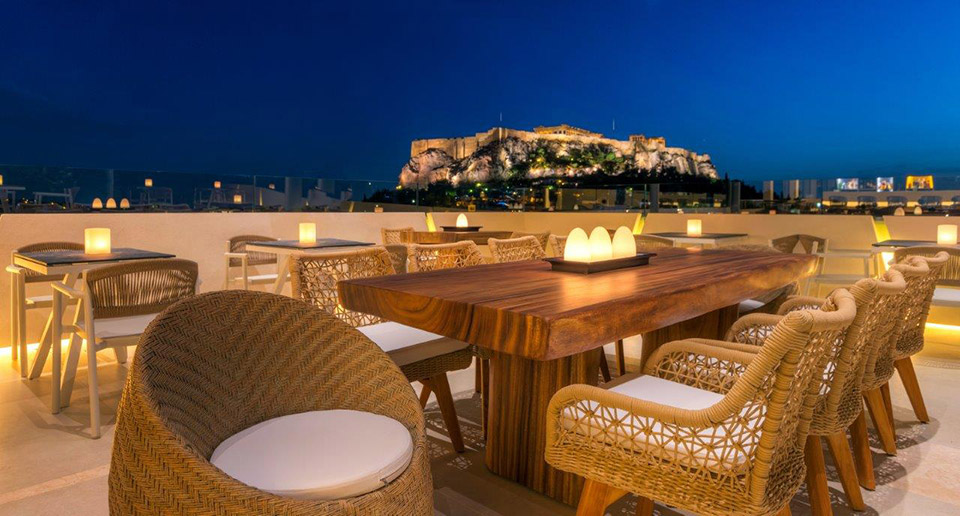 Thea Terrace Bar - Photo: www.centralhotel.gr/
Thea Terrace Bar is found on top of the Central Athens Hotel, in the heart of Plaka, just a short walk from Syntagma Square and Acropolis.
Speaking of Acropolis, this is one of the very best spots in Athens to admire one of the most well known world cultural heritage monuments. Add fantastic views over the city center and surrounding vertical flower gardens, and you sense that this rooftop is something special.
Open from day to night and year round, you can visit Thea Terrace Bar for a sunny lunch, a coffee break during sightseeing, or a full night with dinner, drinks and views.
The rooftop menu includes a great selection of Greek and Mediterranean dishes, as well as well-made classic and signature cocktails, and a nice selection of wines. All you need for some elevated hours.
THEA TERRACE BAR
Central Hotel, Apollonos 23, Athina 105 57
1.

Rooftop at Aristide Hotel

/ Syros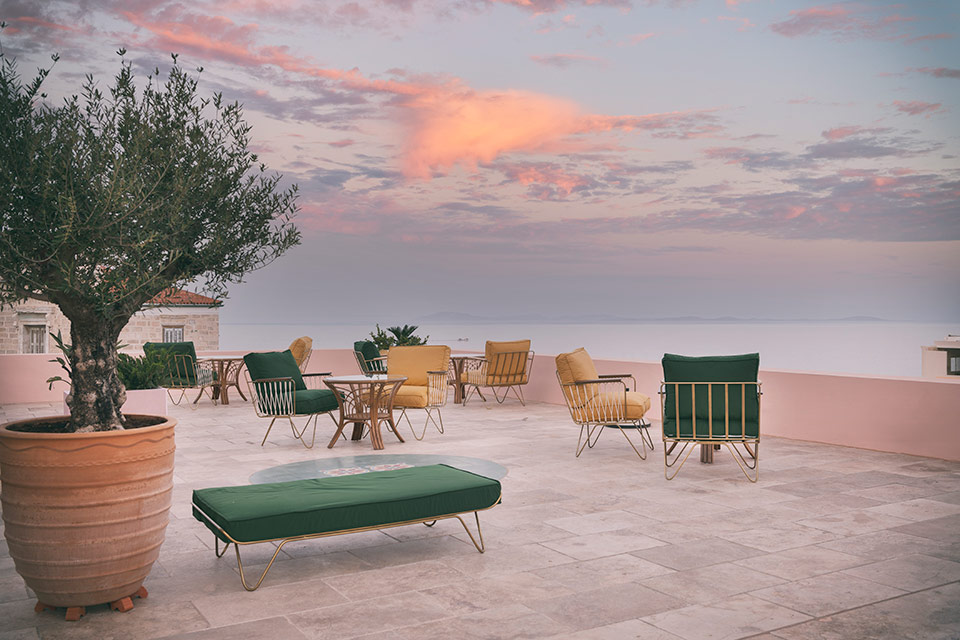 Rooftop at Aristide Hotel - Photo: Alexandros Petrakis
If the previously mentioned Mykonos is the party hot-spot in the Cyclades, the close-by Syros is probably the more sophisticated and relaxed relative.
On this charming island you find the fantastic Aristide Hotel, a family run, artsy and eco-friendly hotel, beautiful from top to toe. Especially from top, whit a garden rooftop terrace not only equipped with stylish lounge furniture, but surrounded with panoramic and open views over the sea, the neighbouring islands and the neoclassical neighbourhood of Vaporia.
Open during the evenings, the Rooftop at Aristide Hotel serves a superb signature list and refined classic coktails created by one of Greece's top bartender's Konstantinos Kostopoulos, as well as the best of Cycladic and Greek wines and modern Greek cuisine.
Head on up and enjoy a sunset, and really feel on top of the world.
ROOFTOP AT ARISTIDE HOTEL
Babagiotou 27, Ermoupoli, 84100, Syros