Located along the coast in Northeastern United States, Connecticut is a small state in size, but much more grand in experiences. Including some lovely Connecticut rooftop bars.
From Stamford and Hartford to New Haven, this guide will take you to the very best rooftop bars Connecticut has available. And while the state offers a beuatiful scenery year round, it is during the pleasant summer that the alfresco rooftop season is in full swing.
Here's our list of the best Connecticut rooftop bars. Check it out!
1.

Sign of the Whale

/ Stamford
Sign of the Whale - Photo: www.signofthewhalect.com/
Sign of the Whale is a dynamic and vibrant venue in Harbor Point, home to Stamford's first rooftop.
Spacious, airy and charming, the rooftop terrace comes complete with lounge space, a cool bar and plenty of comfortable seating, as well as great views over the harbor and Long Island Sound.
Here you can indulge in a menu filled with crafted and contemporary American comfort food, with a hint of a global fare, as well as a great selection of playful signature cocktails, plenty of crafted brews, and a nice array of wine and sparkling.
From tasty lunches or a weekend brunch, to relaxing sunset sessions and vibrant weekend nights with live entertainment, Sign of the Whale is a prime spot to enjoy the Connecticut summer. But, the rooftop is actually available in winter as well, when highly cosy rooftop igloo's fill the terrace.
SIGN OF THE WHALE
6 Hbr Pt Rd, Stamford, CT 06902
2.

High George at The Blake Hotel

/ New Haven
High George at The Blake Hotel - Photo: www.highgeorge.com/
Situated in New Haven, 800 m from City Hall, the superb The Blake Hotel offers one of the top-rated Connecticut rooftop experiences.
Called High George, the 6th floor rooftop bar and restaurant is an elegant venue, available year-round thanks to the retractable roof and windows. So it is open and airy in spring/summer, and sheltered and comfy during winter.
Surrounded with lovely views over the New Haven skyline, up here you can enjoy New England Summer classic dishes and Raw Bar favorites in a small plate format, complemented by a full beverage program featuring easy-to-drink cocktails, wine and beer.
Expect a great service and atmosphere, perfect for a stylish-casual dinner, or just some fine drinks with a view.
HIGH GEORGE
9 High Street, New Haven, CT 06510
3.

Sono Sky Bar

/ Norwalk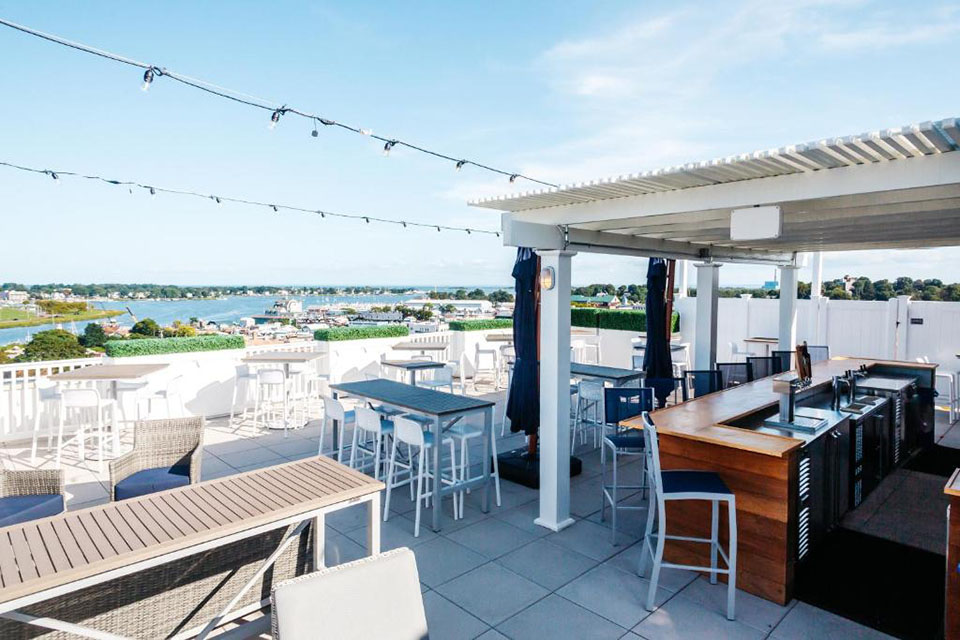 Sono Sky Bar - Photo: www.sonoskybarnorwalk.com/
Perched on top of the fabulous Residence Inn by Marriott Norwalk, Sono Sky Bar is a seasonal hot-spot for drinks with a view.
Familiar yet contemporary, the rooftop comes with a northeastern coastal feel, incorporating design elements that speak to the historical marine influence of the region. Here you get panoramic views over South Norwalk and the water.
Open afternoons/nightly from about May to October, the Sono Sky Bar menu includes a crafted cocktail selection that consists of modern updates to local classics, as well as coastal influenced and seafood-driven food options.
Visit for sunset happy hour drinks, or stylish evenings with a view, surrounde by an upbeat and lively atmosphere.
SONO SKY BAR
45 S Main St, Norwalk, CT 06854
4.

Rooftop120

/ Glastonbury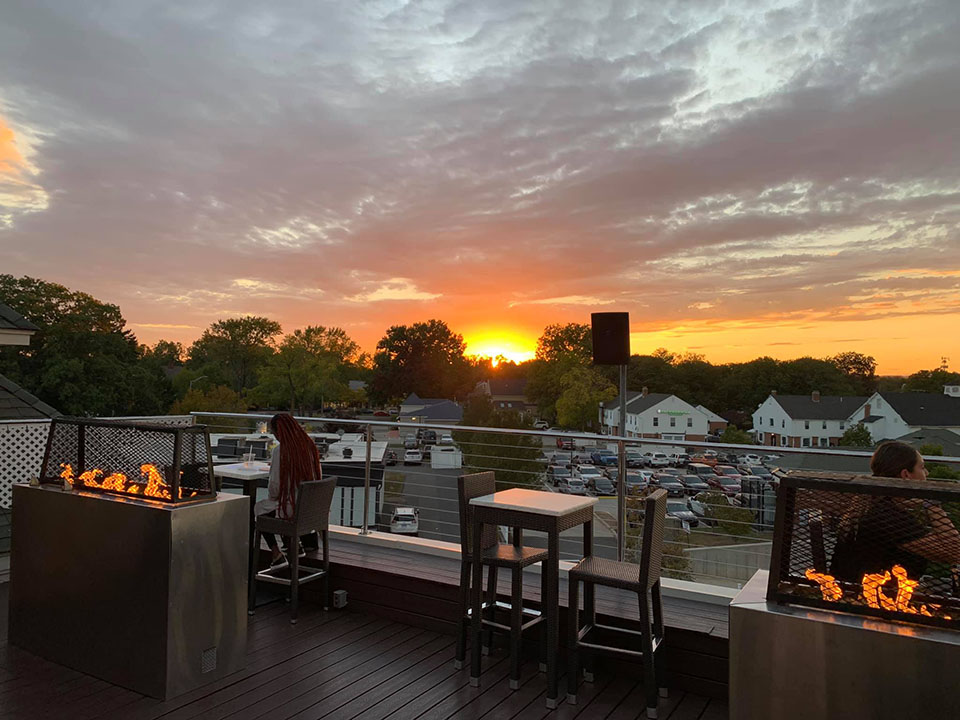 Rooftop120 - Photo: https://rooftop120.com/
Found in in the heart of Glastonbury Center, Rooftop120 is a fun-filled and vibrant Connecticut rooftop bar, and New England's largest four-season rooftop.
Blending a stylish interior bar with a comfy outdoor terrace, Rooftop120 is a great spot for sunny drinks with a great view. But there are aslo fire pits and heaters for a cozy atmosphere even when the weather is less than ideal, as well as an intimate indoor restaurant (called Nosh120), serving elevated, modern American cuisine.
At the rooftop bar, you can sip on a variety of innovative cocktails, wine, beer, and martinis. There is also a wide variety of happening, from live music and parties, to trivia nights and much more.
ROOFTOP120
120 Hebron Ave, Glastonbury, CT 06033
5.

Mix Rooftop & Bar at Sift

/ Mystic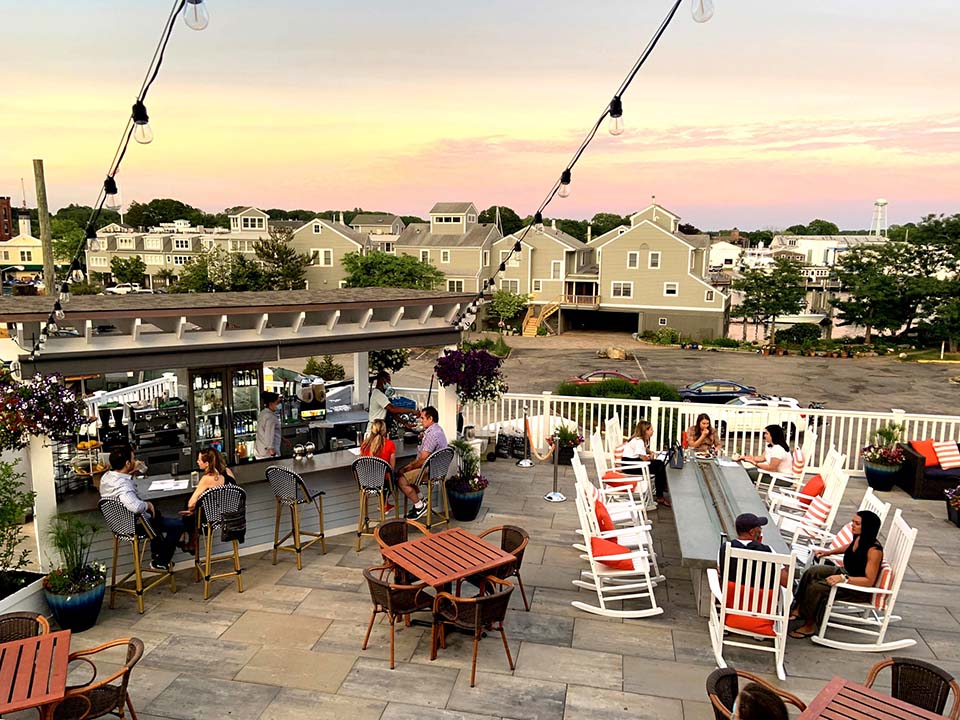 Mix Rooftop & Bar at Sift - Photo: www.siftbakeshopmystic.com/
Sift is a French focused bakery located in historic downtown Mystic. This is great spot to enjoy a coffee, a wide variety of artisanal breads, breakfast pastries and sweet and savory delights 7 days a week, but during the warmer months, an even better spot for rooftop fun.
Perched on the rooftop of the bakery, Mix Rooftop & Bar is a beautiful garden oasis, serving hand-crafted and and pastry-inspired cocktails, local beers, and a delicious food menu.
After recent renovations, Mix is set to open again for summer 2023, which is great news for everyone looking to enjoy elevated dinner and drinks in Mystic.
The rooftop usually opens the bar at 4pm, but before that you are invited to bring the goodies from the bakery up to the rooftop.
MIX ROOFTOP & BAR AT SIFT
5 Water St, Mystic, CT 06355
6.

Elm City Social

/ New Haven
Elm City Social - Photo: www.elmcitysocial.com/
Located in downtown New Haven, Elm City Social is a vibrant gastropub and cocktail bar, that during the warmer season offers both a streetside patio and a tiki inspired rooftop bar.
Set inside an historic building, Elm City Social evokes the spirit of the 1920s, bringing back to life the craftwork of cocktails, while also offering "comfort food with a flavorful twist".
More darkish and rustic inside, the Elm City Social rooftop is a whole other story, filled with colorful furniture and surrounded by greenery, murals and quirky neon signs.
Come enjoy a fun-filled vibe, perfect to eat, drink and be social.
ELM CITY SOCIAL
266 College St, New Haven, CT 06510
7.

The Elbow Room

/ Hartford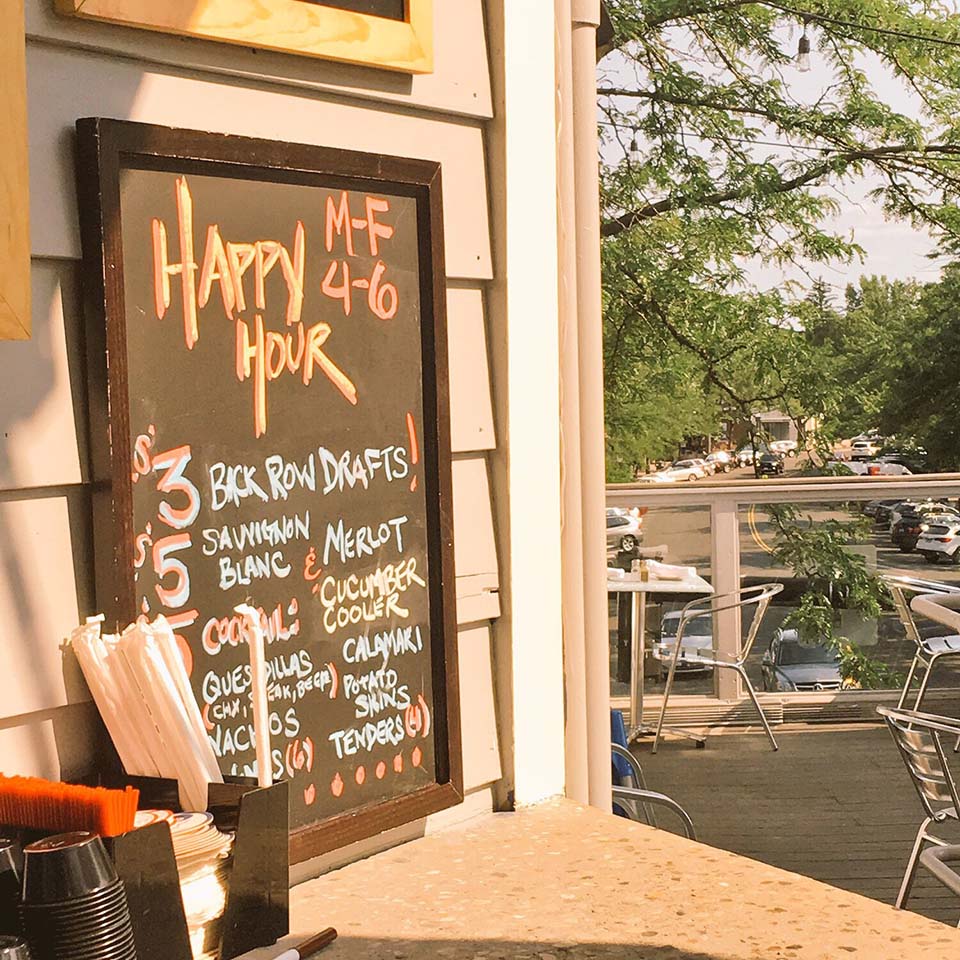 The Elbow Room - Photo: www.elbowroomct.com/
The Elbow Room and Tap Room is one of West Hartford's oldest restaurants, first opening its doors in 1997.
The interior tap room and restaurant is open year-round, offering upscale comfort food, 50 rotating draft beers and a great wine selection. During the warmer months, you can enjoy it up at The Elbow Room rooftop.
With expansive views over West Hartford Center, the charming and easy-going rooftop is great for both sunny happy hour and nightly fun.
The Elbow Room also offers weekly comedy shows and trivia nights.
THE ELBOW ROOM
986 Farmington Ave, West Hartford, CT 06107