Located in the Western United States, Colorado is a state with a diverse geography, including everything from alpine mountains, to deserts and deep canyons. As a result, the Colorado rooftop bars come with a diverse array of views, and you can enjoy food and drinks while overlooking both the Rocky Mountains, or impressive skylines.
The most dense collection of rooftop bars can be found in Denver, which is the largest city in the state, and also the state capital. But, there are elevated venues all around Colorado. And even though most parts of Colorado has quite cold winters, and the prime rooftop season is summer, many of the rooftop bars offer indoor seating and fire-pits/heaters, and stay open year-round.
From skyline views in Denver to Rocky Mountains vistas in Dillon, this listing will take you to every Colorado rooftop bar worth a visit.
1.

Vue Rooftop

/ Dillon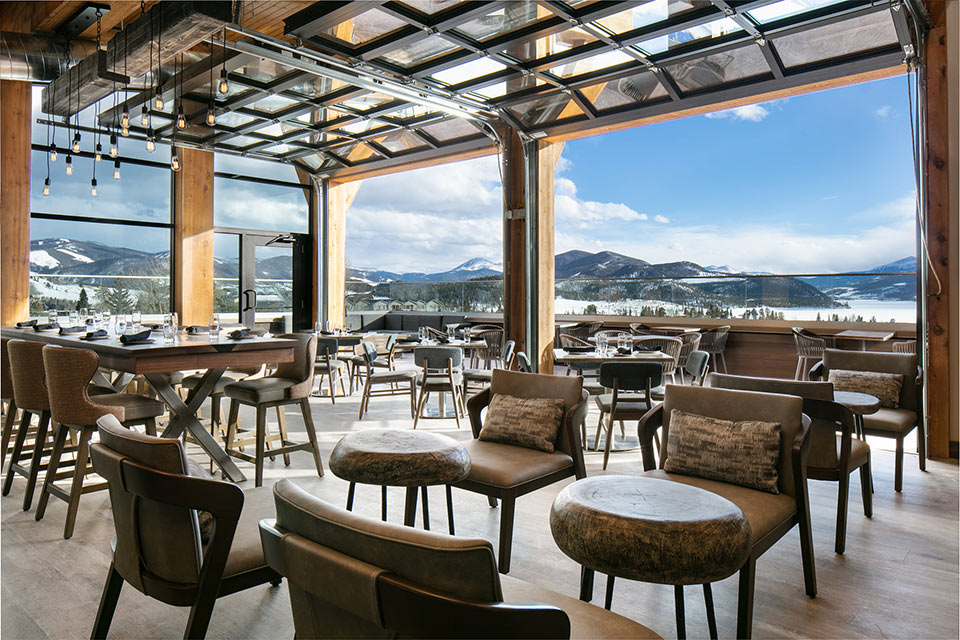 Vue Rooftop - Photo: www.vuerooftop-dillon.com/
Located in Summit County, 70 miles from Denver and minutes away from world-renowned ski resorts, Dillon is a cozy town that recently got blessed with a fantastic and elevated spot, called Vue Rooftop.
Found on the 4th floor of the lovely Homewood Suites By Hilton Dillon, this is a stylish and unique place to enjoy food, drinks, music and spectacular views of Lake Dillon and the Rocky Mountains.
Mixing indoor and outdoor seating, the Vue rooftop bar & restaurant is beautiful in setting, and really blends with the surrounding eviroment.
Up here you can enjoy contemporary American dishes that range from small bites to filling entrées, along with a variety of craft beers and both classic and creative locally inspired cocktails.
VUE ROOFTOP
122 Lake Dillon Drive, Dillon, CO 80435
2.

54thirty Rooftop

/ Denver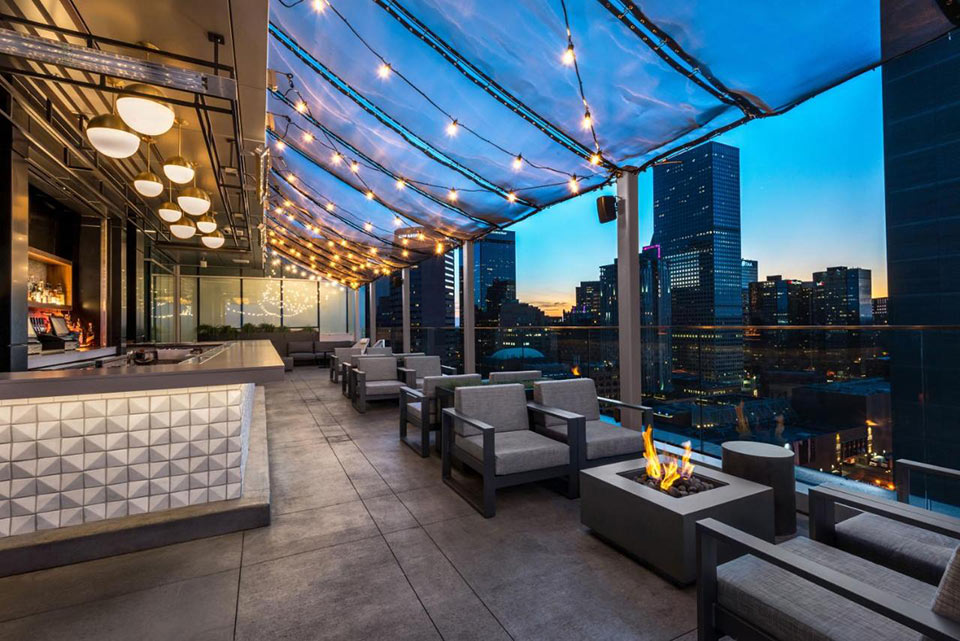 54thirty Rooftop - Photo: www.54thirty.com/
Perched on top of the fantastic Le Méridien Denver Downtown, the seasonal 54thirty Rooftop is the highest open-air rooftop bar in Denver and Colorado.
Named after its location above sea level (5 430 feet), this modern and stylish rooftop terrace offers amazing and panoramic views over the Denver skyline and the Rockies.
From the rooftop bar you can order elevated and crafted cocktails and local craft beers, as well as globally inspired bar bites.
Surrounded by a sophisticated and trendy lounge vibe, you can visit for sunny afternoon cocktails, or nightly to look out over the twinkling skyline and get cosy by the fire pits.
54THIRTY
1475 California St, Denver, CO 80202
3.

The Imogene Hotel & Rooftop Bar

/ Ouray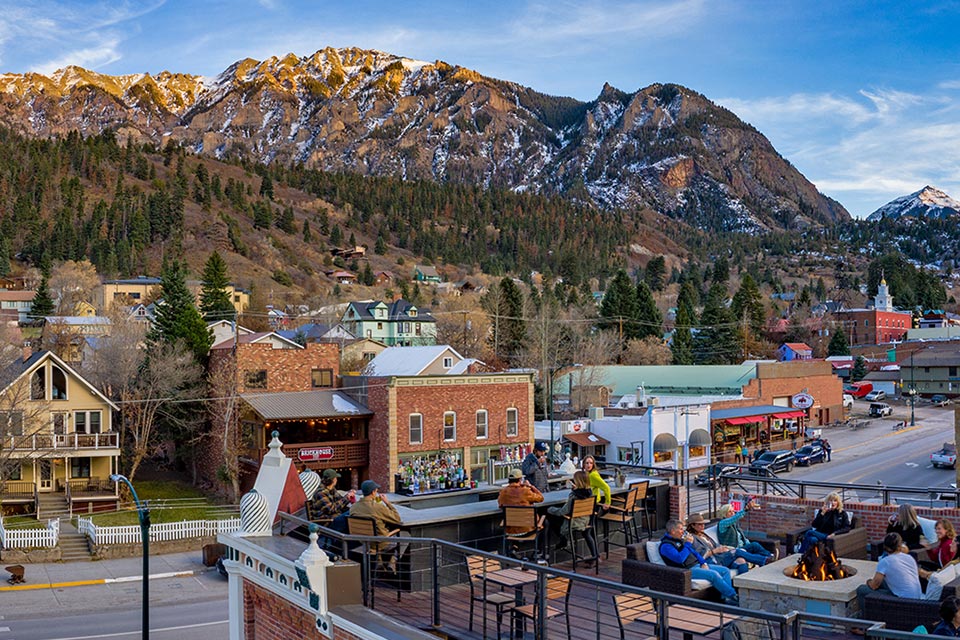 The Imogene Hotel & Rooftop Bar - Photo: https://theimogene.com/
Located in Ouray, nestled in the San Juan Mountains, the fantastic Imogene Hotel mixes plenty of history with plenty of fantastic views.
Set in a 19th century building, originally serving as a saloon and brothel, the venue underwent an extensive restoration in 2020, and now offers six unique hotel rooms. But even better, also a beautiful rooftop bar.
Open during the warmer season, the open-air and charming rooftop serves hand crafted cocktails and locally sourced cuisine, along with breathtaking views over Ouray and the surrounding mountains.
The view is actually so good that the rooftop dare to make a bold statement: find a bar with a better view and your drink is on the house!
THE IMOGENE
740 Main St PO Box 848, Ouray, CO 81427
4.

The Red Barber

/ Denver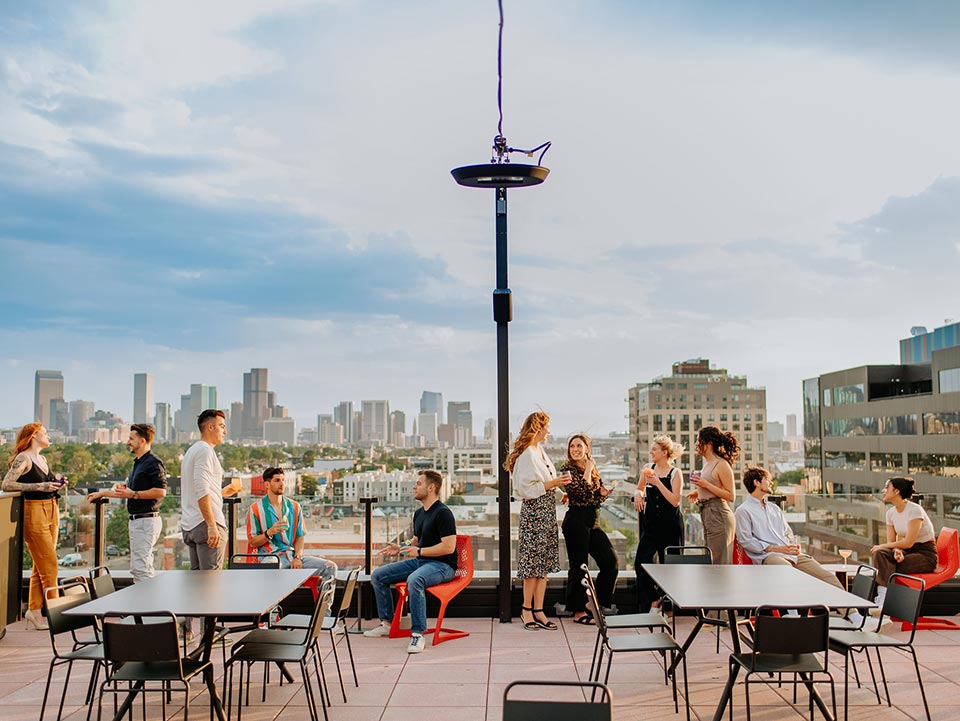 The Red Barber - Photo: www.theredbarber.com/
The modern and exceptional The Catbird Hotel offers an impressive rooftop that really lets you experience Denver from a new perspective.
Floating above the RiNo Art District, The Red Barber is a 3,300 square-foot elevated backyard daydream, mixing a whimsical and fun indoor-outdoor setting with amazing 360-degree views over the skyline, mountains and cityscape.
A wondrous escape from the every day, here you can indulge in a menu filled with handheld cold and hot bites, wine, beer, frozé and refreshing and crafted cocktails.
Apart from food, drinks and views, The Red Barber also offers plenty of fun, from lawn games and trivia nights to live music sessions.
THE RED BARBER
3770 Walnut St, Denver, CO 80205
5.

Elevated Rooftop Bar

/ Denver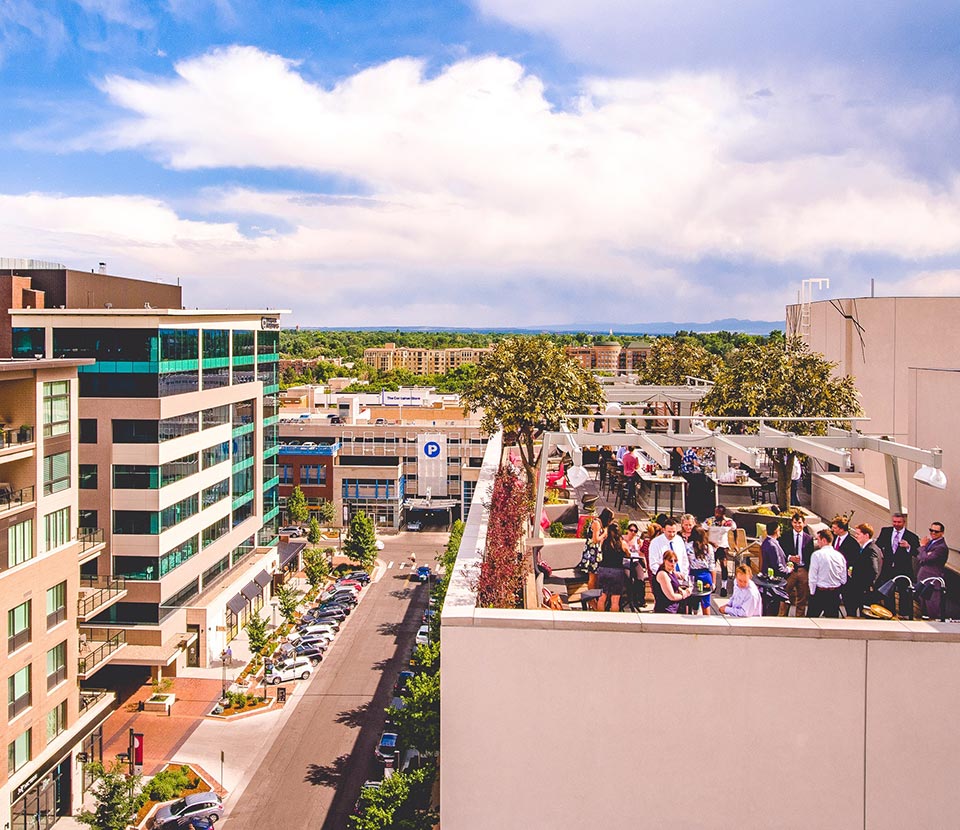 Elevated Rooftop Bar - Photo: www.halcyonhotelcherrycreek.com/
The modern and trendy Halcyon Hotel in Cherry Creek, Denver, offers both a rooftop pool deck for sky-high relaxation, and a stylish rooftop bar for urban fun.
While the pool is exclusive for hotel guests, the Elevated Rooftop Bar is open for everyone to enjoy the panoramic views over the Rocky Mountains and the Denver skyline.
Lush and open-air, the modern rooftop bar serves contemporary American Fare, rotating cocktail selections, wines by the glass and by the bottle and a curated craft beer list.
Filled with cool lounge vibes and a great spot for trendy drinks and sunset sessions, the rooftop also offers plenty of events, from workout classes to live music.
ELEVATED ROOFTOP BAR
249 Columbine St #201, Denver, CO 80206
6.

LUMEN8 Rooftop Social

/ Colorado Springs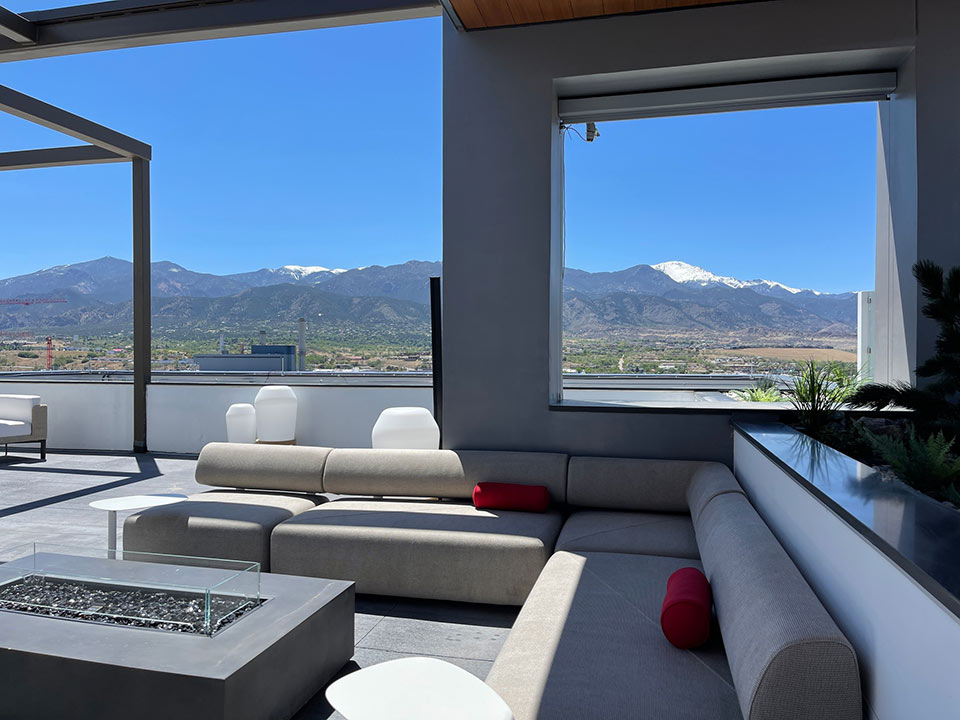 LUMEN8 Rooftop Social - Photo: www.marriott.com/
Located on the 8th floor of the dual-branded Marriott property in downtown Colorado Springs, Lumen8 Rooftop Social is contemporary restaurant and bar, offering an elevated experience.
Opened in early summer 2022, the rooftop mixeas a stylish and airy interior with an open air rooftop lounge, where you find firepits and water features, as well as prime views of downtown and Cheyenne Mountain.
High above COS you can enjoy a thoughtfully crafted menu, with a wide variety of shareable plates, entrées, and sweets, plus an inventive craft cocktail menu and a robust wine list.
LUMEN8 ROOFTOP SOCIAL
402 S Tejon St, Colorado Springs, CO 80903