The rooftop bars in Brazil are some of the best in the world if you like terraces with great pools and all year around availability. The relaxed and nice atmosphere that surrounds the Brazilian culture is also visible on the many rooftop bars here.
Of course, Rio de Janeiro and Sao Paulo have most of the best rooftops. But you can also find some gems spread out over the country, which is the largest country in South America.
Enjoy The Rooftop Guide's list over the 9 best rooftop bars in Brazil
1.

SKY LEME Rooftop & Lounge

/ Rio de Janeiro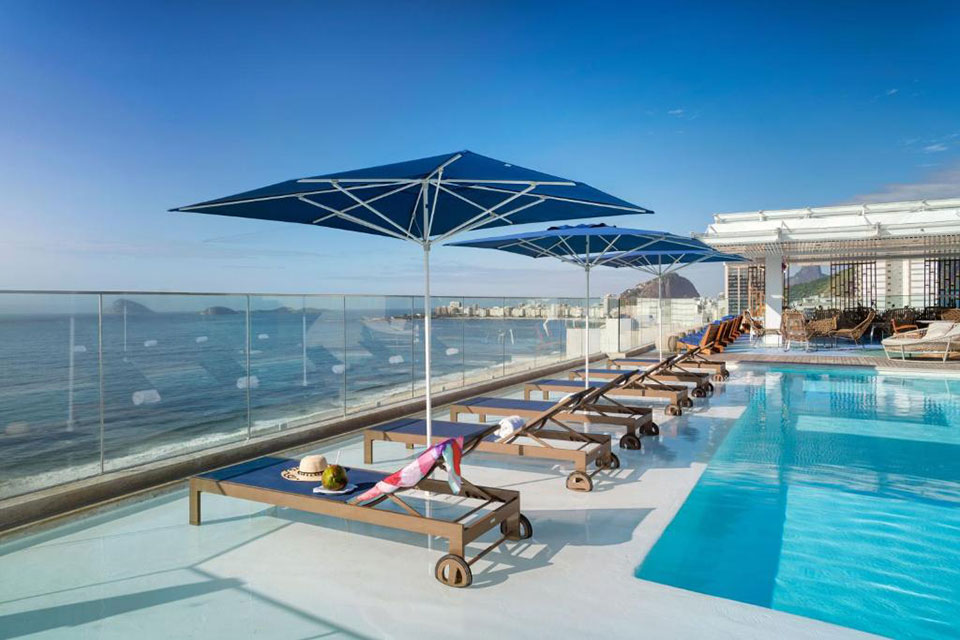 SKY LEME - Photo: https://all.accor.com/
'The sky is the limt'. While this might in many ways be true for pretty much all of Rio, it is extra true on top of the hot and trendy Novotel Rio de Janeiro Leme.
Found just 100 meters from Leme Beach, the ocean vibe is very much present here. And a stroll to the beach is nice, but we would argue that a ride up to the top floor SKY LEME Rooftop & Lounge is even better.
Coastal-chic, natural and elegant in decoration, here you find both a smashing rooftop pool, but also a bar area, with plenty of comfy lounge spots. All surrounded with amazing views over the ocean and Rio.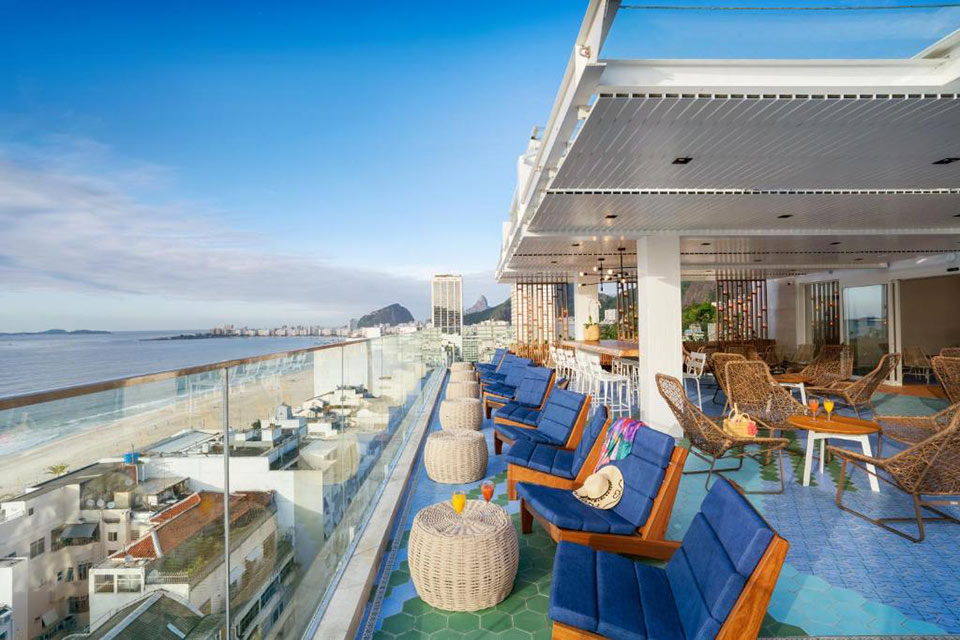 SKY LEME - Photo: https://all.accor.com/
Providing an atmosphere that is both stylish yet relaxing, the Novotel rooftop is great for both long hours by the pool, some beautiful sunset drinks or nightly vibes.
The rooftop bar serves a menu including everything from refreshing and crafted signature cocktails and digestifs to tasty Mediterranean-inspred dishes. All you need for an elevated Rio experience.
SKY LEME
R. Gustavo Sampaio, 320 - Leme, Rio de Janeiro
Daily
2.

Skye Bar

/ Sao Paulo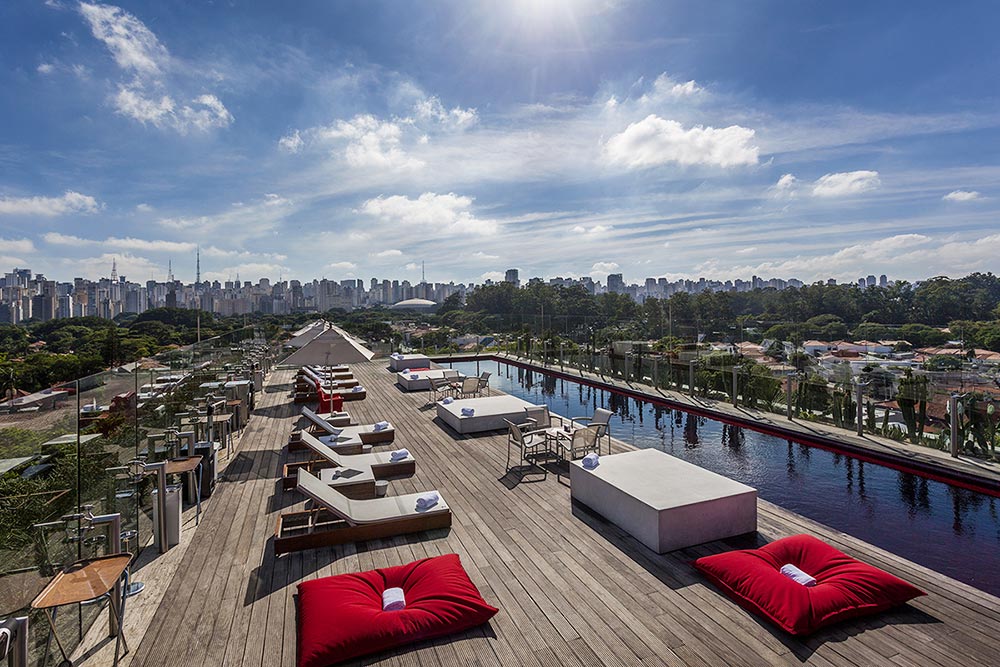 Skye Bar - Photo: http://www.hotelunique.com.br
Situated atop the luxurious Hotel Unique, the Skye Bar is your go-to place for a restaurant and bar experience above the clouds.
Often included in the world's top lists for premium rooftop places, Skye Bar has everything a person needs - premium menu, fantastic service and a 360-degree view over the Sao Paulo skyline.
With a furnished wooden deck terrace, the bar has a lounge setting and an underwater system, enabling guests to hear lively DJ sets.
Skye Bar - Photo: http://www.hotelunique.com.br
The rooftop bar serves Brazilian fusion, as well as sushi and a list of fine drinks. Open until late at night, Skye Bar & Restaurant is also a great spot to grab your morning coffee, or enjoy a sunny lunch with your colleagues.
On the pricier side, the bar delivers what you pay for - top-notch quality and an excellent experience.
SKYE BAR
Av. Brigadeiro Luís Antônio, 4700 - Jardim Paulista, São Paulo
Daily: 7am-midnight
3.

Yoo2

/ Rio de Janeiro
Yoo2 - Photo: https://yoo2.com
Rio, sweet Rio de Janeiro! With its native Brazilian vibe, endless parties and breathtaking views, Brazil's beloved Rio is a city to live your summer fairytale at. One of its must-visit spots is the stylish and contemporary hotel Yoo2 by Intercity.
It features a top-notch rooftop terrace with a stunning view in front of Botafogo Beach. The Sugar Loaf Mountain and the statue of Jesus shine as a backdrop.
Modern in design, the rooftop's atmosphere is chic and comfy. The lounge sofas suggest endless conversations over a drink, whilst the menu itself allures with every row of every page.
With a large selection of signature cocktails, made by mixologist Roger Bastos, along with an attractive palette of classics - beer, wine, sake and caipivodka, they guarantee guests to have a quality time.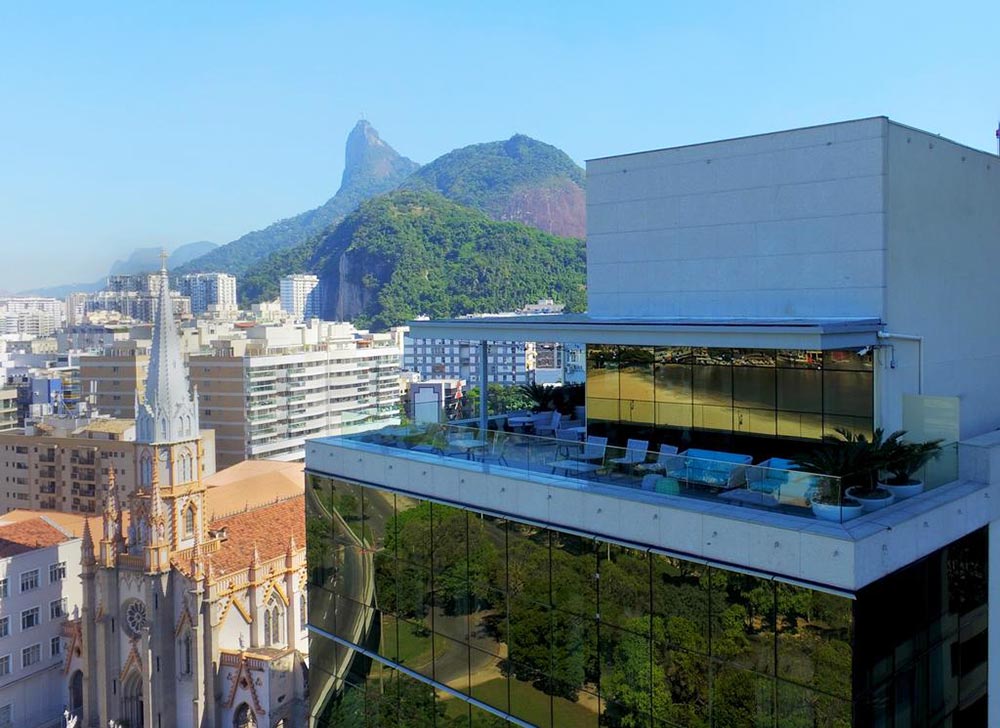 Yoo2 - Photo: https://yoo2.com
Hungry bellies can be satisfied with a plate of bar bites, that are not quite fulfilling as a burger would have been, but taste fantastic, and calm your feeling of hunger.
The hotel has a rooftop pool, only accessible to guests who have booked their stay with Yoo2. So maybe consider choosing this hotel, if you plan to pay a visit to Rio.
YOO2
Praia de Botafogo, 242 - Botafogo, Rio de Janeiro
Daily
4.

Bar 16 at B Hotel

/ Brasília
Bar 16 at B Hotel - Photo: https://bhotelbrasilia.com.br/
Perched on top of the B Hotel Brasilia in the capital of Brazil, there lies Bar 16 - the highest rooftop bar in the city.
The 16th floor location includes some fantastic views over the city, including the the Eixo Monumental Avenue, the Estádio Nacional and the TV Tower.
Trendy and modern in setting, the rooftop terrace is not only surrounded with fantastic views, but also a really cool hollow brick wall. The top feature is however the unique yellow rooftop pool. Surrounded by comfy sun loungers, this is a rooftop oasis exclusive to guests staying at the hotel during daytime.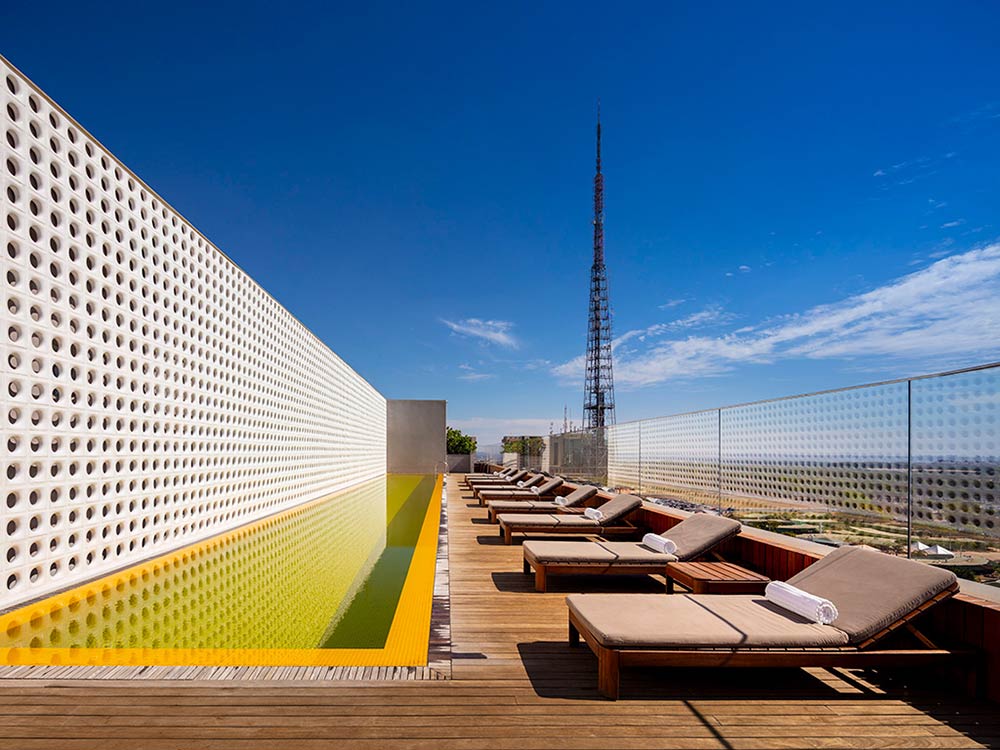 Bar 16 at B Hotel - Photo: https://bhotelbrasilia.com.br/
When evening comes, the Bar 16 opens it doors to all, serving tasty bites and a great selection of drinks, all in a sophisticated yet relaxing atmosphere.
Come for the amazing sunset views and then stay to enjoy the al-fresco vibes under the starry Brasília sky.
BAR 16
B Hotel, SHN, Quadra 5, Bloco J, Lote L, Asa Norte, Brasília
Sun-Thu: 5pm-11pm / Fri-Sat: 5pm-midnight
5.

Cité Rooftop

/ Florianópolis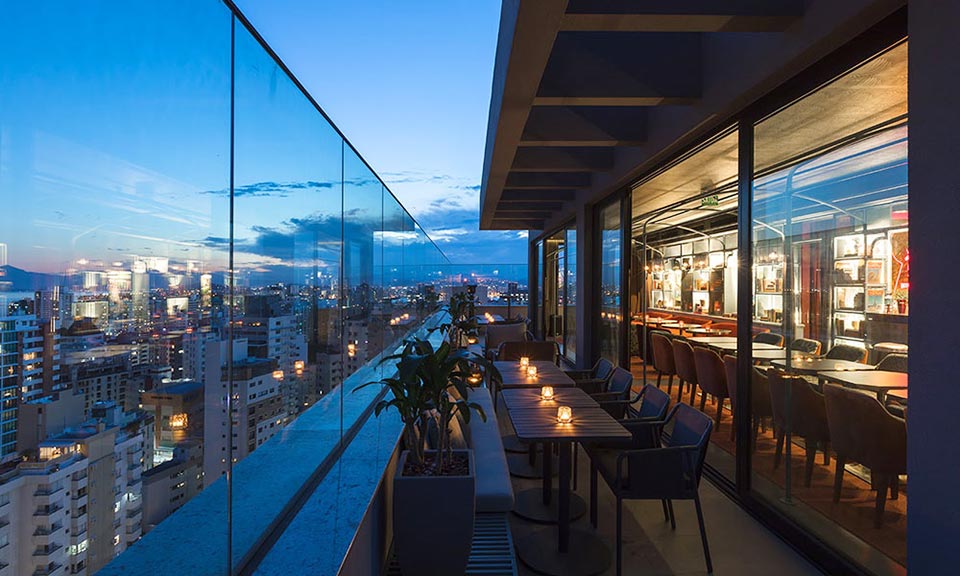 Cité Rooftop - Photo: www.citerooftop.com.br/
Located in southern Brazil, Florianópolis is a hot-spot for visitors from both South America and the rest of the world. Mainly located on the Santa Catarina Island, the city is blessed with a lot of coastline and a vibrant atmosphere. To enjoy the vibes with a birds-eye views over the city and ocean, head up to the Cité Rooftop.
Sophisticated and elegant, the rooftop is perched on top of the Cidade Milano complex in the center of the city. An urban oasis, equipped with both a stylish indoor lounge and an outdoor rooftop terrace, surrounded with the amazing views.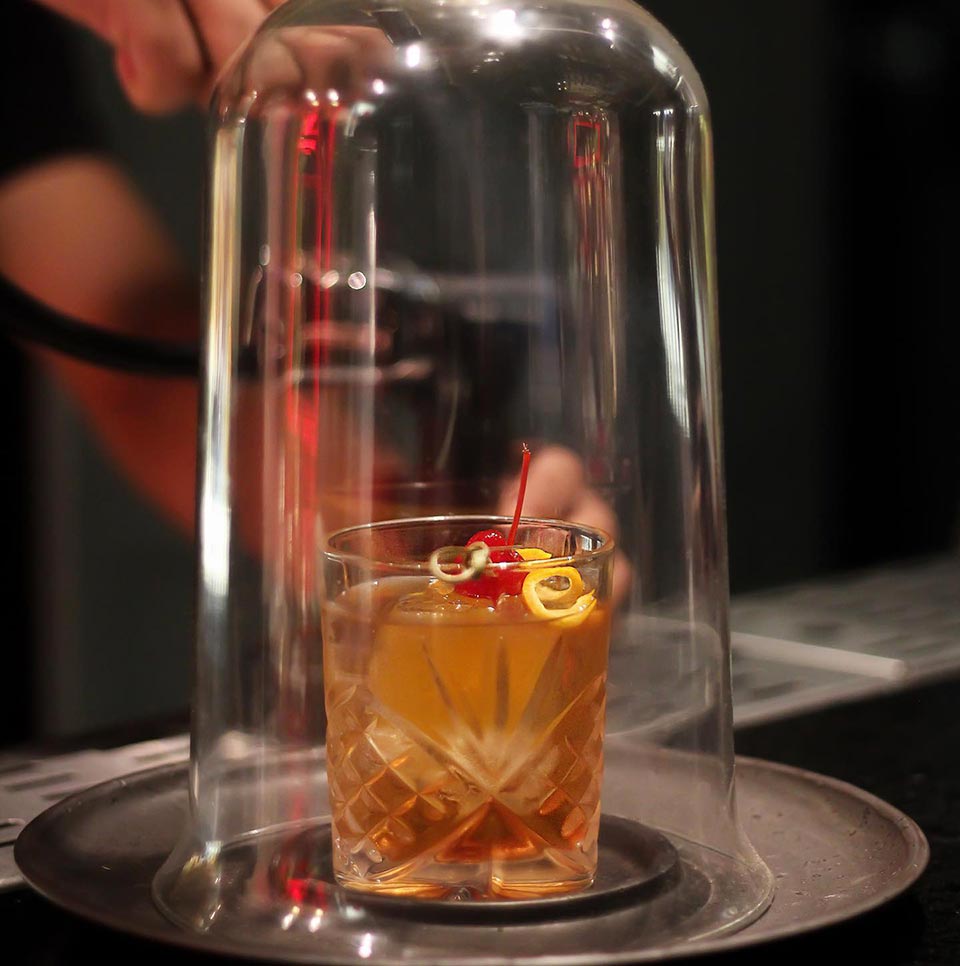 Cité Rooftop - Photo: www.citerooftop.com.br/
Working as both rooftop bar and rooftop restaurant, Cité Rooftop serves everything from crafted signature cocktails and classics with a special touch, as well as food served as both 'entradinhas' and more filling 'principais'.
With a beautiful setting and friendly service, along with a strong musical program, Cité Rooftop is one of the best elevated in Brazil.
CITÉ ROOFTOP
R. Ângelo La Porta, 53 - Centro, Florianópolis
Wed-Sat: 18.45pm-11pm / Sun-Tue: closed
6.

Night Market Rooftop

/ Belo Horizonte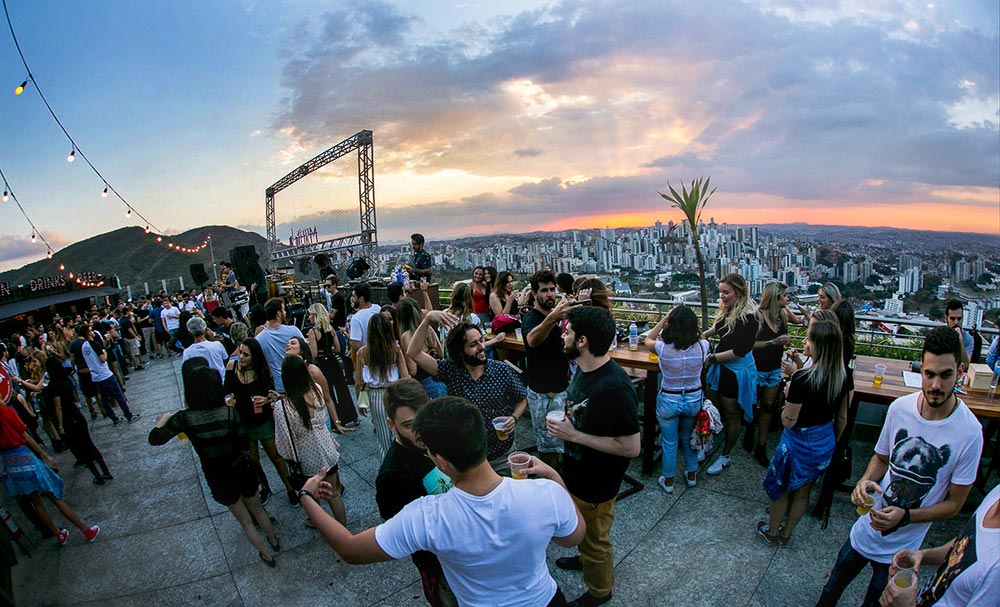 Night Market Rooftop - Photo: https://www.nightmarket.com.br/
Belo Horizonte is one of Brazil's cosmopolitan cities. Growing and reinventing itself, the city has turned into an open mind center for globetrotters from afar. One of its hidden gems is the Night Market Rooftop - a conceptual fair and evening inspired rooftop bar.
Stop by and enjoy the vibe of a true urban center. Inspired by New York and London, the rooftop bar features themed events and serves classic mixologies, overlooking the city.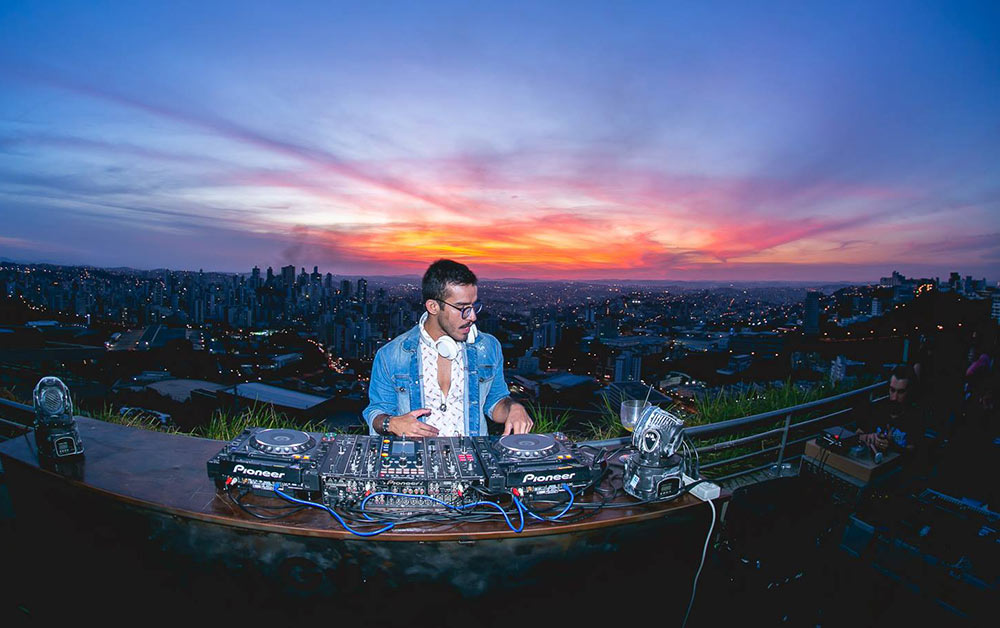 Night Market Rooftop - Photo: https://www.nightmarket.com.br/
NIGHT MARKET ROOFTOP
Rua Wilson Rocha Lima, 25, Belo Horizonte
Mon-Tue: closed / Wed: 10pm-4am / Thu: 7pm-4am / Fri-Sat: 10pm-5am / Sun: 5pm-2am
7.

Terraço Itália

/ Sao Paulo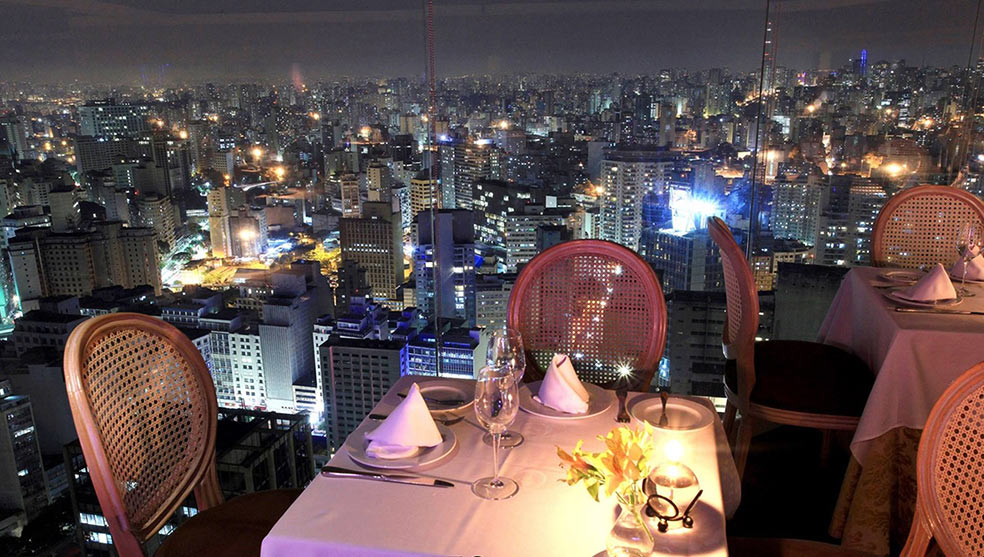 Terraço Italia - Photo: www.terracoitalia.com
An Italian fine dining, crafted in the heart of Sao Paulo. This is the easiest way to describe Terraço Italia - one of the city's highest rooftop bars. 41 stories up, the terrace has one of the most iconic vistas over Sao Paulo skyline.
With a typical Italian cuisine, made by master chef Pasquale Mancini, you get a top-notch food, service of the highest class, and a view to remember.
Terraço Italia - Photo: www.terracoitalia.com
The restaurant serves daily gourmet lunch menu, or á la carte dinner. The wine list features some of the world's highest quality liquids, whilst cocktail lovers can discover other finely tuned mixologies that are being crafted behind the bar.
The decor has an ambient, and very sophisticated feel. The seating area is mostly indoors, whilst the outdoor terrace spans around the building and allures to have your drink at. Reservations are recommended.
TERRAÇO ITÀLIA
Av. Ipiranga, 344 - República, São Paulo
Mon-Thu: 12pm-midnight / Fri-Sat: 12pm-1am / Sun: 12pm-11pm
8.

SUI Rooftop

/ Porto Alegre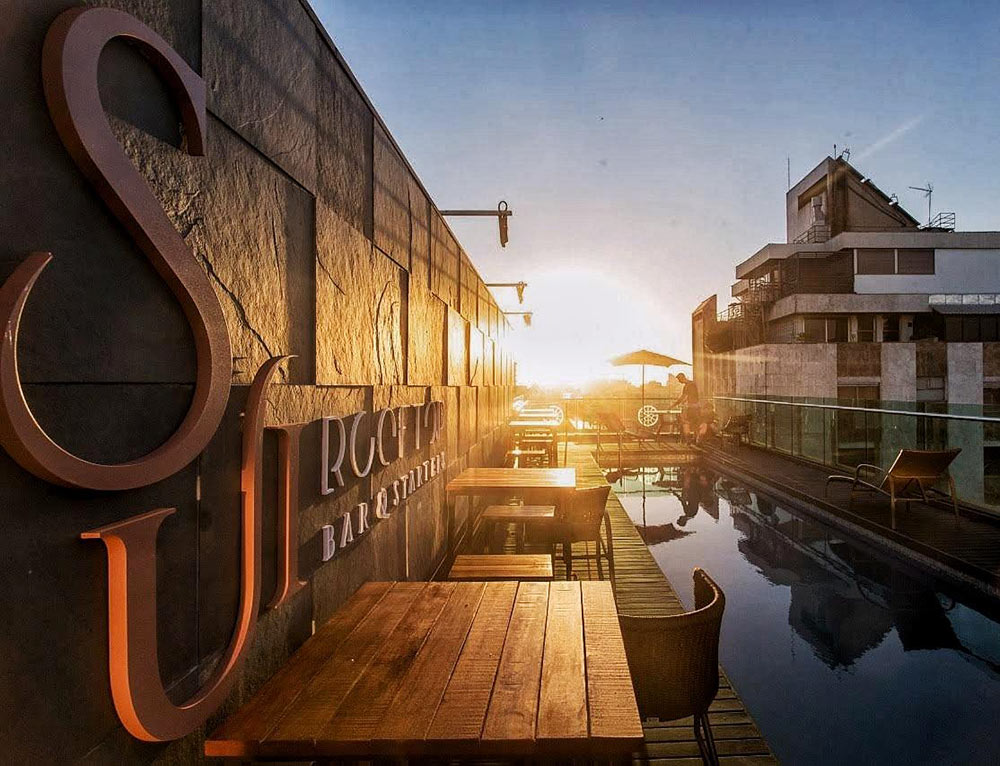 SUI Rooftop - Photo: www.suirooftop.com.br/
Moinhos de Vento - a lively neighborhood in the heart of Porto Alegre, hides a rooftop bar you will tell stories about long after you leave the city. Located in one of the best hotels in town, SUI Rooftop shares the same address with its hosting hotel - the Laghetto Viverone Moinhos.
Climb to the 8th floor of the hotel and join the exclusive signature restaurant where chef Thiago Maeda serves oriental cuisine with a modern and trendy mixologist. Thiago runs the Tessen Restaurant and Lounge - another contemporary Japanese place, and promises a gastronomic walk around Asia through his signature fermented peppers with Eastern flair.
All drinks are being crafted by master bartender Heitor Martin, often named a celebrity bartender across Latin America. He is also responsible for well-spoken drinks served in the Seen restaurant and bar on the 23rd floor of the Tivoli Mofarrej in Sao Paulo.
SUI ROOFTOP
Dr. Vale Street, 579 - Moinhos de Vento, Porto Alegre
Tue-Sun: 5.30pm-11.30pm
9.

Fasano Rooftop Pool Lounge

/ Rio de Janeiro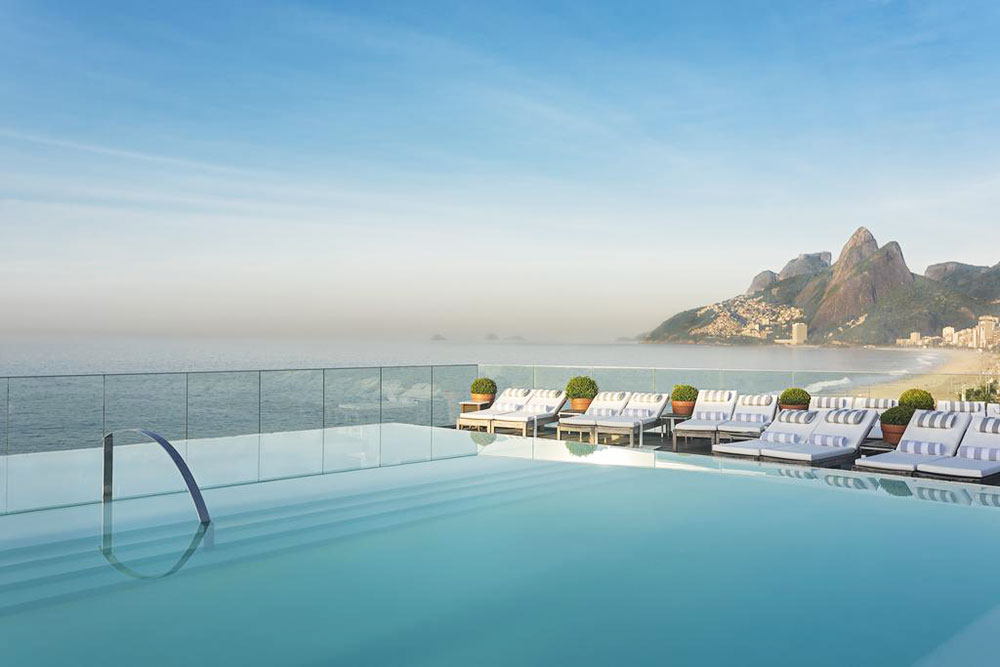 Fasano Rooftop Pool Lounge - Photo: https://www.lhw.com/
Having collected one of the world's finest rooftop venues is no wonder for Rio de Janeiro. Brazil's cosmopolitan town is a place where people book their vacations because of the never-ending and never sleeping party scene. With both fantastic nature surrounding the city, to the deeply rooted Brazilian traditions, Rio is a story that is not ending anytime soon.
Rooftop Pool Lounge is one of these places everybody talks about. Perched atop the Hotel Fasano, you get a magical view of the Ipanema Beach and Rio's skyline.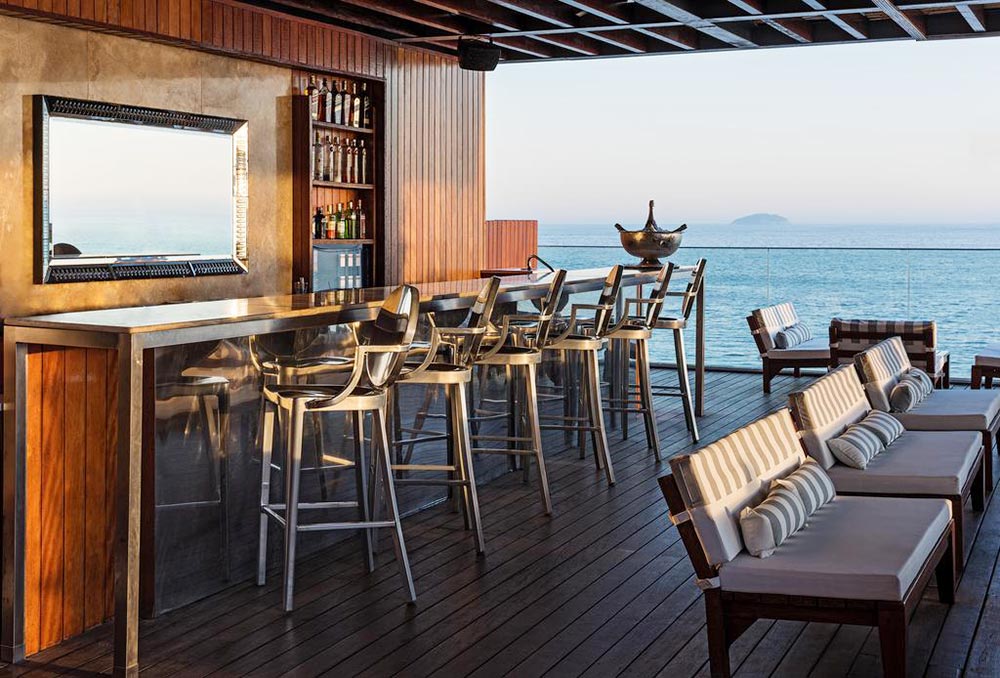 Fasano Rooftop Pool Lounge - Photo: https://www.lhw.com/
The rooftop serves a robust of refreshing drinks. We suggest you try one of their freshly squeezed juices, only using locally sourced produce.
The rooftop deck allures guests to hop into the rooftop pool, in the middle of the terrace. This, however, is only available to guests of the hotel. So if you're still browsing AirBnb, look no further and book your stay with the Fasano.
FASANO ROOFTOP POOL LOUNGE
80 Av Vieira Souto, Rio de Janeiro
Daily: 8am-10pm