Germany has many great rooftop bars in a lot of different cities. The climate can be cold during the winter so it's advisable to come here during the warmer summer months.
Germany has some of the best and most famous rooftop beach clubs in the world. Large swimming pools or beach sand terraces can be found all around the country.
Here's our list of the best rooftop bars in Germany, made by the world's leading experts on rooftop bars – The Rooftop Guide. Enjoy!
10.

The VIEW Skylounge & Bar

/ Dusseldorf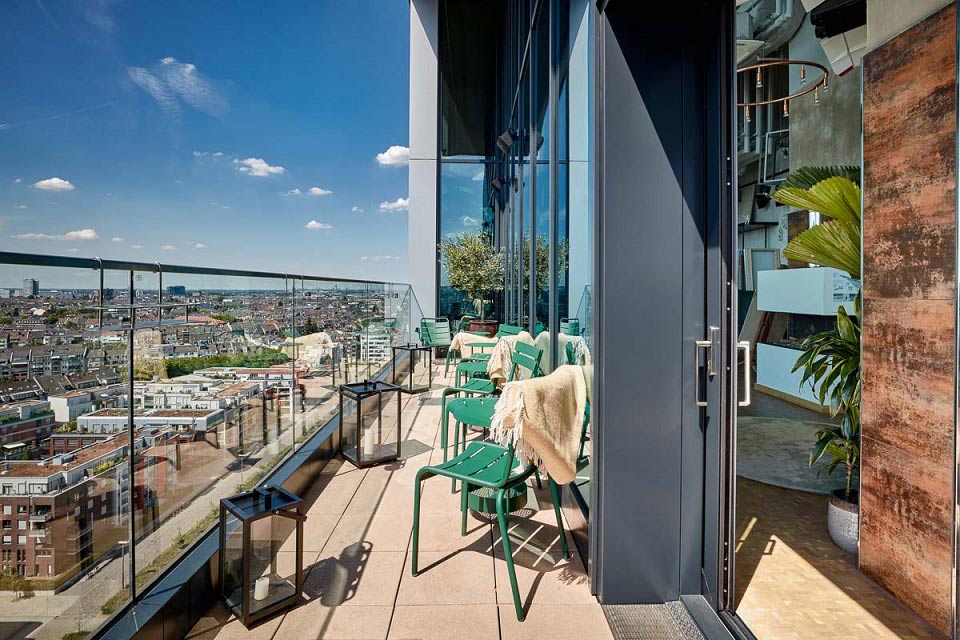 The VIEW Skylounge & Bar - Photo: www.theview-duesseldorf.de
The story of "When in Dusseldorf" must either begin, or end with a visit at the VIEW Skylounge & Bar.
One of Dusseldorf's trendiest spots to wine and dine, the venue overlooks the harbor, pampering its guests with reinterpreted versions of evergreen cocktails. It is, by far, the tallest venue in Dusseldorf's modern district.
The VIEW is a go-to meeting place for cosmopolitan guest and travelling nomads. The perfect combination of club-inspired atmosphere with a live entertainment atop the 16th floor of a skyscraper.
It is what we call a recipe for a fantastic night out.
THE VIEW SKYLOUNGE & BAR
Speditionstraße 9, 40221 Düsseldorf
9.

Mahjong Roof Garden

/ Munich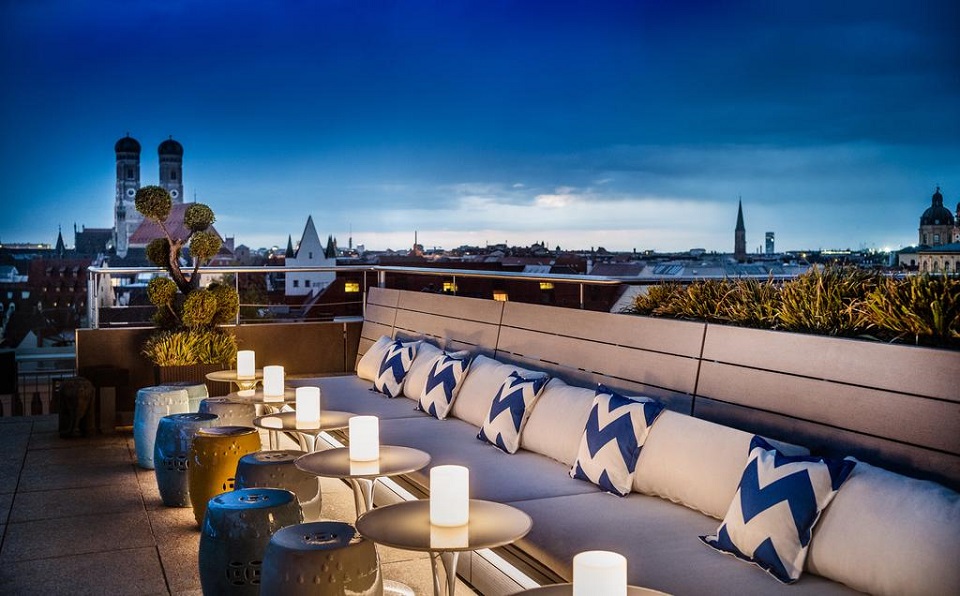 Mahjong Roof Garden - Photo: www.mandarinoriental.com
Munich's old town is yet another fantastic place that should not go undiscovered when you visit the city. At the very heart of the town, there hides a place called Mahjong Roof Garden.
A fancy and luxurious rooftop setting, perched atop the trendy Mandarin Oriental, the bar welcomes visitors to an exquisite 360-degree vista of entire Munich.
Open during the warm months, Mahjong Roof Garden is the perfect spot for a casual meet up or a business drink.
A mix of Asian touches and a luxurious Mediterranean look and feel, its interior suggests a fine selection of Pacific bites, ranging from "Miso Marinated Kagoshima Wagyu" to "Spicy Lobster Salad". Served with a hand-crafted cocktails, the Terrace is an experience one must enjoy to the very last bit.
Attracting the trendy crowd, this Munich extravaganza comes on the pricier side. We highly recommend table reservations, as it gets crowded.
MAHJONG ROOF GARDEN
Neuturmstraße 1, 80331 München
8.

Roof Bar

/ Mannheim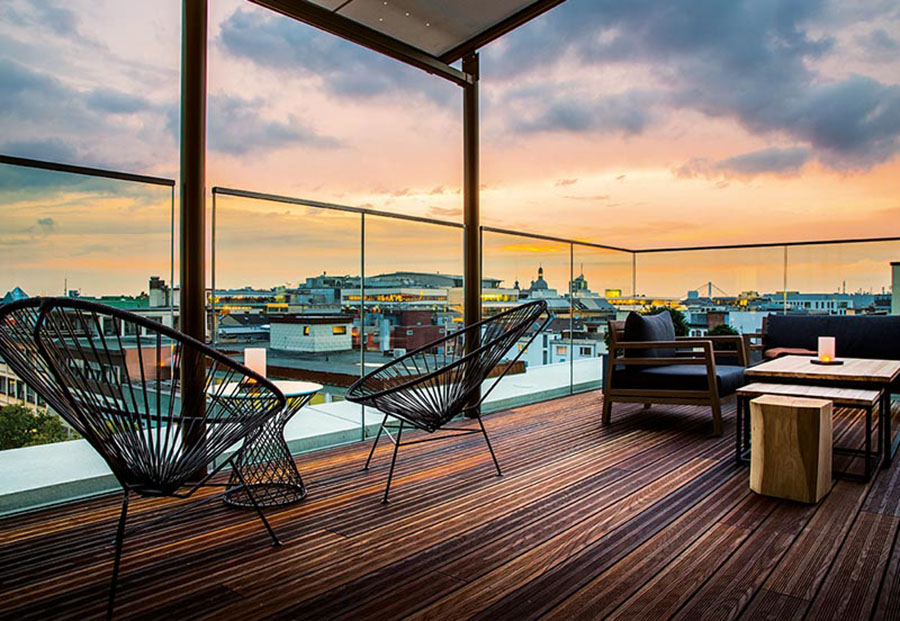 Roof Bar - Photo: www.roofbar-mannheim.de
Should you book your stay with the Radisson Blu in the Q6Q7 mall, or wander around the hotel, check out its rooftop bar.
With an all-year round invitation to visit, the rooftop space is Mannheim's trendiest rooftop bars. Its relaxed and chilled-out atmosphere has the perfect mix of modern design, and a balanced, yet crafty menu.
Offering a range of classic cocktails and exquisite wines, and a short, but refined menu of delicious bites, the bar guarantees an evening to remember.
The Roof Bar has a Thursday-special event with DJ Mr. Rawdriguez - a real party master. If your tummy feels like in need of a delish bite, check out the homemade burgers and fresh pasta dishes.
ROOF BAR
Q7 27, 68161 Mannheim
7.

Monkey Bar

/ Berlin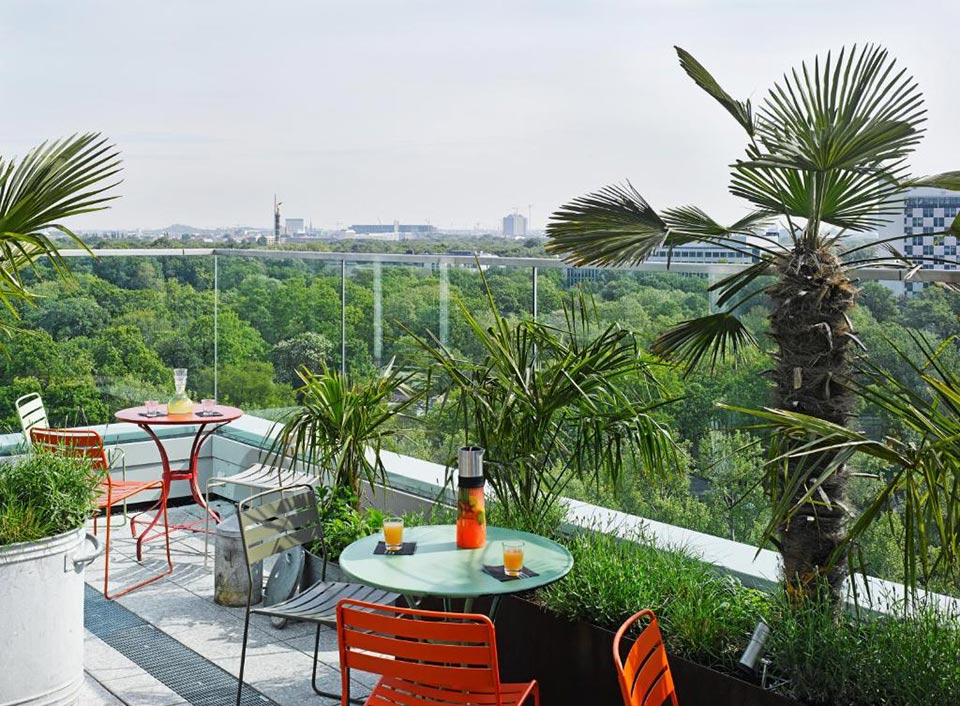 Monkey Bar - Photo: www.monkeybarberlin.de/
Offering one of the best views over Berlin, and the very best over the the zoo's monkey house, the aptly namned Monkey Bar is year-round venue for rooftop fun.
Set on the 10th floor of the amazing 25hours Hotel Bikini Berlin, the rooftop bar offers a wide range of creative and crafted signature cocktails, along with some wine, beers and various bar bites from the adjecent NENI restaurant.
With a whimsical and tropical decor, Monkey Bar is a vibrant spot inside and out, with a buzzing vibe and live DJs pretty much nightly.
Be in good time to catch the best spots on the outdoor terrace, as this is a very popular place and a bit of a line can be expected.
MONKEY BAR
25hours Hotel Bikini Berlin, Budapester Straße 40, 10787, Berlin
6.

Campari Lounge

/ Hamburg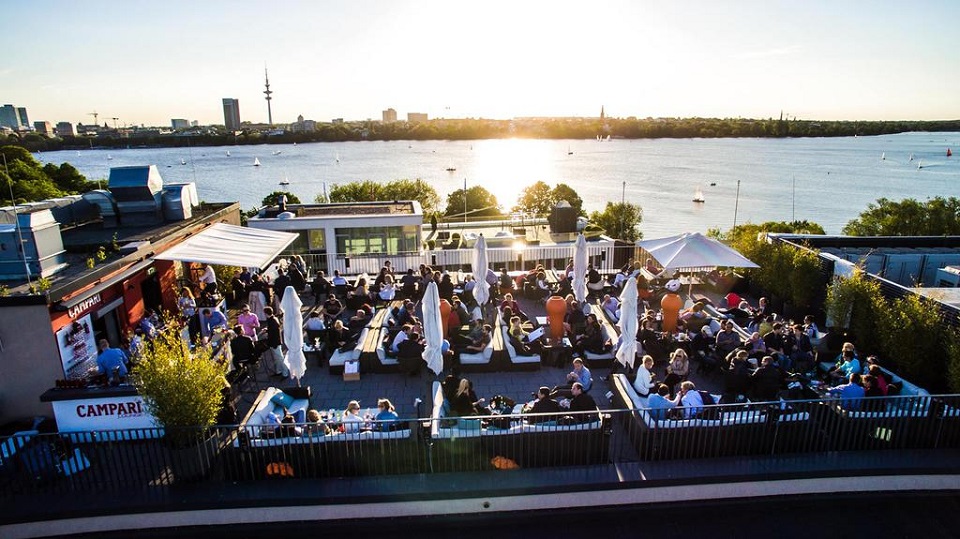 The Campari Lounge at The George Hotel - Photo: www.thegeorge-hotel.de
If you're chasing a panoramic view of Hamburg's skyline, stop by the Campari Lounge at the George Hotel.
A stylish cocktail lounge with a trendy rooftop bar, you can get a superb selection of cocktails at a reasonable price. To compliment your cocktail experience, you get the exquisite view of the sailboats passing by the Lake Alster.
When the weather allows it, the terrace has a cozy setting with lots of comfy sofas and a Campari-inspired outdoor bar. You can order champagne, wine or a treat from the selection of themed craft cocktails.
To fill you up, you can check the bar bite alternatives, choosing from the everlasting classic pizza, or a delicious cheese burger.
For fans of Campari, the lounge serves a signature Campari apéritif - a long drink with an antipasto plate.
THE CAMPARI LOUNGE
The Geeorge Hotel, Barcastraße 3, 22087 Hamburg
5.

Citybeach

/ Frankfurt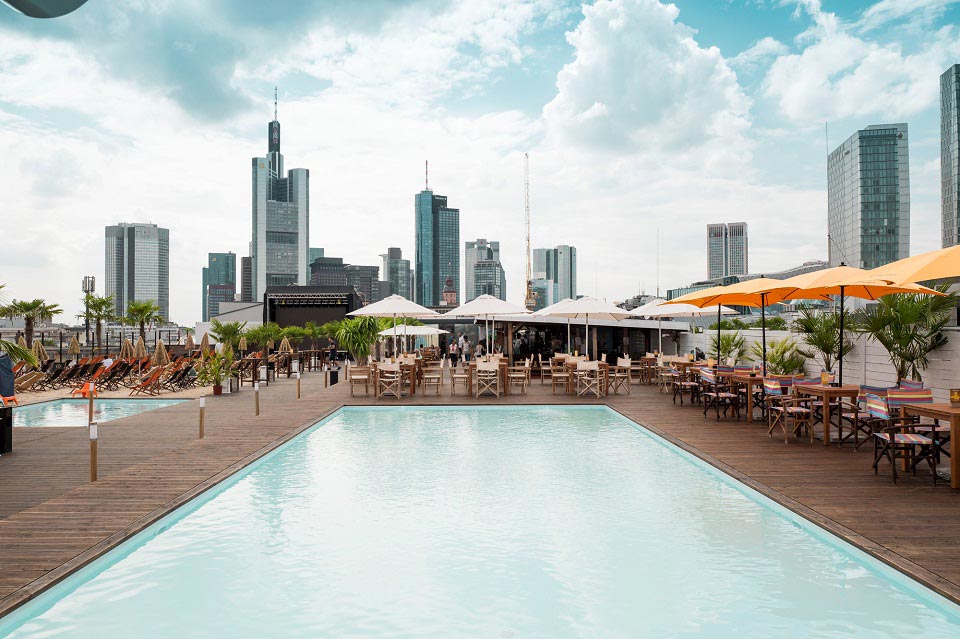 Citybeach - Photo: www.citybeach-frankfurt.de
Citybeach is Frankfurt's top venue for all year round. While in summer you can stop by for a warm sunbath near its 2 pools and deck chairs, you can also enjoy it during winter, with a cup of mulled wine while ice skating.
A top choice for a sundowner by the pool with a refreshing cocktail drink from its bar. For those of you who enjoy a delicious bite, you can choose from a diverse menu of dishes - burgers, sandwiches, tapas and salads, and plenty of drinks.
The entry fee is €5. It is free, however, from Monday until Friday at 5pm. Family-friendly. The bar's entry is right through a parking deck right opposite of the public library. No dogs allowed.
CITYBEACH
Carl-Theodor-Reiffenstein-Platz 5, 60313 Frankfurt am Main
4.

The Blasky Hotel & Rooftop

/ Frankfurt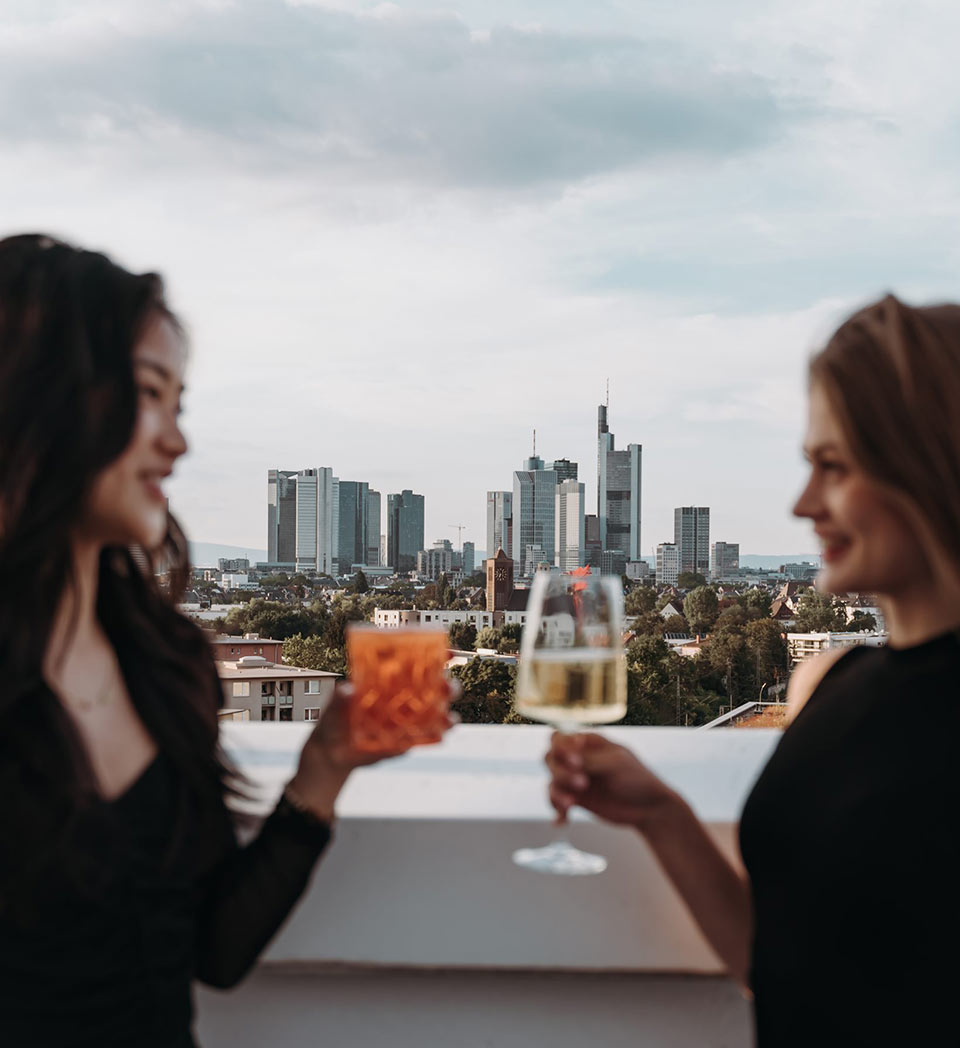 The Blasky Hotel & Rooftop - Photo: https://www.theblasky.com/
At the elegant yet informal The Blasky Hotel & Rooftop, you can wine and dine with panoramic views over the Frankfurt am Main skyline.
The top floor of this modern hotel comes with a beautiful rooftop, where a Gatsby-influenced and elegant interior meets a spacious and bright outdoor terrace.
Both rooftop restaurant and bar, you can visit The Blasky rooftop for dinners and enjoy an extraordinary and seasonal culinary experience, where local and international flavours are accompanied by handpicked wines.
Or you head to the rooftop bar, serving perfectly crafted cocktails ranging from 'Gatsby 20th Specials' to self creations with a twist, as well as classic spirits, sparkling, beer and softer options.
Great for any night above Frankfurt, The Blasky Hotel & Rooftop also host happening events, including glamorous Gatsby Parties and sunset sessions with live music.
THE BLASKY ROOFTOP
Ziegelhüttenweg 43, 60598 Frankfurt am Main
3.

MH5 Roof Bar

/ Munich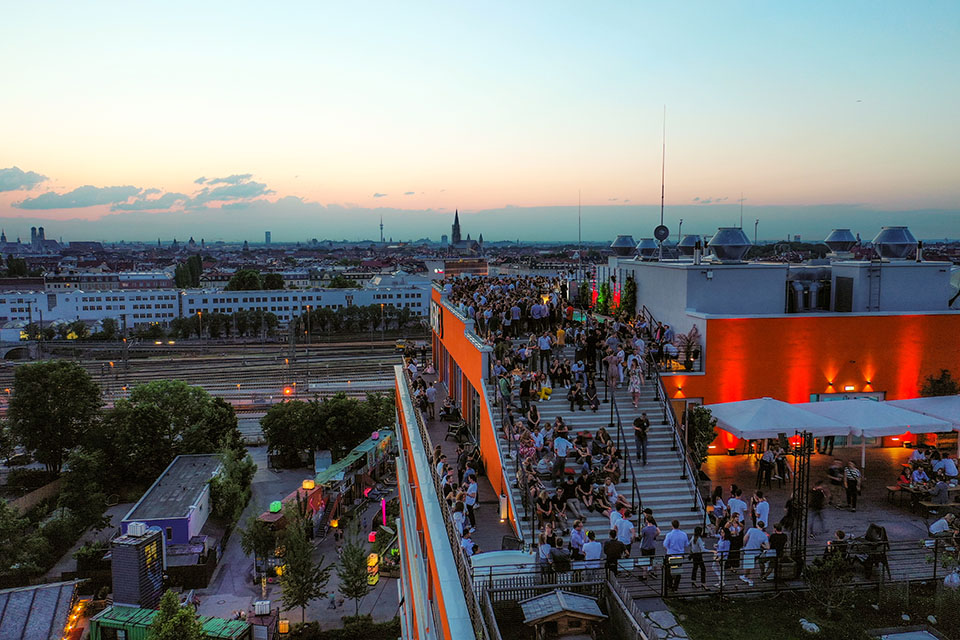 MH5 Roof Bar - Photo: https://www.muenchenhoch5.de/
MH5 Roof is an amazing rooftop event venue, offering a unique and unforgettable experience to its guests, high above Minich.
Perched on top of the Werk 3 building in the urban, creative and vibrant Werksviertel district, the venue includes a panoramic bar on the 6th floor, a spacious room on the 5th floor with stunning views of the city, and a two-story rooftop terrace on the 6th and 7th floor, featuring a refreshing pool.
The rooftop is home to renowned international DJs once a month for an unforgettable electronic music experience, and they also host a monthly hip-hop event that is not to be missed. To stay informed about upcoming events and opening hours, be sure to follow MH5 on Instagram at @mh5roof.
MH5 ROOF BAR
Atelierstraße 10, 81671 Munich
2.

HERITAGE Hamburg Rooftop Bar

/ Hamburg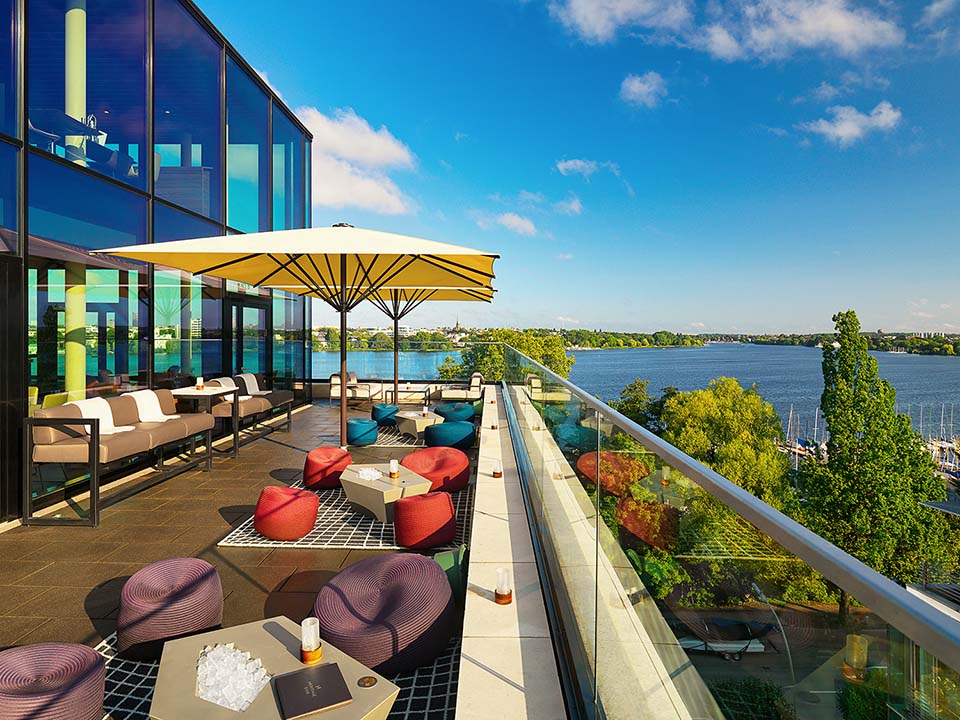 HERITAGE Hamburg Rooftop Bar - Photo: www.heritage-restaurants.com
Located on the 7th floor at the 5-star Le Méridien, HERITAGE Hamburg Rooftop Bar is a modern and stylish venue to enjoy the best of the city from above.
Set over two floors, the rooftop holds a year-round indoor lounge with floor-to-ceiling windows, complemented with an airy summer outdoor terrace.
With a beautiful interior design all around, the prime feature at HERITAGE Rooftop Bar might still be the views: unique and panoramic vistas over the glittering Alster Lake.
Open to all every night, here you can enjoy a great selection of handcrafted fine cocktails and creative mixology. Try one of the signatures or sip a glass of champagne, all in a buzzing atmosphere.
A great spot for amazing sundowners anytime, but HERITAGE regularly also host fun events, including Hamburg's hippest after-work, and Sunday afternoon live music concert with local artists (October to March).
HERITAGE ROOFTOP BAR
An der Alster 52; on the 7th floor at Le Méridien, Hamburg
1.

Klunkerkranich Rooftop

/ Berlin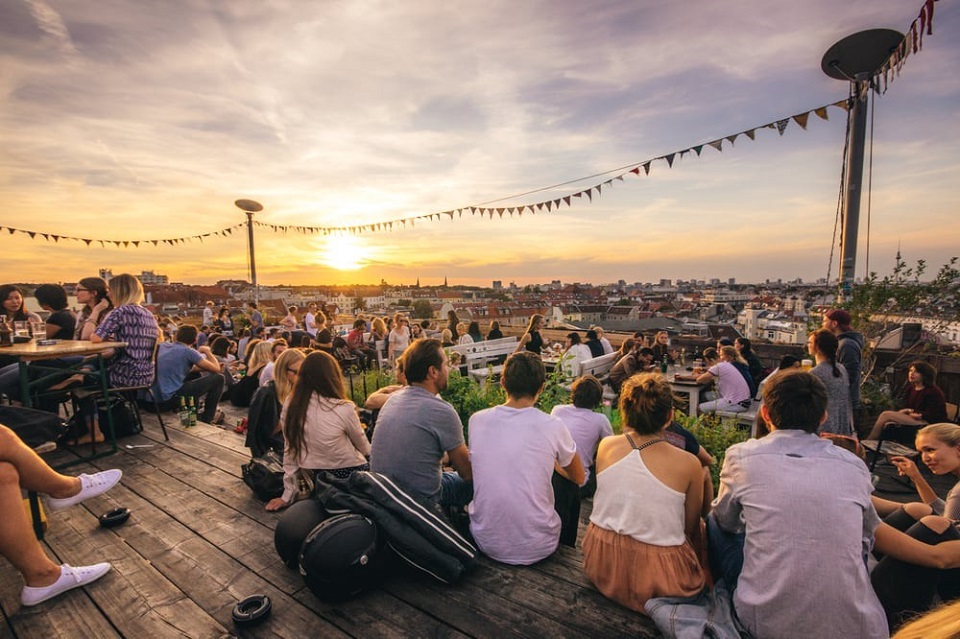 Klunkerkranich Rooftop - Photo: www.klunkerkranich.org
If you find yourself wandering around Neukölln Arcaden, check out the rooftop of its dedicated parking garage.
Klunkerkranich Rooftop is a bohemian and relaxed place, corresponding with Berlin's casual and modern vibe. Its specious terrace comes with a flourishing green outdoor areas and a panoramic view of Germany's capital city.
The cozy cottages offer DJ sets, concerts, readings, outdoor cinema and more. The diversity of seating alternatives offers wooden benches or a chilled night in the sand.
Urban, creative and bright, the bar offers classic cocktails and ice cold craft beers. You can stop by for a fresh Zum Fetten Finken cantina for a fulfilling breakfast, with menu varying from pizza to pasta.
Klunkerkranich Rooftop is one of Berlin's hidden gems – hard to find, but a celebration on its own once you enter the garden.
The bar is quite a popular place to visit, so be sure to arrive early to arrive waiting lines. It does not accept reservations, but works on a "one-out, one-in" basis when it gets full.
While peak season for the rooftop terrace is during summer, Klunkerkranich is also open during the colder months, offering Christmas market and drinks inside a cozy hut called 'Hinter Den Alpen'.
KLUNKERKRANICH
Karl-Marx-Str. 66, 12053 Berlin