India is one of the biggest countries in the world and also one with most inhabitants. Despite this, there aren't that many famous rooftop bars.
But seek, and you shall find. We have assembled a list to the 7 best rooftop bars in India. Many of them from the bigger cities, like Mumbai and Delhi.
The warm and pleasant year-round climate makes it possible for all rooftops to be open 12 months a year. Enjoy our list of the best rooftops in India here:
7.

The Sky High

/ Delhi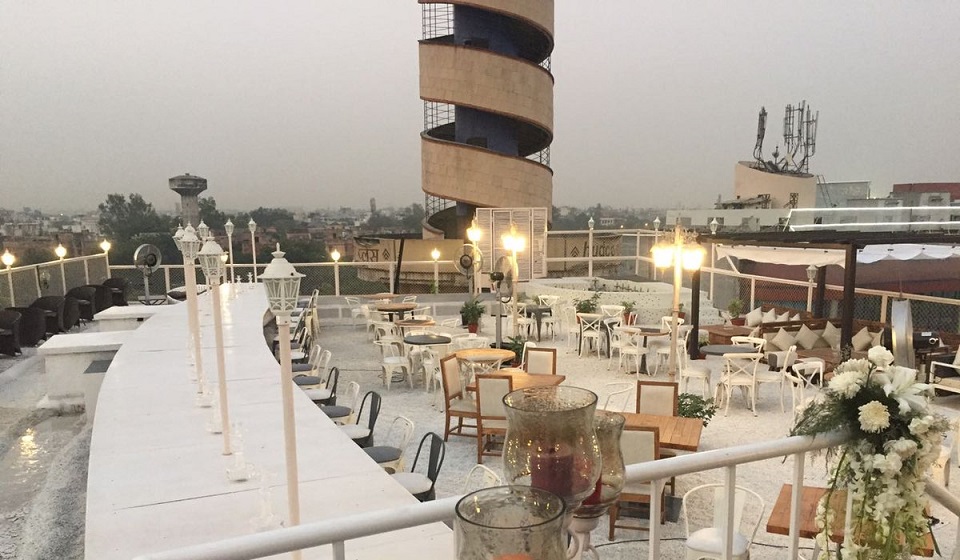 The Sky High - Photo: www.theskyhigh.in
Located o the roof of the Ansal Plaza, Delhi's first shopping mall, The Sky High is a peculiar location.
Its decoration makes it seem like you're in the street, with metal patio tables and street-lights for illumination, while giving you rooftop views of Delhi.
With space for over 150 people, The Sky High can get crowded, but the service is top-notch even when the terrace is full.
Traditional food goes hand in hand with signature cocktails and other spirits, and if you're looking for something different, make sure to enjoy the sheeshas.
Reservations aren't needed, but make sure to arrive early if you're visiting during the weekend.
THE SKY HIGH
Ansal Plaza, C 306A, August Kranti Marg, Hudco Place, Khel Gaon, Andrews Ganj, New Delhi
6.

Henri's Bar

/ Delhi
Henri's Bar - Photo: www.marriott.com
Located in Le Meridien, one of Delhi's best hotels, this sky bar is the tallest in Delhi and offers jaw-dropping views.
Stunning, modern decoration makes Henri's bar the kind of place you'll remember, and the service only adds to the experience.
With an extensive cocktail menu that mixes classics with signature creations and made-to-share food that we're sure you'll love, Henri's Bar is a great first stop for a night out!
HENRI'S BAR
Le Meridien, Windsor Pl, Connaught Place, New Delhi, Delhi 110001
5.

Dome, Marine Drive

/ Mumbai
Dome, Marine Drive - Photo: www.ihg.com
An excellent choice for a romantic evening, Dome offers stunning views of the Arabian Sea and enchanting decorations that'll make any night special.
White lounge sofas scattered throughout the floor, illuminated by low lights and candles, resulting in a pleasant and sophisticated ambiance that we're sure you'll love.
Though food isn't the focus of the Dome, you can find a wide variety of sushi rolls and small bar bites.
As for drinks? You can expect the usual beer and spirits alongside signature cocktails and a long list of premium wines from all over the world.
Though this bar is lovely during the evenings, the best time to visit is during the afternoons, as you'll get front row seats to one of the most stunning sunsets you'll ever see!
DOME AT MARINE DRIVE
135, Marine Drive, Mumbai, Maharashtra 400020
4.

Paasha

/ Pune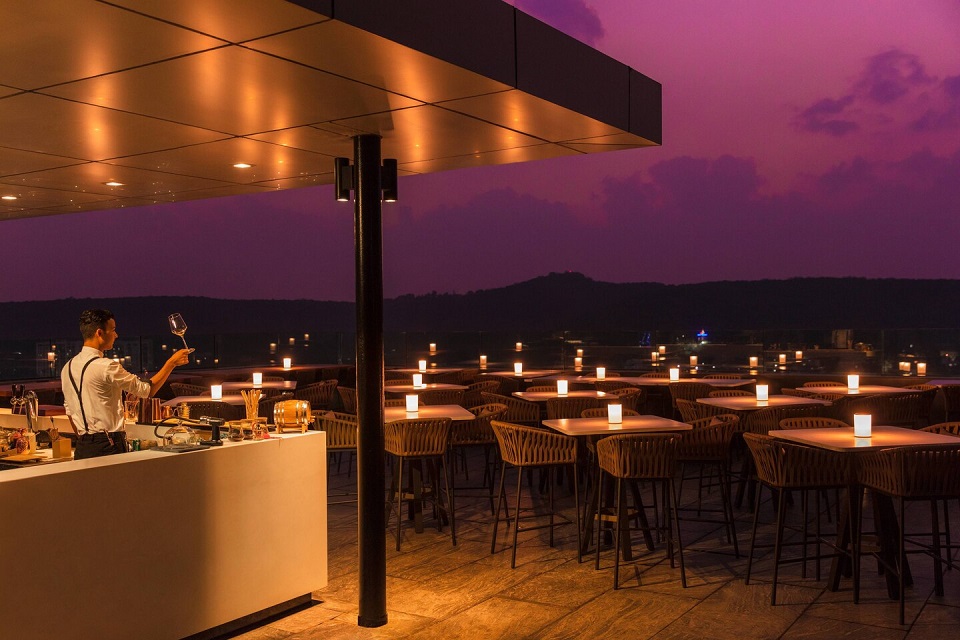 Paasha - Photo: www.marriott.com
Located on top of the Marriot, this wonderful bar offers amazing views of Pune and fantastic service. Recommended for couples looking for a night to remember, the white lounge sofas and comfortable outdoor seating makes for a perfect excuse to cuddle up and enjoy the sights.
Indoor seating is also available, though it doesn't offer the same views.
Paasha specializes in Northern Indian food and innovative cocktails that transform traditional ingredients into a whole new experience.
Wines, beers, champagne, and other spirits are readily available, but we recommend you ask your waiter what goes best with your selected food.
Reservations are encouraged.
PAASHA
Senapati Bapat Road, Pune 411053 India
3.

Asilo

/ Mumbai
Asilo - Photo: www.jsmcorp.in
ASILO is the highest rooftop bar in Mumbai, and, as such, the views are jaw-dropping.
A 2021 re-launch means that the setting is now as high as ever. Asilo offers the finest Mediterranean and Asian culinary experience, paired with unique concoctions.
With large lounge areas scattered throughout the rooftop and VIP tents, ASILO is the kind of place that invites you to mingle but also gives you your space.
ASILO also has its own infinity pool, but this one is reserved exclusively for the guests of the St. Regis, where the bar is located.
This luxurious bar is one of Mumbai's most popular, so reservations are highly encouraged.
ASILO
Bapat Marg, Lower Parel, Mumbai, Maharashtra 400013
2.

Aer

/ Mumbai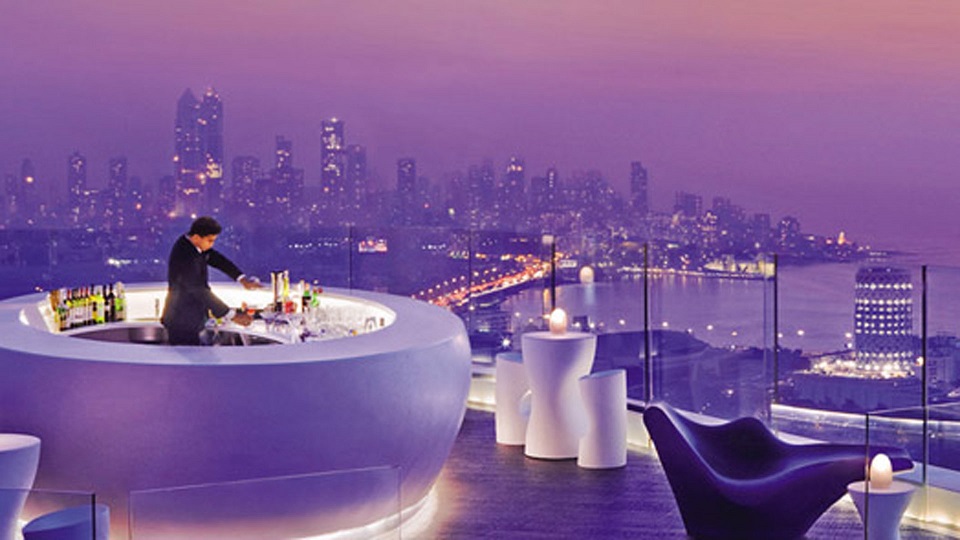 Aer - Photo: www.fourseasons.com
The second highest rooftop bar in Mumbai, Aer promises to deliver a magical evening from the moment you first walk in.
This luxurious and spacious rooftop bar can be found at the four seasons, and as such, provides a high-end experience with top-notch services and products.
The view is jaw-dropping, as the glass walls let you watch Mumbai sprawl at your feet; the atmosphere is just as good, with live music, trendy drinks, and a lively crowd.
While visitors can enjoy Aer as much as hotel guests, reservations are encouraged, as this is a popular spot.
AER
1/136, 34th Floor, Hotel Rooftop, Dr. E. Moses Road, Worli, Mumbai, Maharashtra 400018
1.

High Ultra Lounge

/ Bengaluru
High Ultra Lounge - Photo: www.highultralounge.com
One of the largest rooftop bars in all of India, this modern restaurant bar mixes new and new Asian influences.
The straightforward yet charming interiors allow you to focus on the stunning views, and the bar's extensive collection of drinks adds to the experience.
Located on top of the World Trade Center, the High Ultra Lounge is famous throughout the city for its innovative and delicious menu –which includes Peking Duck and Korean Tacos– as well as its signature drinks.
More than a place to party, the High Ultra Lounge is a venue for experiences, both culinary and concept-wise.
HIGH ULTRA LOUNGE
26/1, Rooftop, World Trade Center, Dr Rajkumar Rd, Malleshwaram, Bengaluru, Karnataka 560055