Ecuador is a beautiful country, named after the equator that runs through the northern part. Blessed with a warm climate all year-round, but to visit rooftop bars in Ecuador is not that common among tourists, compared to say the US or Asia.
But for those who always like to visit a bar with a view, Ecuador do actually offer some great options. The Rooftop Guide have assembled the best rooftop bars in Ecuador for you to enjoy. Check it out!
1.

Hotel Mama Cuchara

/ Quito
Hotel Mama Cuchara - Photo: www.hotelmamacuchara.com
Located in Ecuador's most colorful (and capital) city, the Hotel Mama Cuchara rooftop bar is well-known for its classic cocktails and lively atmosphere.
The full name of the bar is actually 'El Santo Que Da Marido', which translates to 'The Saint That Grants Husbands'.
Its location in the Loma Grande offers tremendous and 360° views of Quito's downtown, as well as the lush mountains that surround the city.
The building itself is worthy of admiration, with splendid architecture paired with tasteful decorations, with the restaurant placed directly under a beautiful glass dome and the bar reigning over the rooftop.
Get in, order a signature cocktail, and enjoy the views!
The rooftop bar is open from 10:00am to 10:00pm, so there's plenty of time to have fun.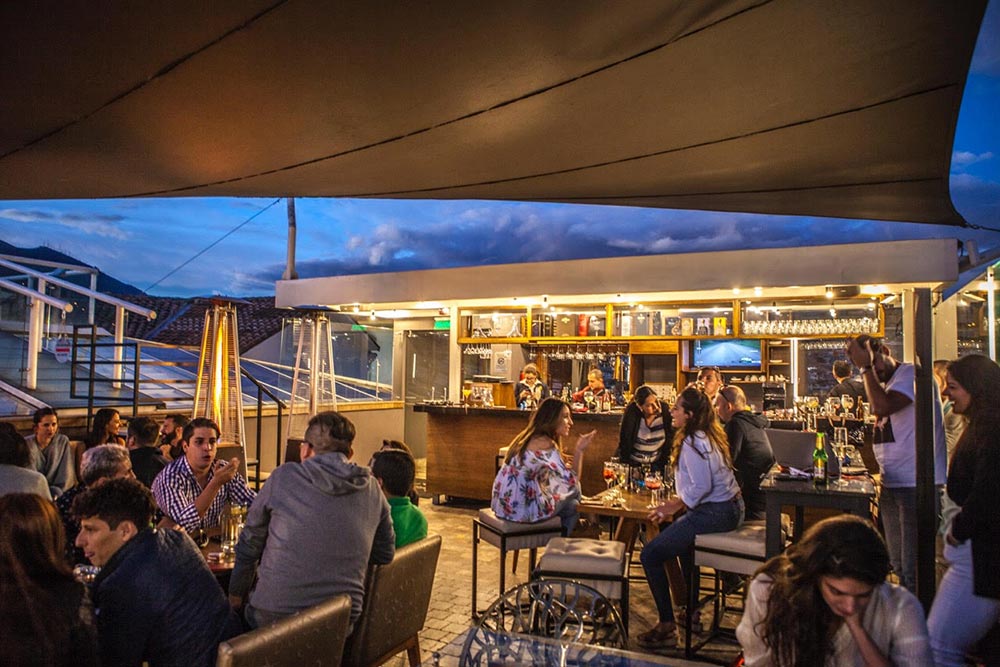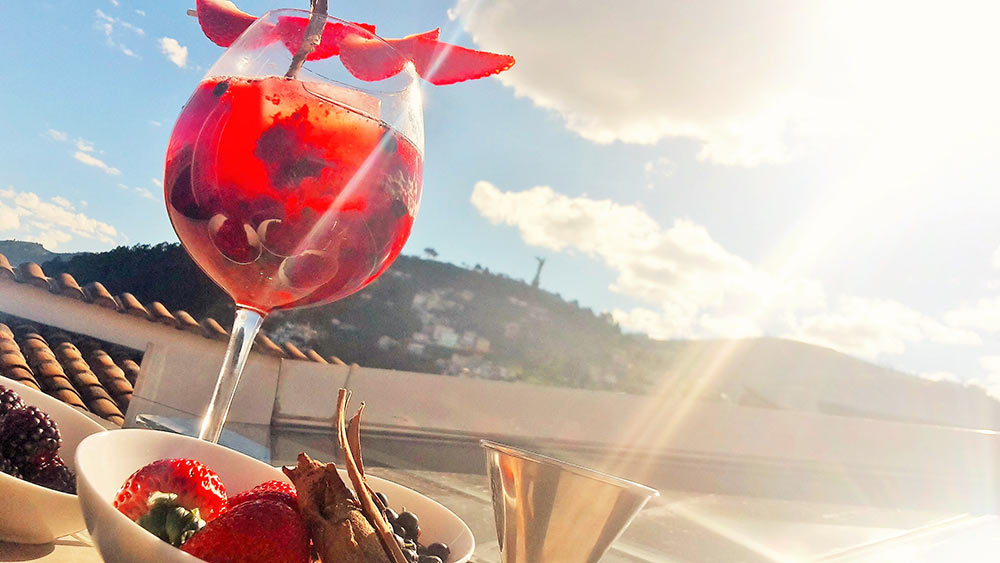 HOTEL MAMA CUCHARA
Vicente Rocafuerte E3-250 y Luis Chávez, Quito (show on map)
Daily: 10am - 10pm
+593 2 381 3400
Casual
2.

Hotel Otavalo

/ Otavalo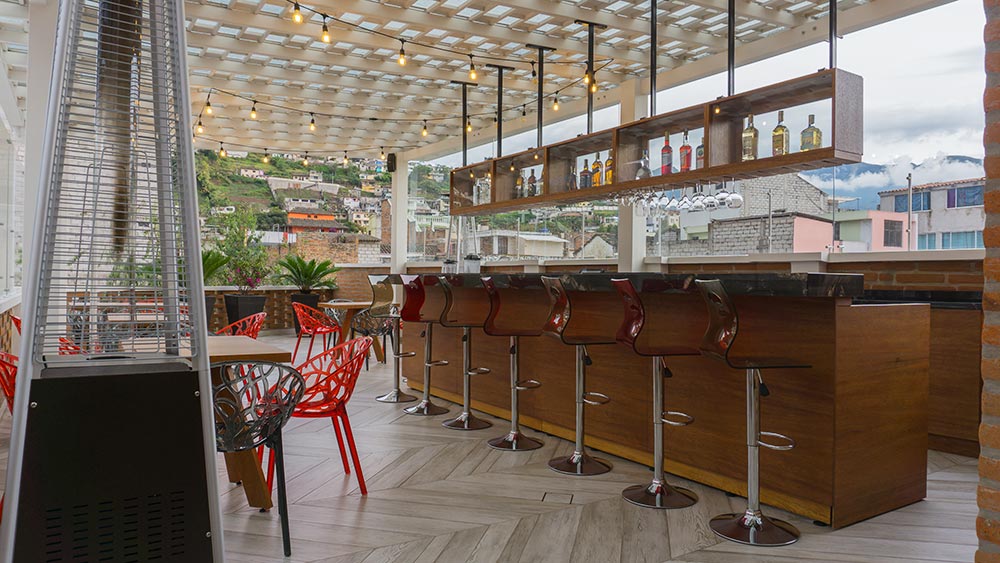 Hotel Otavalo - Photo: www.hotelotavalo.com/
Traditional and signature cocktails go hand in hand with spectacular views of the Taita Imbabura at the rooftop bar of Hotel Otavalo, one of Otavalo's trendiest hotels.
The straightforward, almost severe architecture of the hotel contrasts beautifully with the more relaxed and austere decorations, which invite guests to sit down and chill.
Suitable, the rooftop bar is called 'Ñukanchikwan Taki', which comes from the indigenous language of Quichua and means 'Let's Celebrate Together'.
The bar itself is small, which gives it an air of exclusivity and makes it perfect for people who are looking to have a chat over some drinks.
Enjoy local delicacies, live music, and jaw-dropping views of the volcano, while the staff pampers you to your heart's content.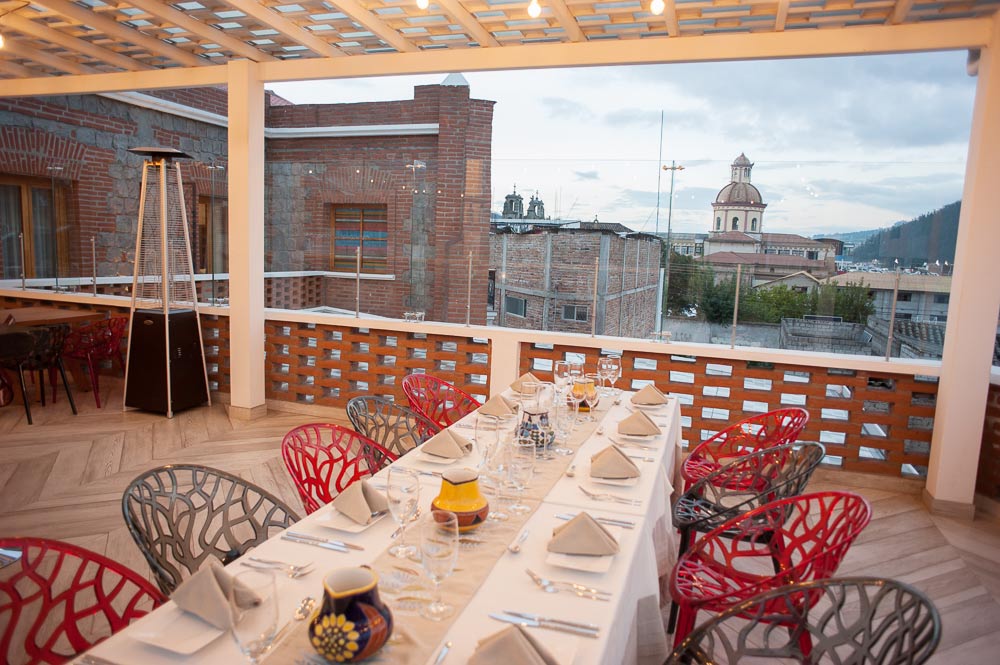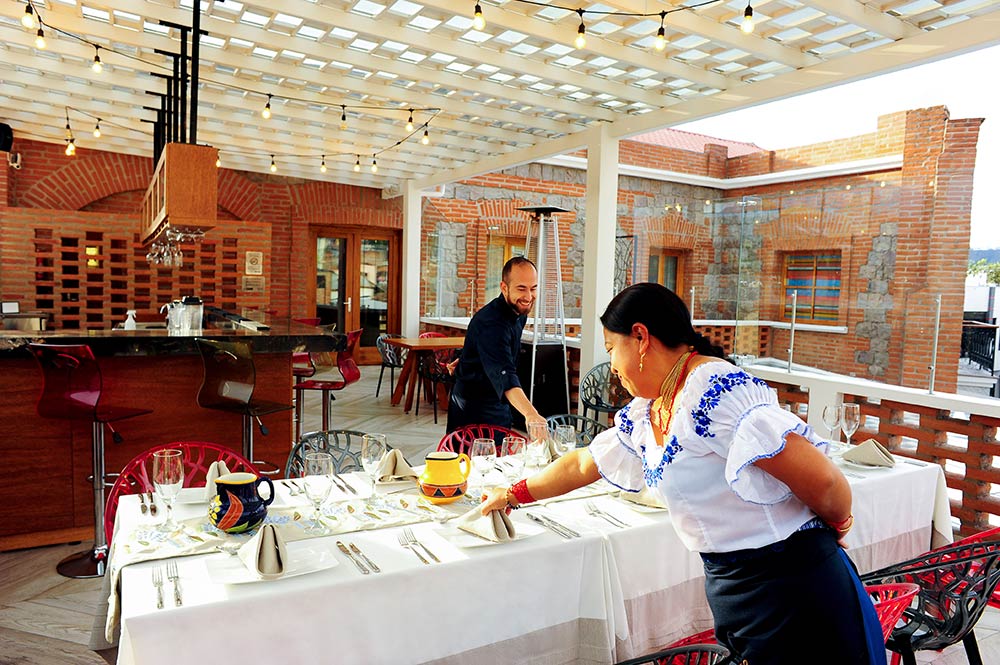 HOTEL OTAVALO
Calle Roca entre Juan Montalvo y García Moreno, Otavalo (show on map)
Daily: 10am - 10pm
+593 6 292 8710
Casual
3.

Hotel Cruz del Vado

/ Cuenca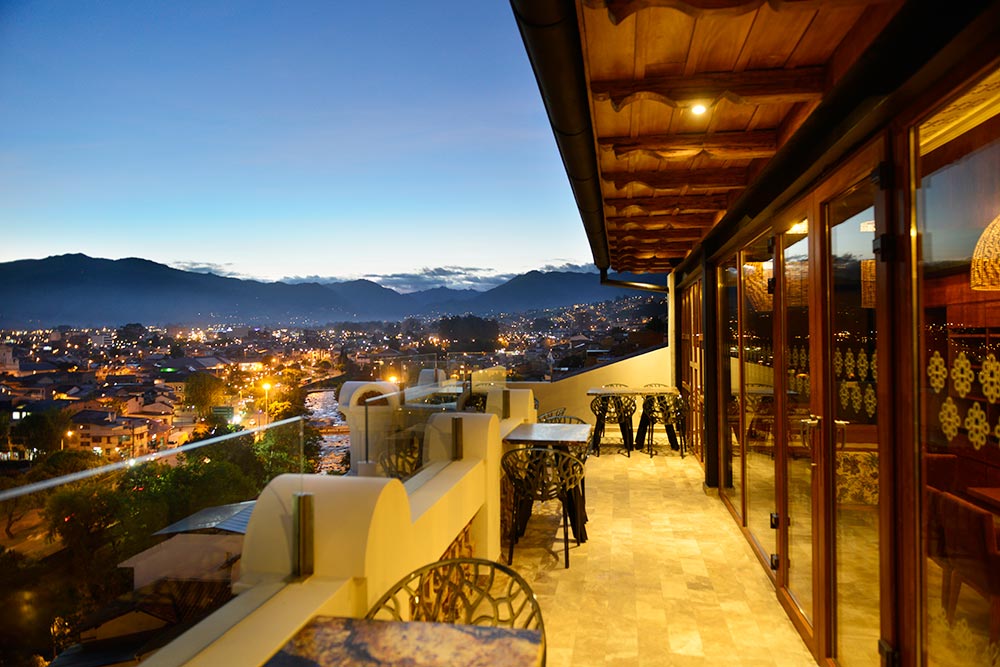 Hotel Cruz del Vado - Photo: https://hotelcruzdelvado.com
A perfect destination for the foodies, the Cruz del Vado restaurant takes you into a gastronomic adventure through Ecuador's culinary tradition.
Named after the neighborhood where the hotel is located, here you can enjoy traditional food served alongside world-class drinks. Some old classics, some inspired by Ecuador's local ingredients.
Just like the food, the view is to die for, and if you're in Cuenca for vacations, we can't recommend this hotel enough!
Modern meets classical in just about every aspect of this place, providing guests with an unforgettable experience.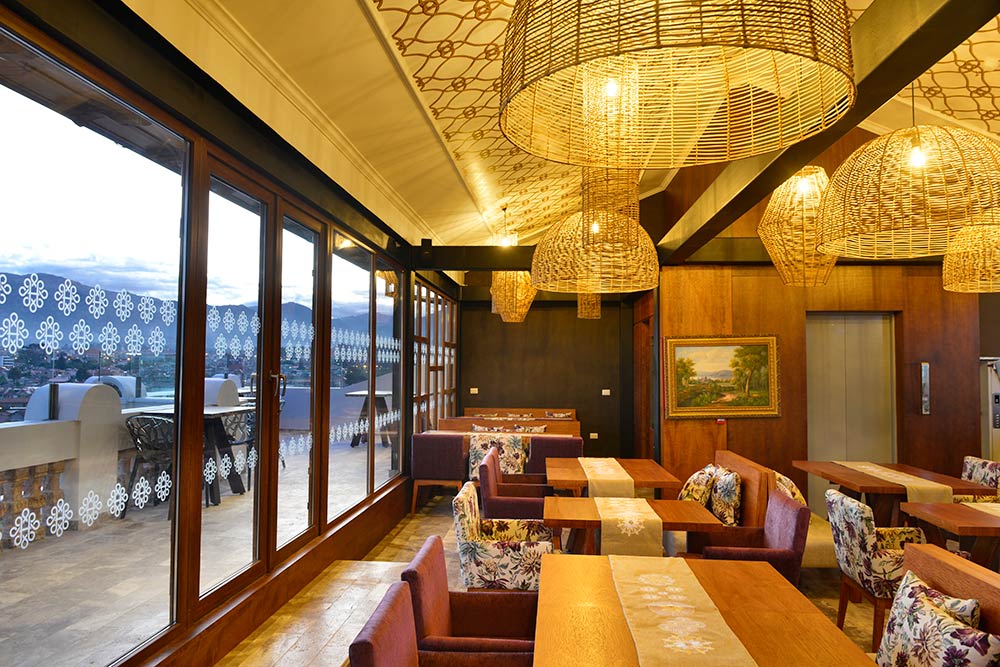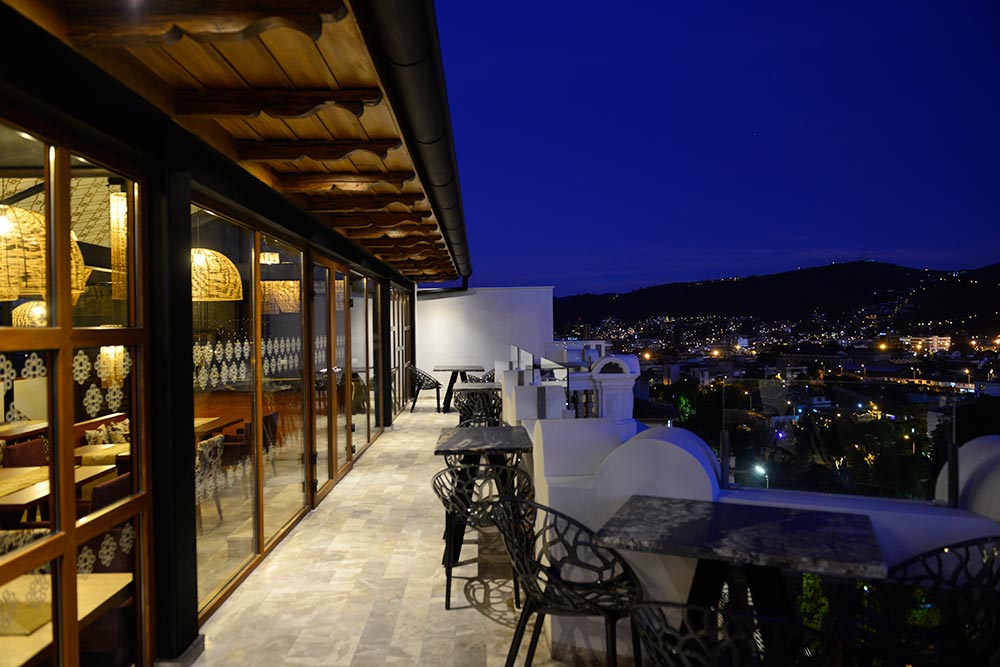 4.

Vertigo Rooftop

/ Quito
Vertigo Rooftop - Photo: https://vertigo.ec
If what you're looking for is a place to live unforgettable experiences, then stop your search because the Vertigo Rooftop in Quito is the place to go.
Exclusive, glamorous, and high end, the Vertigo offers a lively atmosphere paired with delicious international drinks and signature cocktails. Top it of with fantastic views of the city skyline, and you know you are in for a treat.
If you're hungry, the Vertigo offers a small but delicious menu of tapas that go great with their drinks.
Set on top of the fabulous hotel Le Parc Hotel, Beyond Stars, the rooftop bar is open nightly. And it is one of Quito's most modern and trendiest locations, so if you're visiting, make sure to dress to impress.
VERTIGO ROOFTOP
Avenida República, del Salvador N34-349, Quito (show on map)
Mon-Wed: 5pm-midnight / Thu-Sat: 5pm-1am / Sun: closed
+593 98 175 5000
Smart casual
5.

Secret Garden

/ Quito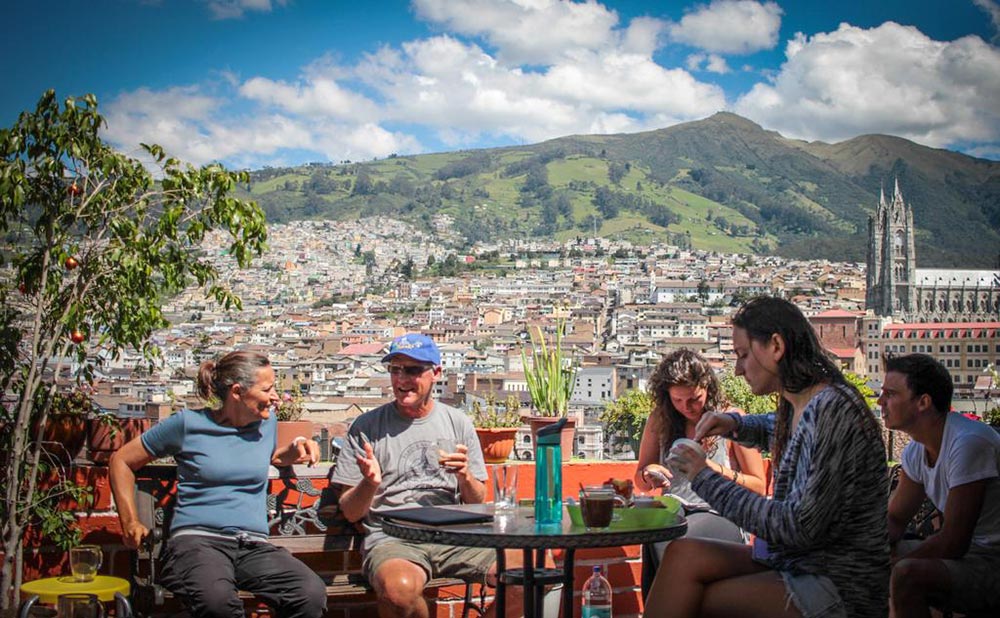 Secret Garden - Photo: www.secretgardenquito.com
The Secret Garden is a great hostel in the heart of Quito, really honoring its name by providing a rooftop bar with a relaxed and casual ambiance, perfect for enjoying drinks while letting the hours slip away.
Located in one of Quito's remaining colonial districts, and placed on top of a World Heritage building, the Secret Garden is all about tradition.
Breathtaking views go hand with delicious drinks and world music, all blending together to create one of the most relaxing bar experiences out there.
Drinking at the Secret Garden feels less like drinking at a bar and more like enjoying a cold one on the rooftop with your friends.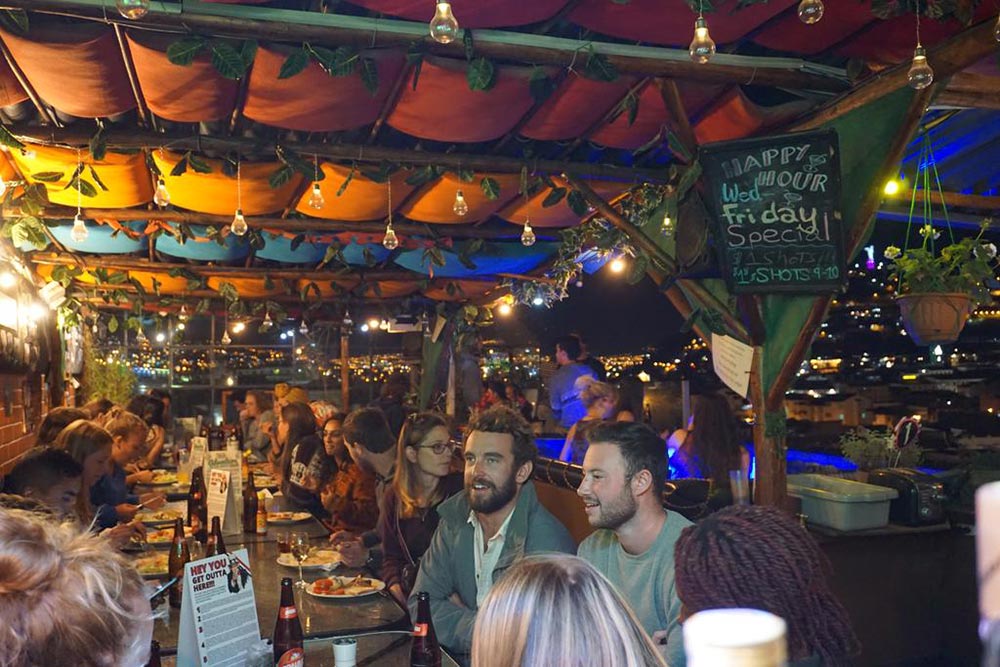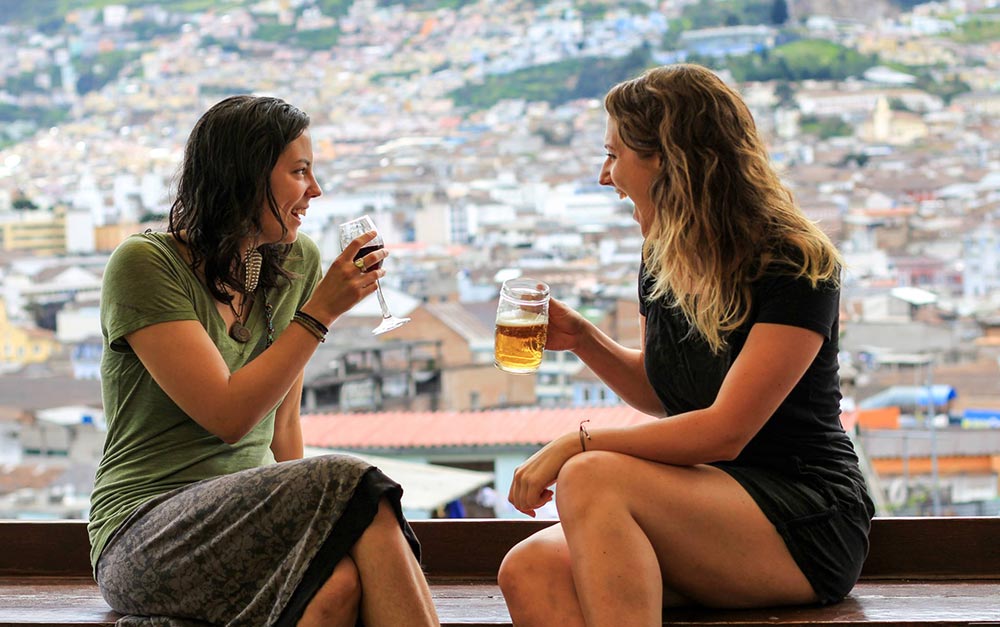 SECRET GARDEN
Antepara E4-60 y Los Rios, Centro Histórico, Quito (show on map)
Daily, from breakfast to late night
+593 (0)22 956 704
Casual
6.

Vento Rooftop

/ Guayaquil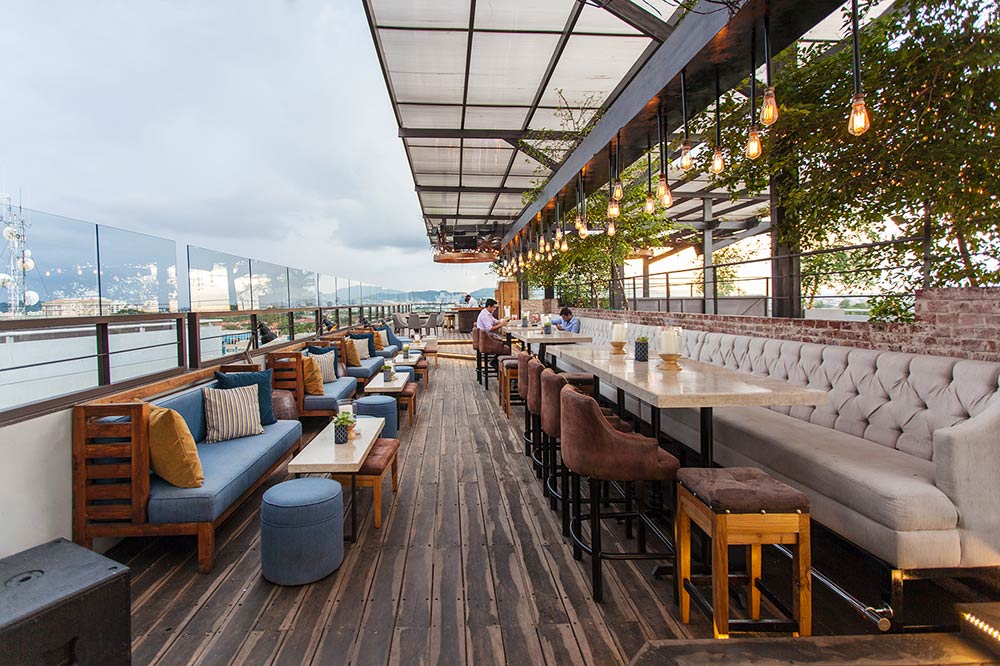 Vento Rooftop - Photo: www.facebook.com/ventorooftop/
Guayaquil is already well-known for its nightlife, but the Vento Rooftop takes it to a whole new level.
With a modern yet casual ambiance, avant-garde decor, live music, and top-notch drinks, this is the place to be if you're trying to have some fun.
Its lounge concept is both inviting and comfortable, offering customers a cosmopolitan environment and the opportunity to meet people from around the world.
Set six floors up in Samborondón, a bit outside central Guayaquil, and the views you get over the city skyline are just amazing.
Classic cocktails, fine wines, and beers from around the world are in abundance, but we recommend the Vento's signature cocktails, all made with innovative flavors and fresh ingredients.
If a gin tonic made with red fruits or a cocktail made with tabasco marmalade sounds appealing, then head out to the Vento for some fun under the stars.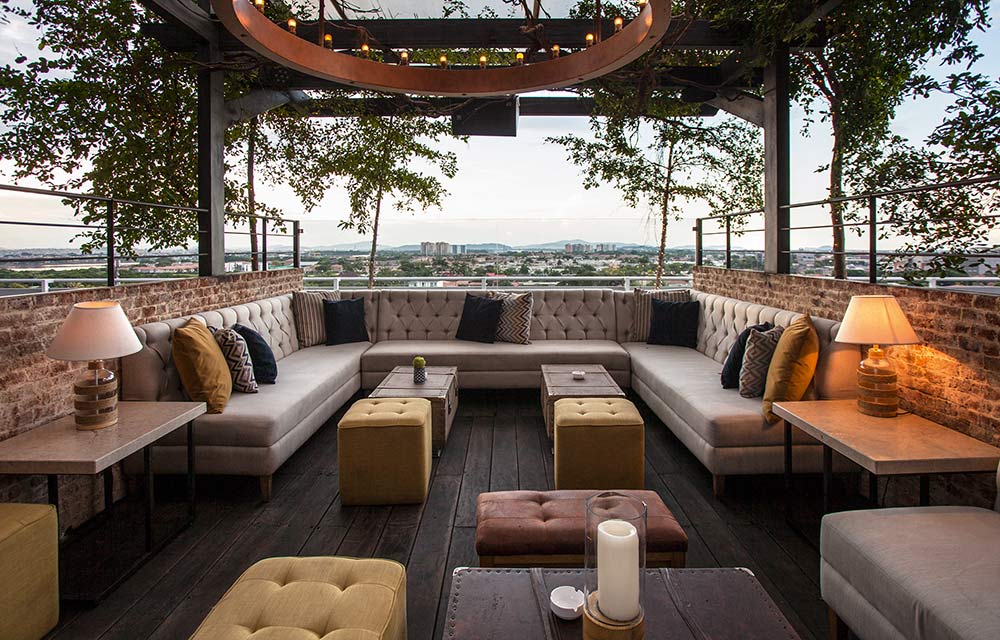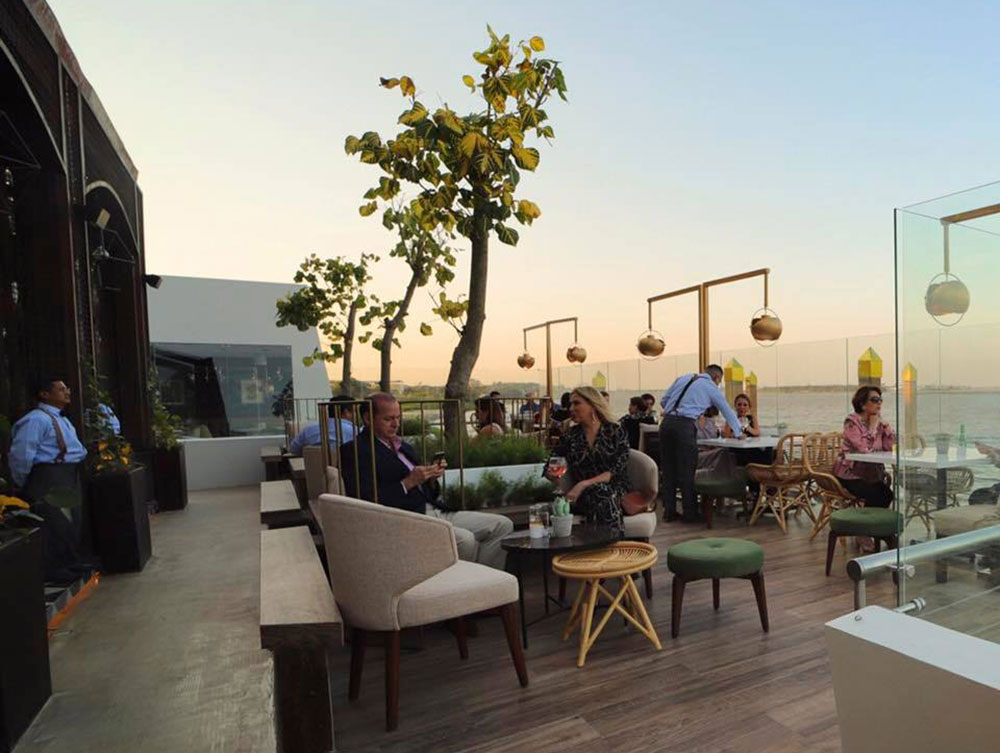 VENTO ROOFTOP
Km 1.5, Edificio Xima, piso 6, local 18, Samborondón, Guayaquil (show on map)
Tue-Sat: 5pm-2am / Sun-Mon: closed
+593 99 783 4256
Smart casual
7.

Casa Gangotena

/ Quito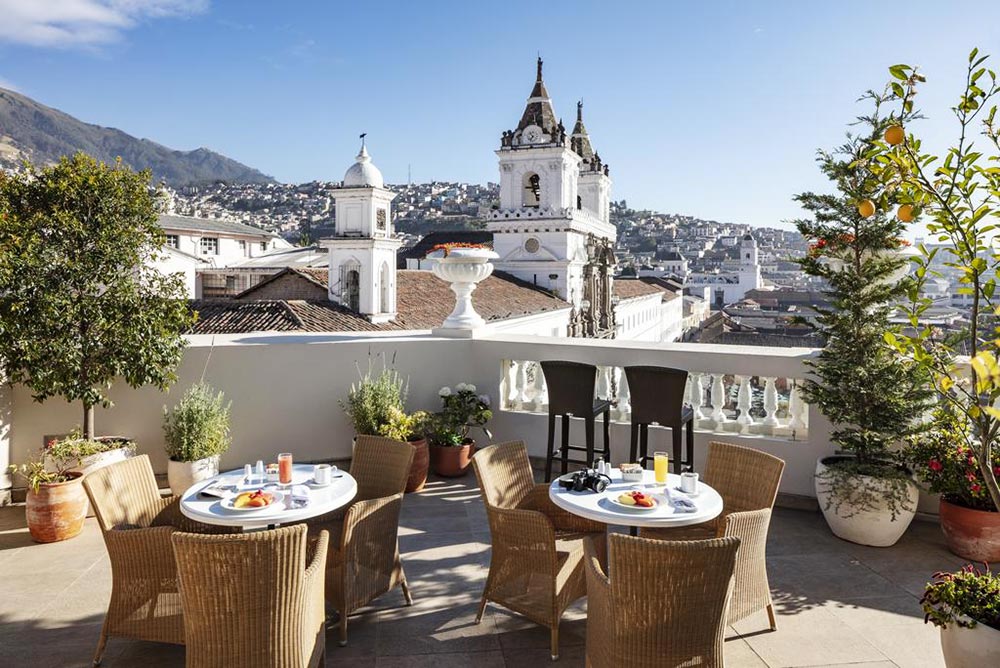 Casa Gangotena - Photo: www.casagangotena.com
Located on the third floor of the superb Hotel Casa Gangotena, this bar may not be the highest out there, but it sure has some of the best views.
With first-row seats to Quito's old town historic buildings –including its most relevant churches– this is the place for enjoying a drink while sight-seeing.
The bar offers a small but excellent selection of vintage wines, fine spirits, and delicious cocktails, though it also has coffee and tea offerings for those not in the mood for drinking.
Decorated with an abundance of plants, comfortable seating, plenty of shade, and classical decor, the Casa Gangotena is an oasis from which to enjoy the beauty only Quito can offer.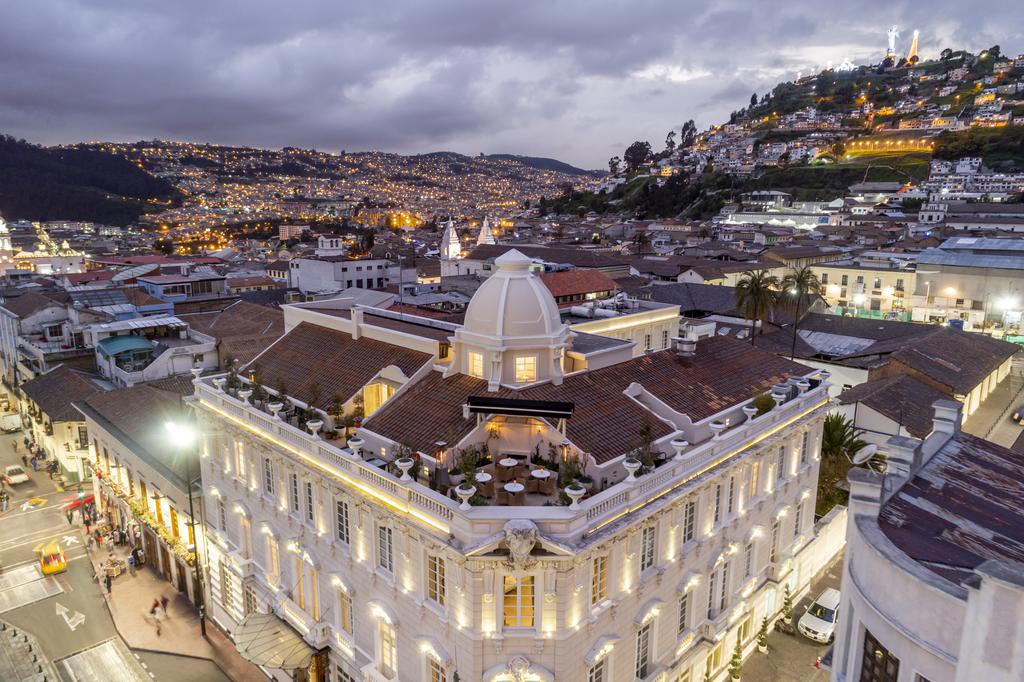 CASA GANGOTENA
Bolivar Oe6-41 y Cuenca, Centro Histórico, Quito (show on map)
Daily: 7am-10pm
(+593 9)7 999 9995
Smart casual