The Netherlands (also widely known as Holland) is probably more famous for its tulip fields, windmills and canals, than for its rooftop bars. That said, there are some great rooftops available if you look a little closer.
The rooftop venues are often located on top of hotels in the bigger cities, serving views and a relaxing lounge-atmosphere.
This listing of the 6 best rooftop bars in Netherlands include elevated venues in both Amsterdam, Rotterdam, Utrecht and Tilburg. Enjoy!
1.

Doloris Rooftop

/ Tilburg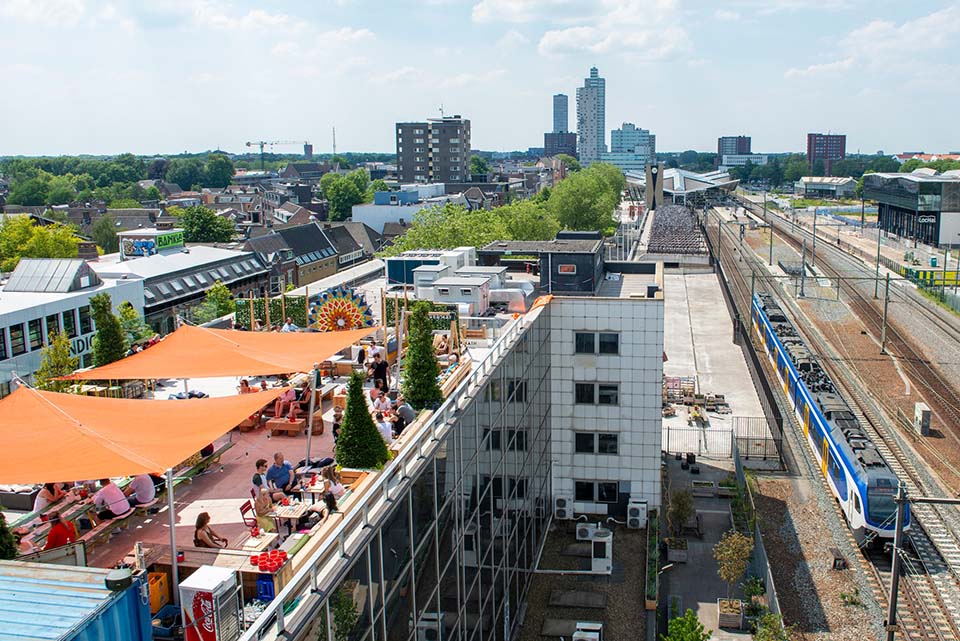 Doloris Rooftop - Photo: https://doloris.nl/
Found in the heart of Tilburg, Doloris is a highly creative complex, offering two unique and impressive experiences.
Here the adventurous can get lost in the Doloris Meta Maze, a surreal art maze that is the largest in the world of its kind.
20 meters above, the Doloris Rooftop offers a more airy setting, where works of art are replaced with amazing and panoramic 360° views over Tilburg.
The spacious and modern rooftop is one of the largest in the Benelux, and comes with both a futuristic and sleek interior bar and restaurant, as well as a charming outdoor terrace.
The Doloris Rooftop menu includes gastronomic flavours from all over the world, served as both lunch and dinner, complemented with crafted signature cocktails, Gin Tonics, and a nice selection of brews and wines.
Fun-filled and vibrantly relaxing, this rooftop is a great spot to gather with friends for anything from a sunny lunch or sunset cocktails, to a casual dinner or happening weekend nights with DJ sessions.
DOLORIS ROOFTOP
Spoorlaan 21D, 5038 CB Tilburg
2.

Floor17

/ Amsterdam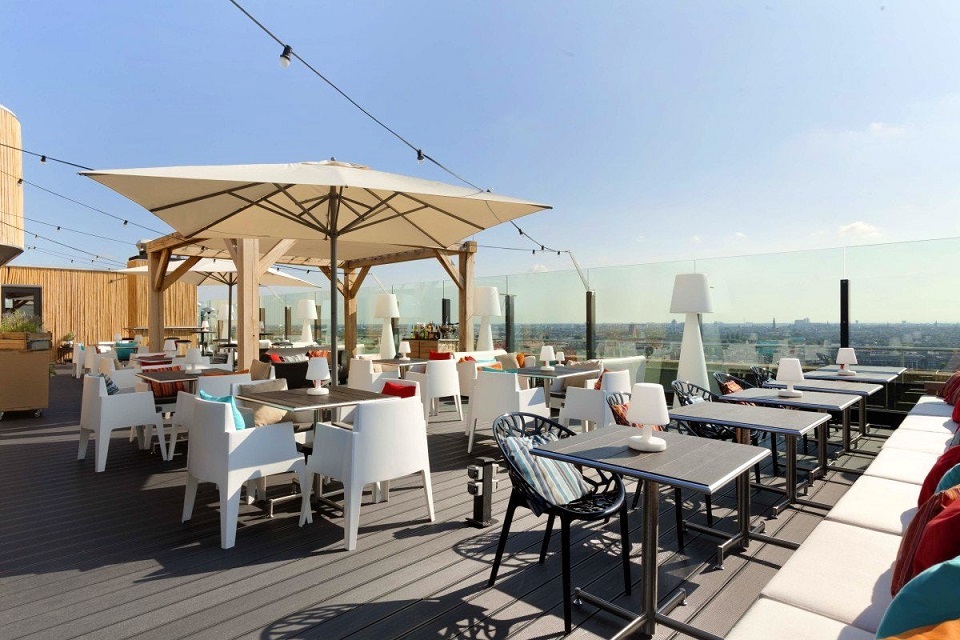 Floor17 - Photo: www.floor17.nl
Floor 17 is perched on top of the Leonardo Hotel Amsterdam and overlooks the famous Rembrandt Park, as well as pretty much all of the Amsterdam skyline.
Open year-round, this rooftop bar, sky bar and restaurant is the perfect spot to enjoy sunny cocktails, have fun with your friends and even play a few rounds of curling during the winter.
Surrounded with panoramic views, Floor17 comes with a modern, lush and urban lounge-style decor, where large and plush sofas are complemented with dining tables and high-top bar spots.
Though the open-air terrace is what makes this venue shine, it does have an indoor section as well, perfect for the cold days and for whenever the weather isn't playing nice.
Aside from its seasonal activities, Floor17 is known for serving "new Dutch cuisine" for lunch and dinner, as well as creative, seasonally-based cocktails, sourced from local products.
From relaxing lunches and sunset drinks, to stylish dinners and fun-filled nights, Floor17 is pretty much always available for an elevated Amsterdam experience.
FLOOR 17
410 Staalmeesterslaan, Amsterdam 8272
3.

Bleyenberg

/ The Hauge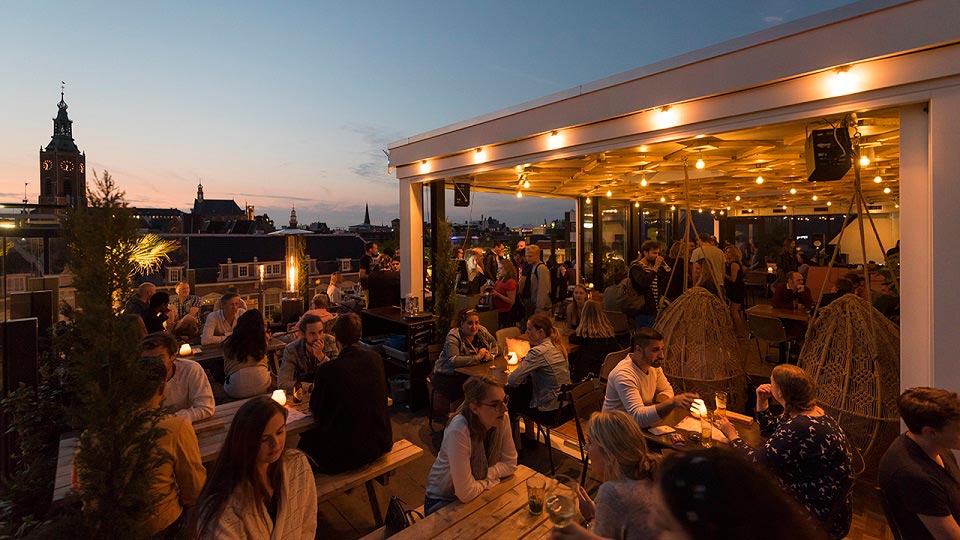 Bleyenberg - Photo: www.bleyenbergdenhaag.nl
Creative, modern, and innovative, the Bleyenberg is a relatively new concept in The Hague, aimed towards giving a unique space to the local community, but equally welcoming to tourists.
While the Bleyenberg is located only on a third floor, its strategic location in the city center does grant it some unique views, as you'll be able to enjoy front-row seats of the Main Market Square and the nearby buildings, from the comfort of a chic terrace.
Though not afraid to embrace The Hague's history, Bleyenberg looks to the future, and this reflects on the bar's atmosphere, furnishings, and menu.
Creative signature cocktails, craft beers, and world spirits make up the drink menu, but there's also a sizeable and tasty food menu in case you're feeling hungry.
While the outdoor terrace is the Bleyenberg's crown jewel, you'll also be able to find indoor seatings and even a basement club, making it a great choice both for warm and cold months.
BLEYENBERG
Grote Markt 10, 2511 BG Den Haag
4.

SkyLounge

/ Amsterdam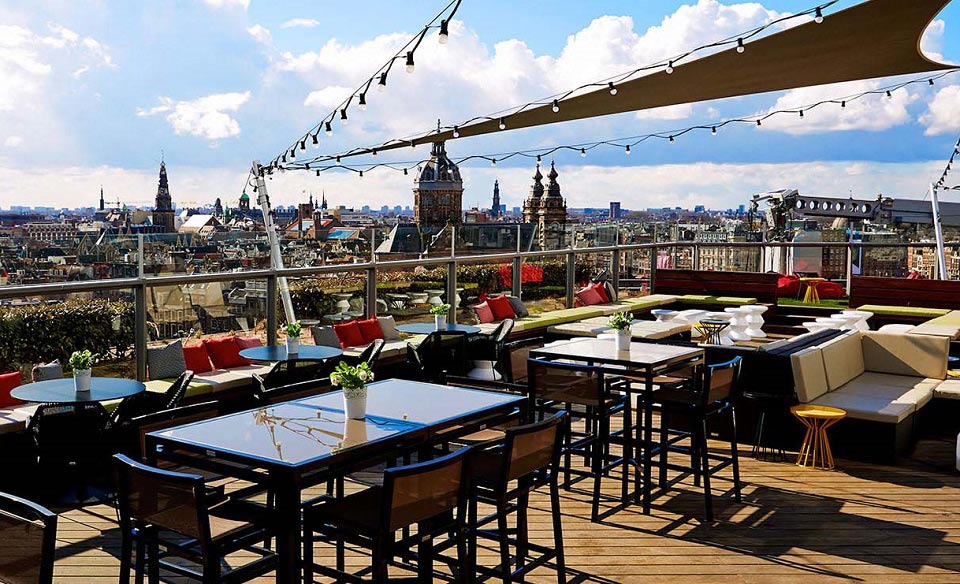 SkyLounge Amsterdam - Photo: www.skyloungeamsterdam.com
A favorite amongst tourists and locals alike, the SkyLounge is known for its panoramic views of Amsterdam's skyline, its centric location, and its delicious drinks.
The SkyLounge offers both indoor and outdoor seatings, with an inside lounge and beautiful outdoor terrace, both furnished with comfortable lounge sofas, single tables, and standing counters.
There's also a fantastic lunch menu, evening bites, and a great drinks list that covers wine, beers, spirits, and cocktails.
Open year-round, and with generous opening hours, the SkyLounge is a fantastic destination for a relaxing lunch, casual business meetings, and relaxing cocktails, at least during the daytime.
During the nighttime, the SkyLounge takes a night-club atmosphere, with large crowds, live DJ shows, and a lively ambiance that brigs in people from all over the city.
SKYLOUNGE AMSTERDAM
DoubleTree by Hilton Amsterdam Centraal Station, Oosterdoksstraat 4, 1011 DK Amsterdam
5.

WT Urban Kitchen

/ Utrecht
WT Urban Kitchen - Photo: www.wturbankitchen.nl
Located on a well-known historic building in Utrecht, the WT Urban Kitchen is known for its versatility and generous opening hours.
Split into three different levels; the WT has a Spanish-inspired café on the first level, where you can enjoy Spanish wines, beers, delicacies, and coffee. A fantastic restaurant in the middle level, open for lunch and dinner, and a gorgeous rooftop bar at the top.
Offering something for everyone, this unique piece of architectural heritage is the perfect place to open or close any visit to Utrecht, as well as a fantastic choice for when you want to stay put in the same venue for hours.
If you're visiting Utrecht as a tourist, we can't recommend this place enough as a meeting spot or as a base of operation: It's easy to find, it has generous hours and will be able to satisfy your needs no matter the time of the day.
WT URBAN KITCHEN
Heuveloord 25a, 3523 CK Utrecht
6.

Gastrobar ELVY at nhow Rotterdam

/ Rotterdam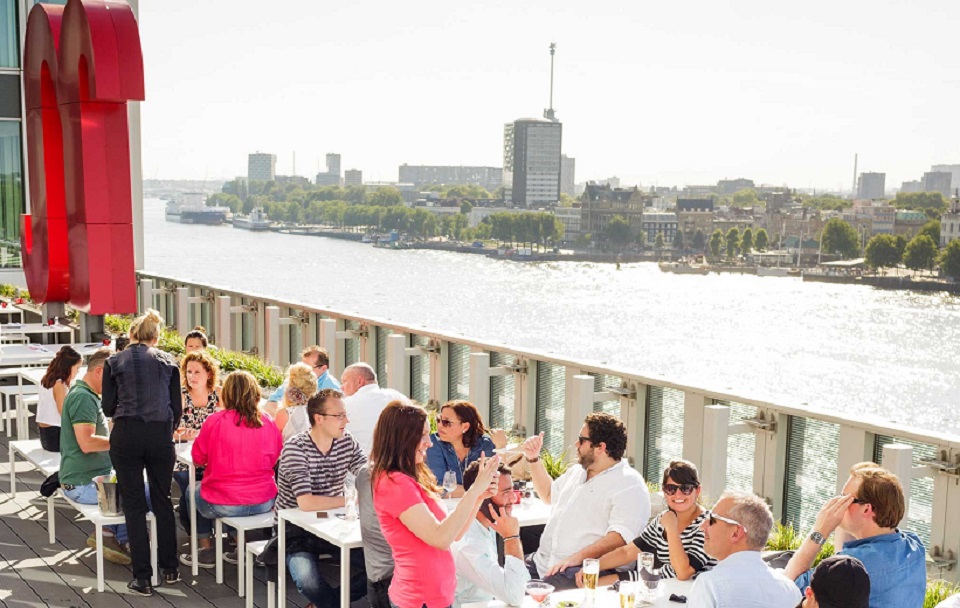 Gastrobar ELVY at nhow Rotterdam - Photo: www.nhow-rotterdam.com
Located right on the Wilhelmina Pier, and offering stunning views of the waterscape, the Erasmus Bridge and the city skyline, the nhow is a fantastic choice for those looking for a romantic place to dine or an elegant place to enjoy drinks with friends.
Offering flavors from around the world, with a distinct Rotterdam twist, Gastrobar ELVY rooftop restaurant bar comes with indoor and outdoor areas, elegant furnishings, and top-notch service.
The drink menu covers all the classics, with beer, wine, champagne, and spirits featuring prominently in the list, as well as all kinds of creative cocktails.
For food, you'll be able to find a wide range of small dishes made perfect to share, from Poké Bowls and Vongole on Toast to many vegetarian options like the Carrot Hot Dog.
Though it's slick in looks and exclusive in atmosphere, the nHow also aims to attract a more casual clientele, at least during the weekends, where live DJs take the stage and populate the bar with a livelier audience.
Though the nHow is open year-round, that's only the case for the indoor area. The terrace tends to be open only during summer and spring, as well as days where the weather is particularly kind.
Reservations are encouraged if you're looking to dine, but you can do without them if all you want is to visit the terrace bar.
GASTROBAR ELVY
Wilhelminakade 137, 3072 AP Rotterdam
If you like to rent a property for your stay in Netherlands, Rentola is a superb website for that. More than 4000 rentals all over the country.