While Berlin is a vast and vibrant city, rooftop bars are quite few and far between; perhaps it is the age of the town or the popularity of pubs, but rooftop entertainment isn't all easy to find.
Open-air rooftop bars are even harder to find, but those that do exist offer both atmosphere, fantastic drinks and beautiful sights, making them places you have to visit.
It wasn't a simple task, but The Rooftop Guide brings you the three best winter rooftop bars from which to enjoy Berlin!
1.

Klunkerkranich Rooftop

Klunkerkranich Rooftop | Photo: http://klunkerkranich.org/
To find one of the best, and definitely one of the most urban and bohemian rooftop bars in Berlin, you should head out to Neukölln. On top of the parking garage at Neukölln Arcaden you find the spacious and creative Klunkerkranich Rooftop.
Somewhat of a cultural roof garden, you can visit for concerts, DJ program, readings, cinema and musch more. Or you just come for relaxing drinks and fantastic and panoramic views over the Berlin skyline.
While most fantastic in the summer, when the rooftop terrace is lush with plants and you can have a seat right in the sand (yes, sand), Klunkerkranich Rooftop is very welcoming during the colder months as well.
The winter terrace is decorated with lots of cosy lights and other creative decorations, and there is also a comfy hut called 'Hinter Den Alpen'. In here you can warm up and get your hot (or cold) drinks.
From November 30 to December 22, the Klunkerkranich Rooftop Christmas Market is in full swing. Walk among the cabins, buy your gifts or just something tasty, and really get into the Christmas mood.
Klunkerkranich is a fantastic choice among the winter rooftops and winter terraces Berlin has to offer. Almost always, it is just during January and February that the rooftop is closed.
KLUNKERKRANICH ROOFTOP
Karl-Marx-Str. 66, 12053 Berlin
2.

Gallery Rooftop Bar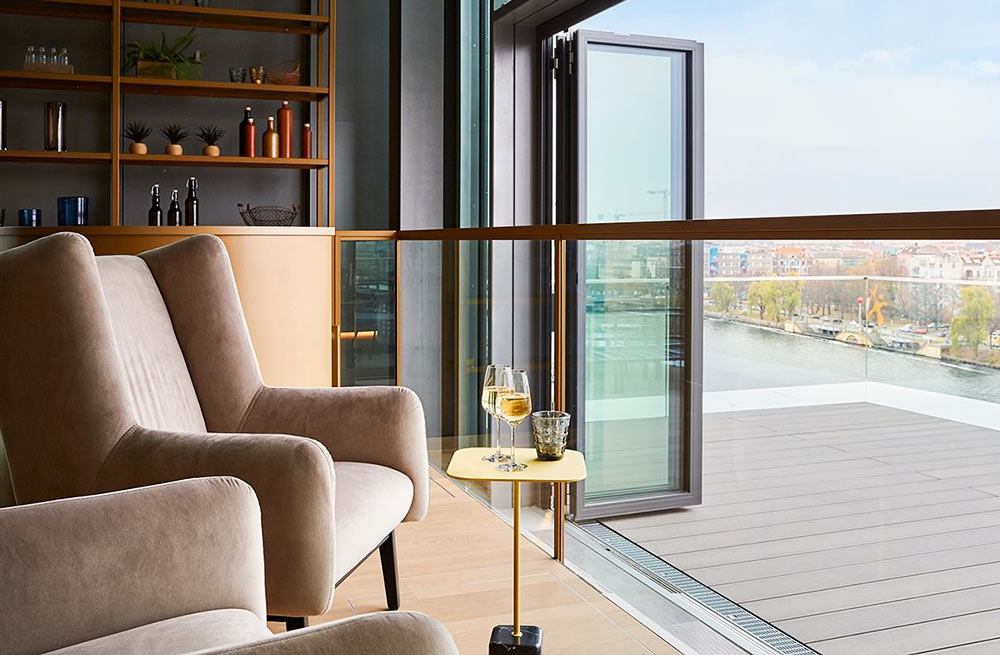 Gallery Rooftop Bar | Photo: www.gallery-rooftopbar.berlin
Located on the 8th floor of the Hotel Indigo Berlin, this rooftop bar may not be the tallest in the city, but it certainly is one of the best!
With a trendy and colorful decoration, a relaxed atmosphere, a roofed section leading out to a large open-air terrace, and window-walls, this is the spot to go for those who like to pair their drinks with stunning architecture and even better views of the city.
Though its views are excellent, the Gallery Rooftop Bar is even better known for its drink selection, which mixes the old and the new in the true spirit of Berlin.
A wide selection of wines, champagnes, and beers go hand in hand with a myriad of cocktails – some old classics, some house-specials, and a modest but delicious set of finger foods.
While the outdoor terrace at Gallery Rooftop works best on a summer sunny day (of coures), you can enjoy your drink out here on a winter sunny day as well. And if the Berlin weather is to grim, the stylish indoor lounge with panoramic windows is just one step away.
This is an ideal spot for a pre-party, but don't be surprised if you end up spending your entire night here; For a night out at the Mercedes Platz, there's no better place to get started than the Gallery Rooftop Bar.
GALLERY ROOFTOP
Mühlenstraße 19, 10243 Berlin
3.

Monkey Bar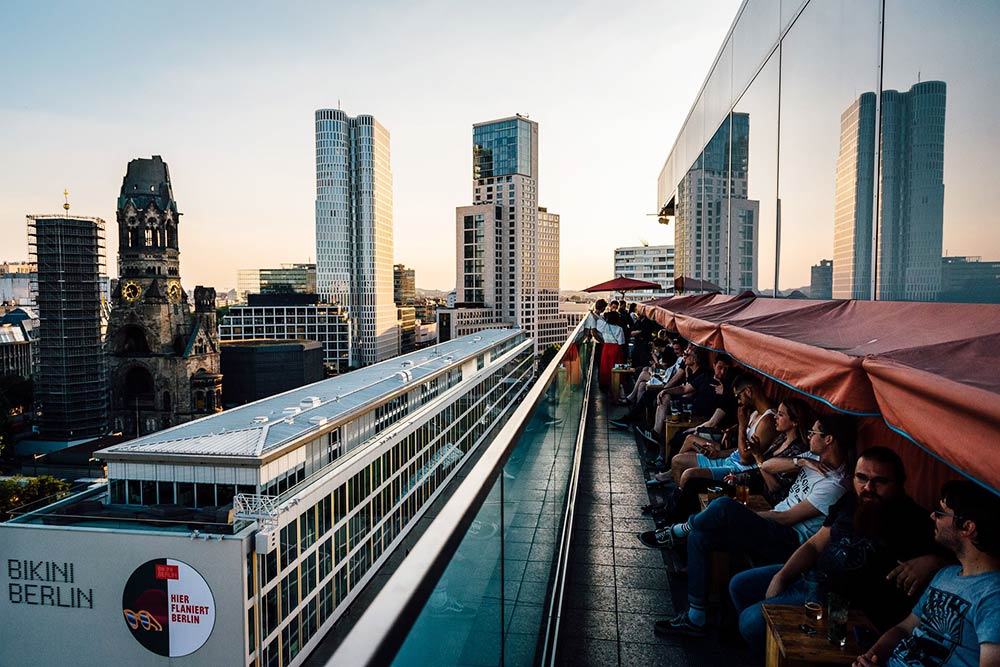 Monkey Bar | Photo: https://www.monkeybarberlin.de/
If what you're looking for is unbeatable views, then head out to the Monkey Bar and take a seat by the window because you're in for a treat.
10 floors up at the 25hours Hotel Bikini Berlin, this rooftop is modern, trendy, and just plain fun to be at. The rooftop bar offers a wide selection of wine, beers, cocktails, and food, including vegetarian options.
What's more, its location next to the NENI restaurant (that also come with lovely view through its panoramic windows) makes it an ideal place to visit right after your meal, if all you're looking for is a cocktail or two to top-off your night.
So what makes the Monkey Bar so unique?
The monkeys!
This rooftop bar overlooks the monkey exhibit at the Berlin Zoo, which means you'll get to see these amazing creatures while enjoying the bar's signature drinks.
If the monkeys alone aren't enough to catch your attention, the Monkey Bar has live DJs and a casual, relaxed ambiance that you're bound to enjoy.
Though the bar isn't a proper open rooftop, it still has a popular outdoor seating section that you're sure to love. It's not heated, but it offers some of the best views in the bar! Try it out on a sunny winter's day, or dress warm and enjoy the twinkling lights of Berlin.
If you're looking for a fun place to visit near the Tiergarten, then this is the place to be.
MONKEY BAR
Budapester Straße 40, 10787, Berlin