Ah, the good old Gin & Tonic. One of the world's most popular drinks, especially as a refreshing option during hot summer days.
Introduced by the army of the British East India Company in the 1700s, this classic highball cocktail has taken many different variations, and also different names. From the English 'G&T' to the South-European 'Gin-Tonic', served in a balloon glass.
While you can get a Gin & Tonic at pretty much any rooftop bar you visit, far from all rooftops make their G&T's with love. Which might be fine sometimes, but sometimes you also want quality, and not just something keeping your mouth cold.
Therefore, we have assembled 12 amazing rooftop bars around the world, perfect to enjoy a great Gin & Tonic, presented in many different shapes, tastes and models. The list is complete with info, menus, pics and much more. Enjoy!
1.

Rooftop Bar at Hotel Cappuccino

/ Seoul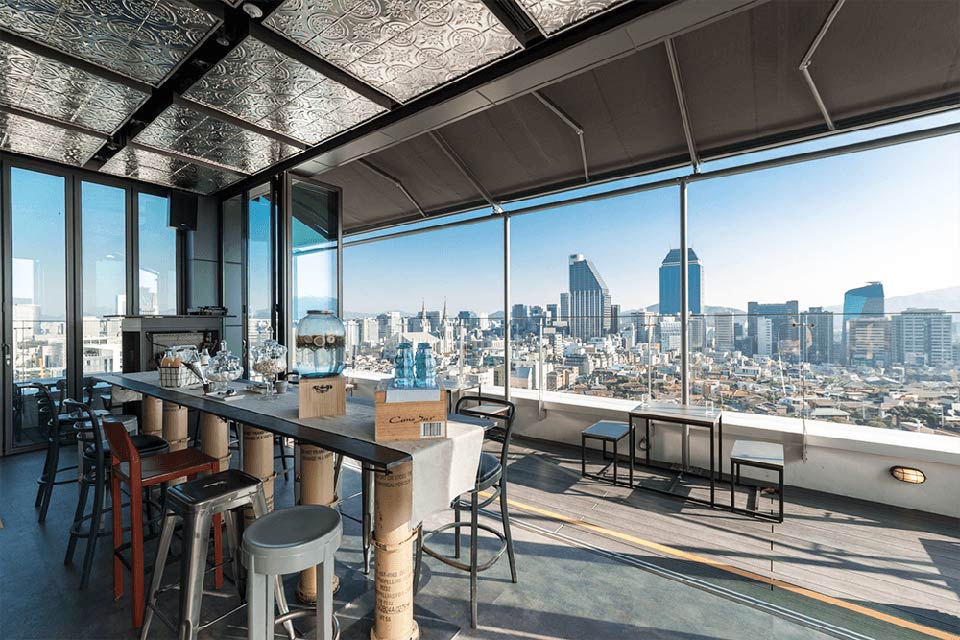 Hotel Cappuccino - Photo: https://hotelcappuccino.co.kr/
With a no-nonsense name, the Rooftop Bar is located 17 floors above Gangnam-Gu in Seoul, up on the fantastic Hotel Cappuccino.
Stylish, modern and industrial-chic in design, the Hotel Cappuccino rooftop bar offers both indoor and al-fresco seating, as well as panoramic views over the Seoul skyline.
The rooftop bar menu includes several creative cocktails, but it is foremost known as the first Gintoneria in Seoul. Serving everything from the classic Bombay Sapphire to premium gins, the given choice is to order a Gin & Tonic.
Or you opt to create your very own 'one & only Gin & Tonic in the world'. In a 4-step process you choose your gin, choose your mixer, choose your garnish and choose your syrup. If the taste is not perfect, you can only blame yourself.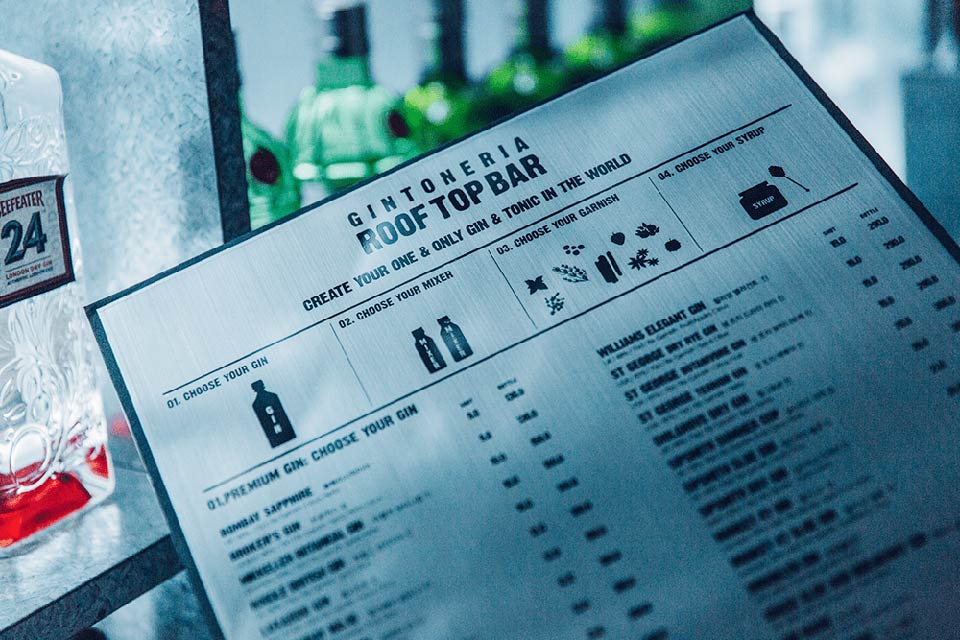 Hotel Cappuccino - Photo: https://hotelcappuccino.co.kr/
With a sophisticated and relaxed atmosphere, the Rooftop Bar at Hotel Cappuccino is a great spot to kick back and enjoy fine views and fine drinks with some friends. And if hunger hits, the rooftop bar is neighbor with the Asian-inspired rooftop restaurant Hot Eatsue.
HOTEL CAPPUCCINO
155, Bongeunsa-ro, Gangnam-gu, Gangnam-Gu, 06122 Seoul
2.

Picalagartos Sky Bar

/ Madrid
Picalagartos Sky Bar - Photo: www.picalagartos.com/
Located on the 8th floor of the fantastic Hotel NH Collection Gran Via, Picalagartos Sky Bar offers not only stunning 360-degree views of Madrid, but also one of the best cocktail bars in the city.
The entire building is a real architectural gem, designed with a neo-Baroque style that makes it stand out from all nearby structures.
The sky bar has a wonderful bohemian style and a laid-back and relaxed atmosphere that invites guests to remember the 50's while enjoying delicious Spanish gastronomy and expertly crafted drinks.
Both rooftop bar and rooftop restaurant, the restaurant's dishes offer a seasonal twist to traditional Spanish cuisine, basing the articles of the menu on the ingredients available at the time of your visit.
The rooftop bar area focuses mostly on drinks, following the same seasonal pattern in its signature cocktails, while demonstrating an undeniable mastery of mixology with more traditional beverages.
Also branded as 'Tanqueray No. TEN Sky Garden', the Picalagartos rooftop bar menu include several different Gins, both 'regular' and more premium options. There is also several tasty and creative cocktails made from the branded Tanqueray.
At the rooftop bar you can enjoy similar dishes to those in the restaurant, albeit in much smaller portions.
PICALAGARTOS
Gran Vía, 21, 28013 Madrid
3.

Yao Rooftop Bar

/ Bangkok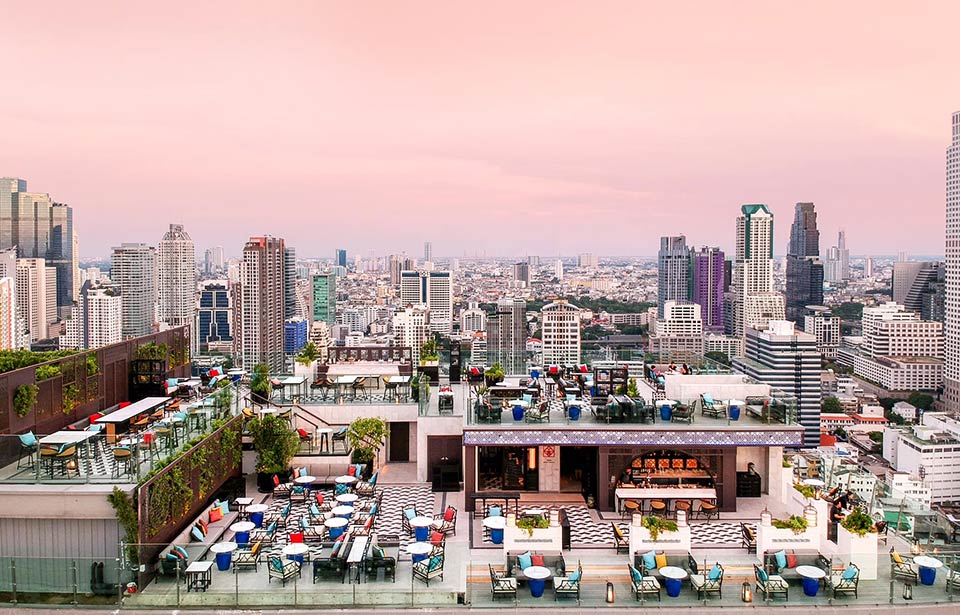 Yao Rooftop Bar - Photo: www.facebook.com/yaobangkok/
Set on top of the amazing Bangkok Marriott Hotel The Surawongse, this luxurious rooftop bars offers not only one of Bangkok's most exclusive destinations, but also incredible views of the Chao Phraya River and the city skyline.
Everything about Yao Rooftop Bar is made to impress: from the ruby-red Chinese lanterns, the comfortable lounge sofas, the decoration, the exclusive atmosphere, the food, and the drinks.
Set over several levels, here you do not only find a rooftop bar, but also Yao Restaurant, which focuses on innovative Chinese cuisine, homaging the country's culinary traditions while experimenting with new ingredients and techniques.
The rooftop bar is an open-air terrace, with Chinese-influenced decorations and menus.
At the spacious terrace, you can enjoy unique signature cocktails made with local ingredients, classical drinks, and excellent service.
And for the Gin & Tonic lovers out there? There is a special G&T section on the menu, and you can also make your own Gin & Tonic. Then you get a bottle of Beefeater 24 Gin, presented alongside a collection of premium Fever-Tree tonics and local spices, all served in a Chinese red lantern.
Truly an experience you can't miss.
YAO ROOFTOP BAR
262 Thanon Surawong, Si Phraya, Bang Rak, Bangkok
4.

Terracotta at Hotel Antigua Palma

/ Palma de Mallorca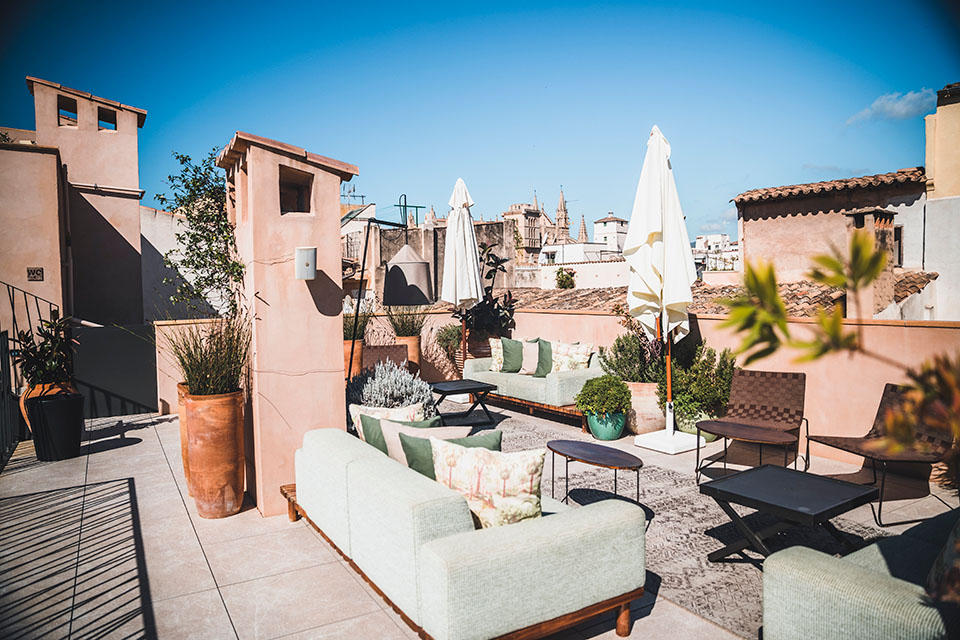 Terracotta at Hotel Antigua Palma - Photo: www.hotelantiguapalma.com/
Found in a completely renovated noble house from the 17th century, Hotel Antigua Palma is both authentic and beautiful all around, from the lower floor vault, up to the top floor rooftop.
The rooftop terrace is divided into three areas, including a plunge pool with loungers, offering elevated relaxation exclusively for hotel guests, as well as the Terracotta rooftop restaurant and bar, open to all.
Overlooking Palma's historic center and Sant Francesc, the roofto menu includes a gastronomic selection adapted to any time of the day, as well as a fine array of wines, vermouths and cocktails.
The cocktail selection presents plenty of the classics, with several different Gin & Tonics, refreshing and crafted to perfection.
Perfect to enjoy with a loved one, surrounded with pleasant music and an intimate atmosphere, above the historic center of Palma.
TERRACOTTA AT HOTEL ANTIGUA
Carrer del Sol, 1, 07001 Palma, Illes Balears
5.

Naked in the Sky

/ Melbourne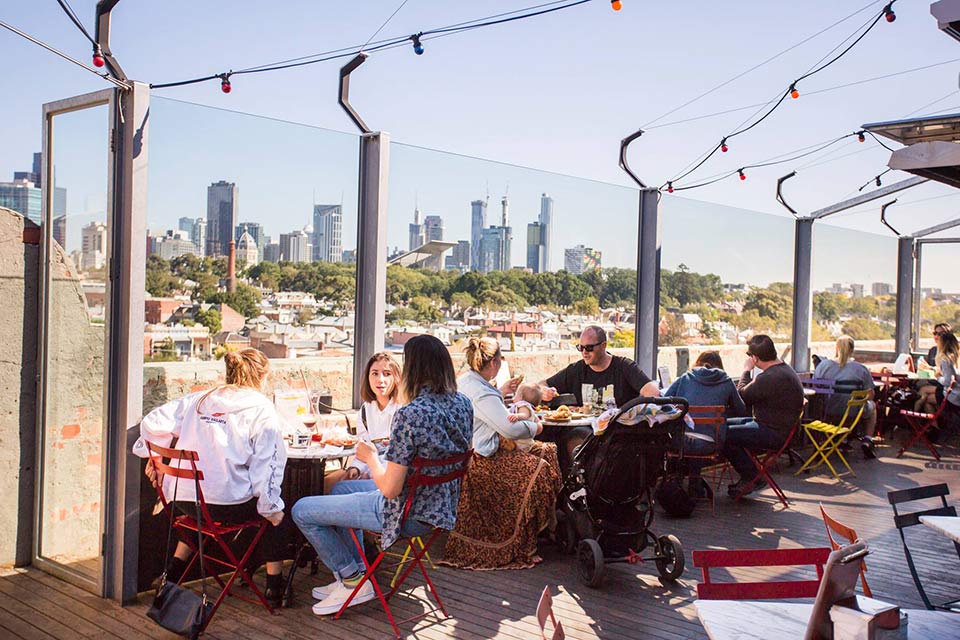 Naked in the Sky - Photo: www.nakedforsatan.com.au/
Located on top of the provocatively named Naked for Satan, this fantastic rooftop venue offers some of the best views over Melbourne.
Trendy and urban in decoration and atmosphere, Naked in the Sky has both indoor and outdoor seating options, split into restaurant and bar areas.
Both have rustic accents, colorful steel chairs, bare brick walls, and comfortable seating arrangements.
While the restaurant is nothing to scoff at, what people are really into are the drinks.
Naked in the Sky has a twenty pages long drink menu that covers just about any drink you can desire, including some genuinely creative Gin & Tonics. Made from high quality Australian Gins and paired with artisanal tonics, here you can enjoy some G&T's hard to find elsewhere.
Both the restaurant and the bar open at noon and are quite popular amongst locals and visitors alike, so make sure to arrive early to get a good seat.
NAKED IN THE SKY
285 Brunswick St Fitzroy, Melbourne
6.

Southbridge

/ Singapore
Southbridge - Photo: www.facebook.com/southbridge.sg/
Located above the myriad of bars and restaurants along the very popular Boat Quay river walk in Singapore, Southbridge rooftop is somewhat an oasis on top of it all.
Beautiful in setting, the cosy, intimate and open-air rooftop terrace comes with fantastic views over the Singapore River, all the way out to Marina Bay.
Part Oyster Bar, where you can slurp on selections of the best oysters from all over the world, Southbridge is also a great cocktail bar, serving up a lovely and creative selection of champagne and craft cocktails.
The impressive cocktail menu includes a selection of over 15 different Gin & Tonics. There are Gins from UK, Scotland, America, Japan, Italy and several other destinations, which you can pair with 3 premium tonics. It will be hard to choose just one, that's for sure.
Head up to Southbridge for great and soft vibes and some friendly service, and enjoy a drink as you watch the boats pass by on the river.
SOUTHBRIDGE
80 Boat Quay, Level 5, Rooftop, Singapore
7.

Vista Sky Bar

/ Sorrento, Amalfi Coast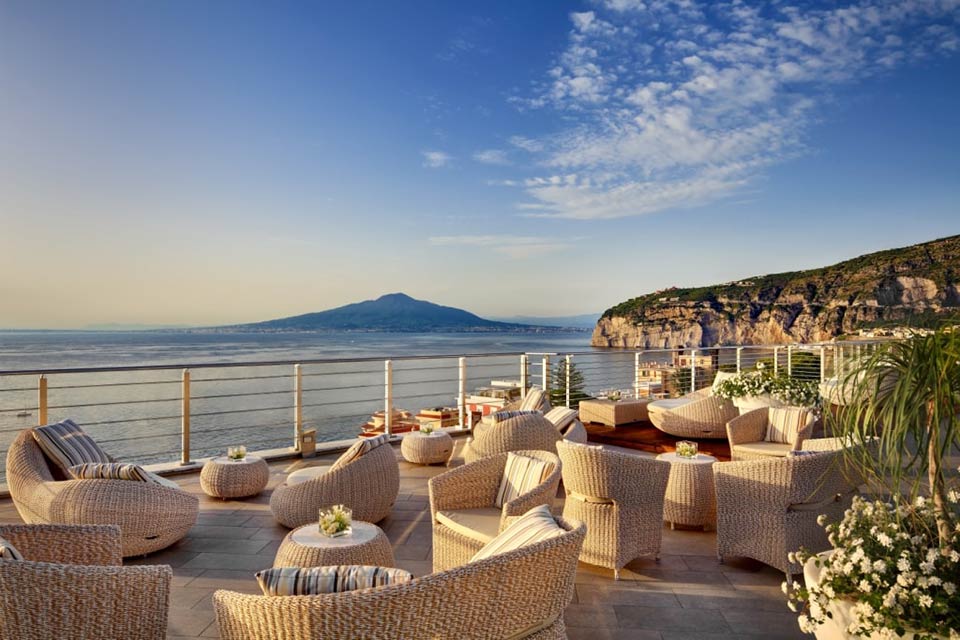 Vista Sky Bar - Photo: www.mediterraneosorrento.com/
Located on top of the Hotel Mediterraneo Sorrento, this exclusive rooftop venue offers magical views of the ocean, Naples bay, and the Vesuvio Volcano.
Tastefully furnished with comfy lounge signature, and offering a fantastic mixology menu carefully curated by barman Arturo Laccarino, Vista Sky Bar is all about experiences and having a good time.
Champagne is served in glass or by the bottle; fine Italian wines are expertly paired with delicious finger food, and the atmosphere is highlighted by live jazz and bossa nova bands, or live DJs.
But most impressive is probaly the cocktail menu. With a wide range of tasty and crafted signature cocktails, there is also a selection of +10 Gin & Tonics.
Worldwide Gins are matched with local flavours, from the 'Mediterraneo' and 'Pure Italian' to the 'Oriente Express'. You can also pick and choose among gin, tonic water and garnish, and get your G&T the way you like it.
Vista Sky Bar is one of Amalfi Coasts' most exclusive locations. Only open at limited hours and when the weather allows, the terrace can also be booked in its totality for private events.
What is open most days –except for special events– is the Vesuvio Roof Restaurant one floor down, where you can enjoy local fresh food served and prepared in a traditional but stylish fashion.
VISTA SKY BAR
Corso Marion Crawford, 85, 80065 Sant'Agnello, Sorrento
8.

The Top at Hotel Molina Lario

/ Malaga
The Top at Hotel Molina Lario - Photo: www.mediterraneosorrento.com/
Aptly named The Top, this rooftop cocktail bar is perched on top of the amazing Hotel Molina Lario, located just a block from Málaga Park.
Equipped with a refreshing rooftop pool, stylish bar furniture and comfy loungers, the 8th floor terrace offers fantastic views over the Catherdral, the Mediterranean and city surroundings.
An ideal place for an after work, some cold beers in the all day sun, tapas or more late night party, The Top also has its own 'Cocktail Corner'. Here you can indulge in an impressive selection of creative signature cocktails, taking inspiration from all over the world.
Apart from the signatures, there is also a 2-page menu of different Gin & Tonics, from Mediterranean gin to English classic's. All presented in a beautiful way.
THE TOP AT HOTEL MOLINA LARIO
Calle Molina Lario, 20, 29015 Málaga
9.

The Marker Hotel

/ Dublin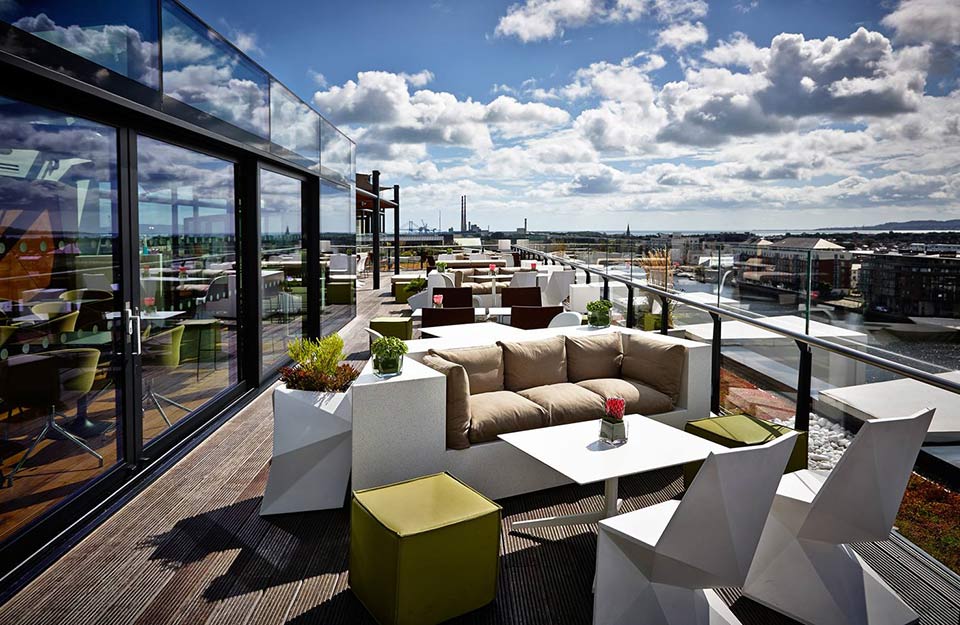 The Marker Hotel - Photo: www.facebook.com/TheMarkerHotel/
Crowning the five-star The Marker Hotel Dublin, this wonderful rooftop venue offers jaw-dropping views of the city and its landmarks, including the Dublin Mountains, the Grand Canal, and the Irish Sea.
The rooftop bar and terrace is exclusive to hotel guests during the day, meaning you can enjoy a relaxed and exclusive atmosphere, as well as morning yoga classes.
Come night, the rooftop terrace opens to the public, and the atmosphere picks up, though it remains an exclusive venue with a cocktail-lounge like atmosphere.
Regardless of the time of the day you choose to visit this rooftop bar, you can find excellent mixology and an extensive drink menu, including classics and signature cocktails. And a special 'The Marker G&T Menu'.
The G&T list includes a careful selection of some of the best Gins from around the world, all matched to a unique tonic and garnish. Like the 'Monkey 47' from Germany, paired with London Essence Classic Tonic and forest fruits.
THE MARKER HOTEL
The Marker Hotel Dublin, Grand Canal Square, Docklands, Dublin
10.

The Rooftop at Serras

/ Barcelona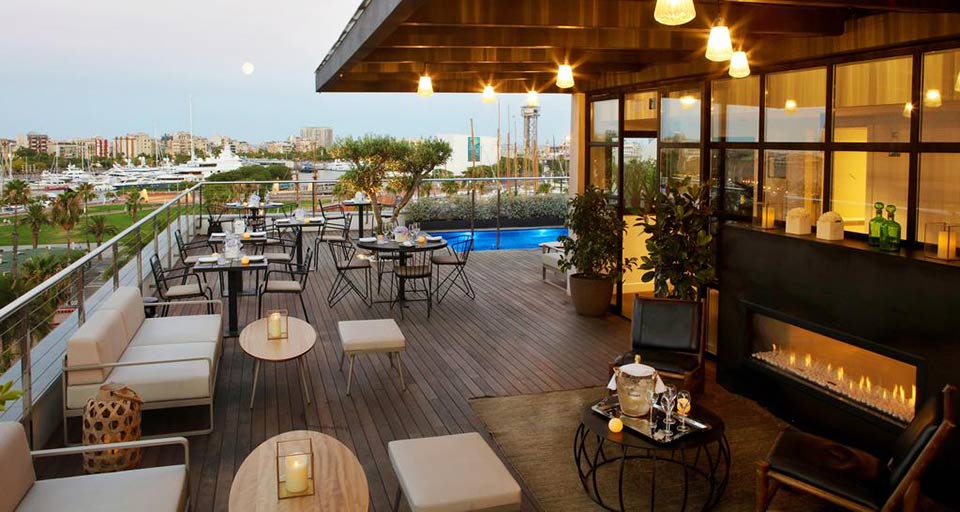 The Rooftop at Serras - Photo: www.facebook.com/TheSerrasBarcelona/
Set on the roof of Hotel The Serras Barcelona, this rooftop bar offers not only a fantastic drink menu but also jaw-dropping views of the Mediterranean Sea and Barcelona's port.
With its relaxing and exclusive atmosphere, Micheline starred food, and a dedicated cocktail bar, The Rooftop at Serras is one of Barcelona's most sought after dining & drinking destinations.
The rooftop bar menu offers a wide range of fine drink selections, including almost 30 variations of Gin-Tonics. Served with Royal Bliss, Fever-Tree, 1724 or Fentimans tonic, there is pretty much something for everyone.
The rooftop terrace can sit up to 30 people in the restaurant area, and 80 in the cocktail lounge, so reservations are encouraged.
Open for lunch and dinner; The Serras Hotel rooftop is the perfect location for a weekend brunch, a romantic dinner, and the ideal location for enjoying a Gin & Tonic while watching a fantastic sunset.
THE ROOFTOP AT SERRAS
Passeig de Colom, 9, 08002 Barcelona
11.

Social Club Rooftop Bar

/ Ho Chi Minh
Social Club Rooftop Bar - Photo: www.hoteldesartssaigon.com/
Perched on top of the superb Hotel Des Arts Saigon Mgallery Collection, the lovely Social Club Rooftop Bar sure has a lot to offer.
With a stylish indoor 23rd level restaurant, serving gourmet European cuisine, the top and 24th floor offers a modern rooftop bar, one of the world best rooftop pools, and some amazing views over the Ho Chi Minh skyline.
Unique and tropical-chic in design, the Social Club rooftop bar offers a relaxing, poolside lounge atmosphere during the day, and more vibrant vibes at night, with live DJs creating the soundtrack.
The rooftop bar menu includes well-crafted and fine looking signature cocktails, premium wines, light snacks and a great array of G&Ts. From the classic Beefeater to the more premium Ferdinand's Saar.
Top tip is to visit the rooftop bar between 5pm to 8pm, which will not only give you some fantastic sunset views, but also 2 for 1 happy hour on cocktails.
SOCIAL CLUB ROOFTOP BAR
MGallery Saigon, 76-78 Nguyễn Thị Minh Khai, phường 6, Ho Chí Minh
12.

Capital at Scandic Continental

/ Stockholm
Capital at Scandic Continental - Photo: www.facebook.com/scandiccontinental
Located on the 8th floor of the Scandic Continental Stockholm hotel, the Capital is one of Stockholm's most popular rooftop destinations.
Since the hotel is located just steps away from Central Station, this bar tends to be crowded. Full of locals and visitors alike attracted by the siren call of a good Gin & Tonic.
With over 20 Gins to choose from, including both local Swedish ones and premium selections around the world, you will not be disappointed. Add an impressive wine list, a large selection of European and international beers, and well-crafted cocktails, both signature, and classic, all offering a continental touch that you're sure to love.
The atmosphere and ambiance is both modern and international, with a large wooden deck rooftop terrace, plush lounge sofas, bar stools, and both indoor and outdoor seating. Often laid-back and casual, though it picks up considerably during the weekends, with live DJ shows and a more lively audience.
While Capital focuses mostly on drinks, you can also find a small food menu that includes classics like burgers, and specials like Papaya Salad.
CAPITAL
Vasagatan 22, 111 20 Stockholm