Aperol Spritz is definitely one of the most popular drinks on rooftop bars worldwide. During recent years, this drink has become so popular that almost every rooftop bar and regular bar have it on the cocktail menu.
The recipe is quite simple – Aperol, Prosecco, Club Soda, a slice of orange and some ice cubes. Refreshing, cold and delicious!
To guide you in the Aperol-jungle, we have assembled a list of 12 fantastic rooftop bars around the world, perfect for sipping an Aperol Spritz. A tasty and refreshing Aperol Spritz and a great view are two factors playing a big part in the selection. Enjoy!
1.

360 Bar

/ Budapest
360 Bar - Photo: www.facebook.com/360barbudapest
Located close to the Budapest Operetta-theater, in the central part of Pest, 360 Bar offers just what the name indicates: a magical 360-degree view over the city skyline.
Spacious and very open-air, the 9th floor rooftop terrace comes with an urban park-feel, where you are surrounded by greenery and colorful furniture.
Laid back and fun in atmosphere, and bathing in sun from mid-day to sunset, the 360 rooftop is a fantastic spot to enjoy one (or several) refreshing Aperol Spritz while looking out over Budapest.
Apart from the orange delicacies, the rooftop bar menu also includes a great selection of both signature and classic cocktails, as well as a range of tasty bites. So spending a couple of hours on the terrace is no problem at all.
While warm summer days and nights might be the best time for a cold Aperol Spritz, 360 Bar is also open in winter, when it turns into Igloo Garden. Inside the comfy rooftop igloos, you can enjoy a winter-inspired menu with hot drinks and seasonal cocktails.
360 BAR
1061 Budapest, Andrássy út 39
2.

Loggia Roof Bar at Hotel Palazzo Guadagni

/ Florence
Loggia Roof Bar - Photo: www.palazzoguadagni.com/
Situated at the upper floor of an ancient Palazzo built in 1505, just a few minutes walk from the Ponte Vecchio, the lovely Hotel Palazzo Guadagni comes filled with history all around.
A great place for an authentic Florence stay, but also a prime spot to enjoy panoramic views over all the history the city has to offer, thanks to the Loggia Roof Bar.
Intimate, relaxing and charming, the rooftop terrace comes with elegant and classic lounge furniture, perfect to settle down and take in the beauty of the city landmarks and the Florentine Hills.
Open daily to all, the rooftop menu includes plenty of crafted classic cocktails, and the first item on the menu is a refreshing Aperol Spritz.
After a warm day of exploring Florence, everyone deserves to unwind with a cooling drink. And an aperitif with a Spritz at the Loggia Roof Bar, high above the city, is what we would call a perfect place to do so.
LOGGIA ROOF BAR
Piazza Santo Spirito, 9, 50125 Florence
3.

Sunset Park at Desa Potato Head

/ Bali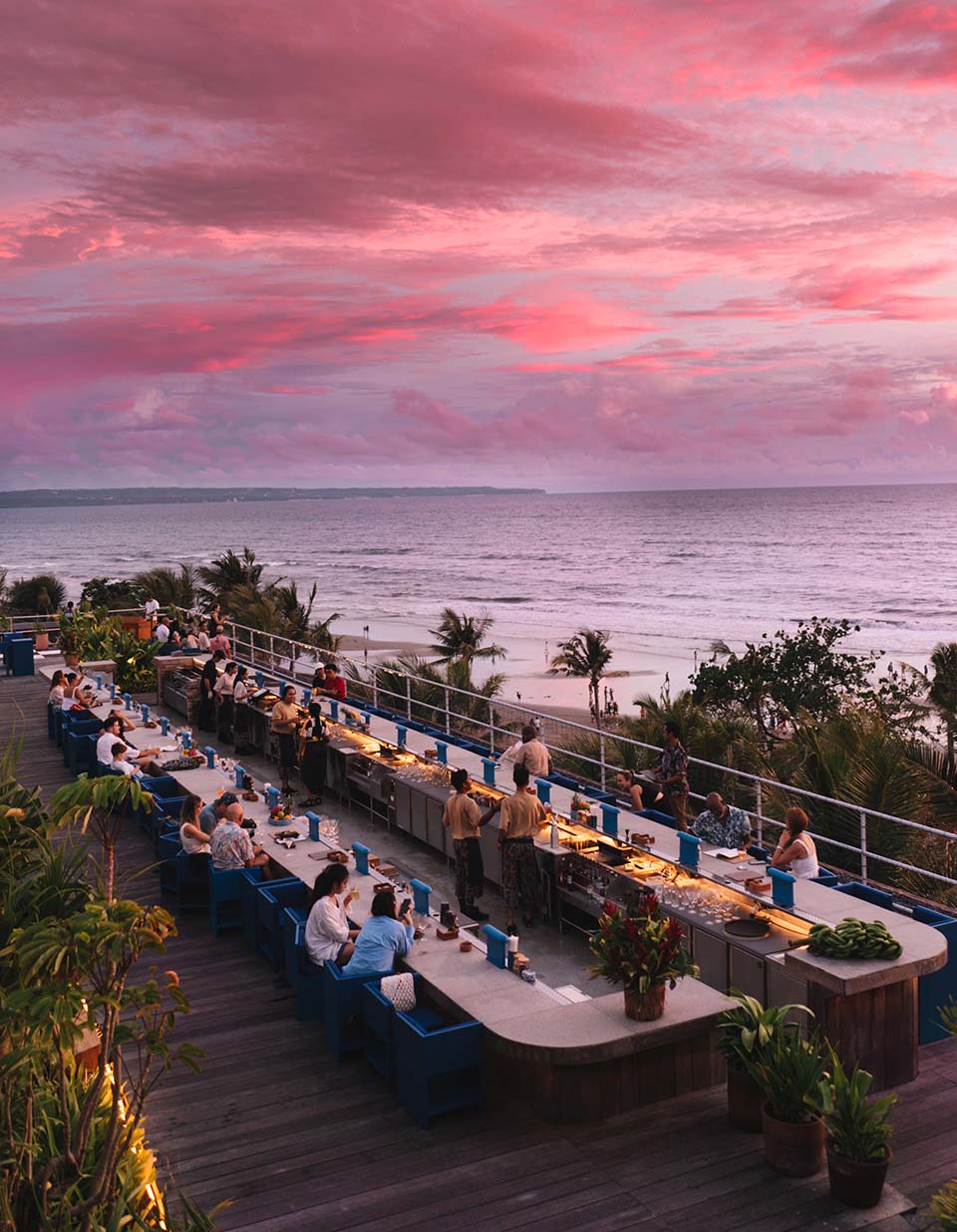 Sunset Park at Desa Potato Head - Photo: https://seminyak.potatohead.co/
Part of the creative village Potato Head, found by the ocean in Seminyak, Sunset Park is a sparkling rooftop bar for amazing sunset views, tropical aperitivo and celebrations under the stars.
Surrounded with panoramic views over the Indian Ocean, the spacious rooftop bar is a beautiful, breezy and relaxed venue, where upcycled furniture and innovative design seamlessly merge into the natural surroundings.
Here you can enjoy a food menu that combines distinct Indonesian flavours with tropical favourites from around the world, as well as crafted cocktails and drinks that reimagine classics with an Indonesian twist. This includes a tropical take on the Aperol Spritz, called 'Watermelon Spritz', made with citrus vodka, aperol, pink citrus and sparkling wine, topped with watermelon soda.
Enjoy it as an end-of-day drink or a pre-dinner aperitivo, surrounded with an unmissable ocean sunset and a carefully curated and eclectic soundtrack.
SUNSET PARK
Jl. Petitenget No.51B, Kerobokan Kelod, Kec. Kuta Utara, Kabupaten Badung, Bali 80361
4.

Royal8 Sky Bar

/ Rapallo – Portofino Coast
Royal 8ight Sky Bar - Photo: www.hoteltigullioroyal.it
Found on the central promenade of Rapallo, in the heart of the beautiful Ligurian Riviera, Royal8 Sky Bar offers a fantastic setting to enjoy the Italian coastline from above.
Perched on the 8th floor of Hotel Tigullio Royal, this stylish and open-air terrace comes surrounded with amazing 180º view over Tigullio's Gulf.
Open from April to October, the rooftop bar do offers some fantastic and crafted signature cocktails well worth a try, but it is also a prime spot to lean back and watch the ocean while sipping a classic and refreshing Aperol Spritz.
With cool background music, great service and an atmosphere mixing the trendy with the romantic, Royal8 Sky Bar feel just like a stylish and elevated Italian sky bar should.
ROYAL8 SKY BAR
Piazza IV Novembre, 3, 16035 Rapallo, Portofino Coast, GE
5.

Sky Bar at Hotel Pulitzer

/ Buenos Aires
Sky Bar at Hotel Pulitzer - Photo: www.facebook.com/HotelPulitzerBuenosAires/
Located in the heart of Buenos Aires, the lovely Hotel Pulitzer comes with an equally fantastic top floor rooftop bar, called Sky Bar.
Bright and modern in design, the 13th floor terrace offers some truly fantastic views over the Buenos Aires skyline. Extra fantastic right around the golden sunset hour.
Fun, trendy and vibrant in atmosphere, with a mix of chill out music, bossanova and soul as the soundtrack, Sky Bar is a very popular after work spot. And the number one selling drink during the sunny fun: a very refreshing Aperol Spritz.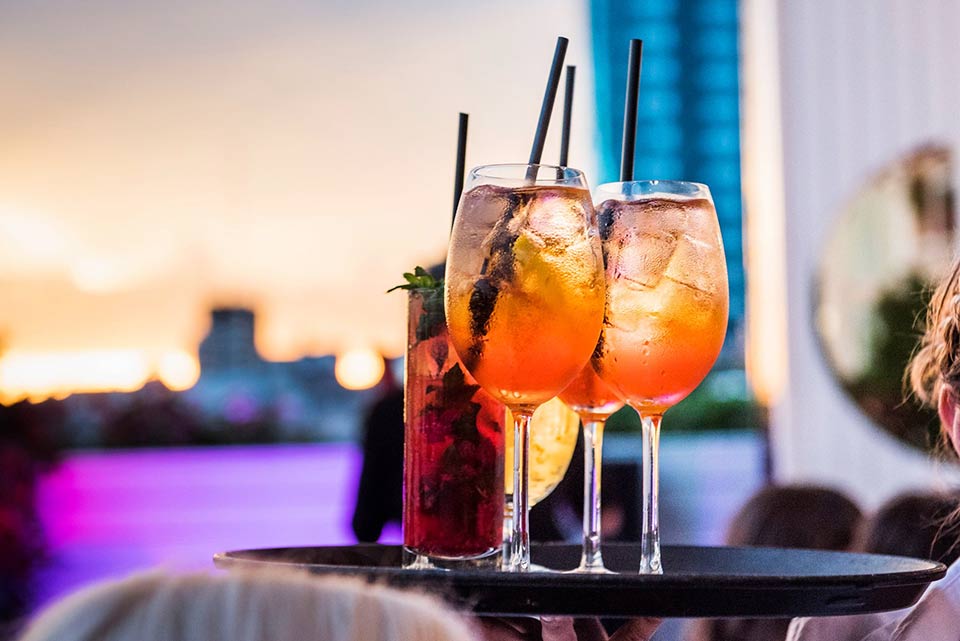 Sky Bar at Hotel Pulitzer - Photo: www.facebook.com/HotelPulitzerBuenosAires/
Now the rooftop menu do include other things than Aperol, especially some fine and seasonal signature cocktails created by the talanted Pulitzer's barmen. There is also a selection of tapas for the hungry ones.
High in popularity, so it is recommended to be in good time to catch a seat at the Pulitzer Sky Bar.
SKY BAR AT HOTEL PULTIZER
C/ Maipú, 907 Esquina Paraguay C1006 ACM Buenos Aires
6.

Sky Bar at Hotel La Palma

/ Stresa, Italy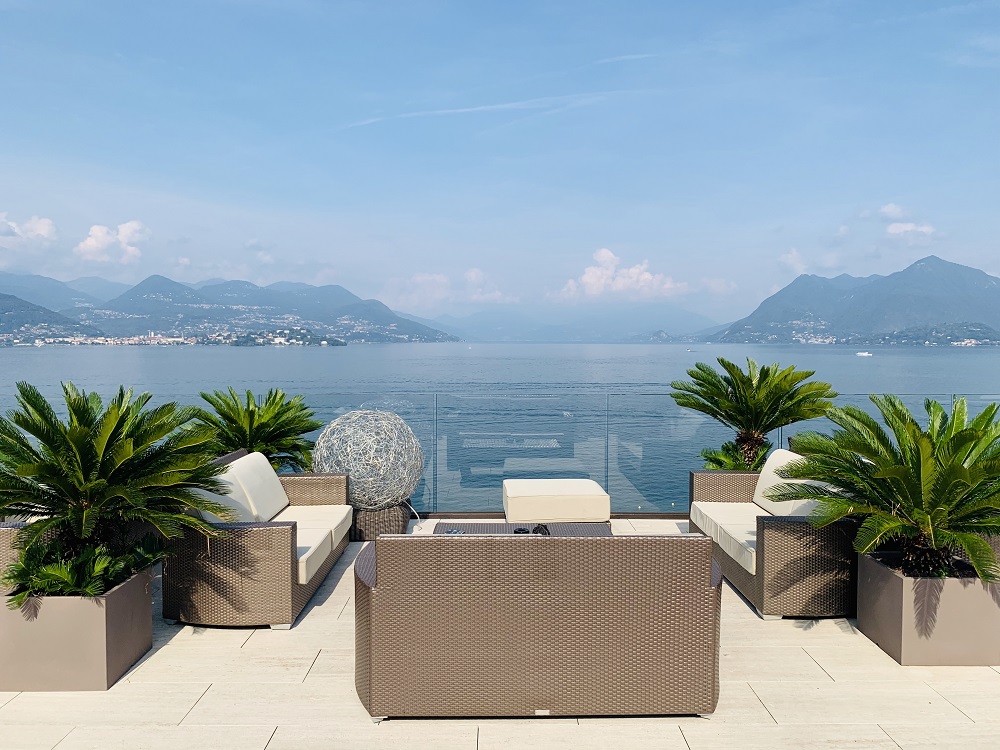 Sky Bar at Hotel La Palma
Sky Bar at Hotel La Palma have one of the most beautiful rooftop views in the whole world. Perfect for both Aperitivo, a romantic date or just some drinks with friends. And what suits better for this, than to order a couple of refreshing Aperol Spritz.
The large drink menu contains both the classic Aperol Spritz, but also some other spritzers that tastes fantastic. Mix and find your personal favorite.
The Sky Bar is open every day from 12:30pm to around 1 am and it is also available for private events. For Aperitivo, with at least 8 people you can book early to ensure adequate space is available.
You can also order bar bites or classic rooftop dishes like hamburgers and club sandwich to your drinks. And if you're here during Aperitivo, there are some small plates included for your cocktails. A perfect way to start you evening with.
SKY BAR AT HOTEL LA PALMA
Lungolago, Corso Umberto I, 33, 28838 Stresa VB
7.

Harriet's Rooftop

/ New York
Harriet's Rooftop - Photo: www.facebook.com/HarrietsBK/
Located right by the Brooklyn Bridge –on the Brooklyn side, in Dumbo– you find Harriet's Rooftop & Lounge, a laid-back and classy offer that aims to showcase the New York spirit while providing delicious drinks.
Set on top of the fantastic 1 Hotel Brooklyn Bridge, here you can enjoy some of the best views of Manhattan, the river, and the Brooklyn Bridge.
Harriet's offers both indoor and outdoor seating options –though the indoor lounge is one floor below– decorated with an urban chic and modern style that blends well with the neighborhood.
Harriet's menu features fantastic cocktails, both signature and classics, as well as an incredible beer selection and a small but appetizing bar bite menu.
Reservations are recommended no matter the time of the day, but they're crucial if you hope to catch a sunset while sipping on an Aperol Spritz.
HARRIET'S ROOFTOP
60 Furman St, Brooklyn, NY 11201
8.

SUS - Stockholm Under Stjärnorna

/ Stockholm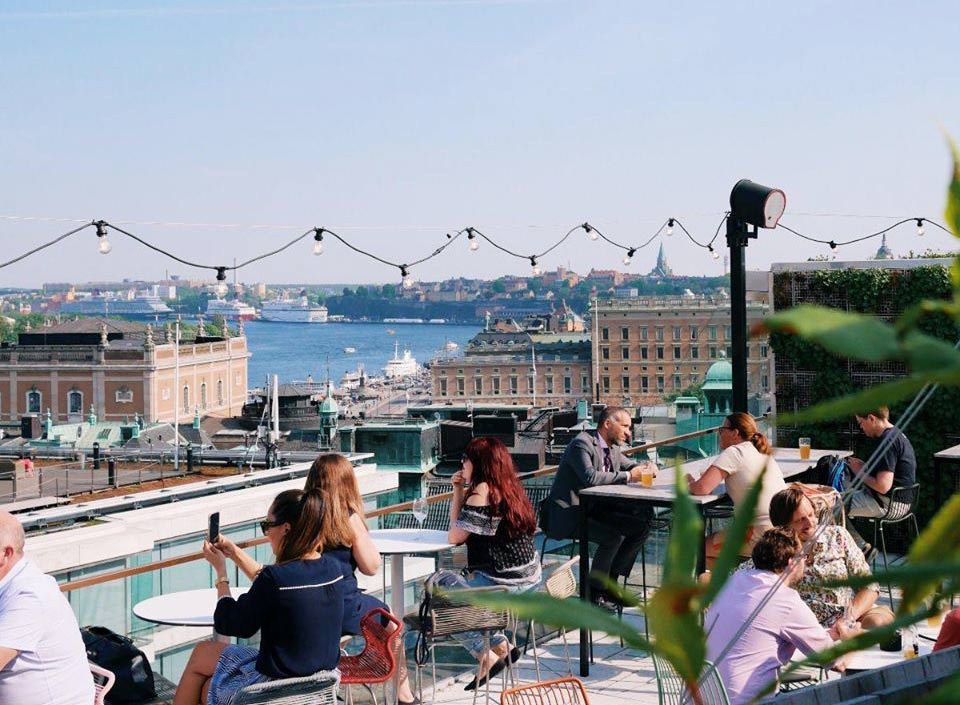 SUS - Photo: www.facebook.com/sthlmunderstjarnorna/
SUS, also known as Stockholm Under the Stars, is not only one of Stockholm's largest rooftop bars, but also one of the most modern.
Located on top of the At Six hotel, and overlooking the rooftops of Stockholm and Lake Mälaren's inlet, SUS is an ideal destination for locals and visitors alike looking for a fun, yet relaxed place where to drink.
SUS offers not only a large rooftop and a variety of seating options, but also a rooftop gym, a radio station booth, various hang-out areas, and three bars.
The rooftop menu features Frozé slushies, European beers, a sizeable wine list, and a large cocktail menu, including an Aperol Spritz that will knock your socks off.
There is also a small but delicious food menu inspired by international street food.
There are no reservations allowed in SUS, the entire place functions on a first-come, first-served basis, and all orders are placed directly at the bar by guests. And since it is a very popular location during the summer, make sure to arrive early.
SUS
Brunkebergstorg 2-4, 111 51 Stockholm
9.

The Rooftop Terrace at Hotel de Rome

/ Berlin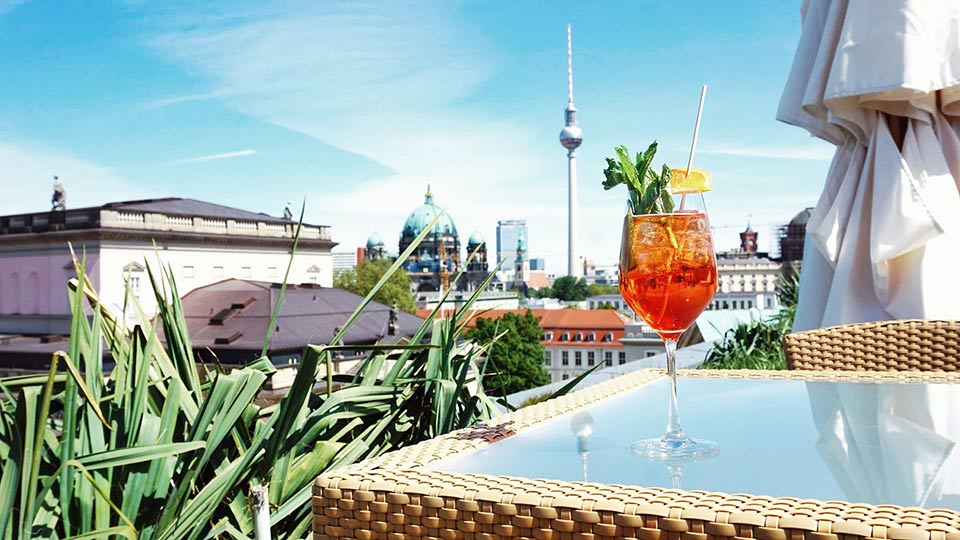 The Rooftop Terrace at Hotel de Rome - Photo: www.facebook.com/HotelDeRomeBerlin/
Perched on top of the luxurious Hotel de Rome, this stunning rooftop bar is truly a Berlin summer oasis.
With a clean, stylish and open-air lounge feel, here you can enjoy fantastic 360-views over the historical center of Berlin.
Stylish and sophisticated in ambience, this is a fantastic venue to gather with some friends and sip Aperol Spritz or mixology champagne cocktails in the sunshine.
If you decide to stick around (which is highly likely you will), you can also order something from the rooftop bar á la carte menu, ranging from seafood platters to refreshing salads, and grill sessions on Wednesdays and Fridays.
The Hotel de Rome rooftop terrace does not take reservations, so be in good time to catch one of the best spots.
HOTEL DE ROME
Behrenstraße 37, 10117 Berlin
10.

The Rooftop St. James

/ London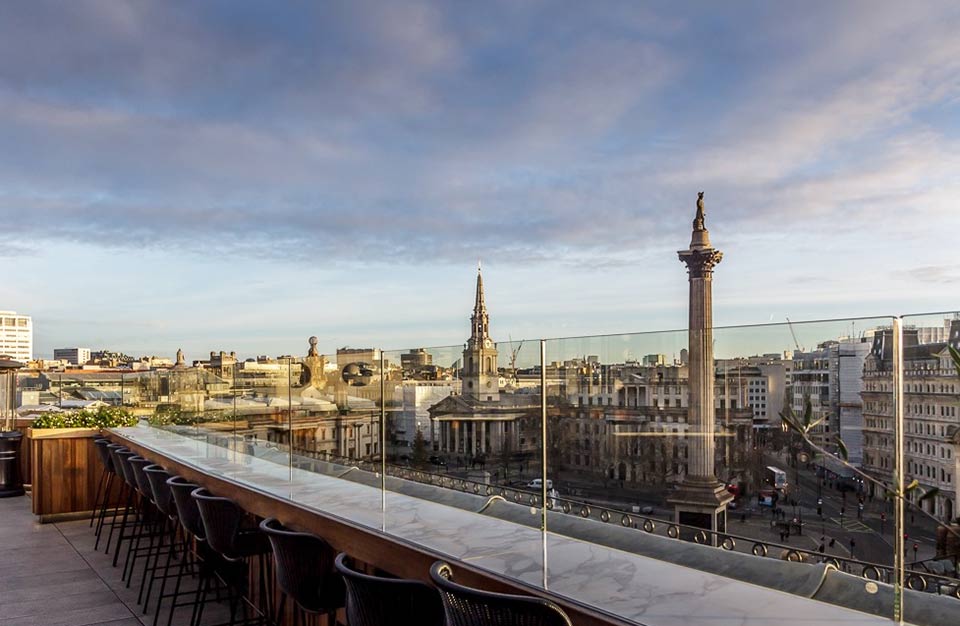 The Rooftop St. James - Photo: www.facebook.com/HotelDeRomeBerlin/
Located on the 7th floor of the exclusive hotel The Trafalgar St. James, The Rooftop is one of London's finest locations.
This elegant venue offers not only a classy rooftop bar both also a restaurant, both featuring premium service and stunning views of London's skyline.
The restaurant focuses on delicious pan-Asian cuisine, while the bar features a more international fare, complete with classic cocktails and one of the best Aperol Spritz in the entire city.
Both the restaurant and the bar are open year-round, thanks to the retractable roof, heaters, and blanket service.
For those looking for a little more privacy, The Rooftop also has ROOM, an exclusive area that sits up to 14 people and offers stunning views of Trafalgar Square.
THE ROOFTOP ST. JAMES
Trafalgar Square, SW1A 2TS, Cross Street:2 Spring Gardens, London
11.

Hotel Raphael

/ Rome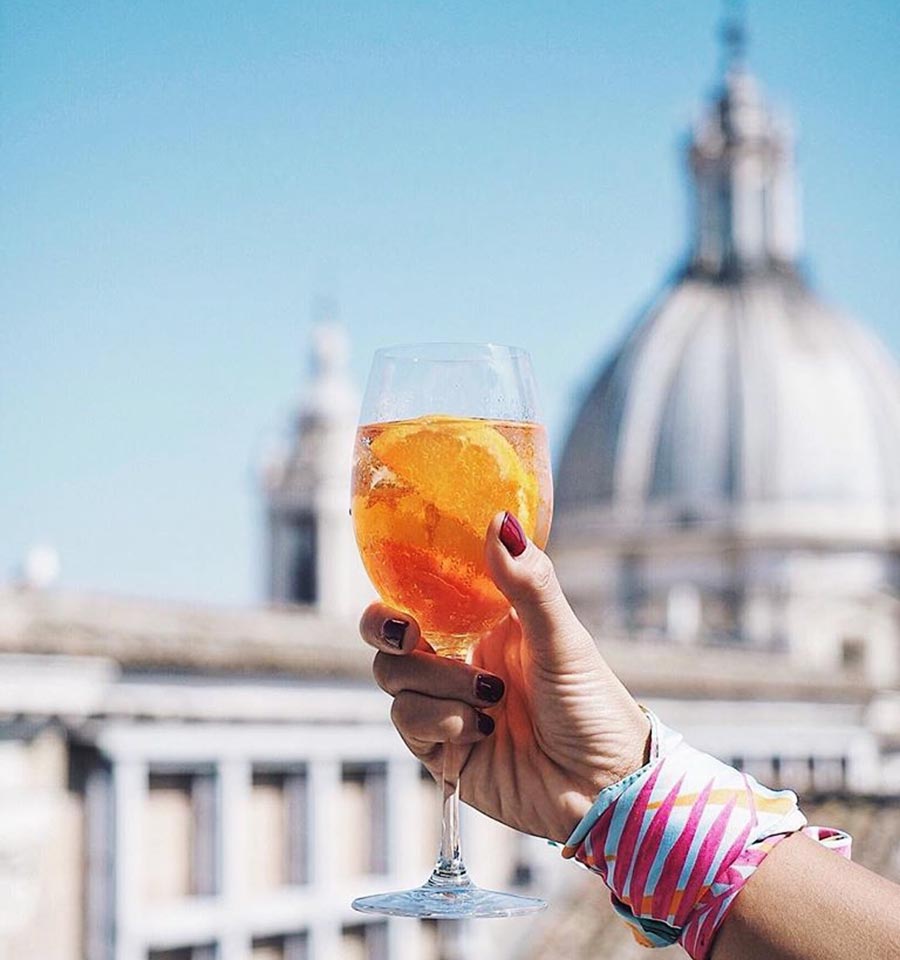 Hotel Raphael - Photo: www.facebook.com/Hotel-Raphael-277390165667599/
Hotel Raphael Rome isn't only a beautiful boutique hotel but is also home to a cozy, down-to-earth roof terrace, and a delicious rooftop restaurant called Mater Terrae.
Up here you can enjoy jaw-dropping 360-degree views of Rome's rooftops and nearby landmarks, as well as fantastic drinks and mouthwatering food.
Both the hotel and the rooftop are lush with greenery, providing a serene space to relax and escape from Rome's hot summers, and giving guests an idea of what awaits them in the menu.
That's right; Mater Terrae is a vegetarian restaurant, featuring meat-free options sourced from local vendors.
The rooftop bar follows a similar philosophy, offering an extensive wine list full of local wines, as well as a collection of beers and cocktails, including a fantastic Aperol Spritz.
While this rooftop terrace is split into two different floors, the entire place is fairly small, providing guests with a secluded and exclusive atmosphere that you're sure to love.
So order your drinks and kick back and relax while enjoying an amazing sunset over the Eternal City.
HOTEL RAPHAEL
Hotel Raphaël, Largo Febo, 2, 00186 Rome
12.

The J. Parker

/ Chicago
The J. Parker - Photo: https://www.facebook.com/thejparker/
Located right next to the Lincoln Park, the J. Parker rooftop bar serves one of the best Aperol Spritz in the city, and it pairs wonderfully with the jaw-dropping views you can find up here.
Large enough to sit up to 140 people, and featuring both indoor and outdoor seating options, this minimalistic bar is known for its excellent service and varied drink menu.
Set on top of Hotel Lincoln, up here you can find a variety of craft beers, delicious wines from around the world, and creative signature cocktails, all named and created after exotic places.
Though this rooftop bar isn't known for its food, it does offer a small but delicious food menu featuring burgers, chicken wings, and nachos, all with an international and creative twist.
By far one of the best rooftop bars in Chicago, the J. Parker works on a first-come, first-served basis, which means you'll have to arrive early if you want to score a good table, particularly during the weekends.
THE J. PARKER
1816 N Clark St, Chicago