Article
10 best rooftop bars in USA
Amazing rooftops to enjoy cocktails with a view and discover the US from above
Published: January 30, 2021
USA have some of the best rooftop bars on the planet. The variety of big cities and number of high skyscrapers makes the US a heaven for rooftop lovers.
Here you find everything from a luxurious rooftop bar in New York, to beautiful rooftop terraces in Austin. There's is really something for everyone! Both regarding food, views, service, drinks, atmosphere and so on.
Here is The Rooftop Guide's list of the 10 best rooftop bars in USA
1.

High Rooftop Lounge at Hotel Erwin

/ Los Angeles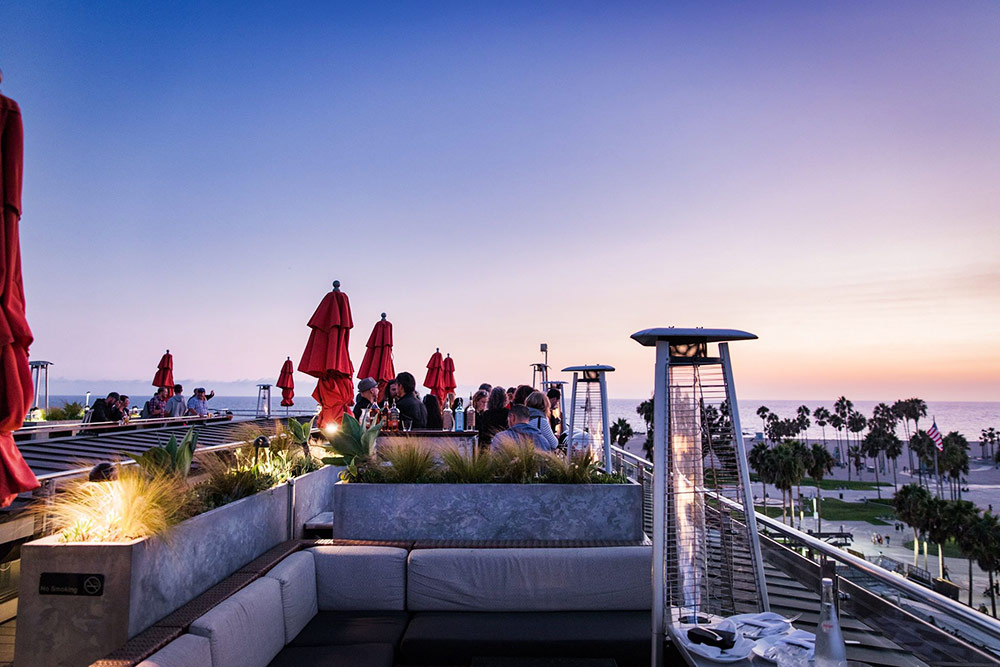 High Rooftop Lounge - Photo: https://hotelerwin.com/
Overlooking Venice Beach and the Pacific Ocean, High is LA's top rooftop lounge in Venice, where large umbrellas and cozy lounge sofas welcome visitors for an upscale delight. When chilly, blankets and heaters will keep you warm.
The roof top bar has a robust of hand-crafted delicious cocktails and a selection of fantastic craft Californian beers for those of you who love a cold drink. If you feel any signs of hunger, you can quickly order a fantastic bar bite or simply stop by the venue for a proper weekend rooftop brunch.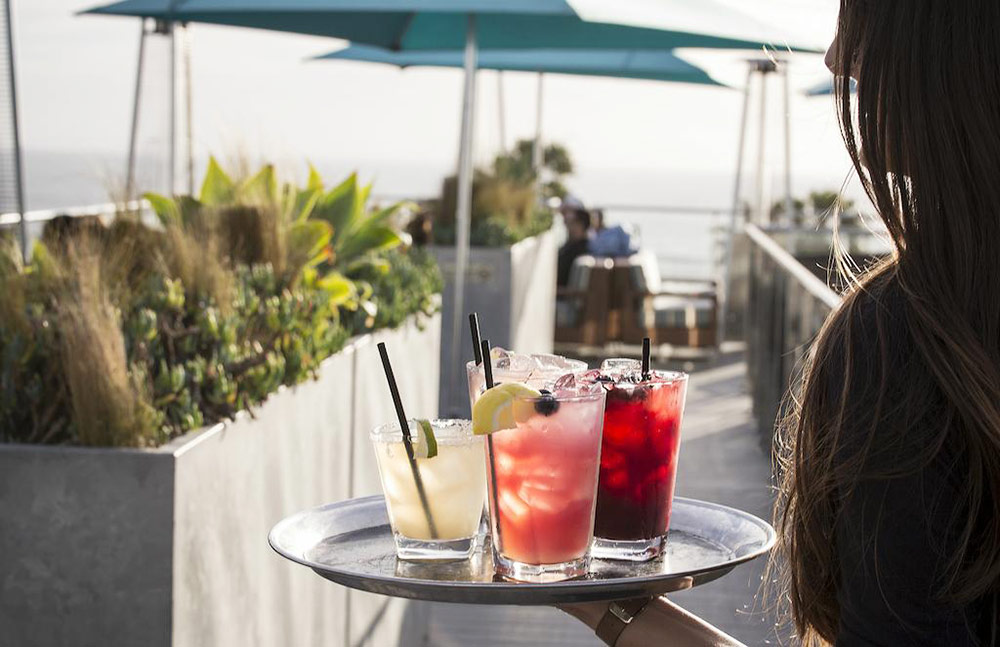 High Rooftop Lounge - Photo: https://hotelerwin.com/
The HIGH, set on top the fantastic Hotel Erwin, is perfect for sunbathing sessions, probably one of the reasons the staff has included sunscreen as part of their menu. Nights at the hotel roof are lively, with a guaranteed party atmosphere by a live DJ set.
HIGH ROOFTOP LOUNGE AT HOTEL ERWIN
1697 Pacific Avenue, Venice, Los Angeles
Mon–Thur: 12pm–11pm / Fri: 12pm–midnight / Sat: 11:30am–midnight / Sun: 11:30am–11pm
2.

The Press Lounge

/ New York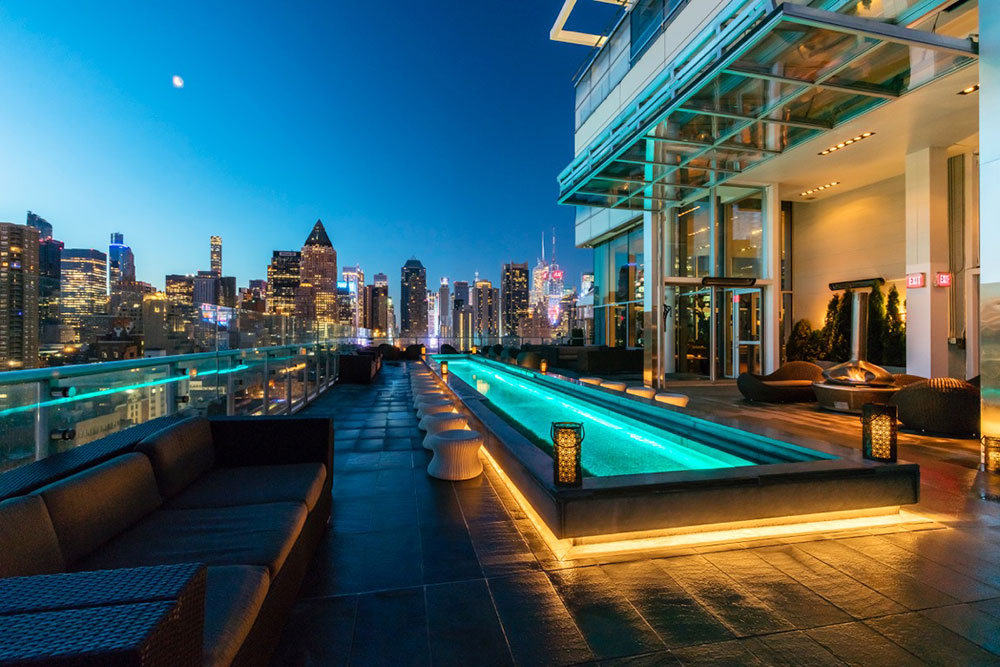 The Press Lounge - Photo: www.thepresslounge.com/
The Big Apple has many secrets, and the Press Lounge is a one to be revealed by those willing to seek for its location. Situated atop the Kimpton Ink48 Hotel, the Press Lounge rooftop bar opens its doors to a world of luxury and style.
With a view overlooking the Hudson River and the bright and picturesque Manhattan skyline, your perfect rooftop evening has a guaranteed happy ending. And it is offered year-round.
The rooftop bar is known for its superb service and top-notch menu. A fine selection of beverages and bar bites guarantees a delightful experience, whilst accommodating as many as 100 guests at once.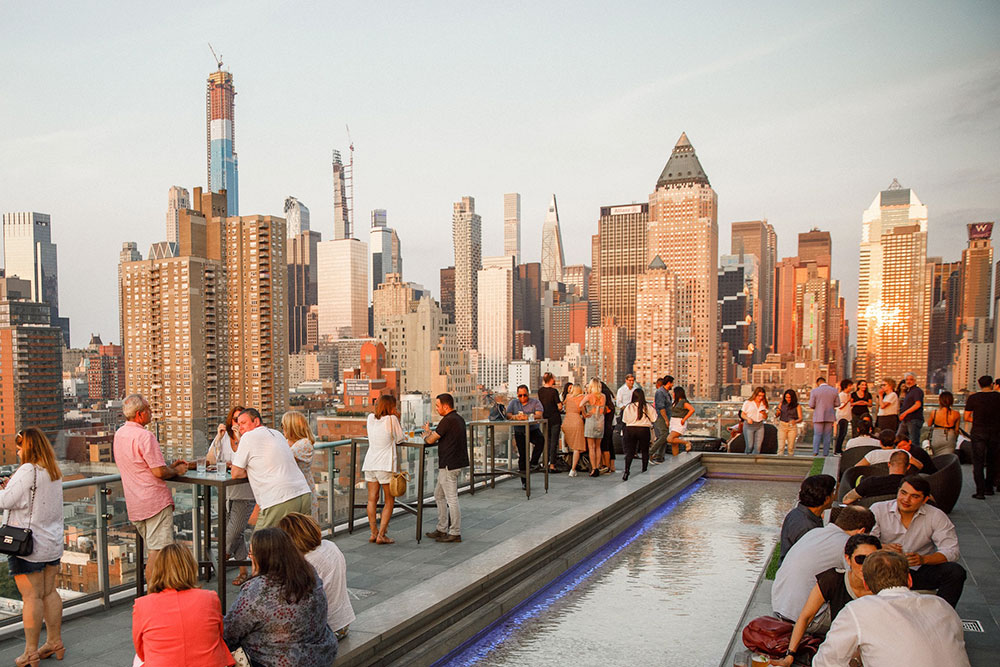 The Press Lounge - Photo: www.thepresslounge.com/
Despite its large rooftop terrace, we recommend arriving early to avoid waiting lines. Dress to impress, as the official dress code is more on the formal side.
THE PRESS LOUNGE
653 11th Avenue, Hell's Kitchen, New York
Mon–Tue: 5pm–1am / Wed-Thur: 5pm–2am / Fri-Sat: 5pm-3am / Sun: 5pm-12am
3.

Area 31 at the Epic Hotel

/ Miami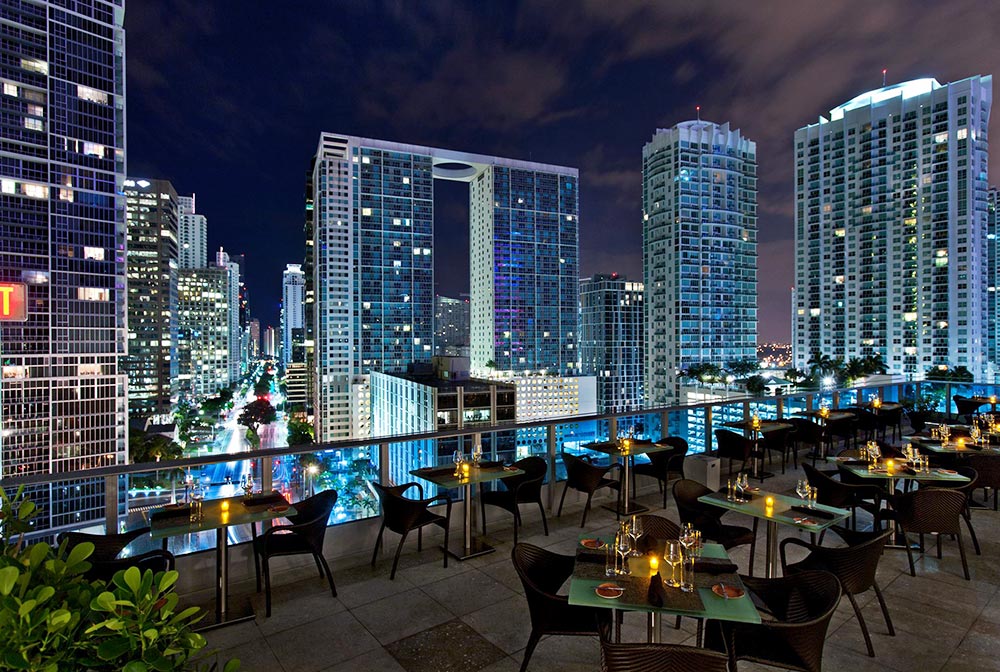 Area 31 at the Epic Hotel - Photo: https://area31restaurant.com/
Miami - Americas favorite party destination. With its warm weather and cheerful crowd, you are yet to have a good time pretty much anywhere you go. Since we write about rooftop bars, a hidden gem in the crown is Area 31 - a rooftop lounge, situated on the top of Kimpton EPIC Hotel.
The hotel itself does correspond with its name, and so does the bar. Perched 16 floors above the ground, the rooftop terrace has a view to remember. Located in the heart of the city, the combination of a rooftop bar and restaurant is being surrounded with Miami's signature skyscraper skyline.
The rooftop restaurant menu has a robust of delicious dishes, handcrafted by Executive Chef Wolfgang Birk. He hand his staff are only picking top-quality local produce, with main focus on seafood and butchery goods.
Area 31 at the Epic Hotel - Photo: https://area31restaurant.com/
Open all-day-round, you can stop by for breakfast, lunch or dinner, enjoying a proper drink for each part of the day. Both the restaurant and the bar's menus have a fine palette of crafted drinks, including bubbly wines and champagne for true beverage aficionados. Both spaces are equipped with comfy and cozy lounge sofas so you can chill-out while enjoying your order.
Area 31 rooftop bar is a fantastic choice to bring a date, or even have a casual business meeting for a drink.
AREA 31 AT THE EPIC HOTEL
270 Biscayne Boulevard Way, Miami
Sun–Thur: 7am–10pm / Fri-Sat: 7am–11pm
Collaboration
4.

LH Rooftop

/ Chicago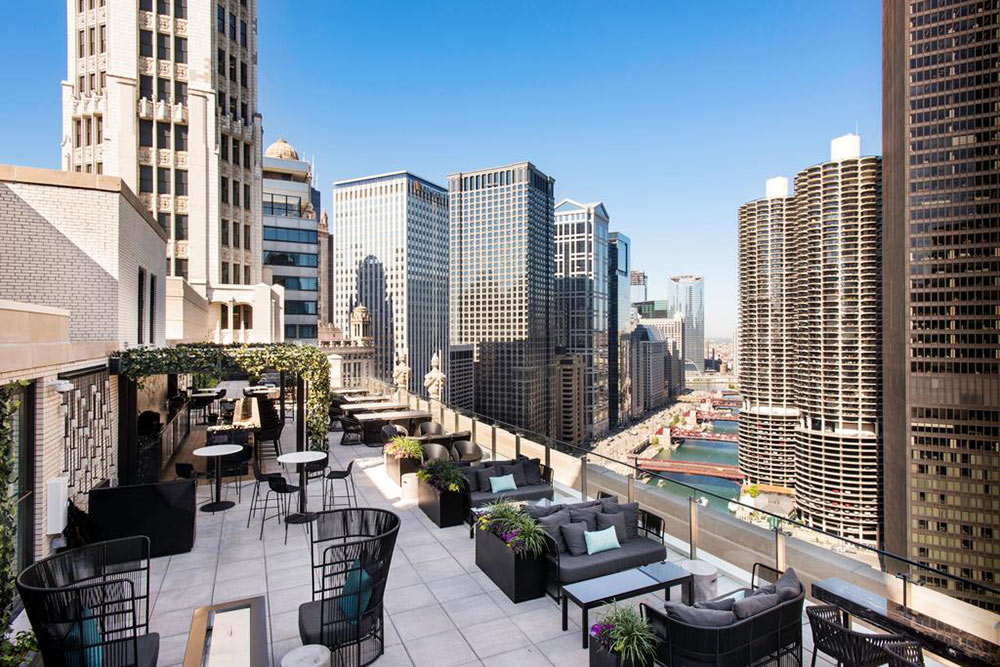 LH Rooftop - Photo: https://londonhousechicago.com/
Hosted on the roof of the five-star Hilton Hotel, LondonHouse is a tri-level rooftop bar overlooking Chicago River and Michigan Avenue. Despite its picturesque vista, the hotel roof bar offers a diversity of environments and a robust of drinks and bites to order, once you are comfortably seated.
The tri-level architecture starts with a cozy indoor lounge, called LH on 21. A floor up is the bar's largest terrace, located on floor 22, thus it explains its name - LH on 22. The 23rd floor is the last of the tri-level setting, called Cupola - a smaller space, left for private bookings and much more intimate and private environment.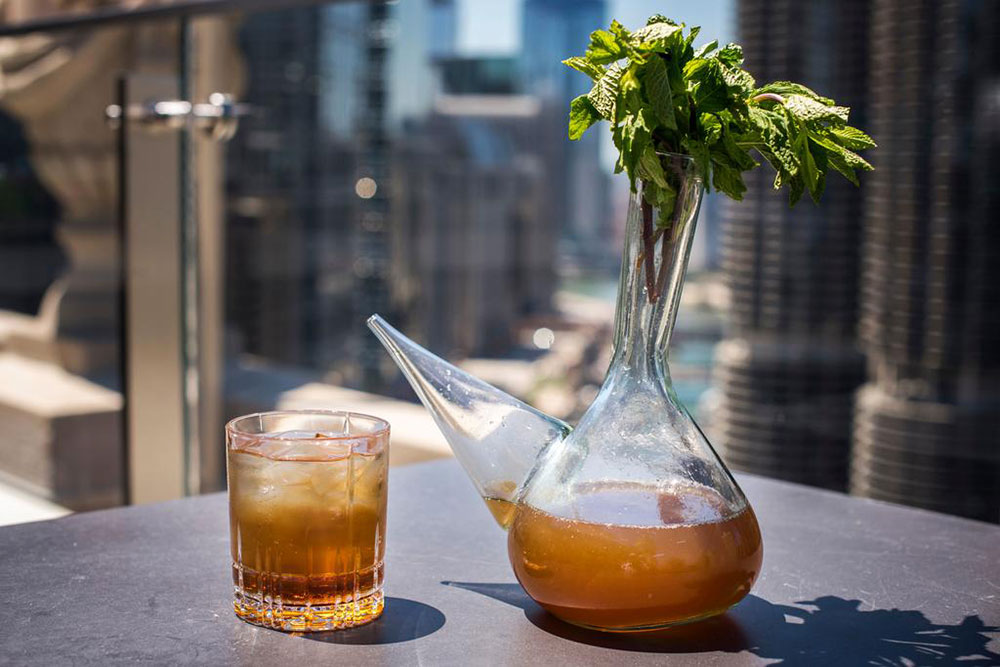 LH Rooftop - Photo: https://londonhousechicago.com/
The rooftop bar has a restaurant part, offering an acute menu of tasty and delicious local food dishes, crafty cocktails and a list of fine wines and sparkling champagnes. The place's interior design is a mixture of luxury, turning it into one of Chicago's trendiest spots to grab a bite or a drink on the weekend.
It is quite packed, so a reservation is highly recommended to skip the waiting lines.
LH ROOFTOP
85 E Upper Wacker Dr, Chicago
Mon–Fri: 11am–midnight / Sat-Sun: 10am–midnight
5.

Gallery Rooftop Lounge

/ Dallas
Gallery Rooftop Lounge - Photo: https://canvashoteldallas.com/
The very heart of Dallas is also home to one of its most hip rooftop places - the Gallery Rooftop Lounge. Located right in the Cedars area, south of downtown Dallas, this 6th floor rooftop terrace suggests a panoramic skyline view and an infinity pool for the hotter summer days.
The rooftop pool is mostly reserved for guests of the hotel, so if you're wondering where to stay while in Dallas, maybe consider booking a room at the excellent Canvas Hotel Dallas. But from time to time there are also vibrant pool parties, available to all.
Available to all is also the Gallery rooftop bar, where the luxurious touches start from the small details in the interior design and finish with the twist your cocktails are being served.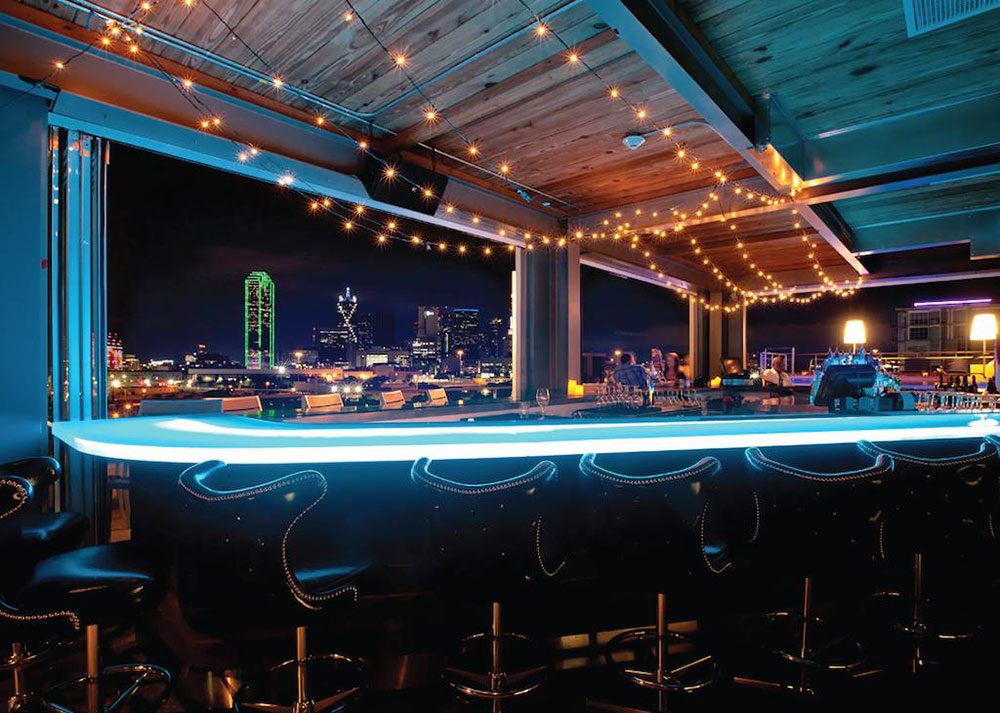 Gallery Rooftop Lounge - Photo: https://canvashoteldallas.com/
Both the outdoor terrace and the inside lounge have an ambient, chilled-out atmosphere, creating the perfect spot for a casual drink or a business date. You can choose from a robust of delicious cocktails, crafty bears, bubbles and some smaller bites to fill your tummy if you ever start feeling hungry while enjoying the view.
Check out the venue for a Sunday rooftop brunch, available now and then. Casual attire is good to go. Once the clock hits 9pm, they prohibit underage visitors.
GALLERY ROOFTOP LOUNGE
1325 South Lamar , Dallas
Mon–Wed: 4pm–11pm / Thu-Fri: 1pm–2am / Sat: 12pm-2am / Sun: 12pm-11pm
6.

Westlight NYC

/ New York
Westlight NYC - Photo: http://westlightnyc.com/
Westlight NYC is one of the Big Apple's true treasures. It comes with a fantastic location - situated atop the 22nd floor of the William Vale in the very heart of Williamsburg.
Visitors are welcomed to a chilled atmospheric environment and a sweeping view of the Manhattan skyline. Ran by Chef Andrew Carmellini's NoHo Hospitality Group company, the rooftop offers a dynamic menu with both original and classic cocktails, a fine list of wines and some exclusive beers to treat yourself with. Served with small bar bites, to accompany the drinks in style.
Weekends are busy, so unless you have a reservation, be prepared to wait a little for your seat. Perfect spot for an after-work delight and early evening cocktails.
WESTLIGHT NYC
111 N 12th St, Brooklyn, NY
Mon–Thur: 4pm–midnight / Fri: 4pm–2am / Sat: 2pm-2am / Sun: 2pm-midnight
7.

RoofTop at Exchange Place

/ New Jersey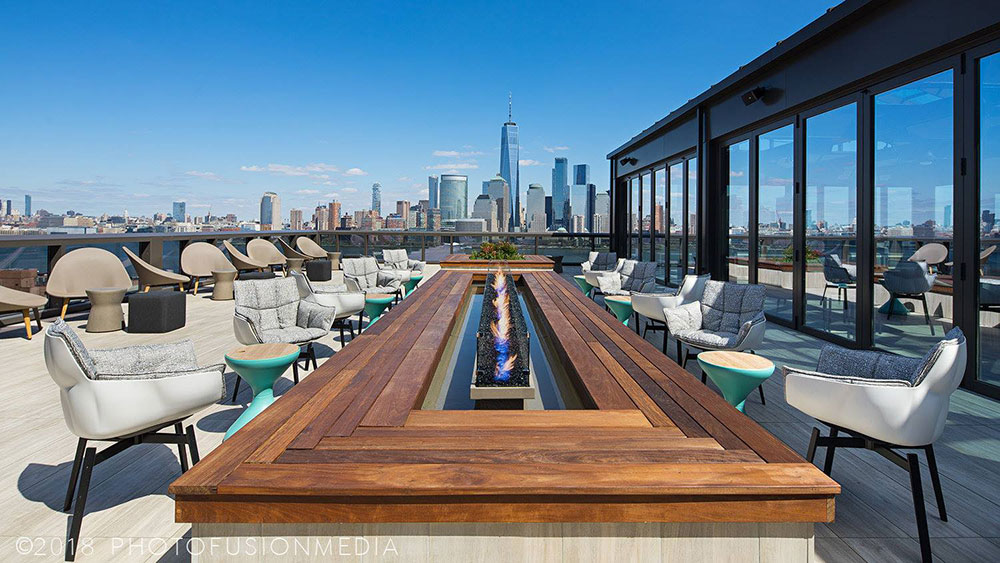 RoofTop at Exchange Place - Photo: https://rooftopxp.com/
Situated uphill the 13th floor of the Hyatt House Jersey City, the swanky RoofTop at Exchange Place welcomes hip crowd and cocktail aficionados for a drink extravaganza.
Created with a multi-level indoor and outdoor spaces, the design suggests a lot of air and space, creating a sense of intimacy and luxury. Its retractable glass roof and walls make up for the colder months, when you can enjoy your favorite drink under the Jersey night sky.
It is a year-round destination for lunch, dinner, happy hour and some drinks with a live DJ sets.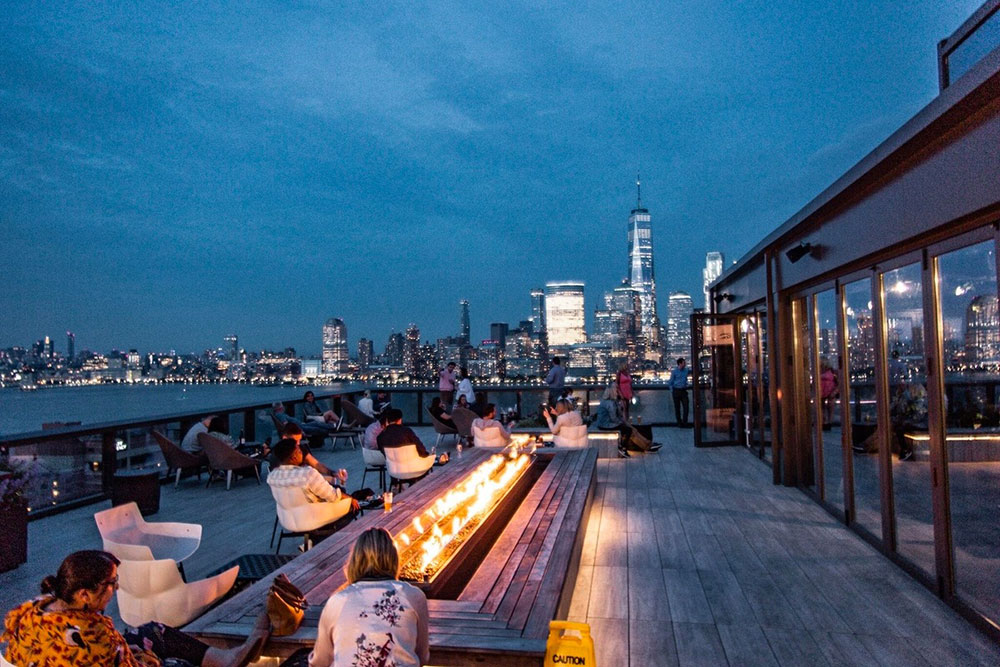 RoofTop at Exchange Place - Photo: https://rooftopxp.com/
The Terrace a floor below is an indoor cocktail lounge with a chic ambience and self-playing piano to entertain its guests. With a trendy furniture finish and a large fire pit on the outdoor deck, you can get that Jersey spirit right away.
At the RoofTop you can enjoy a fare of sliders, wines, local craft beer and a selection of cocktails - both ice cold and hot ones, served with a twist.
ROOFTOP AT EXCHANGE PLACE
1 Exchange Pl, Jersey City, NJ
Mon–Wed: 3pm–midnight / Thurs: 3pm–1am / Fri-Sat: 12pm-1am / Sun: 12pm-midnight
Collaboration
8.

The Nolen Rooftop Bar

/ San Diego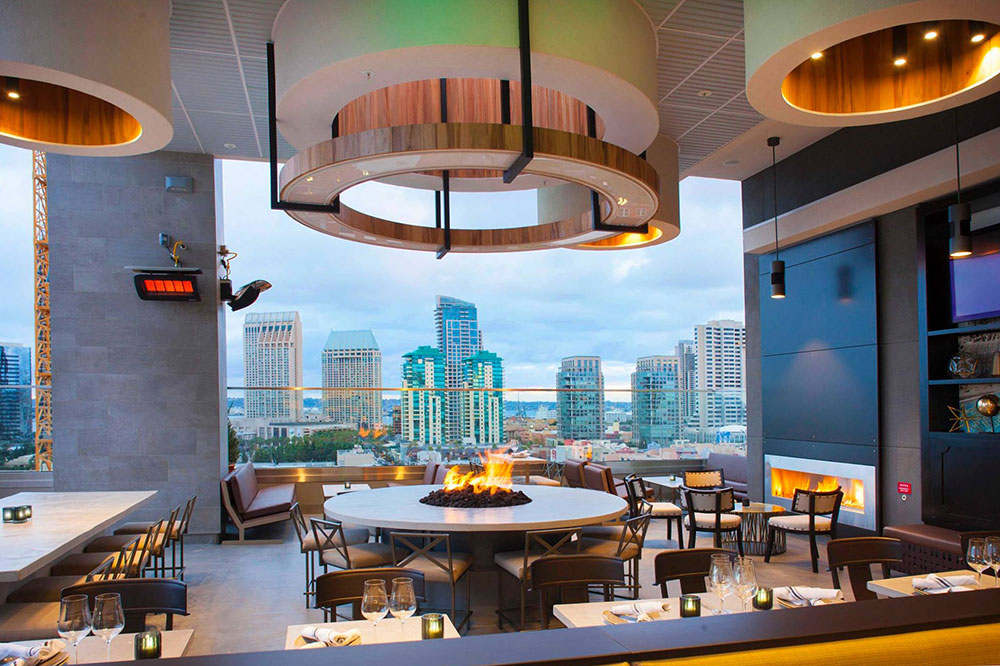 The Nolen Rooftop Bar - Photo: http://thenolenrooftop.com/
Overlooking Coronado Bridge to Point Loma, the Nolen rooftop bar is all you are looking for in San Diego. Its terrace gives a bird's-eye view of the San Diego skyline, rising 14 floors above the Gaslamp Quarter of the city's downtown.
The bar has mastered the craft of signature cocktails, providing a range of flavors, aromas and a stylish presentation to each. You can enjoy an evergreen classic, or be brave and chose one of the Nolen Originals, all made with the finer spirits you can get on the market. The rooftop bar also offers a list of bite specials, if you get hungry.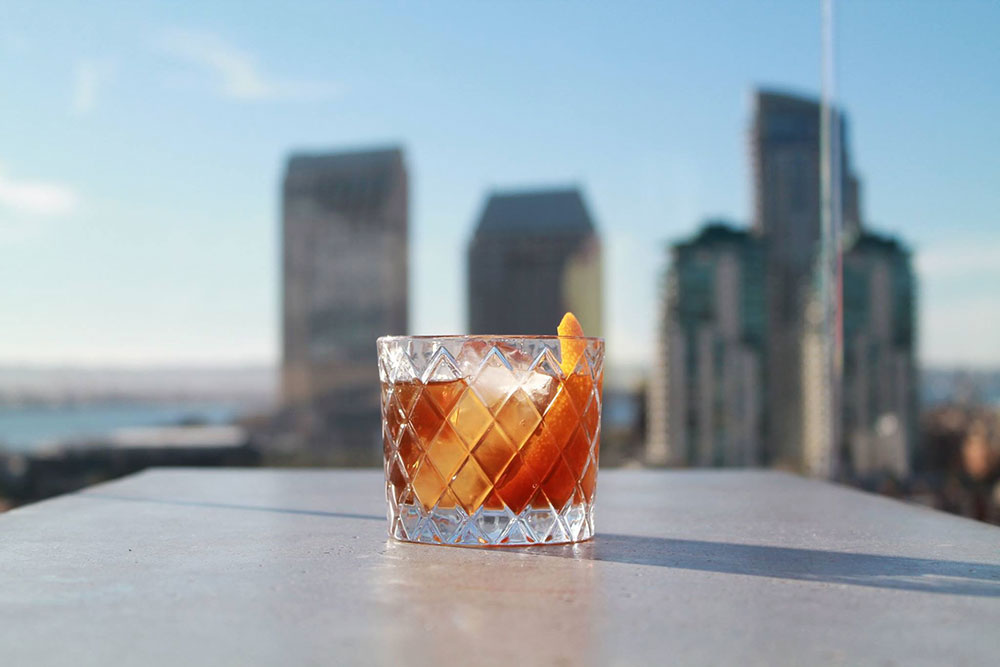 The Nolen Rooftop Bar - Photo: http://thenolenrooftop.com/
The open-air terrace offers both a comfy dining seating and a chilled-out lounge area, large and cozy fire pits and an extravagant outdoor bar.
Visit between 4 and 6pm for a happy hour and a sunset delight. Each Sunday, Nolen's chef serves a fantastic rooftop brunch, high above the San Diego madness. Dress smart-casual and be sure to leave your favorite (old) sneakers at home.
THE NOLEN ROOFTOP
453 Sixth Ave, San Diego
Mon–Thu: 4pm–midnight / Fri-Sat: 4pm-1am / Sun: 11am-2pm & 4pm-midnight
9.

Terrace 16

/ Chicago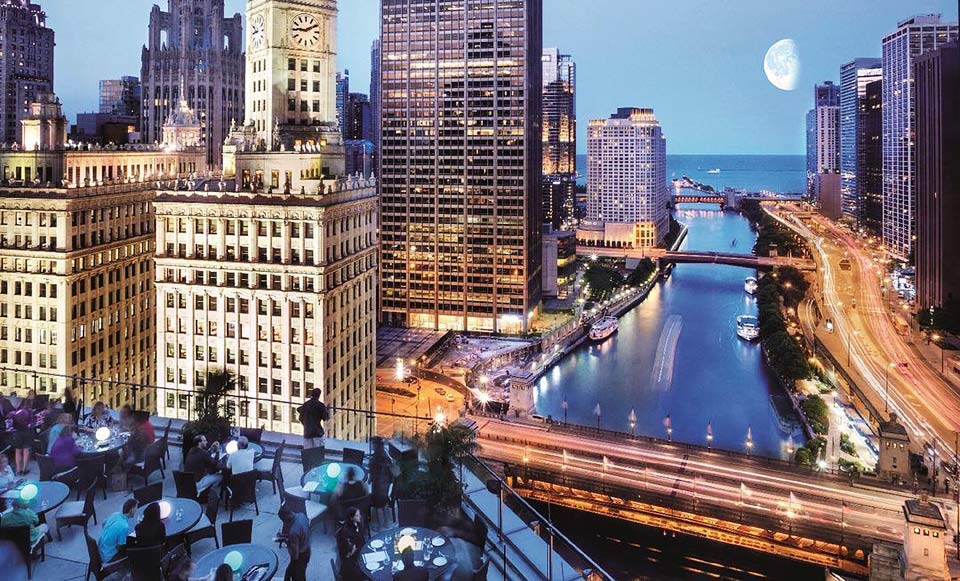 Terrace 16 - Photo: www.trumphotels.com/
New American flavors and craft cocktails meets amazing views over the most famous Chicago landmarks. That is Terrace 16 for you.
Located on the 16th floor of the fantastic Trump International Hotel & Tower Chicago, this lively rooftop bar and restaurant offers seating both in the bustling indoor bar and dining room, and when the weather allows, out on the spacious and idyllic rooftop terrace.
From the terrace you get panoramic views over many things that is the essence of Chicago, including Chicago River, Wrigley Clock Tower and Lake Michigan.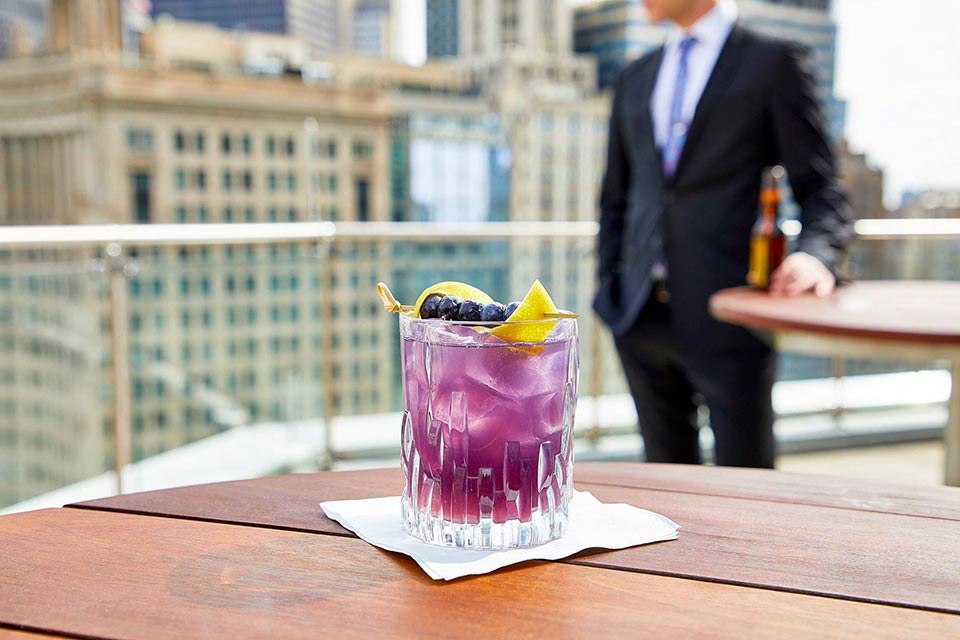 Terrace 16 - Photo: www.trumphotels.com/
The rooftop patio is open from 11am-11pm during the outdoor season, but the indoor bar and restaurant serves an ever-changing menu of new American cuisine form early morning to late night, year round.
Visit for breakfast, brunch, lunch or dinner, or just for some bar bites and something from the extensive craft cocktail menu or the thoughtful wine list.
Classy setting with top notch service, Terrace 16 is the venue to visit if you want to feel on top of Chicago for a while.
TERRACE 16
401 North Wabash Avenue, Chicago
Daily: 06.30am-11pm
10.

Azul at The Westin Austin Downtown

/ Austin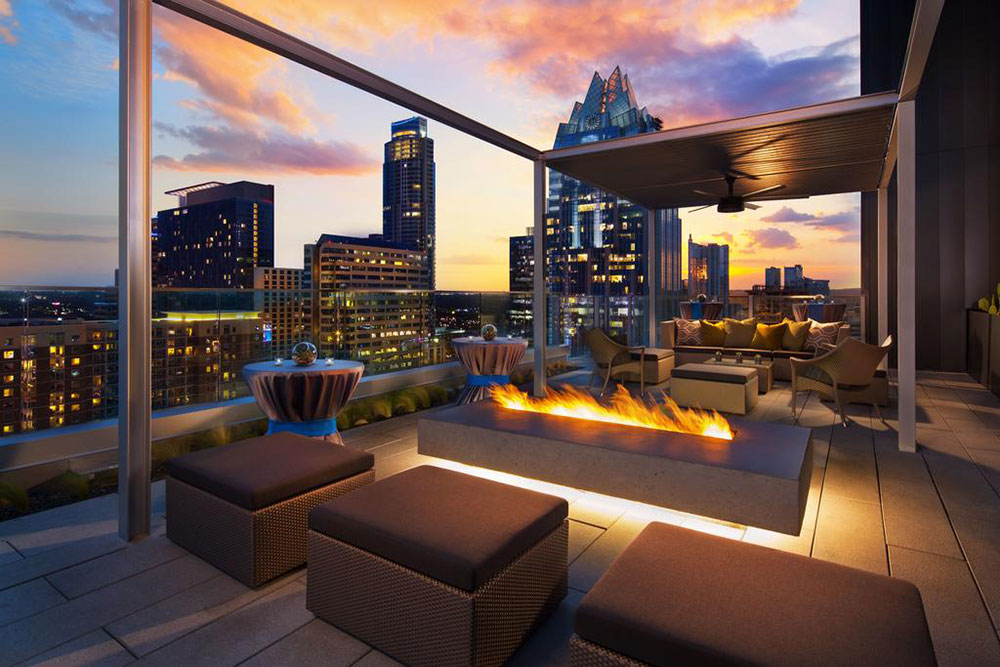 Azul - Photo: https://www.marriott.com/
Azul has its home atop the Westin Austin Downtown hotel. With an exquisite view, the rooftop bar has a top-notch location and the whole city underneath for a cocktail of dazzling views.
The rooftop terrace has a modern and sleek design, creating an atmosphere of luxury and chilled-out vibes. Visitors can relax by the heated rooftop pool with one of the bar's signature drinks, or lounge in the private cabana.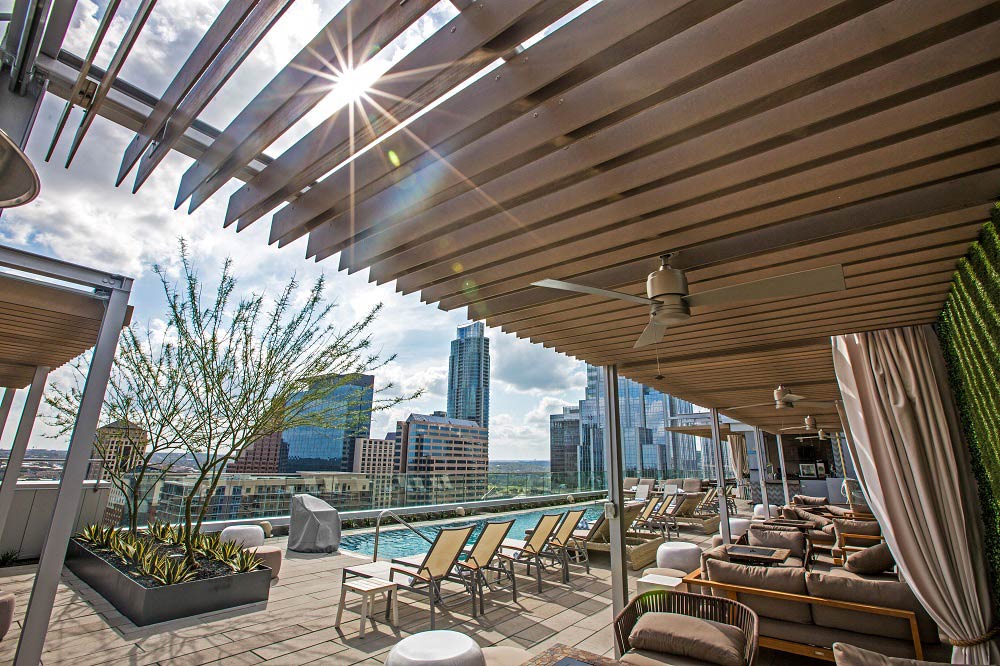 Azul - Photo: https://www.marriott.com/
Notice that the bar itself is open for everybody, whilst the rooftop pool only welcomes guests of the hotel. Smart-casual attire applies.
Make sure you reserve your spot prior your arrival. It is one of Austin's top-rated rooftop bars and gets packed fast, especially on the weekends.
AZUL
310 E 5th St, Austin
Sun–Thu: 5pm–9pm / Fri-Sat: 5pm-11pm