South America have some amazing rooftop bars available. Most of them located at luxurious hotels in the bigger cities.
Apart from great vibes, many of the rooftops in South America are also equipped with luxurious rooftop swimming pools. So to get the most out of your rooftop visit, it's advisable to book a stay at one of these hotels, as you then can use the rooftop pools.
Here's our list of the 10 best rooftop bars in South America.
1.

Mirador Gastro Bar

/ Cartagena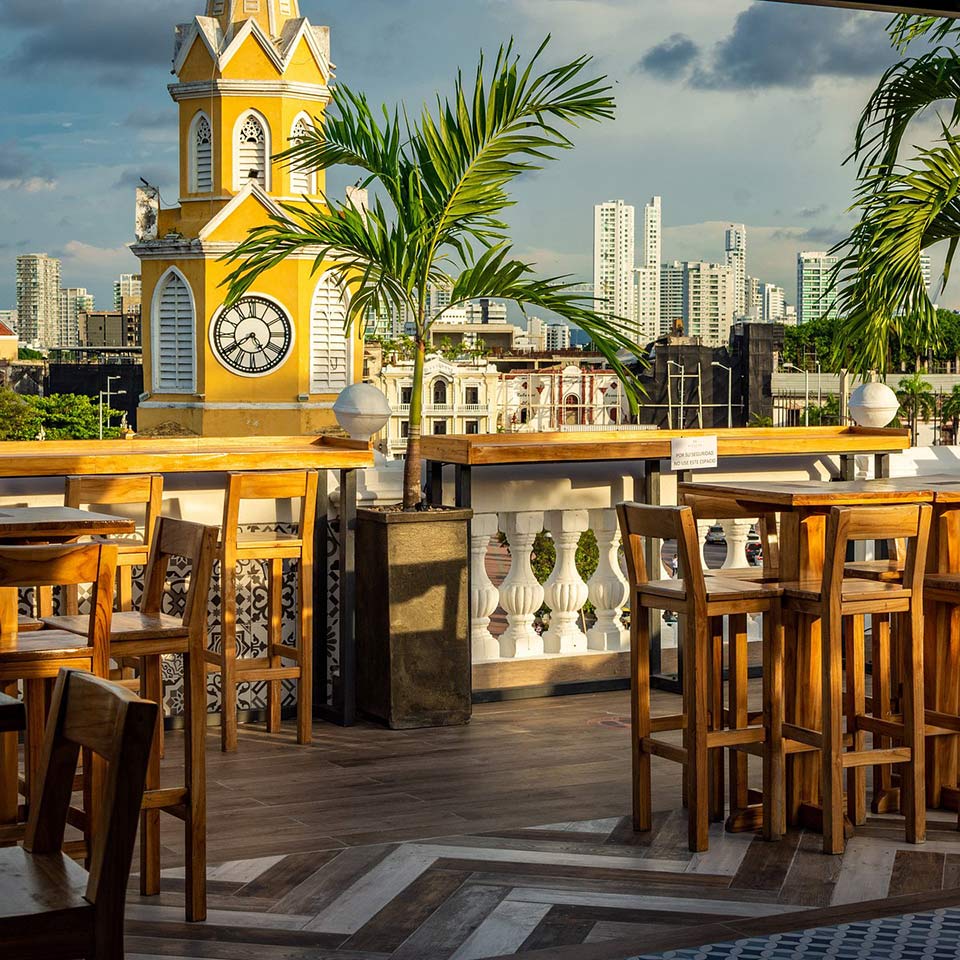 Mirador Gastro Bar - Photo: www.miradorgastrobar.com/
Found in the heart of the lively and colourful Historic Center of Cartagena, Mirador Gastro Bar is the place to go if you want to experience it all from above.
Set over several levels, this modern venue mixes indoor and outdoor dining room and bar, but the prime spot for alfresco vibes is the lovely Mirador Rooftop.
Blessed with fantastic 360° views over Cartagena, including close-ups of the majestic clock tower, the terrace comes with a natural and lush setting, blending perfectly with the surroundings.
Floating above Cartagena de Indias, here you can enjoy amazing sunsets combined with crafted and refreshing cocktails and mocktails, plenty of wine, sangria and beers, as well as live music and DJs.
Or try some of the gastro bar dishes, ranging from seafood and meat to pasta and burgers, perfect for a casual dinner or even a sunny brunch.
Open throughout the day and night, Mirador Gastro Bar is always filled with a fun, friendly and vibrant lounge atmosphere.
MARADOR GASTRO BAR
Cra. 7, Cartagena de Indias, Provincia de Cartagena, Bolívar, Colombia
2.

Yoo2 Rio de Janeiro

/ Rio de Janeiro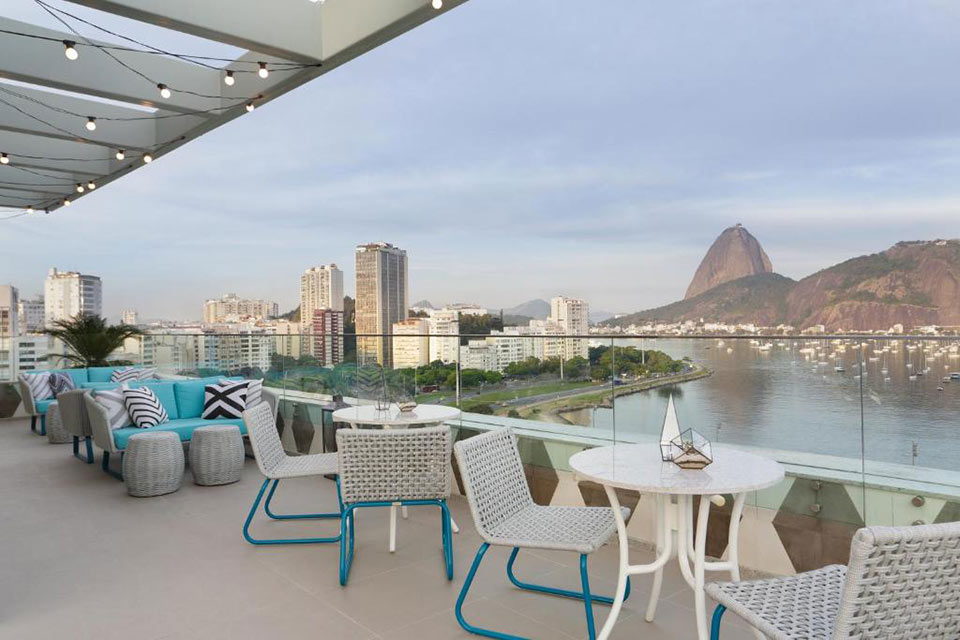 Yoo2 Rio de Janeiro - Photo: www.yoo2.com
A trendy and chic choice for those looking for something a bit more casual, Yoo2 offers a laid-back yet classy atmosphere that makes it popular amongst the younger crowd.
Facing the Botafogo Beach, and giving visitors first-row seats to the ocean waves, the Sugar Loaf Mountain, some of the world's best sunsets and Río's most famous statue.
With a modern and chic interior, large and comfortable lounge areas, trendy high-stools, and a well-stocked and beautiful bar, Yoo2 is always ready to welcome all kinds of visitors.
Though this bar focuses mainly on specialty cocktails, it also offers an extensive collection of beers, wines, sake, vodkas, and other world spirits.
Though small, Yoo2 also comes with a small rooftop pool from which you can enjoy both the views and the drinks, though this one is exclusive to hotel guests.
YOO2 RIO DE JANEIRO
Praia de Botafogo, 242 - Botafogo, Rio de Janeiro - RJ, 22250-040, Brazil
3.

Envy Rooftop

/ Medellin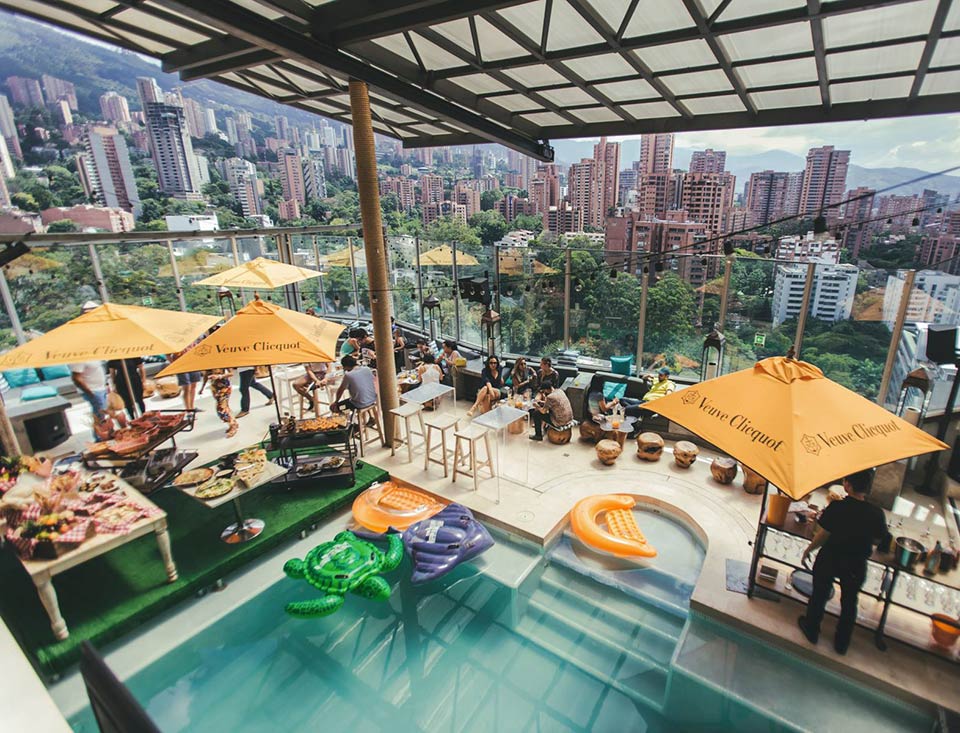 Envy Rooftop - Photo: www.thecharlee.com
A trendy and luxurious rooftop bar that continues to grow in popularity, Envy is one of the best rooftop destinations in Medellín, and with good reason.
Offering stunning city views, a central location that makes it easy to explore, and elegant and modern decorations, Envy is truly a gem, not only in Colombia but in the entirety of South America.
Thanks to its open terrace plan and its fantastic aquarium-style swimming pool, Envy is not only one of the best places to enjoy a sunset, but also one of the best rooftops to take a dip.
The bar offers traditional drinks and signature cocktails, the latter of which tend to veer into tropical territory; there are also champagne, wines, and fine spirits, as well as beers from all over the world.
Food-wise, expect sushi, made with fresh ingredients. Envy is also known for its variety of events and live-music shows: Thursdays through Sundays are DJ nights, Wednesdays are dedicated to Salsa, and brunches are celebrated every last Sunday of each month.
With a trendy ambiance, a great location and a community spirit, Envy is a must-see location whenever you're visiting Medellín.
ENVY ROOFTOP
Cl. 9a ##37-16, Medellín, Antioquia, Colombia
4.

Alvear Roof Bar

/ Buenos Aires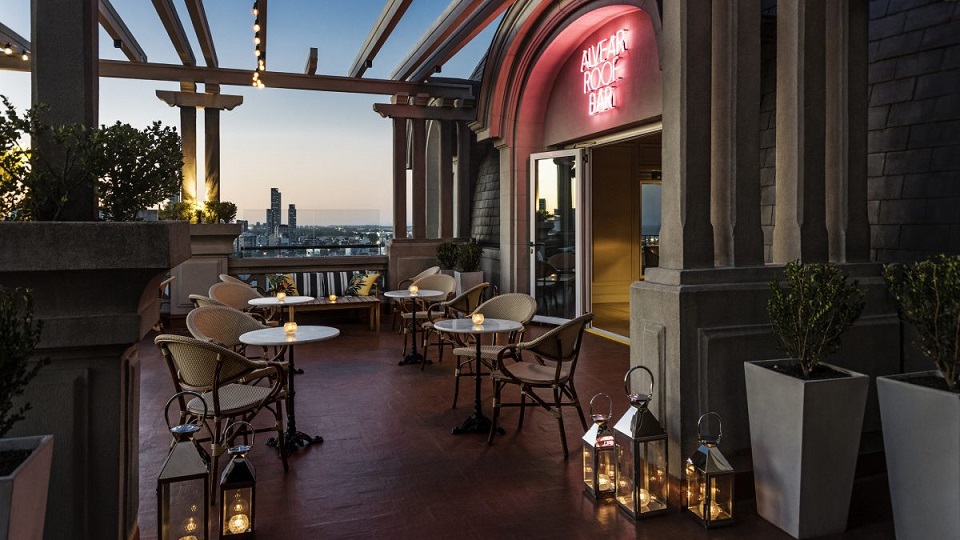 Alvear Roof Bar - Photo: www.alvearpalace.com
A chic and luxurious option for those looking to enjoy a drink in style, Alvear Roof Bar offers not only delicious drinks but also fantastic panoramic views of the city.
Perched on an 11th floor and overlooking the Recolega neighborhood, this open-air terrace offers a relaxed and fun vibe that's popular amongst locals and visitors alike.
Decorated in a classic style that vaguely reminds you of a French bistro, and employing some of the best mixology artists Argentina has to offer, Alvear Roof Bar is something of a cocktail lounge with a modern twist; A characteristic that reflects both in the atmosphere and the decoration.
Providing guests with both outdoor and indoor seating options, Alvear is open year-round, and the relaxing chill house music, top-notch service, and upscale clientele make it one of the best spots in the city to enjoy good drinks and a sense of privacy.
Be prepared to spend and dress to impress, as Alvear is not a cheap destination.
ALVEAR ROOF BAR
Av. Alvear 1891, C1129AAA Buenos Aires, BA, Argentina
5.

Cité Rooftop

/ Florianópolis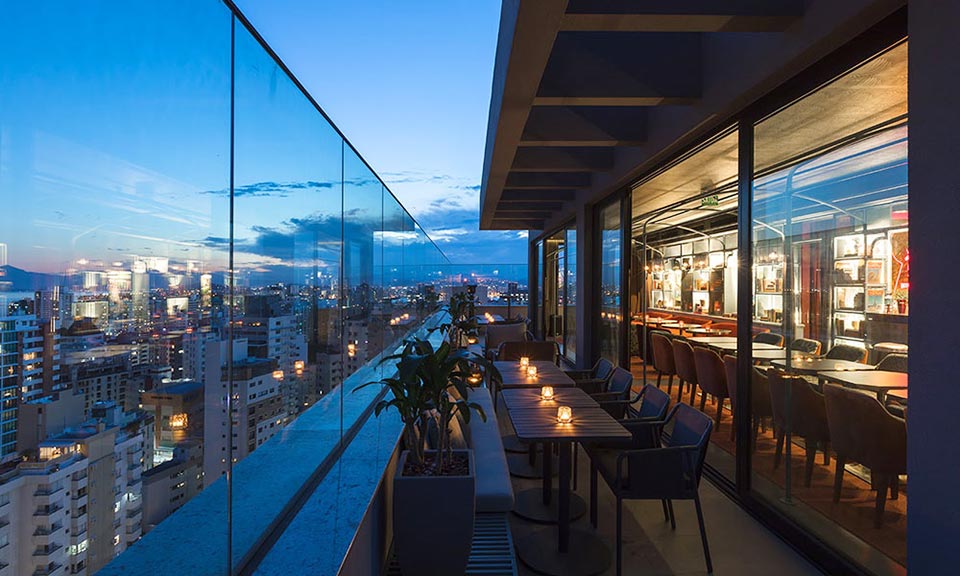 Cité Rooftop - Photo: www.citerooftop.com.br/
Florianópolis (or Floripa as the locals call it) is one of the hidden gems in Brazil, offering everything from hiking to a large selection of beautiful beaches. And also, a vibrant nightlife, which is of course best enjoyed above it all.
The prime spot to mix amazing views over the city and ocean with fine food and drinks, is Cité Rooftop. Perched on top of the Cidade Milano complex in the center of the city, this sophisticated and elegant urban oasis comes with both a stylish indoor lounge and an outdoor rooftop terrace.
Up here you can indulge in creative and crafted signature cocktails, as well as classics with a special touch, and a nice array of wine and spirits. Usually served with a side of live music performances.
But not only a venue for drinks, as Cité also works as a rooftop restaurant, with fresh and tasty food served as both 'entradinhas', like the Steak Tartar or Burrata, and more filling 'principais', like File Mignon and Lamb Rack.
Elegant, relaxing and cosy at the same time, Cité Rooftop is a fantastic spot to enjoy friendly service, views, drinks and bites with friends or a loved one on any given night.
CITE ROOFTOP
R. Ângelo La Porta, 53 - Centro, Florianópolis - SC, 88020-600, Brazil
6.

Red2One at W Santiago

/ Santiago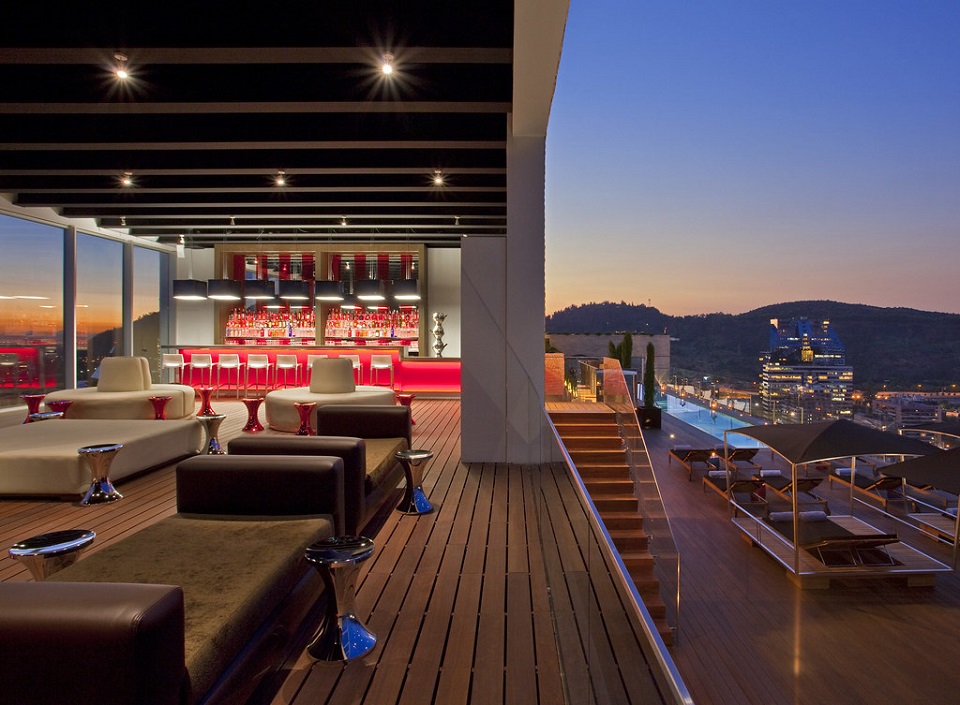 Red2One at W Santiago - Photo: www.gerberbars.com
Perched on Santiago's W Hotel, this elegant and modern rooftop bar offers stunning panoramic views of the Andes and the city's skyline.
This modern bar is furnished with a well-equipped bar, sleek leather couches, and a fantastic rooftop pool.
Exclusive to guests from dusk till dawn, here you'll be able to relax and admire the view while enjoying expertly crafted signature cocktails, small but delicious bar bites, and chill-out music.
Once the sun sets, though, the bar opens to the public, and the atmosphere kicks up a notch, with live DJ shows and plenty of dancing.
Red2One is split into multiple levels, so privacy is a possibility, even though this bar is one of the most popular in Río.
RED2ONE W SANTIAGO
Isidora Goyenechea 3000, Las Condes, Santiago, Chile
7.

Skye Bar

/ Sao Paulo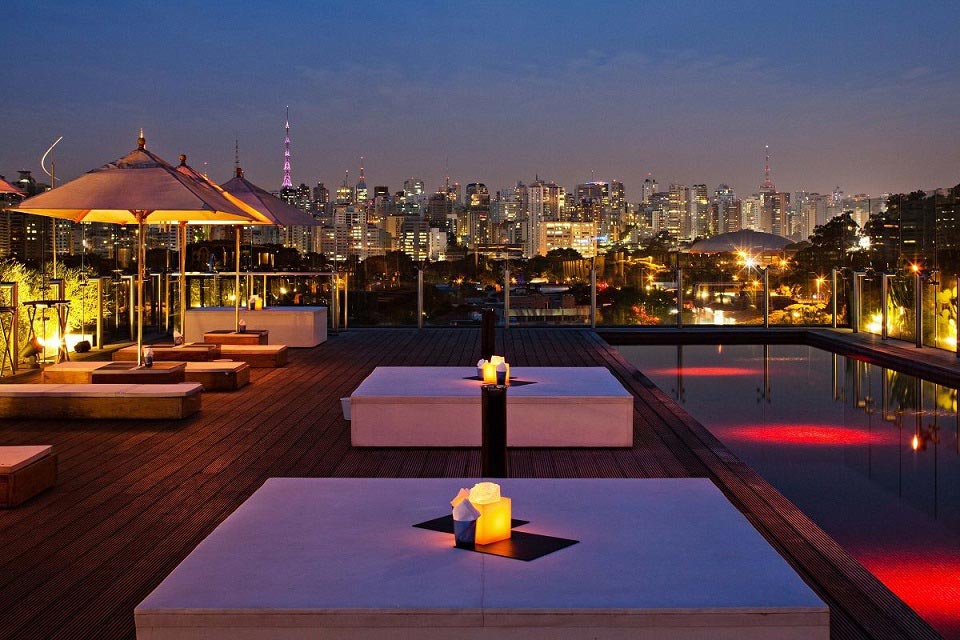 Skye Bar - Photo: www.hotelunique.com
Often considered one of the best rooftop bars in the world by visitors and experts alike, the Skye Bar aims to make any visit an experience of a lifetime by offering stunning views, mouthwatering drinks, and top-notch service.
The wooden-deck terrace is spacious and elegantly furnished by comfortable lounge areas, recliners, and the more traditional stools. It is also home to one of the world's coolest rooftop pools, a deep crimson red marvel that comes with an underwater sound system to ensure you don't miss out on anything.
While the bar is open to the public, its famous pool is available only to hotel guests, so keep that in mind if you want to swim in it.
The bar offers all kinds of delicious cocktails, as well as wine, champagne, beer, and other types of spirits. It also offers traditional Brazilian food with a modern twist and sushi, made fresh with local ingredients.
Live DJ shows and an upscale clientele make this one of the most expensive, yet memorable, destinations to visit while in Sao Paolo, and a fantastic reason to book a room at the Hotel Unique.
SKYE BAR
Hotel Unique - Av. Brigadeiro Luís Antônio, 4700 - Jardim Paulista, São Paulo - SP, 01402-002, Brazil
8.

B.O.G. Hotel

/ Bogota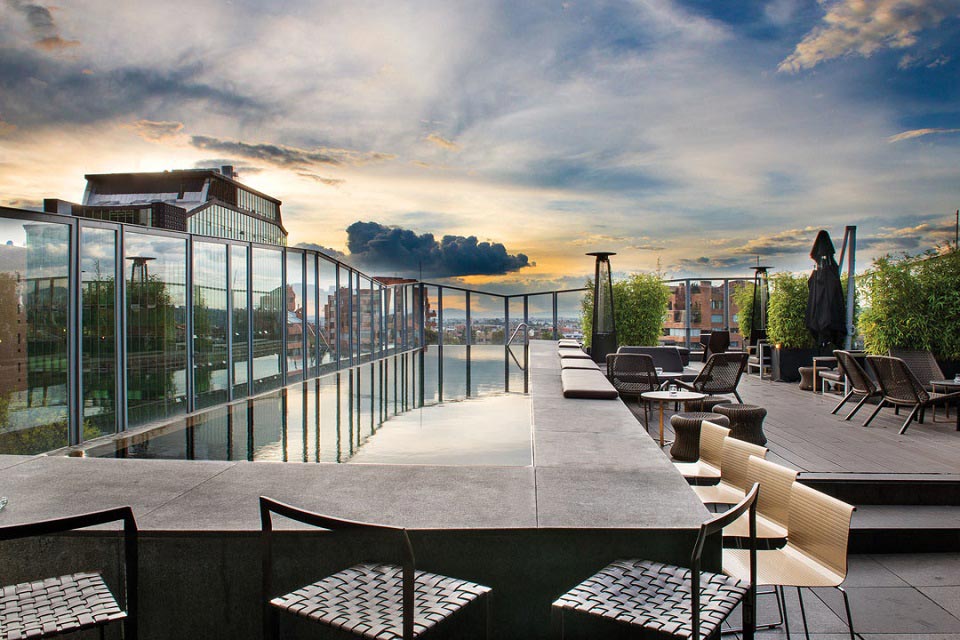 B.O.G. Hotel - Photo: www.boghotel.com
Crowning the top of one of Bogota's most luxurious hotel, the B.O.G. is not only one of the city's best bars, but it's almost one of the most upscale.
With a truly amazing view that lets you admire the city skyline and the surrounding mountains, modern furniture and decor, and a relaxed yet exclusive atmosphere, it's no wonder the B.O.G. has earned such a well-deserved reputation.
Comfy sun loungers, large and plush sofas, inviting chairs, and a small rooftop pool make this a great destination during the summer, and the bar's clear wall and roof make it a great place to be during the winter months.
While this rooftop bar is exclusive to guests of the B.O.G. Hotel, every once in a while it opens to the public, so if you're visiting Bogota, make sure to drop by for a few drinks.
B.O.G HOTEL
Cra. 11 #86-74, Bogotá, Cundinamarca, Colombia
9.

Sky Bar at Hotel Pulitzer

/ Buenos Aires
Sky Bar at Hotel Pulitzer - Photo: www.hotelpulitzer.com.ar
Located on top of the Hotel Pulitzer, a chich ad lovely boutique hotel located in the heart of Buenos Aires, Sky Bar is a great choice for those looking for great views and a comfortable atmosphere.
This open-air, wooden terrace gives guests unparalleled views of Plaza San Martín and Buenos Aires' skyline, as well as one of the city's best spots to admire the sunset.
With comfortable lounge furniture, chill-out and Bossanova music, fantastically mixed cocktails, tasty bar bites, and a laid-back atmosphere, the Sky Bar has quickly transformed into one of Buenos Aires' favorite spots for workers to indulge in after a busy day at the office.
Both the food and the drinks are seasonal, so visiting this bar throughout the year is encouraged. Arriving early is also a good idea, as the Sky Bar is quite popular with the locals, and the best seats of the house fill quickly.
SKY BAR AT HOTEL PULITZER
C/ Maipú, 907 Esquina Paraguay C1006 ACM Buenos Aires, Argentina
10.

Los Patios Hostal Boutique

/ Medellin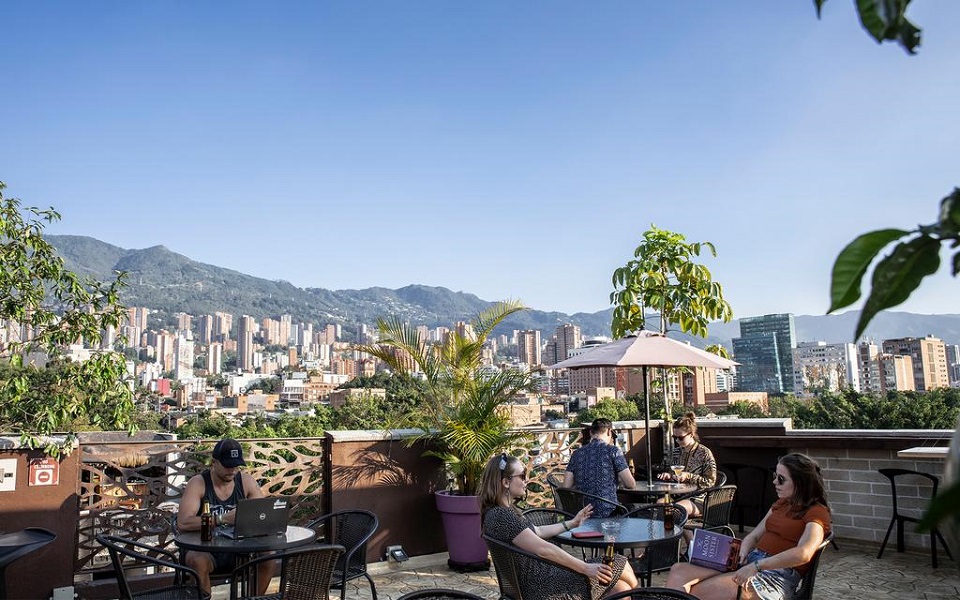 Los Patios Hostal Boutique - Photo: www.lospatioshb.com
This beautiful boutique hotel promotes itself as "more than just a place to sleep," and nothing advertises that fact as the fact that this hotel has not one, but two rooftop bars ready to entertain.
Ziruma Tik Bar is, as you've probably guessed, a Tiki bar, and it embraces the style entirely; El Bar offers a more modern setting, with an inspired cosmopolitan atmosphere that stands out in its straightforwardness.
Both bars offer stunning views of the city, comfortable seating, friendly and expert service, and unpretentious atmospheres that welcome everyone for a night of fun.
Popular amongst tourists and locals alike, the rooftop bars also serve as coworking areas, sports bars, and relaxation spots, thanks to the spacious tables, speedy internet connection, hammocks, and comfortable atmosphere.
The bar service proper starts at 4:30, and while both bars have excellent drinks, they do tend to focus on different themes.
Ziruma specializes in exotic fruit cocktails, as all Tiki bars ought to do, while El Bar sticks to classic drinks and more international offerings, but both offer undeniable quality.
While service, atmosphere, and drinks are all fantastic, perhaps the best thing Los Patios can offer guests is the gift of choice.
Start your evening at Ziruma, then hop to El Bar for a completely different experience, or explore them during different days: The choice is yours, and the experiences are always great.
LOS PATIOS HOSTAL BOUTIQUE
Cra. 43e #11 - 40, Medellín, Antioquia, Colombia
Daily: 16:30 - 23:30