California is one of the most beautiful and well visited areas in the world. And why not visit some of the best rooftop bars in California while here.
The selection of California rooftops is truly amazing. That's why we've made a list of the 10 best ones, so you don't have to do the work. From San Diego to San Francisco, and many destinations in between.
The warm all year-round climate contributes to a perfect rooftop climate. Mostly in the south parts of the Golden State.
Enjoy the 10 best rooftops bars in California below
1.

High Rooftop Lounge at Hotel Erwin

/ Los Angeles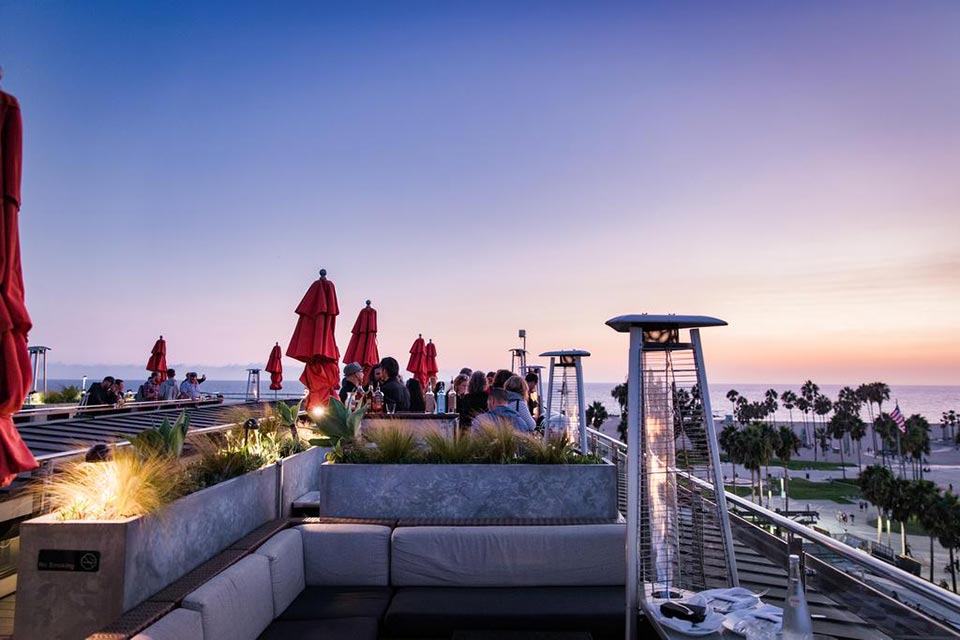 High Rooftop Lounge - Photo: http://hotelerwin.com
Hotel Erwin's rooftop terrace offers jaw-dropping views of Venice Beach and the Pacific Ocean.
Equipped with numerous lounge sofas and large umbrellas to protect guests from the sun, the mood in this bar resembles that of the beach it overlooks, except it also offers infrared heaters just in case the night gets chilly.
High, as the bar is named, has an extensive selection of Californian beers and wines, as well as a creative menu of signature drinks.
There are also small but delicious bar bites and a weekend brunch that's one of the best in Venice.
While this bar has a very casual and relaxing atmosphere during the day, it picks up at night with the presence of live DJs and partygoers.
This large rooftop bar has space for plenty, but if you'd like to ensure the availability of the lounge sofas, you'll want to make a reservation in advance.
HIGH ROOFTOP LOUNGE
1697 Pacific Avenue, Los Angeles, CA
2.

Shelby's Rooftop

/ San Francisco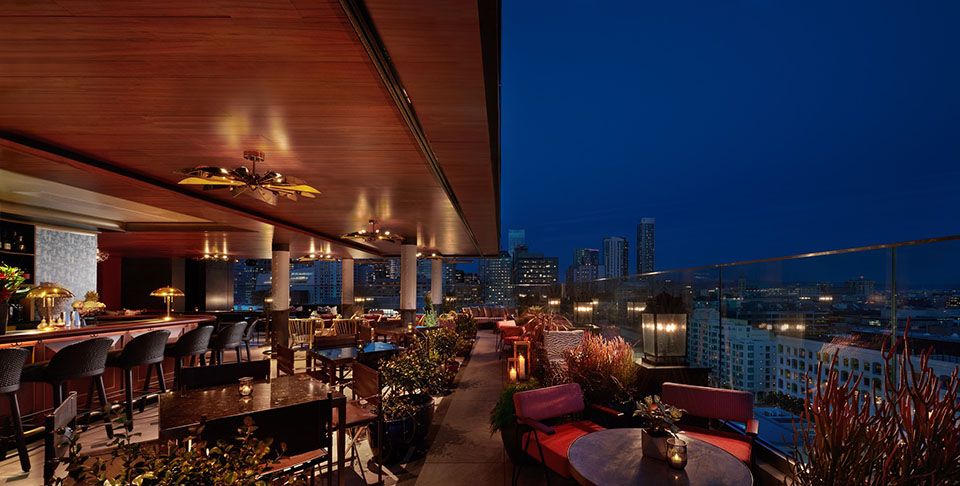 Shelby's Rooftop - Photo: www.hilton.com/
From after work drinks to weekend vibes, Shelby's Rooftop offers an elevated and stylish San Francisco rooftop experience hard to beat.
Perched on the 12th floor of the Canopy by Hilton San Francisco in the heart of SoMa, pretty much every seat at the rooftop comes with amazing views over the city skyline.
Mixing trendy dining tables with comfy lounge sofas, Shelby's Rooftop also blends interior and al fresco seating, so you can visit for rooftop fun all year round.
The rooftop menu features a crafted selection of Shelby's signature cocktails and timeless classics, as well as global starters and small plates perfect to share, complemented with a few large plates.
Filled with a friendly and sophisticated atmosphere, Shelby's Rooftop is a prime spot for both after work drinks with friends, or a romantic evening with a loved one.
When weekend arrives, the vibe turns higher, with live DJs playing tunes every Thursday to Saturday from 9pm.
SHELBY'S ROOFTOP
250 4th St, San Francisco, CA 94103
3.

Inn at the Pier Rooftop

/ Pismo Beach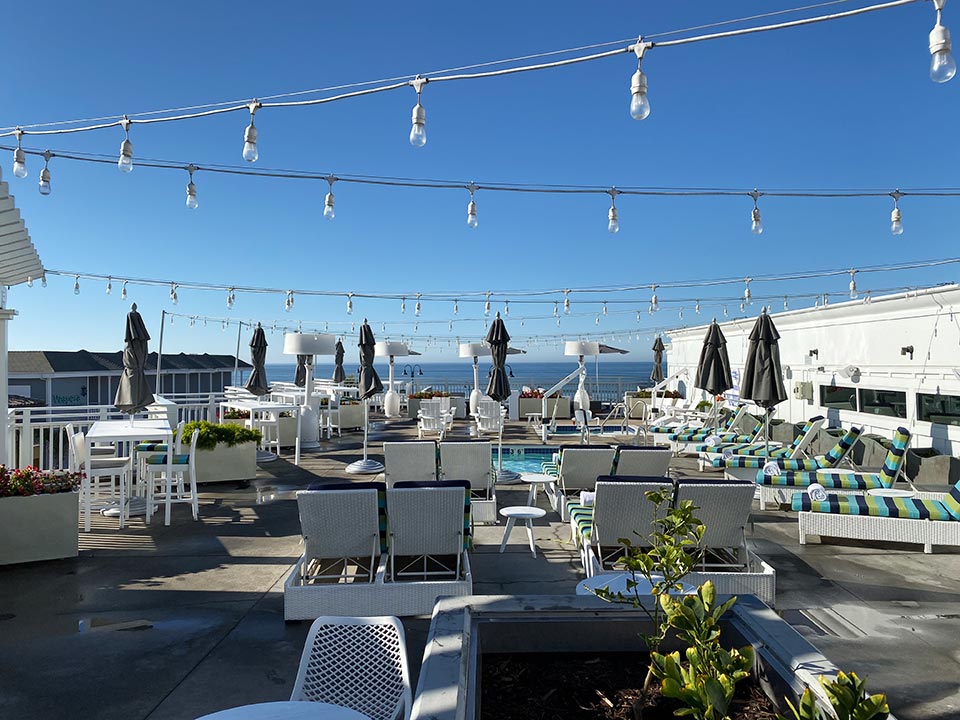 Inn at the Pier Rooftop - Photo: www.theinnatthepier.com
Pismo Beach is a small and beautiful town, set in the central part of the Californian coast. You only find one rooftop bar here, but it is on the other hand a fantastic one.
Perched on the third floor of the luxurious and craftsmen style beach resort Inn at the Pier Hotel, the rooftop offers local inspired California fare and open-air outdoor seating with amazing views of the Pacific coastline and Pismo Beach Pier.
The feel of the rooftop bar goes hand in hand with the beach resort it's located above, with both lounge chairs and Adirondack chairs in bright and natural colors.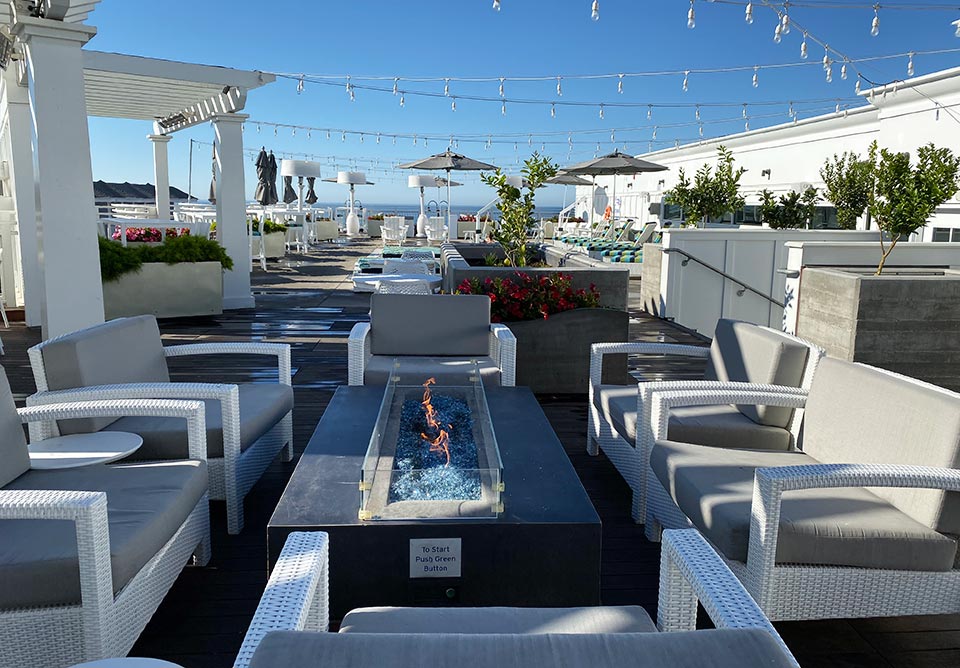 Inn at the Pier Rooftop - Photo: www.theinnatthepier.com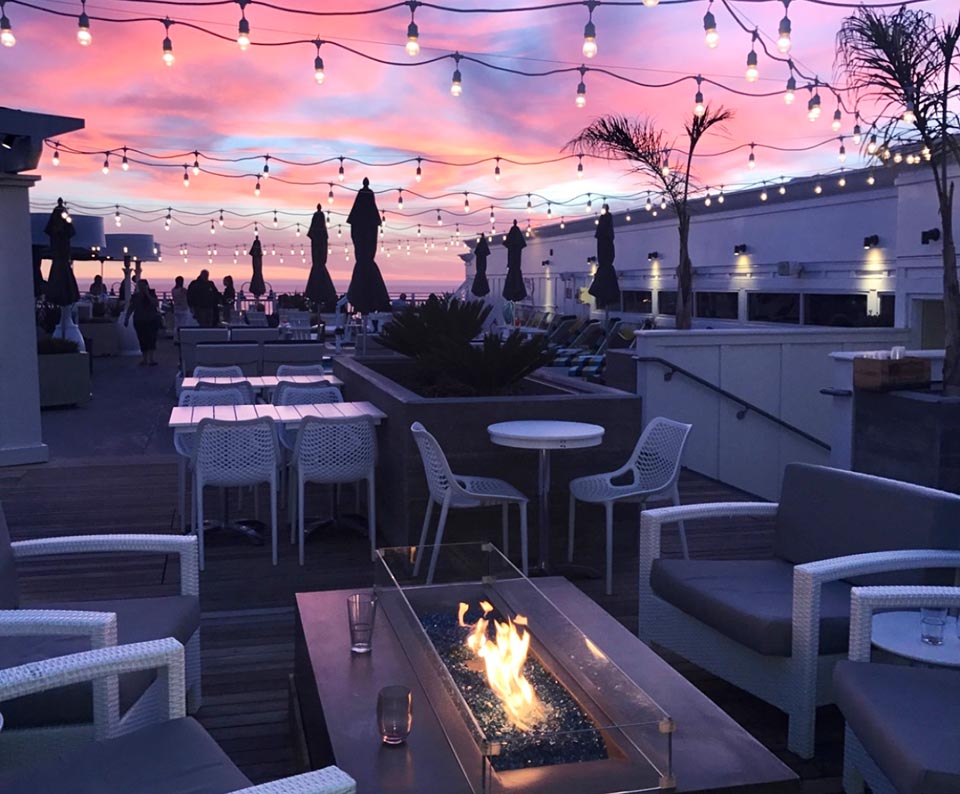 Inn at the Pier Rooftop - Photo: www.theinnatthepier.com
Also equipped with small but refreshing rooftop pools, you can enjoy the sunshine poolside (or keep it cool under an umbrella) during daytime. Towards the night you can get cozy by one of the firepits and catch the amazing sunset.
The Inn at the Pier rooftop bar offers seasonally-inspired small plates, along with signature cocktails and top local craft brews. Always served in a pleasant and relaxed atmosphere, with a mixed crowd and quite often live entertainment picking up the vibe an extra notch.
The rooftop bar is open daily, and also to the public, but you do have to stop by the front desk to obtain a key card to allow access to the top floor.
INN AT THE PIER ROOFTOP
601 Cypress Street, Pismo Beach, CA
Bar Service - Daily: 11.30am–9pm | Food Service - April-September: 11am-10pm, October-March: 11am-5pm
4.

I|O Rooftop at The Godfrey

/ Los Angeles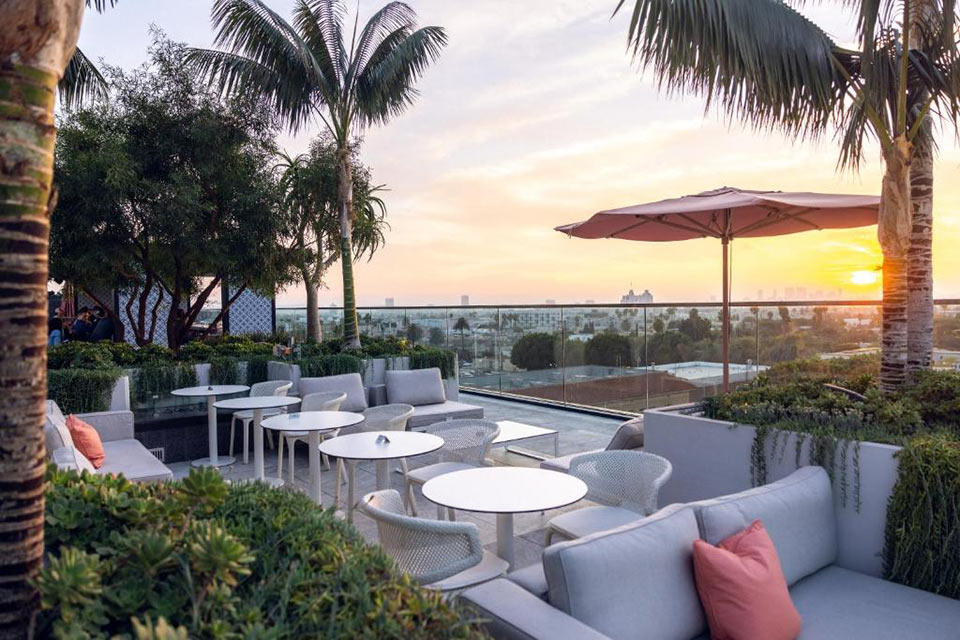 I|O Rooftop at The Godfrey - Photo: www.godfreyhotelhollywood.com/
With The Godfrey Hotel Hollywood, the distinct Chicago hospitality brand arrives on the West Coast. And just as in the Windy City, it does so with an impressive rooftop.
Found in the heart of Hollywood, the impressive 7th floor I|O Rooftop covers 12,000 square feet of indoor and outdoor space, including sun-deck, two bars, a glittering rooftop pool and al fresco dining.
Surrounded by fantastic 360-degree views over Hollywood and Los Angeles, here you can enjoy an all day rooftop menu filled with specialty cocktails, a few grapes and cans, as well as light bites, like burger, sliders and sushi.
A sophisticated oasis in the middle of the L.A. buzz, I|O Rooftop invites you to relax by the pool and listen to soothing music under the sun, or mingle, laugh and dance by night.
I|O ROOFTOP
1400 Cahuenga Blvd, Los Angeles, CA 90028
5.

Cannonball

/ San Diego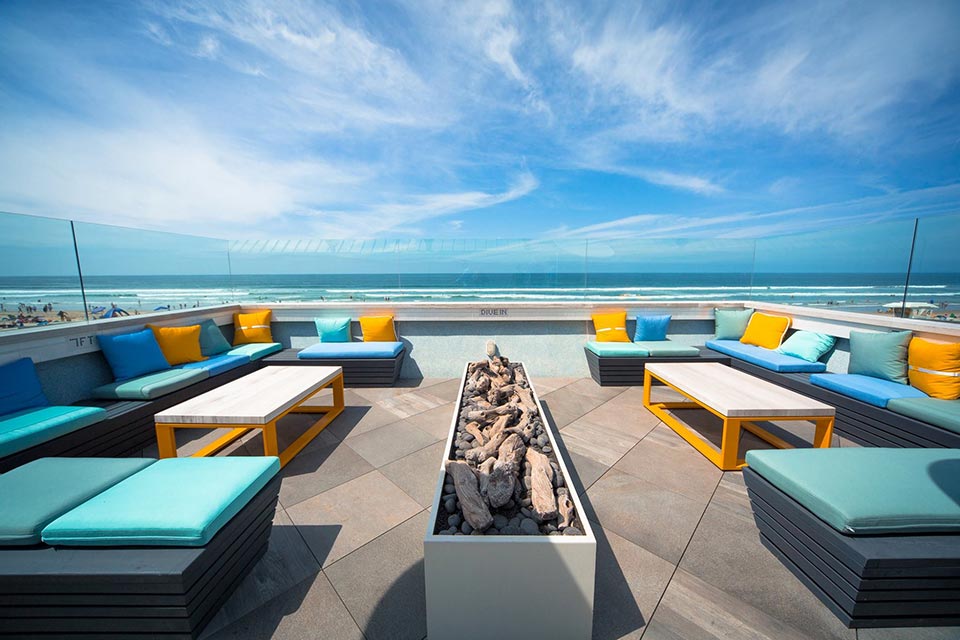 Cannonball - Photo: www.cannonballsd.com/
Located right on Mission Beach, Cannonball offers a spacious open terrace, a relaxed atmosphere, great sushi and delicious drinks.
This oceanfront property is only two floors up, but it has stunning views of the Pacific Ocean, and it is one of the best spots in San Diego for sunset watching.
Spacious, modern, and trendy, Cannonball is decorated with traditional stool seats, comfortable lounge sofas, and regular dining tables.
For the chilly nights, the bar is also equipped with fire-pits and heaters.
With a casual and relaxing atmosphere, Cannonball feels almost like a beach club, and the views of the ocean waves certainly help.
With local live bands playing every so often, cold beers, seasonally inspired cocktails, and Californian cuisine galore, Cannonball aims to become a cornerstone of the community.
For the sushi lovers out there, it's worth mentioning that Cannonball won the "Best Sushi in San Diego Award" from 2018 to 2021.
CANNONBALL
3105 Ocean Front Walk, San Diego, CA
6.

The Rooftop Bar at Mission Pacific

/ San Diego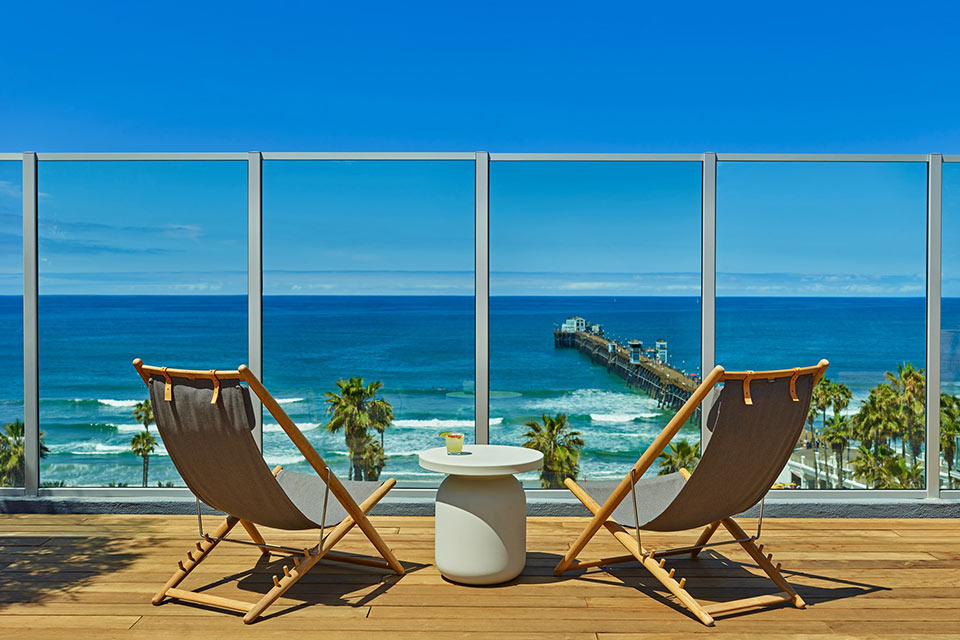 The Rooftop Bar at Mission Pacific - Photo: https://missionpacifichotel.com/
Found in Oceanside, north of San Diego, the lovely Mission Pacific Hotel offers an equally smashing rooftop, simply called The Rooftop Bar.
Offering North County San Diego's first rooftop dining experience, this is a modern and bohemian oasis to enjoy the best of coastline views. Especially around sunset, which is a truly memorable experience from up here.
Part stylish indoor lounge, but the best area at the rooftop is the spacious outdoor terrace. Natural and lush, it feels a lot like a continuation of the beach below.
Settle down in one of the comfy lounge sofas or by the cosy fire-pit and enjoy the ocean breeze, in a casual and care-free atmosphere.
Helmed by Executive Chef Roberto Alcocer, the rooftop serves Baja-inspired dishes and delicious bites to share. Go for a Tostada, a Sandwich de Pescado or some Tacos, the options are plenty.
Apart from the obvious margarita and tequila, the drink menu also includes a full array of craft cocktails with original recipes from the team of mixologists.
Open dauly from noon to late evening, it is always a good idea to head up to The Rooftop Bar at Mission Pacific.
THE ROOFTOP BAR
201 N Myers St, Oceanside, CA 92054
7.

Perch

/ Los Angeles
Perch - Photo: www.perchla.com/
Located in downtown LA, Perch gives you the opportunity to 'float along the Los Angeles skyline'. And it is an opportunity you definitely should take, as the panoramics over the city skyscrapers are truly amazing.
Covering two floors, Perch comes with both indoor and outdoor restaurant, bar & lounge on the 15th floor, and an open-air terrace on the 16th.
With a French bistro-feel in setting, the Perch restaurant also serves great food with French inspiration, mixed with a slice of American. Also served as rooftop brunch on the weekends.
Up on the top floor, no food is served, but you can instead enjoy some verey well crafted cocktails. And of course, the best vistas.
Sophisticated in a relaxed way, Perch offers live music entertainment almost every night. Combined with one of the best sunsets around, you really can't go wrong.
PERCH
448 S Hill St, Los Angeles, CA
8.

The Nolen Rooftop Bar

/ San Diego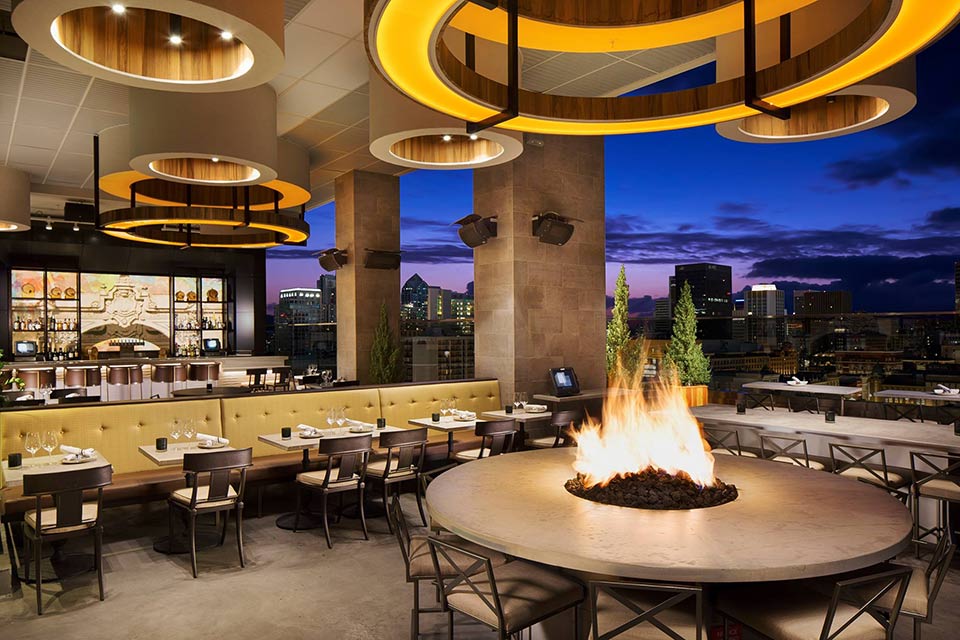 The Nolen - Photo: http://thenolenrooftop.com/
Often referred simply as "The Nolen," this modern bar offers stunning views of the San Diego Skyline, the Coronado Bridge, and Point Loma.
Known as one of the best rooftop bars in San Diego, The Nolen offers a vast collection of beers, wines, and cocktails to go with the unbeatable view.
Though first and foremost a cocktail bar, The Nolen also offers tasty bar bites, perfect for getting your night started.
With its comfortable seating, large fire pits, and grand views, The Nolen is a well-established spot for fun and sophisticated nights out, romantic dates, and amazing sunsets.
On Sundays, The Nolen also offers brunch.
THE NOLEN
453 Sixth Ave, San Diego, CA
9.

Mama Shelter Rooftop

/ Los Angeles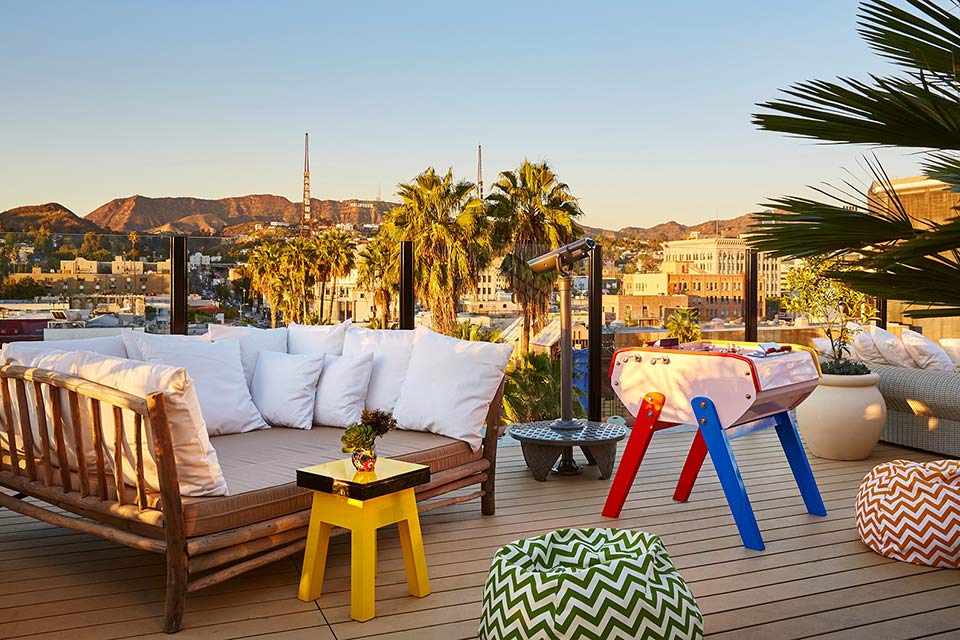 Mama Shelter - Photo: www.mamashelter.com
Marketing itself as "so much more than just a simple rooftop", Mama Shelter looks to stand out amongst the LA bar scene with its colorful decoration and laid-back atmosphere.
Offering stunning views of the Hollywood sign and the Los Angeles skyline, Mama Shelter's large lounge areas, wide-open terrace, and colorful tables resemble more an impromptu rooftop party than a bar, but that only adds to the charm.
Offering a collection of signature cocktails, as well as beers and both Californian and international wines, this is a good spot for trying some local flavors, including home made sharing platters and burgers.
MAMA SHELTER
6500 Selma Ave, Los Angeles, CA
10.

Offshore 9 Rooftop Lounge

/ Huntington Beach
Offshore 9 - Photo: www.waterfrontresort.com
Located on the 9th floor of the Twin Dolphin Tower at The Waterfront Beach Resort, this rooftop bar offers jaw-dropping panoramic views of the coast, as well as a menu, made almost entirely of sharing plates.
With a vast selection of cocktails, wines, and champagne, the Offshore 9 is an excellent choice for those of you looking to spend an enjoyable time with friends while taking in the scenery.
Dress code is resort casual, and though reservations aren't required, it's good to call the restaurant to inquire about availability, as the popular hours vary wildly from day to day.
OFFSHORE 9
21100 Pacific Coast Highway, Huntington Beach, CA
Outsider:

The Cheesecake Factory Union Square

/ San Francisco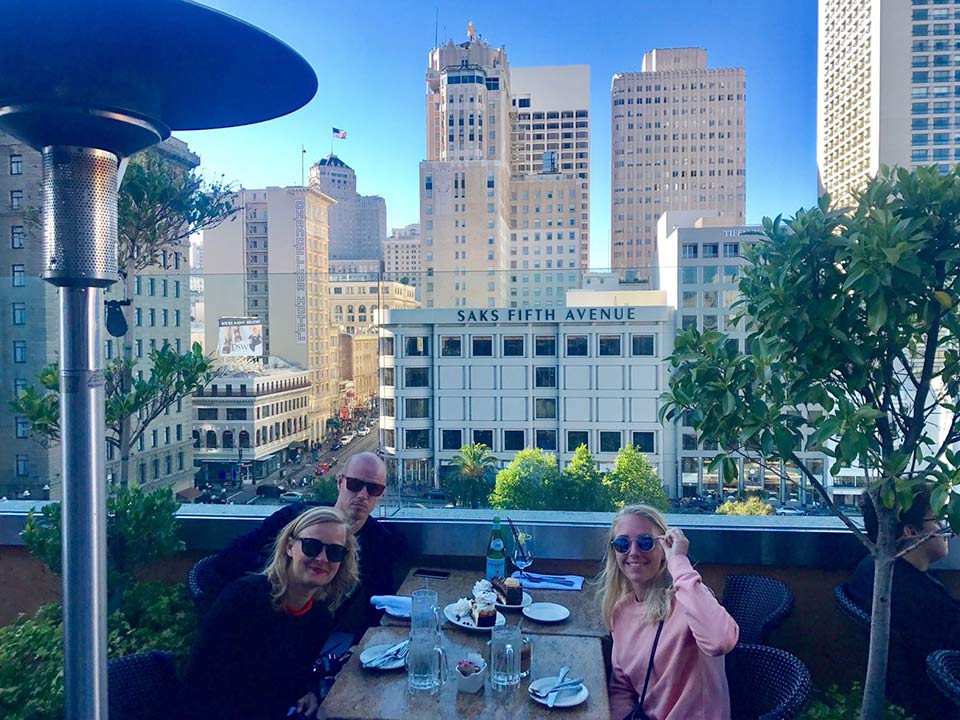 The Cheesecake Factory - Photo: www.therooftopguide.com
While the name "Cheesecake Factory" doesn't evoke images of bars and rooftops on the regular, this one promises precisely that.
Located on San Francisco's premium shopping street, Union Square, this Cheesecake Factory is situated on an 8th floor. It offers beautiful views of the city's skyscrapers and the entirety of Union Square.
The restaurant even has a small terrace, where you can get front-row seats to the view while enjoying the dishes this chain is known for.
Because this is a family-friendly location, this is one of the few rooftop destinations you'll find where children aren't only welcome, but actively catered to.
This is a rather popular spot for locals and tourists alike, so come in early and be prepared to wait for a table.
THE CHEESECAKE FACTORY
Macy's, 251 Geary Street, Union Square, San Francisco, CA