Huge in size, some parts of Austraila offers a 12-month rooftop season, while other parts are best visited during summer. Most of the best Australia rooftop bars are located in the bigger cities like Sydney, Melbourne, Brisbane, Perth, and on the Gold Coast.
Heading up to an Aussie rooftop you can find both spectacular city views and beautiful ocean views. And while skyscraper vistas are cool, our favorite rooftop bars are the ones located by the sea.
As you can tell, there is a great variety of different rooftops in AU. Here's our hot-list of the top 11 roof bars you should definitely check out. Enjoy!
12.

Songbird Bar

/ Perth
Songbird Bar - Photo: www.songbirdbar.com.au/
With a prime position in Perth's Elizabeth Quay, the elegant Songbird Bar is found at the equally elegant The Ritz-Carlton, Perth.
Inspired by Australia's open skies and free spirit, the rooftop cocktail bar offers plenty of stylish and comfy lounge furniture where you can enjoy fantastic views over the Perth skyline and Swan River.
The terrace is equipped with a retractable rooftop and outdoor heaters for chilly nights.
Sophisticated yet relaxing, the rooftop bar offers a light and playful menu, including bites of fresh seafood and BBQ meats, as well as creative cocktails, local spirits, craft beer and wine.
Escape the bustle of the city and indulge in fantastic sunsets, or get cosy by the terrace fire-pit under a starry sky.
SONGBIRD BAR
1 Barrack St, Perth WA 6000
11.

Rooftop at QT

/ Melbourne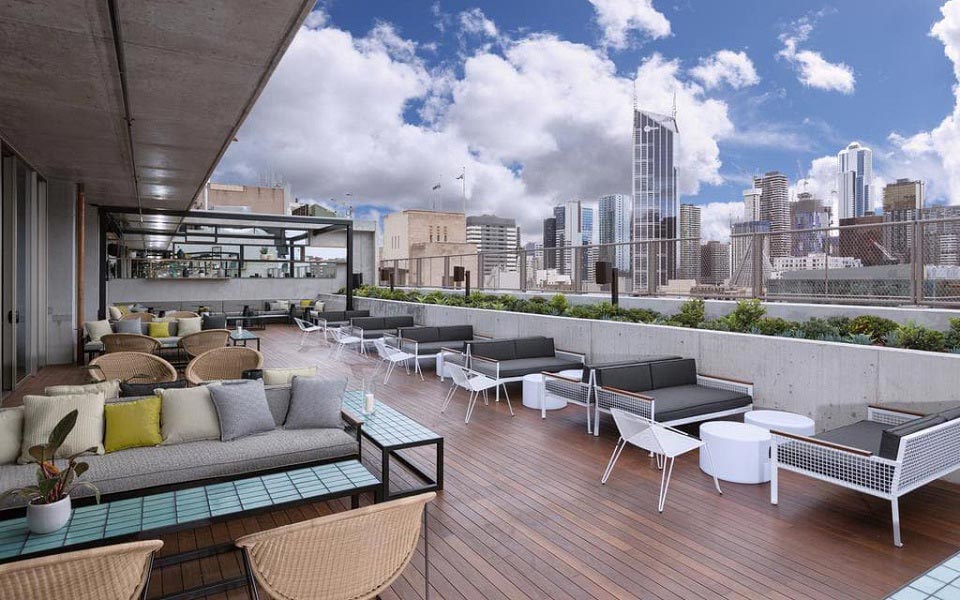 Rooftop at QT - Photo: www.qthotelsandresorts.com
Located on top of the luxurious Hotel QT, this beautiful rooftop bar offers unmatched views to Melbourne's skyline and a relaxed yet sophisticated atmosphere.
Particularly popular amongst office workers just out of the office, The Rooftop offers cocktails, beers, wines, and the usual spirits.
Food-wise, there's a small but delicious menu where meat-based products reign supreme.
With a large open-air terrace and both indoor and outdoor seatings, this is a fun and relaxing bar to spend your weekday nights or a fantastic place to kick off the night during the weekends.
Leave the flip flops and the shorts at home. This is the kind of bar where you want to dress nicely.
ROOFTOP AT QT
133 Russell St, Melbourne VIC 3000
10.

Su Casa Nightclub & Rooftop

/ Brisbane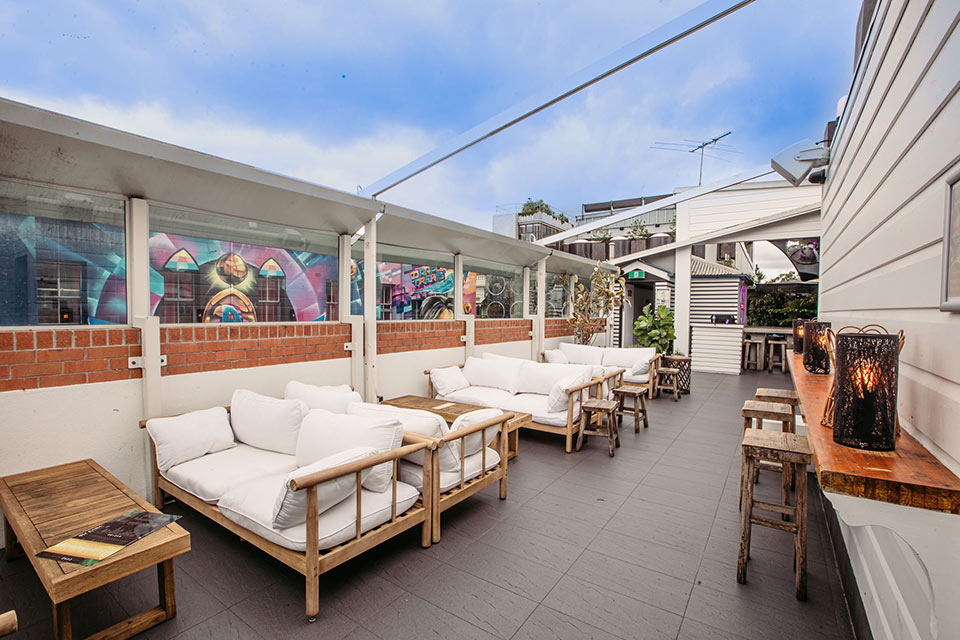 Su Casa Nightclub & Rooftop - Photo: www.sucasabrisbane.com/
Su Casa Nightclub & Rooftop is a multi-level entertainment venue, offering an elevated experience in Fortitude Valley, Brisbane's nightlife district.
On the lower level you find the vibrant nightclub, while the upstairs is home to a cool rooftop bar, offering plenty of comfy lounge sofas, perfect chill-out hours with friends and family.
The Su Casa rooftop menu is filled with elegant tapas and a great selection of fine cocktails and other refreshing drinks. Thanks to a retractable roof, you can visit no matter the weather.
Later at night, you can head downstairs and dance the night away to live DJs. Or you stick around at the rooftop and let the vibes come to you.
SU CASA
648 Ann St, Fortitude Valley QLD 4006
9.

The Q

/ Melbourne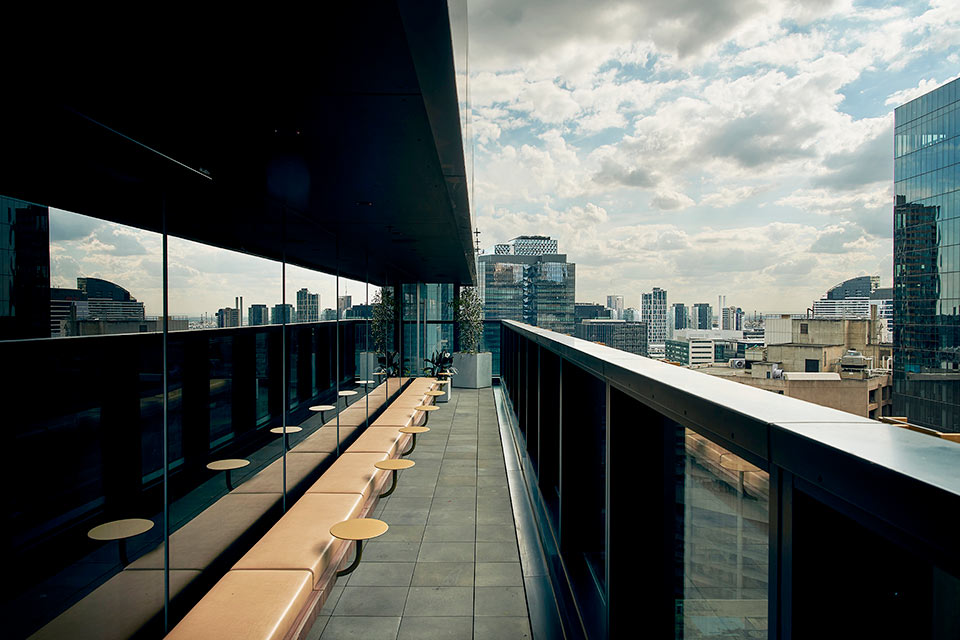 The Q - Photo: https://quincymelbourne.com/
Perched high above the bustling streets of Melbourne CBD, The Q serves small plates, big experiences and amazing views over the city skyline.
This stylish and modern indoor/outdoor rooftop is found on top of the fabulous Quincy Hotel, which brings the essence of South East Asia to Melbourne.
The Q rooftop menu is filled with a great selection of both food and drinks. From creative and crafted signature cocktails and a fine slection of wines, to tasty and Asian-inspired small plates made perfect to share.
A place of duality, where you can sit back and relax a drink with views during the day, or visit for a pulsing and energetic bar experience at night.
THE Q
509 Flinders Ln, Melbourne VIC 3000
8.

Ivy Blu Rooftop Bar

/ Brisbane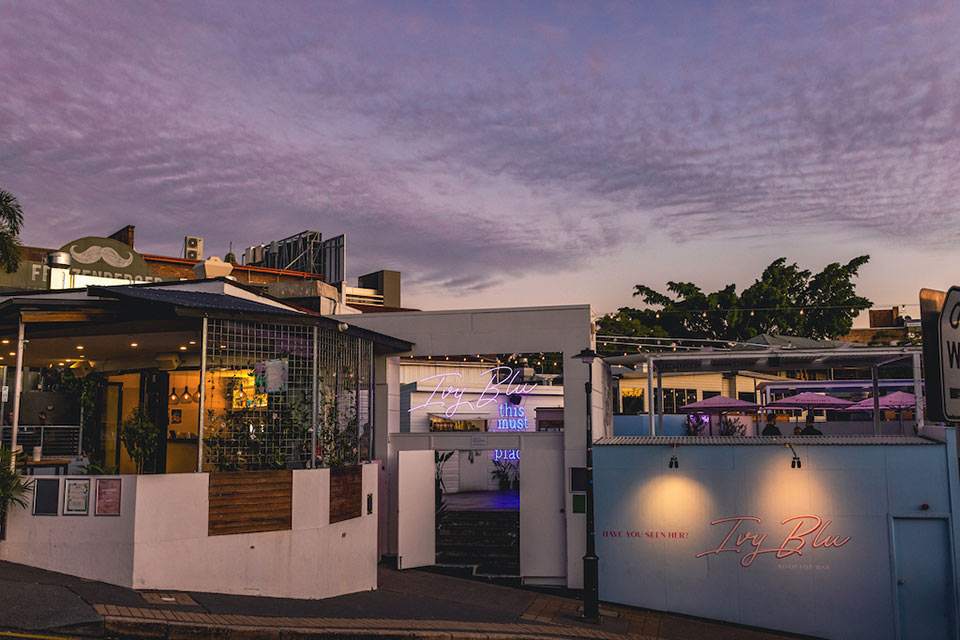 Ivy Blu Rooftop Bar - Photo: www.ivyblu.com.au/
Ivy Blu is a chic and modern rooftop oasis, that brings an edge to timeless classics and the trendiest vibe in Petrie Terrace, Brisbane.
Filled with a pastel colour scheme, greenery, picnic tables, and comfy lounge sofas under pavilions, the indoor-outdoor rooftop gives a summerish vibe, overlooking the major attractions in the heart of Brisbane.
Food and drinks are ordered from two cool shipping containers on site, and the menus include house pizzas and small & large plates perfect to share, along with refreshing special and signature spritzes and cocktails, a nice selection of wines, and beer on both tap and bottle.
Visit Ivy Blu Rooftop Bar for friendly and casual bites and drinks with friends, or for some of the plentiful weekly events. Relish in nostalgia every Wednesday at Ivy Blu Rooftop's Dine – In Movies, or indulge in 'Social Butterfly Bottomless Brunch' every Sunday.
IVY BLU
2 Caxton St, Petrie Terrace QLD 4000
7.

Tropic Vice

/ Gold Coast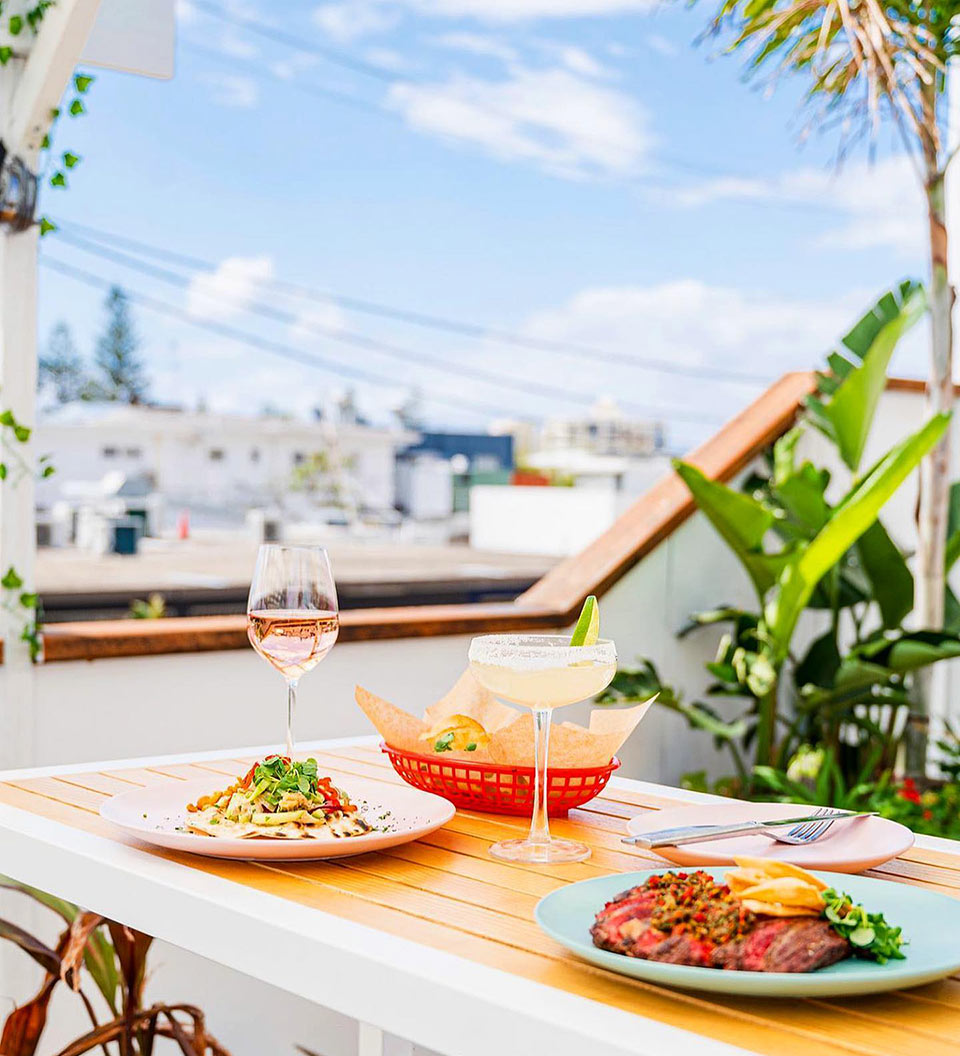 Tropic Vice - Photo: www.tropicvice.com/
Located in the heart of Nobby Beach, just two blocks away from the ocean, Tropic Vice is an elevated and tropical oasis, perfect to enjoy the lovely Gold Coast climate.
Offering a Palm Springs meets Miami kind of vibe, with a Gold Coast twist, the bright, modern and sun-drenched rooftop is stylish, colorful and quirky, with colourful garden chairs and comfy booths mixed with palm trees and a pair of metre high flamingos.
Both rooftop bar and restaurant, here you can enjoy 'Florribean' cuisine, which is a combination of Caribbean & South American flavours, as well as an extensive and refreshing selection of tropical signature cocktails, margaritas, slushies, as well as wines, bubbles and local beer on tap.
A perfect spot to sip a few cocktails in the sunshine, or enjoy a dinner watching the sunset, often combined with cool tunes from live DJs.
On Sunday, Tropic Vice also serves a vibrant 'Bottomless Brunch', where $65 includes selection of house spritz, beer, wine, sparkling and a set food menu, as well as live music.
TROPIC VICE
2215 Gold Coast Hwy, Mermaid Beach QLD 4218
6.

Café del Mar

/ Sydney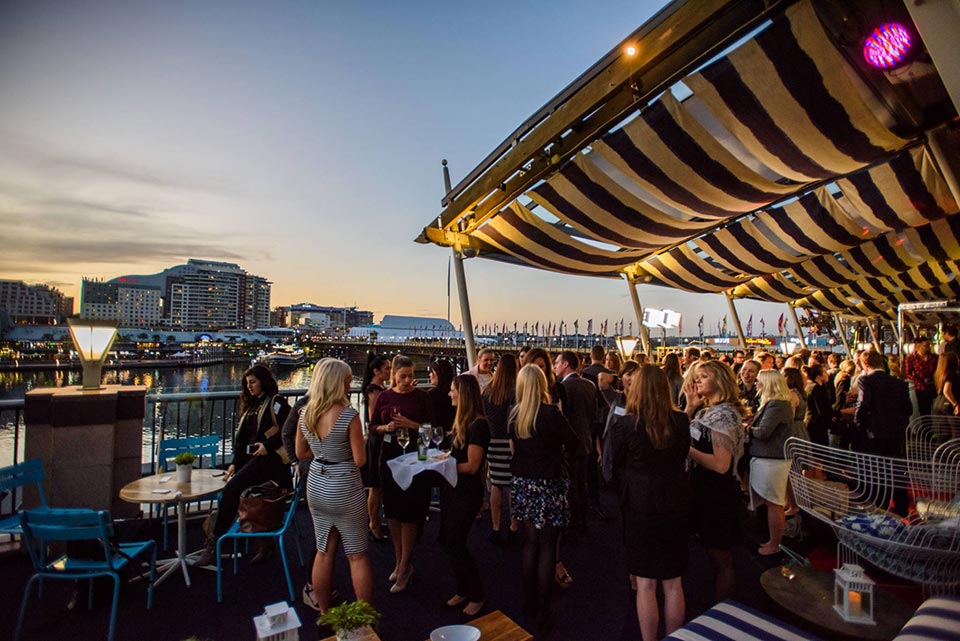 Café del Mar - Photo: https://cafedelmar.com.au/
For Mediterranean vibes with a side of Sydney views, Café del Mar is the place to go.
Found in the heart of Darling Harbour, this designer restaurant and rooftop bar comes surrounded with beautiful water views of Cockle Bay and the city skyline.
At the interior rooftop restaurant you can indulge in menus inspired by the cuisines of the Mediterranean Coast, with fresh, clean and flavourful dishes prepared by the highly skilled chefs in the open kitchen.
The outside rooftop terrace also serves food as small plates and tapas, along with a seasonal selection of crafted signature cocktails, champagne and fine wines.
Visit Café del Mar for a shared lunch or dinner with friends, an intimate dining experience, sunset cocktails on the terrace, or vibrant weekend nights with the resident DJs.
Relaxed sophistication, glamour, and premium casual Mediterranean lifestyle is promised whenever you go.
CAFÈ DEL MAR
35 Wheat Rd, Sydney NSW 2000
5.

Aura Hobart

/ Hobart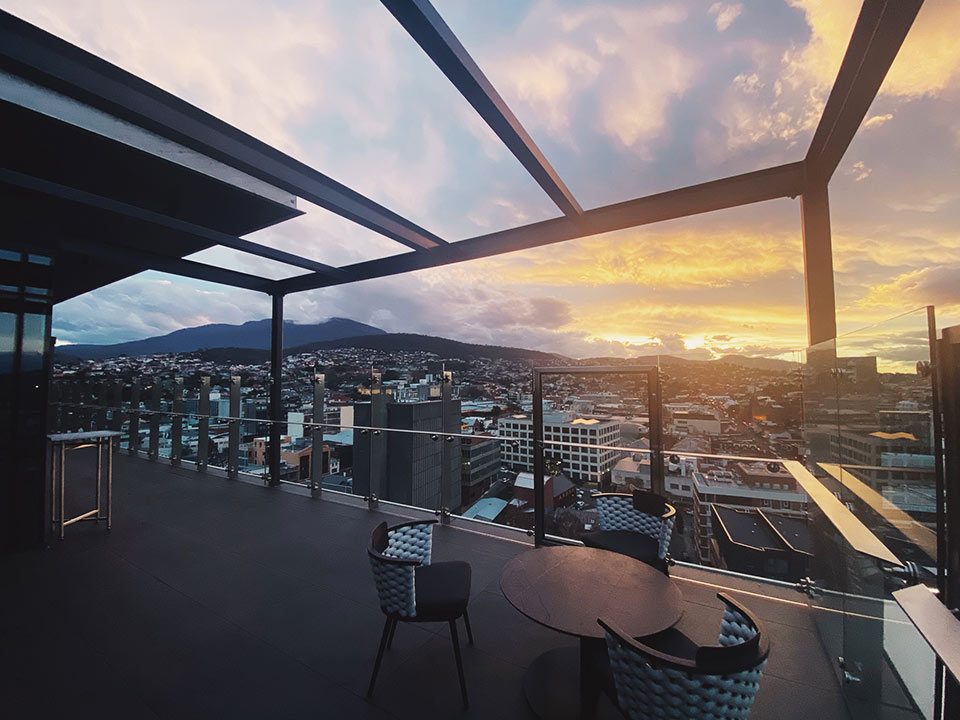 Aura Hobart - Photo: www.aurahobart.com.au/
Positioned at the epicentre of the spectacular Tasmanian scenery, Aura Bar & Dining + Event Space is a unique venue, as it is Hobart's first rooftop venue.
Set on the top 12th floor of the fabulous Crowne Plaza Hobart, right in the heart of town, here you are surrounded by panoramic views over the city skyline, the Derwent River, and Kunanyi / Mount Wellington.
The vistas are available year-round at the stylish and contemporary glass nest interior, and when the weather allows, from the lovely outside terrace.
Aiming to provide a fun, informal yet intimate experience, Aura Hobart serves a seasonal menu of dishes made to share, including fresh Tasmanian seafood and locally grown veggies, along with crafted cocktails sourced from local ingredients, and a funky wine list.
Head on up for a long and relaxing weekend lunch, sunset cocktails with live DJ sessions, or stylish dinner and drinks with some amazing views.
AURA HOBART
110 Liverpool St, Hobart TAS 7000
4.

The Collective Palm Beach

/ Gold Coast
The Collective Palm Beach - Photo: https://thecollectivepalmbeach.com.au/
Set in the old Palm Beach post office, The Collective is an innovative and unique Gold Coast venue, offering 5 restaurants and 2 bars under one roof.
With a lush and bright indoor/outdoor downstairs dining room, the prime spot at The Collective is the upstairs rooftop terrace and bar.
Boasting unobstructed views west to the hinterland, here you can choose from the very best of Mexican, Greek, Asian, American and Italian cuisines.
The food is complemented with a carefully curated cocktail menu, including timeless classics, crafted signatures and an almost infinite selection of Margaritas, as well as a wide array of beers and wine. There are also Cocktail Trees and Sangrias perfect to share.
With a social atmosphere and great vibe, The Collective rooftop is a prime spot to wine and dine with family and friends, or just enjoy a cocktail with sunset views over Palm Beach.
THE COLLECTIVE PALM BEACH
1128 Gold Coast Hwy, Palm Beach QLD 4221
3.

Soko Rooftop

/ Brisbane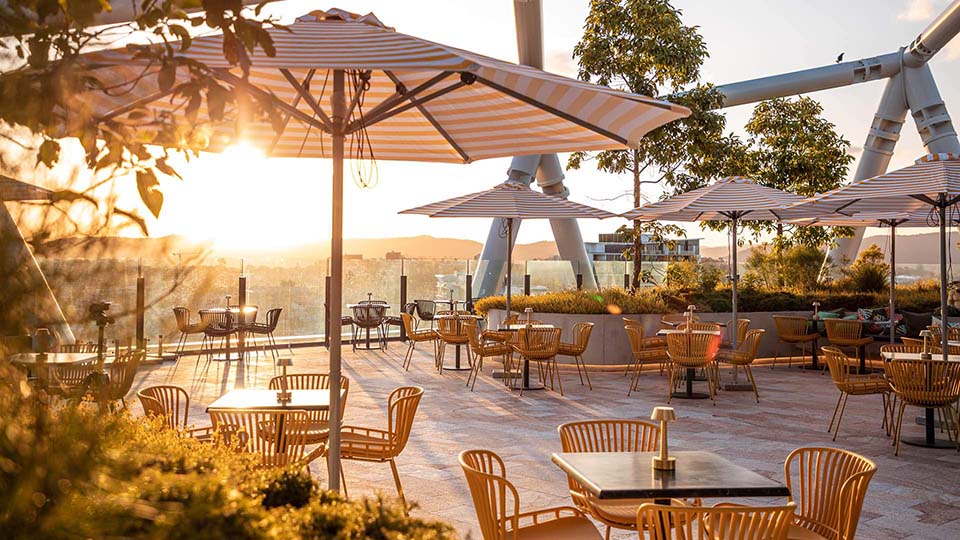 Soko Rooftop - Photo: https://sokobrisbane.com.au/
Descending from Amazonian influence, Soko Rooftop offers an elevated and lavish experience hard to find anywhere else in Brisbane.
Perched on top of the new and impressive Jubilee Place in Fortitude Valley, the 14th floor rooftop is equally impressive in both design and space, covering almost 1500 square metres.
The venue is divided into a deep green, cosy and sleek interior dining room, and a much more bright outdoor bar and lounge, where you get some truly amazing views over Brisbane.
Up here you can enjoy a sophisticated and exotic dining experience, where Peruvian & Japanese style cooking techniques and flavours are combined, creating innovative dishes perfect to share.
There is a selection of wine and saké, especially curated to compliment the unique flavours of each dish, as well as a beverage menu including crafted signature cocktails, and over 40 flavours of Pisco Sours.
Open for both weekday business lunches and high-energy evenings with a view, Soko Rooftop is the Amazonian rainforest escape we all deserve.
SOKO ROOFTOP
7 Symes St, Fortitude Valley QLD 4006
2.

Blossom Rooftop Bar

/ Melbourne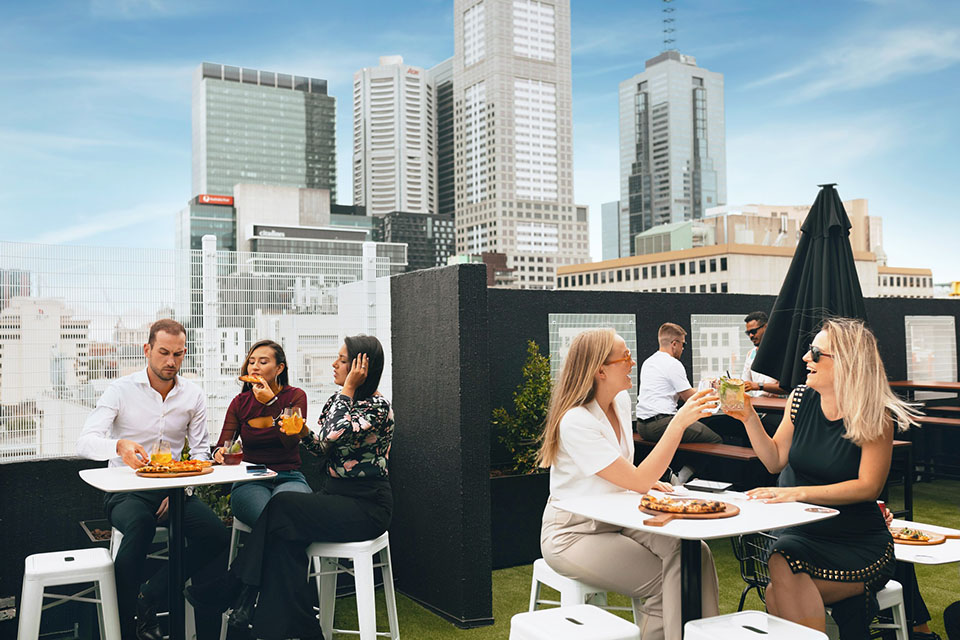 Blossom Rooftop Bar - Photo: www.pullmanmelbourneonswanston.com.au
Located on level 14 of the modern Pullman Melbourne on Swanston, Blossom offers a truly unforgettable Melbourne rooftop bar experience.
Elevated high above the CBD, the rooftop comes with a stunning industrial interior, as well as jaw-dropping 270-degree views of the city skyline.
Here you can indulge in wood-fired pizza, bar snacks, signature cocktails, local wines and beers, complemented with a live DJ on Fridays (6-8pm) and Sundays (1-3pm). Perfect vibrant for after work drinks, or for a pizza party with friends.
Stylish all around, the prime feature of the interior at Blossom is a one-of-a-kind mural named Lady Blossom, by acclaimed artist Lisa King. This breathtaking mural is a true feast for the eyes with rich colours, movement, and romance.
Designed to inspire pleasure, exuberance, and exploration of the frivolity of the night amidst the neon city lights, Lady Blossom is a must-see piece of artwork that perfectly complements the vibrant and sophisticated ambiance of Blossom.
BLOSSOM
Pullman Melbourne on Swanston, Level 14/195 Swanston St, Melbourne VIC 3000
1.

Lina Rooftop

/ Brisbane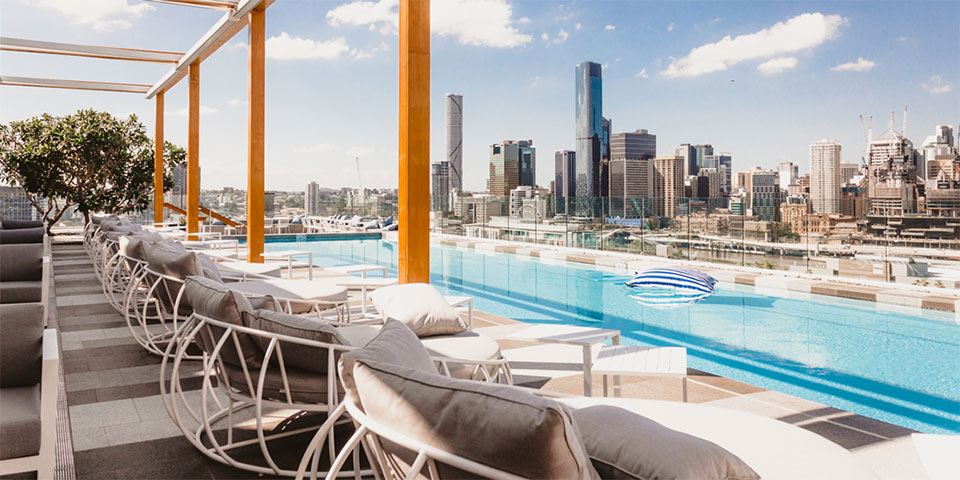 Lina Rooftop - Photo: https://linarooftop.com.au/
Offering 1500sqm of luxe, elevated landscape, Lina Rooftop in South Brisbane is a new addition on the Australia rooftop heaven, serving a sky-high experience out of the ordinary.
The Mediterranean-inspired restaurant & rooftop comes with a Parisian style and lush indoor restaurant and lounge, but most impressive is the open-air terrace. Equipped with daybeds and sunken lounge spots, the centre of attention is the 30-meter-long rooftop infinity pool, on eye level with the Brisbane skyline.
To get the full rooftop pool experience you should reserve one of the poolside daybeds, but Lina works just as well for long lunches and balmy nights. Enjoy something form the raw bar, grill dishes or some shareables, along with fruity signature cocktails, a wide selection of wine and bottle-service spirits.
Come weekends, Lina Rooftop offers both breakfast for the early-birds, Long Lunches, dinners that roll into the night with DJ sessions for the fun seeking crowd. During the 'Pasion Sundays', the vibes start already at 12pm.
LINA ROOFTOP
74-80 Tribune Street, Mobo Building, South Brisbane QLD 4101