Huge in size, some parts of Austraila offers a 12-month rooftop season, while other parts are best visited during summer. Most of the best Australia rooftop bars are located in the bigger cities like Sydney, Melbourne, Brisbane, Perth, and on the Gold Coast.
Heading up to an Aussie rooftop you can find both spectacular city views and beautiful ocean views. And while skyscraper vistas are cool, our favorite rooftop bars are the ones located by the sea.
As you can tell, there is a great variety of different rooftops in AU. Here's our hot-list of the top 10 roof bars you should definitely check out. Enjoy!
10.

Songbird Bar

/ Perth
Songbird Bar - Photo: www.songbirdbar.com.au/
With a prime position in Perth's Elizabeth Quay, the elegant Songbird Bar is found at the equally elegant The Ritz-Carlton, Perth.
Inspired by Australia's open skies and free spirit, the rooftop cocktail bar offers plenty of stylish and comfy lounge furniture where you can enjoy fantastic views over the Perth skyline and Swan River.
The terrace is equipped with a retractable rooftop and outdoor heaters for chilly nights.
Sophisticated yet relaxing, the rooftop bar offers a light and playful menu, including bites of fresh seafood and BBQ meats, as well as creative cocktails, local spirits, craft beer and wine.
Escape the bustle of the city and indulge in fantastic sunsets, or get cosy by the terrace fire-pit under a starry sky.
SONGBIRD BAR
1 Barrack St, Perth WA 6000
9.

Captain Baxter

/ Melbourne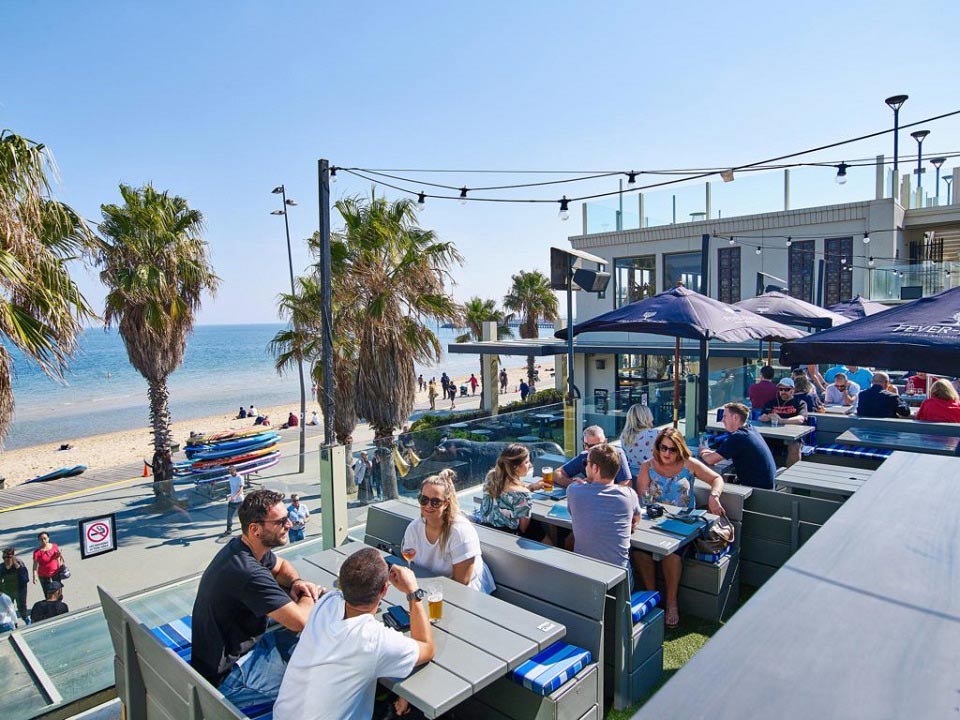 Captain Baxter - Photo: www.captainbaxter.com.au
This beachside restaurant-bar is one of the hottest spots for cocktails and food in the area.
Equipped with stylish and colorful decor, as well as a retractable roof, giant umbrellas, and comfortable furniture, this is an ideal place for when you want to kick back and relax while enjoying the ocean views.
The restaurant's Asian-inspired food goes great with the bar's fantastic signature cocktails, local beers, and curated wine list.
Captain Baxter is open at night during the weekdays and during the day and night during the weekends.
CAPTAIN BAXTER
10-18 Jacka Boulevard, St Kilda VIC 3182
8.

The Aviary

/ Perth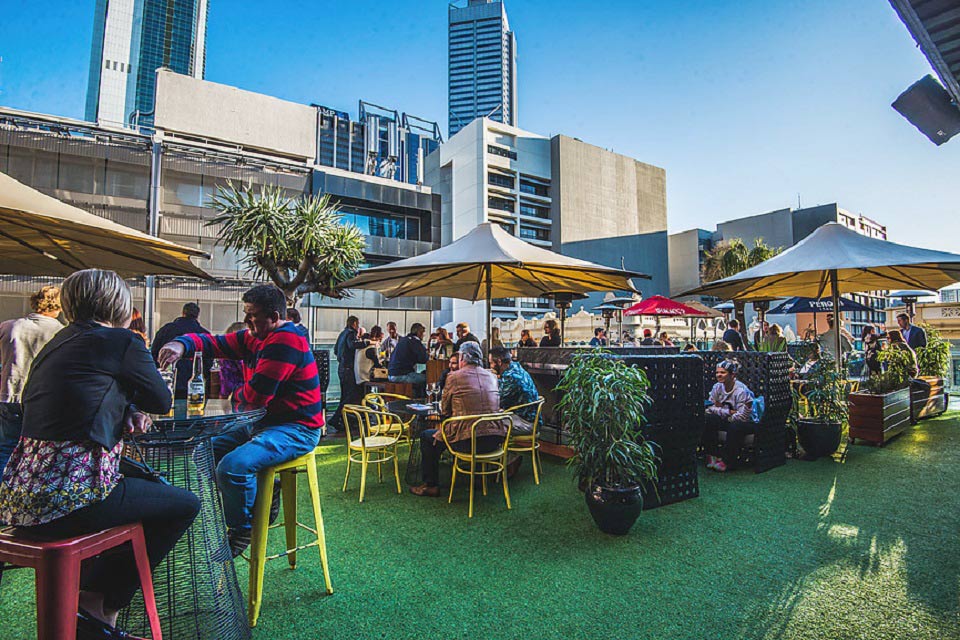 The Aviary - Photo: www.theaviaryperth.com.au
The Aviary is not only Perth's largest rooftop bar but also one of the best.
Located above the Perth underground station, this popular location is known as an urban oasis, thanks to its lush trees, astroturf floor, and colorful furniture, which wouldn't look out of place at a campsite.
Open from noon to late at night; the Aviary offers salads, burgers, pizzas, and other bar-bites, as well as a large drink menu.
Expect craft beer, creative signature cocktails, and delicious wines.
Due to its location, The Aviary is a trendy spot, so expect a crowd no matter the day. This goes double when the bar has special events since it usually means live music and lower prices.
THE AVIARY
Level 1, 140 William St, Perth WA 6000
Collaboration
7.

Eagles Nest Brisbane

/ Brisbane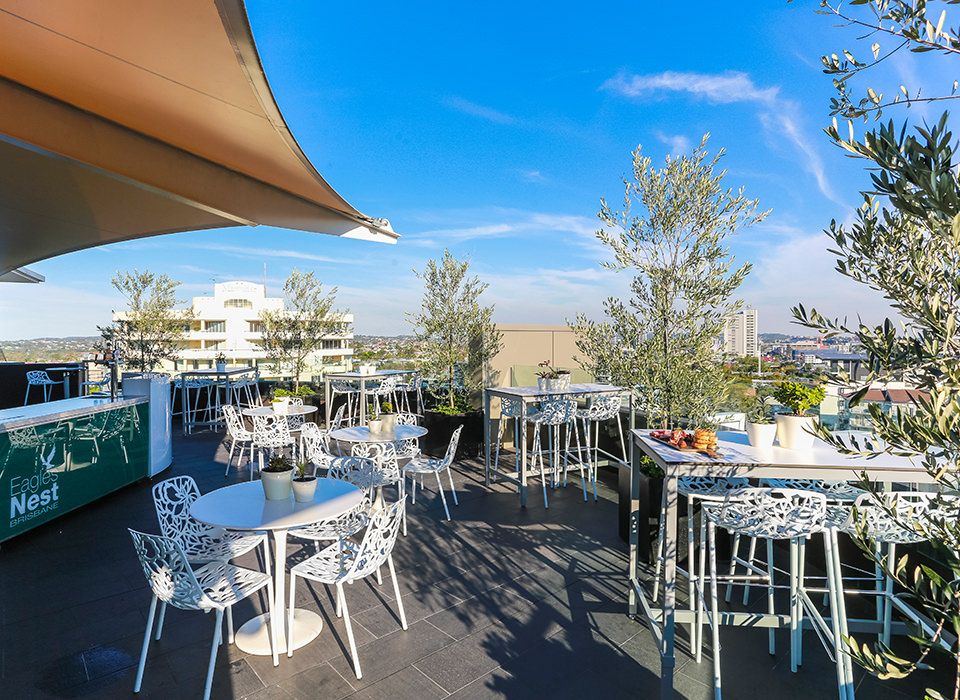 Eagles Nest Brisbane - Photo: www.eaglesnestbrisbane.com.au
Found on top of The Point Brisbane Hotel, The Eagles Nest is a bit of a hidden gem. Open only during the end of the week, this exclusive bar offers beautiful views of the city's skyline and the nearby river.
While this bar offers beers and wines, it's real strength lies in its expertly-mixed cocktails, both classic and signature.
Food-wise, there's a tasty tapas menu you can enjoy. This is a particularly good spot to see the sunset, so if you're visiting, make sure to arrive early.
Reservations are a must due to the bar's days and hours, and even then, we advise you to arrive on time.
For the rest of the week, the bar is reserved for private events.
EAGLES NEST BRISBANE
21 Lambert St, Kangaroo Point QLD 4169
6.

Maya Mexican

/ Brisbane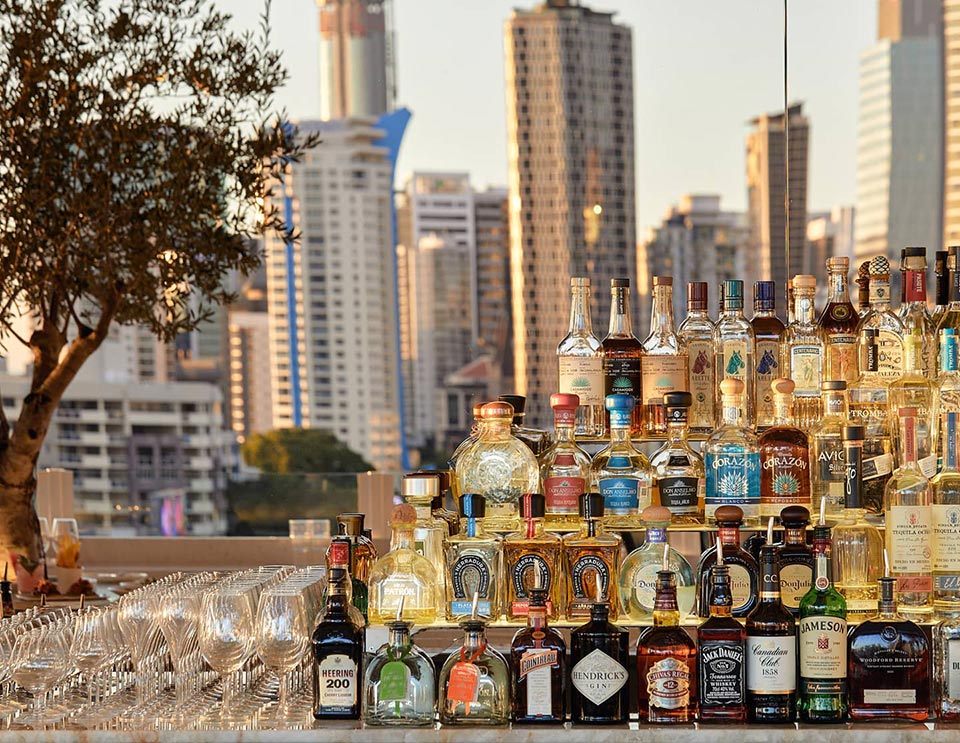 Maya Mexican - Photo: www.maya-mexican.com.au/
The highly popular Eleven Rooftop Bar in the heart of Fortitude Valley has made way for Maya Mexican, which is called a pop-up, but very much feels like a permanent venue.
Lovely bright and stylish in decoration, the rooftop terrace comes with olive trees, cactus gardens, cabanas, a white marble bar and benches where you can enjoy sublime views over Fortitude Valley and the Brisbane CBD, with Mt Coot-tha and Toohey Mountain's as majestic backdrop.
As hinted in the name, the rooftop bar takes large inspiration from the Maya region of Mexico, both in drinks and food. There is a wide range of tequila and mezcal and a selection of Margaritas, as well as everthing from tacos, quesadillas and cheviche to chargrilled flank steak and pan-seared market fish.
Visit Maya Mexican for a cich and sunny lunch, some afternoon drinks with friends, or come later at night when both live music and DJs turn the vibe sky-high.
MAYA MEXICAN
757 Ann St, Fortitude Valley QLD 4006
5.

The Glenmore

/ Sydney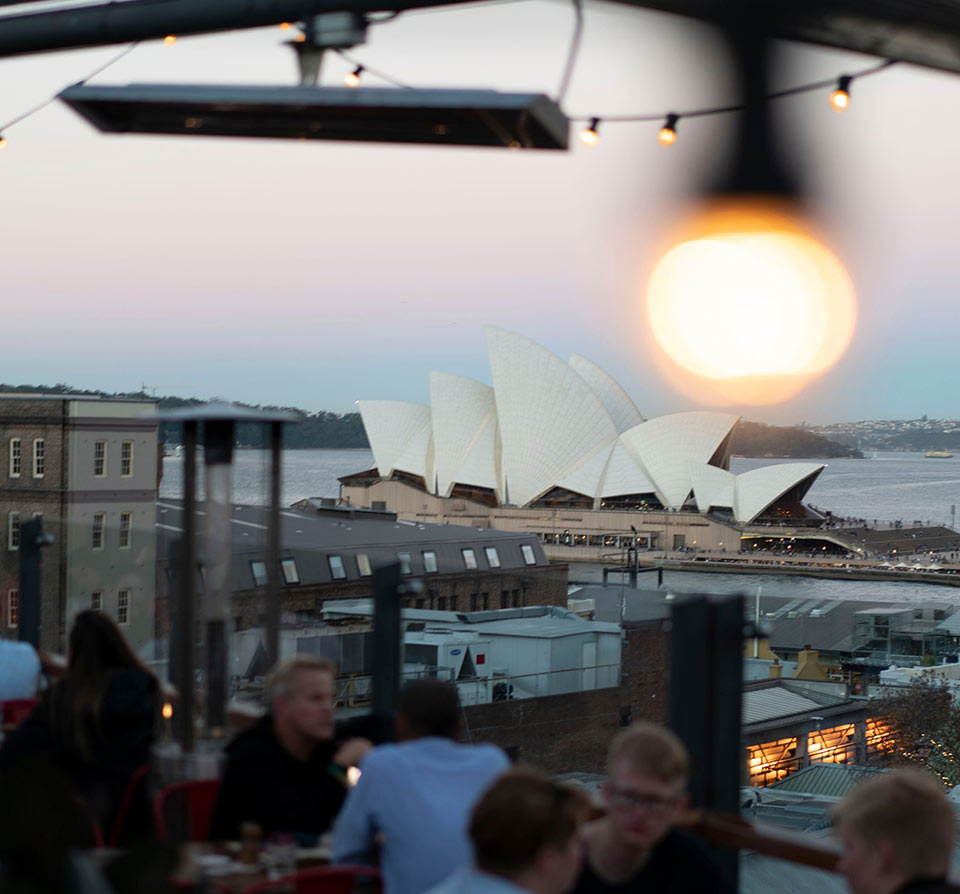 Glenmore Hotel - Photo: www.theglenmore.com.au
This beautiful hotel can be described as "Old Colonial English with a modern touch," and the same goes for the bar.
Offering jaw-dropping views of the Sydney harbor and the Opera House, the Glenmore is known for its impressive beer list, as well as their cocktails, which you can actually get in jugs.
The bar has a small but varied food menu that includes Poké bowls and burgers.
Open year-round; the Glenmore is a community cornerstone, thanks to its Acoustic Sunday Session, rooftop yoga, and other public events.
THE GLENMORE
96 Cumberland St, The Rocks 2000, Sydney
4.

Rooftop at QT

/ Melbourne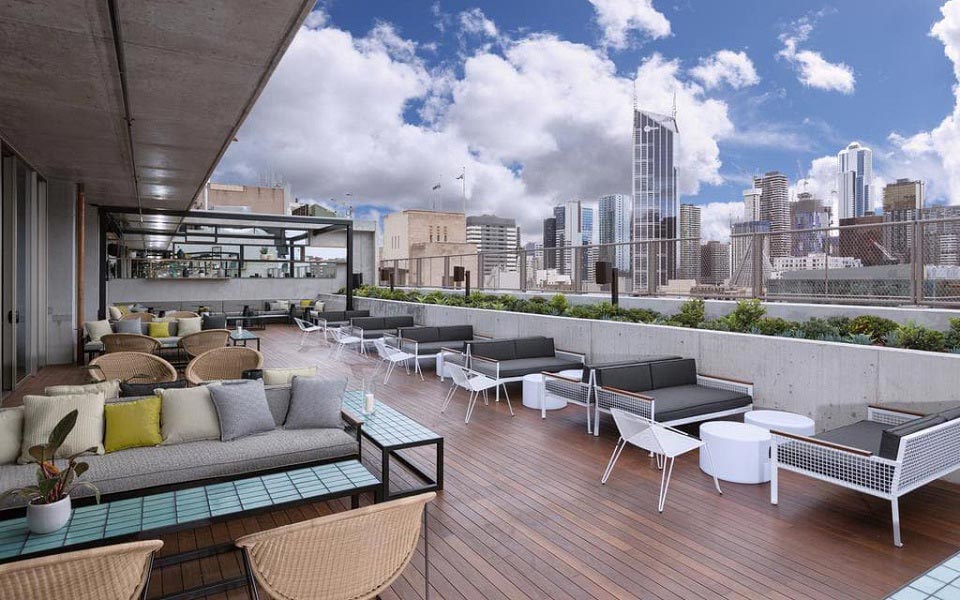 Rooftop at QT - Photo: www.qthotelsandresorts.com
Located on top of the luxurious Hotel QT, this beautiful rooftop bar offers unmatched views to Melbourne's skyline and a relaxed yet sophisticated atmosphere.
Particularly popular amongst office workers just out of the office, The Rooftop offers cocktails, beers, wines, and the usual spirits.
Food-wise, there's a small but delicious menu where meat-based products reign supreme.
With a large open-air terrace and both indoor and outdoor seatings, this is a fun and relaxing bar to spend your weekday nights or a fantastic place to kick off the night during the weekends.
Leave the flip flops and the shorts at home. This is the kind of bar where you want to dress nicely.
ROOFTOP AT QT
133 Russell St, Melbourne VIC 3000
Collaboration
3.

Nineteen at The Star

/ Gold Coast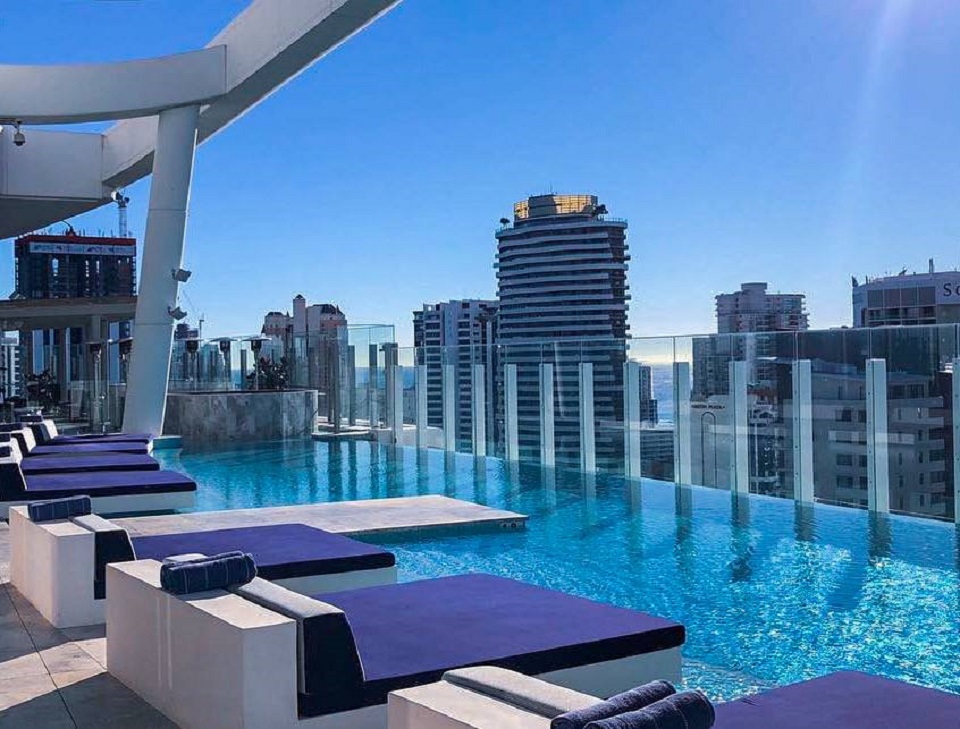 Nineteen at The Star - Photo: www.star.com.au
One of the most high-end bars in this list, The Nineteen at the Star, is easily one of the Gold Coast's most luxurious destinations.
Located on top of a boutique hotel and offering jaw-dropping views to the Pacific Ocean, this bar has private poolside cabanas, lavishly decorated lounge areas, velvet couches, and a two-story wine cellar for your enjoyment.
The bar's signature cocktails are legendary, but for those looking for something more classic, you can always find beer and premium drinks.
The restaurant is just as good, serving delicious food crafted by skilled chefs on the comfort of large velvety booths.
The perfect destination for those looking to start or end their night in style, the Nineteen at the Star is a must-visit whenever you're in the Gold Coast.
NINETEEN AT THE STAR
1, Level 19, The Darling at The Star Gold Coast, Casino Dr, Broadbeach QLD 4218
2.

The Q

/ Melbourne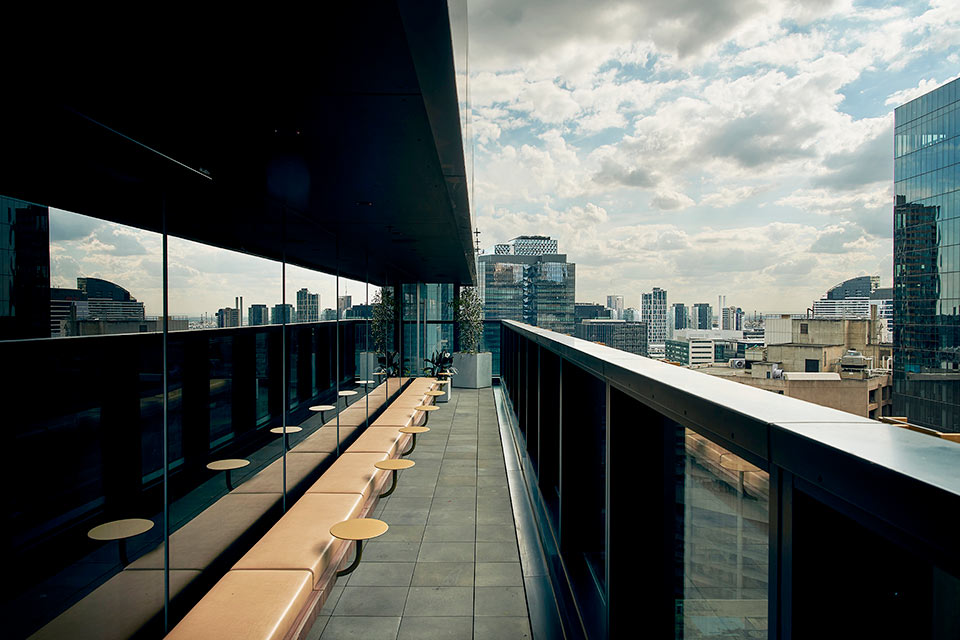 The Q - Photo: https://quincymelbourne.com/
Perched high above the bustling streets of Melbourne CBD, The Q serves small plates, big experiences and amazing views over the city skyline.
This stylish and modern indoor/outdoor rooftop is found on top of the fabulous Quincy Hotel, which brings the essence of South East Asia to Melbourne.
The Q rooftop menu is filled with a great selection of both food and drinks. From creative and crafted signature cocktails and a fine slection of wines, to tasty and Asian-inspired small plates made perfect to share.
A place of duality, where you can sit back and relax a drink with views during the day, or visit for a pulsing and energetic bar experience at night.
THE Q
509 Flinders Ln, Melbourne VIC 3000
1.

East Village Sydney

/ Sydney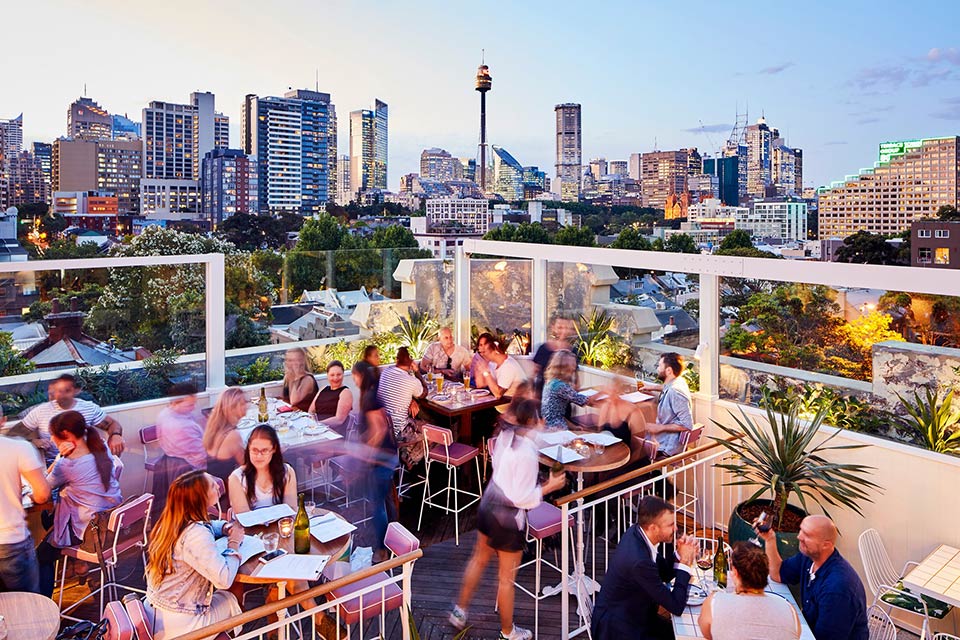 East Village Sydney - Photo: www.eastvillagesydney.com.au/
The multi-level and vibrant East Village Sydney is found in the heart of Darlinghurst, on the corner of Palmer & Liverpool streets.
While every floor of the venue has its own charm, it is the top floor rooftop terrace that really stands out. A lot thanks to the amazing views over the Sydney skyline, but certainly not only because of the vistas.
In a relaxed and friendly atmosphere you can indulge in modern and fresh dishes made perfect to share, as well as tasty signature cocktails and a great selection of hand-picked wines.
And you can do so year-round, with the East Village rooftop offering a colorful and Mediterranean setting with cooling mist jets and big umbrellas during the warmer months, turning into a cosy winter garden under the retractable roof during winter.
EAST VILLAGE
234 Palmer St, Darlinghurst NSW 2010
Collaboration