People of class, to this day, prefer not to drown in the sweat and noise of overcrowded stadiums for their sports matches. This aristocratic taste, today, is more accessible than ever.
What's classier than watching your favorite sports match play out from the comfort and peace of an elegant rooftop bar?
When you find out the answer to this, let us know!
Traveling to London, Vegas, Paris, or anywhere else to attend a sporting event worth your time? If so, do things the right way! Enjoy the action like Victorian nobility — from atop rooftop bars with an impeccable view.
Also, pick a reliable sport traveling agency; check this one out for instance, if you're planning to make things hassle-free.
For now, let's take a look at some of the most premium rooftops for sports events!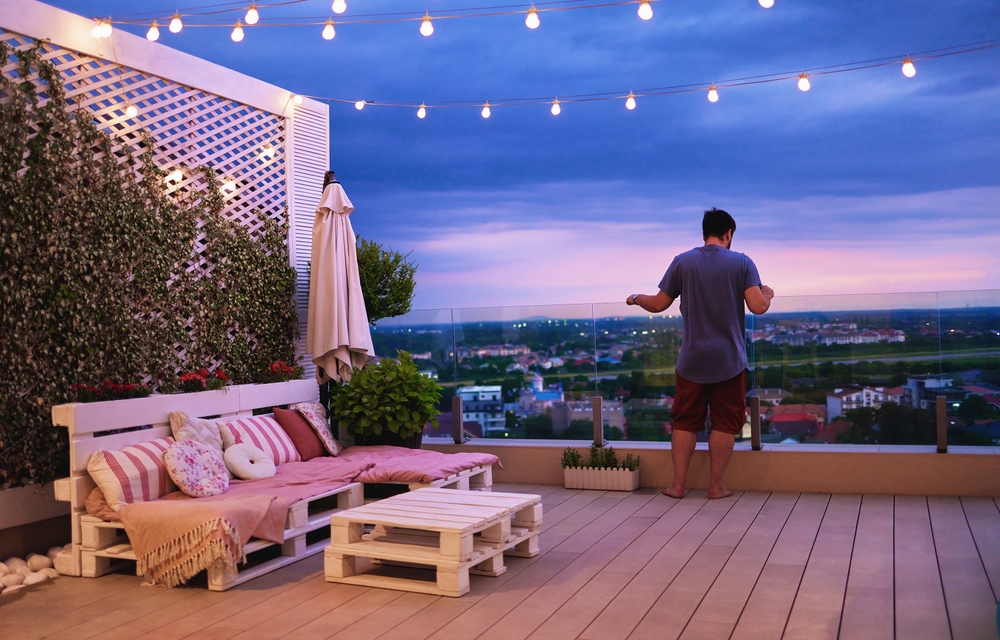 Skylight London Rooftop Bar, London
The Skylight London Rooftop Bar is open year-round to welcome comfort and fun seekers. Be it with a game of croquet or petanque during the summer months, or a comfy refuge inside a rooftop igloo in the winter months, you're sure to have a good time.
You can also enjoy your favorite sports matches on widescreens while enjoying the impressive rooftop ambiance. Or you can dive into action yourself with a game of ice hockey with fellow enthusiasts in one of the few rooftop ice rinks in all of Europe.
The food and drinks are also "to die for!"
Stadium Swim at Circa Resort & Casino, Las Vegas
If you're in Las Vegas and want to enjoy an ongoing sporting event live like an aristocrat, then the Stadium Swim is for you. Don't let the name deceive you — nothing is classier than or even compares to this rooftop bar.
You get to enjoy a crisp and lively view of the sporting event on a 40-foot-tall LED screen. All of this, as you take a swim through a private pool. As if heated pools and large LED screens weren't enough, you also get a sportsbook and a party environment.
Cafe Oz Rooftop, Paris
This Parisian rooftop bar brings a small slice of Australian feel and décor to the heart of European chivalry — Paris. Boasting an impeccable view of the nearby Seine River, this rooftop bar offers both a vast outdoor terrace and a covered space.
Not only can you enjoy the mesmerizing skyline of the City of Love but will also get to indulge in non-stop fun while you're at it. Enjoy the perfect mix of Aussie tone with Parisian romance, savory drinks, and exciting sports screening with crisp HD resolution.
Once you're done with the game, you can celebrate your favorite team's victory with night-long drinks, partying, and DJs.
What to Look For in a Sports Rooftop Bar
When browsing through your options in the host city, or elsewhere, here's what you should look for in a sports rooftop bar:
Impeccable Scenery
Nothing beats good scenery. Couple this with good weather, good company, and good drinks — now you have the perfect combo!
Riverside views, city skylines at nighttime, or a view of the stadium itself may be all the stimulation you need to stay excited.
Amenities
You can double the fun with amenities like pools, sporting opportunities, DJ, and so on.
While this is not a necessity, but come on, how can you miss out on so much fun?
Exquisite Food and Drinks
Enjoying the local cuisine and the finest drinks while you're rooting for your favorite team is sure to level up the experience.
Life-like Sports Screening
And of course, you need to be able to enjoy the game itself, the same (or better), with large, life-like screenings. Most sports bars have large screens with ultra-sharp resolution and a broad palette of colors.
Bottom Line
No matter which rooftop venue you choose for yourself, just be sure to go for something that resonates perfectly with you. If you're the kind of guy who's looking for amenities and a premium experience, then you can't settle for anything less.
Good for you, today, you can book whatever venue you like the most. Browse and compare listings on our platform, The Rooftop Guide, to pick what suits you the best. Enjoy your favorite sport and the perks of a rooftop venue!