Perspective is everything: in life, in parenting and, sometimes, when consuming tasty food and drinks in warm summer weather. There's something incredibly satisfying about the birds-eye view that makes us, at least for a little while, live in the moment and truly enjoy our experience.
The Family Backpack, a time-and stress-saving tool for parents researching and planning family vacations, knows firsthand that most kids appreciate perspective as well, whether it's looking down from an airplane window, riding inside a brightly-colored mechanical bug at the carnival or enjoying a meal with their family on the rooftop of a restaurant or brewery.
Milwaukeeans are fortunate to have numerous options when it comes to family-friendly rooftop experiences. We suggest taking children in the afternoon or early evening with a focus on kids' meals rather than cocktails, but hey, you got this.
So let's raise the roof for rooftop dining, Milwaukee! Here are six Milwaukee-based establishments with safe-for-families rooftops that will take you straight to the top.
Cafe Benelux
346 N. Broadway, (414) 501-2500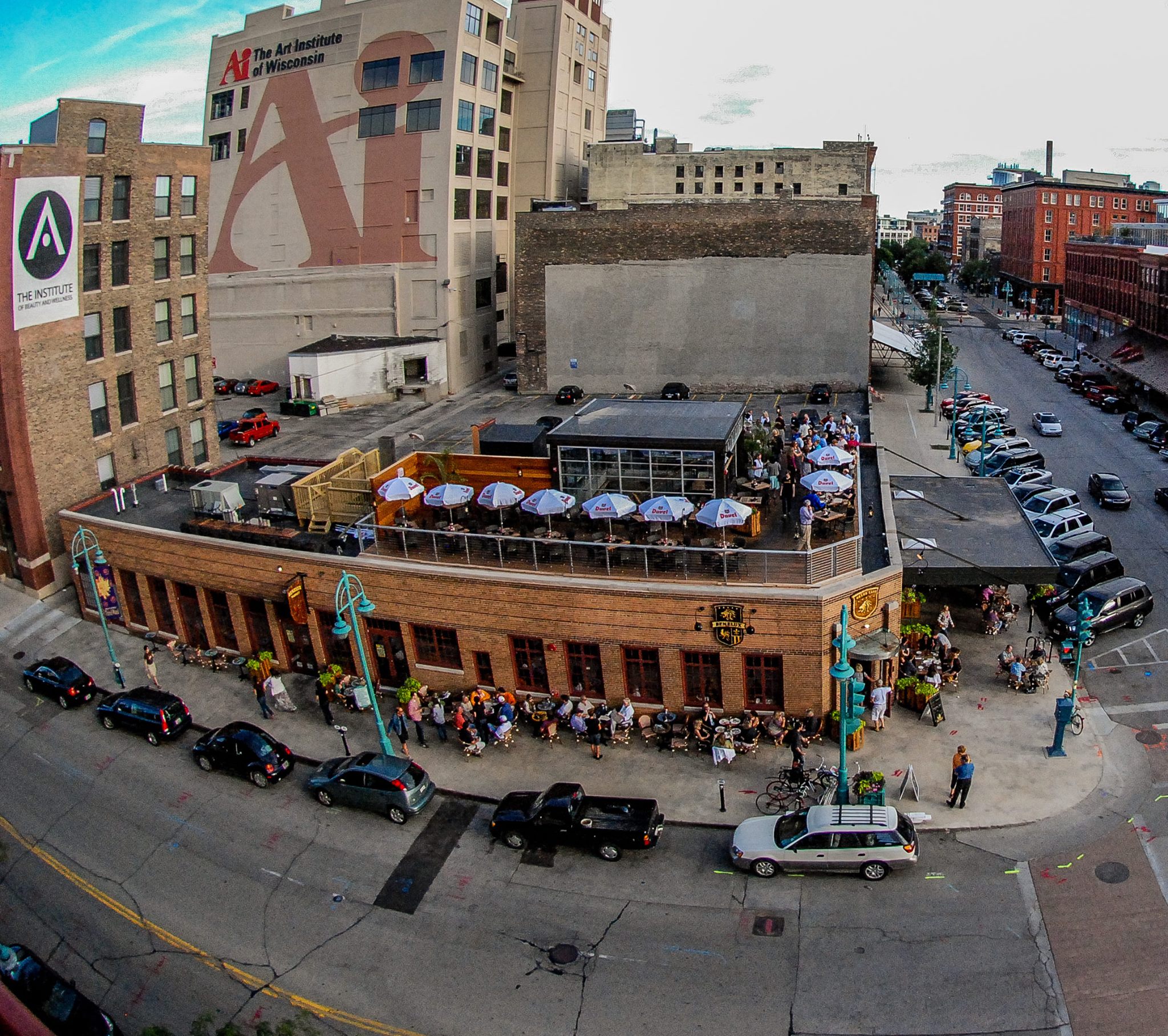 Photo cred: cafebenelux.com
Cafe Benelux boasts a large rooftop patio with a spectacular view of the Third Ward, a neighborhood that's both rich in history and tuned in to the latest trends. The cafe's tables have large umbrellas to ensure shade and breakfast, lunch and dinner menus for kids and adults. Benelux also offers a massive Belgian beer selection.
Camp Bar Tosa
6600 W. North Ave., Wauwatosa, (414) 763-3793
Located in the heart of Wauwatosa – a suburb so close to Milwaukee they're practically co-sleeping – Camp Bar Tosa has an open-air, second floor patio. Camp Bar was created in homage to the "Up North" cabin with quality, kitschy drinks – including 10 different Old Fashioneds– and mounted-deer-head-meets-knotty-pine-chairs decor that's comfortable for kids and nostalgic for parents.
Camp serves pizzas, battered cheese curds, soft pretzels the size of an incorporated town, gooey chocolate chip cookies and more.
Good City Brewing
2108 N. Farwell Ave., (414) 539-4173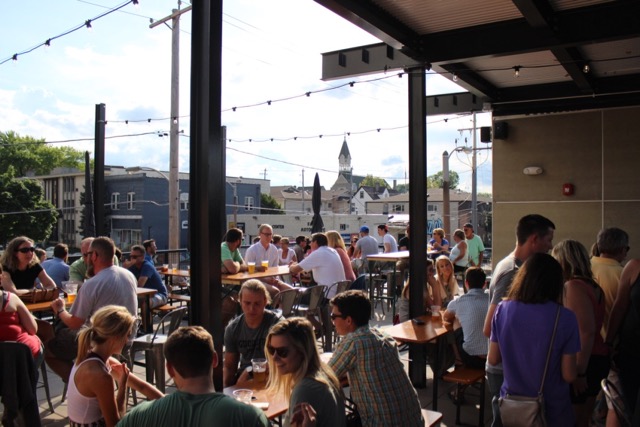 Photo cred: OnMilwaukee
This rooftop patio is ideal for grabbing a beer and a snack with the fam on a lazy Saturday or Sunday afternoon. Good City brews a variety of beers on-site and features a full menu that ranges from a grilled cheese or a burger to pork shoulders and pot pies. Good City also has a kids' menu and a solid offering of vegetarian items. Prost, parents!
The Outsider
310 E. Chicago St., (414) 291-3980
Photo cred: OnMilwaukee
The Outsider is located on the rooftop of the Kimpton Journeyman Hotel in the Third Ward. Although it's a coveted place for office happy hours and weekend date nights, kids would mix with the scene on a weekday afternoon.
The Outsider's menu offers small plates, Mediterranean-inspired craft cocktails and "mocktails." During the holiday season, The Outsider is open – with heating units on the patio – and serves a creamy hot chocolate, with booze or without.
Pizza Man
2597 N. Downer Ave., (414) 272-1745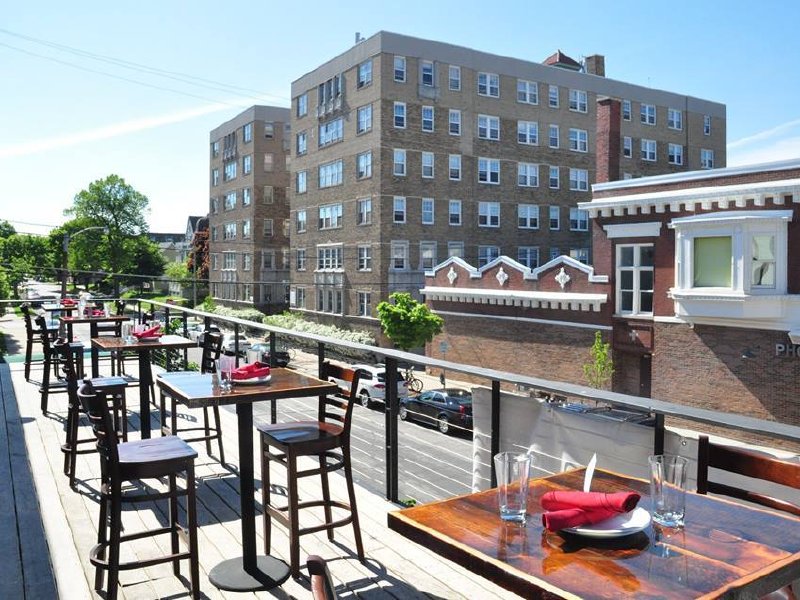 Photo cred: OnMilwaukee
This iconic Milwaukee restaurant burned down in 2010 and rose from the ashes with a bigger, better and more roof-toppy version of itself a few years ago. The wine list is seemingly bottomless and the pizza is available with a thin, pan or gluten-free crust. Sandwiches, salads and entrees are also available. Pizza Man's high-in-the-sky patio overlooks the equally-as-iconic Downer Avenue, historically one of the hubs for Milwaukee counter culture.
Red Lion Pub on Tannery Row
1850 N. Water St.
The Red Lion Pub provides the food, drink and vibe of England without the hassle of pond hopping. Kids are welcome here for brunch, lunch or dinner – and will get the chance to see a side of England that doesn't include wizards or talking trains.
The Milwaukee River is just West of the rooftop patio and the restaurant offers Wisconsin-infused British dishes, American favorites along with beers and cocktails that reflect Milwaukee-to-Manchester culture.
Info about the author:
Molly Snyder is a writer with The Family Backpack, an online guide designed to make family vacation planning easier. She is also senior writer at OnMilwaukee and the mother of two adventuresome teenaged sons. Molly's top travel dream is to return to Guatemala with her sons, one of whom was born in Guatemala City.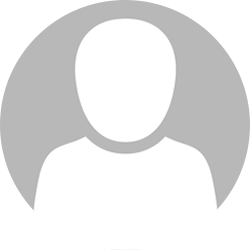 Written by:
Molly Snyder
For The Rooftop Guide