Singapore is among the world's most popular tourist destinations. This country showcases a hybrid of heritage and modernity, offering an experience of its rich culture. Besides iconic landmarks such as the Merlion statue and Marina Bay Sands, it also boasts accessible public transportation, cleanliness, and security.
Singapore's travel and tourism market is expected to reach 3.2 million USD in 2023 and a market volume of 4.2 million USD by 2027. As the city-state's tourism continues booming, and with the easing of pandemic travel restrictions, more tourists like you will be thinking about going there.
In Singapore, as in any country, traveling requires you to book a hotel. Finding a hotel can be overwhelming if it's your first time, so let us help you choose one. Read on to learn the best hotels to book for your travel plans in Singapore.
Singapore's Luxury Hotels
When you research, many Singapore hotels will likely pop up in your search results. With too many options, it can be confusing. Although the internet can give you many choices, it may be time-consuming to pick one. For these reasons, this section outlines the best hotels in Singapore you can book.
1. Sofitel Singapore Sentosa Resort & Spa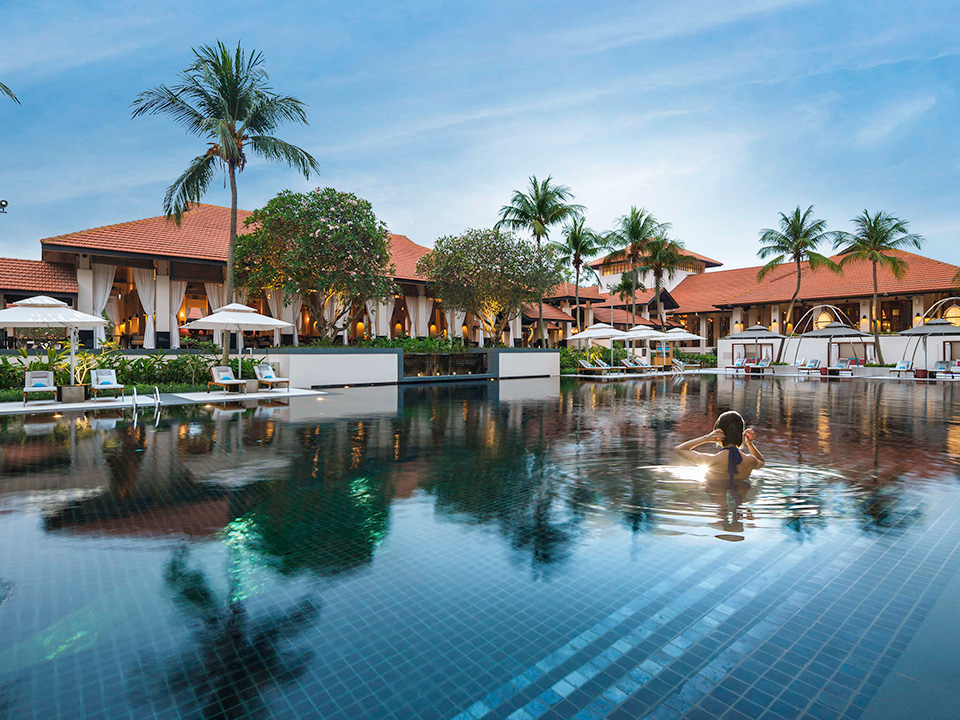 Photo: www.sofitel-singapore-sentosa.com
Set atop a cliff on the southern edge of Sentosa Island, Asia's favorite resort island, the 5-star Sofitel Singapore Sentosa Resort & Spa offers guests a haven of peace and tranquility.
Reminiscent of a Balinese resort, the beautiful hotel blends French design with Singapore's colonial heritage, spread over 27 acres of lush and tropical surroundings.
Offering several fantastic restaurants, the largest Sofitel SPA in the world, and direct access to the acclaimed Tanjong Beach, the most impressive feature at Sofitel Singapore Sentosa might still be the 33-metre long black pearlescent tiled pool.
Overlooking the South China Sea, the pool comes surrounded by lush greenery and large palm trees, as well as plenty of luxurious poolside loungers and cabanas. Perfect for hours of exclusive relaxation.
Add top class hospitality, and you sense that Sofitel Singapore Sentosa Resort & Spa is a prime option if you want to experience the tropical side of Singapore.
2. The St. Regis Singapore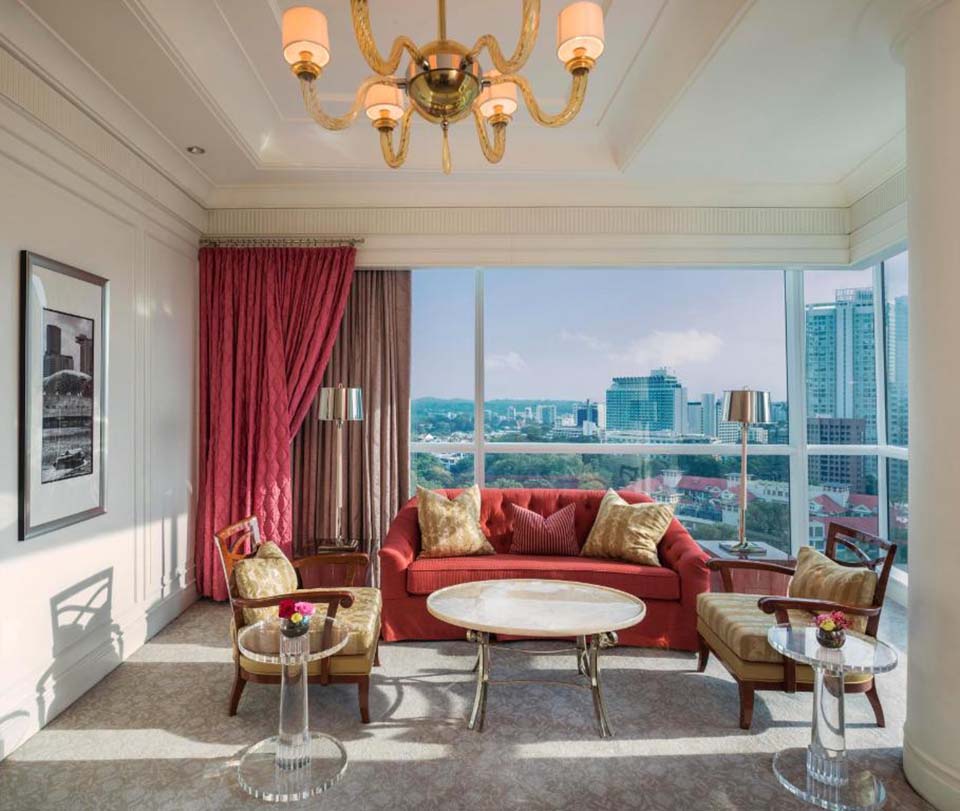 Photo: www.marriott.com/
If you're looking for a luxurious and laid-back stay, The St. Regis Singapore is the hotel to go to. Although situated in urbanity, this five-star hotel can offer comfort and quietness. Even its lowest-tier room packages can be huge enough to enjoy extravagance. This hotel has 299 sumptuous rooms and suites to choose from.
After checking in, you will be offered welcome drinks such as tea or hot chocolates. It also has exhibits with exquisite private artworks, including ones from Picasso. The St. Regis Singapore also has the luscious Remède Spa to pamper yourself.
Here, you can have a variety of foods: Japanese, Italian, Cantonese, and French cuisines. The one Michelin-starred Shinji by Kanesaka that offers premium sushi is there to satisfy your Japanese sushi cravings. You can also sip some cocktails at the Astor Bar.
The St. Regis Singapore is 20 minutes away from Changi airport. It is at Tanglin Road near the Singapore Botanic Gardens, a UNESCO World Heritage Site. You should book reservations, especially for weddings, anniversaries, and birthdays.
3. Raffles Singapore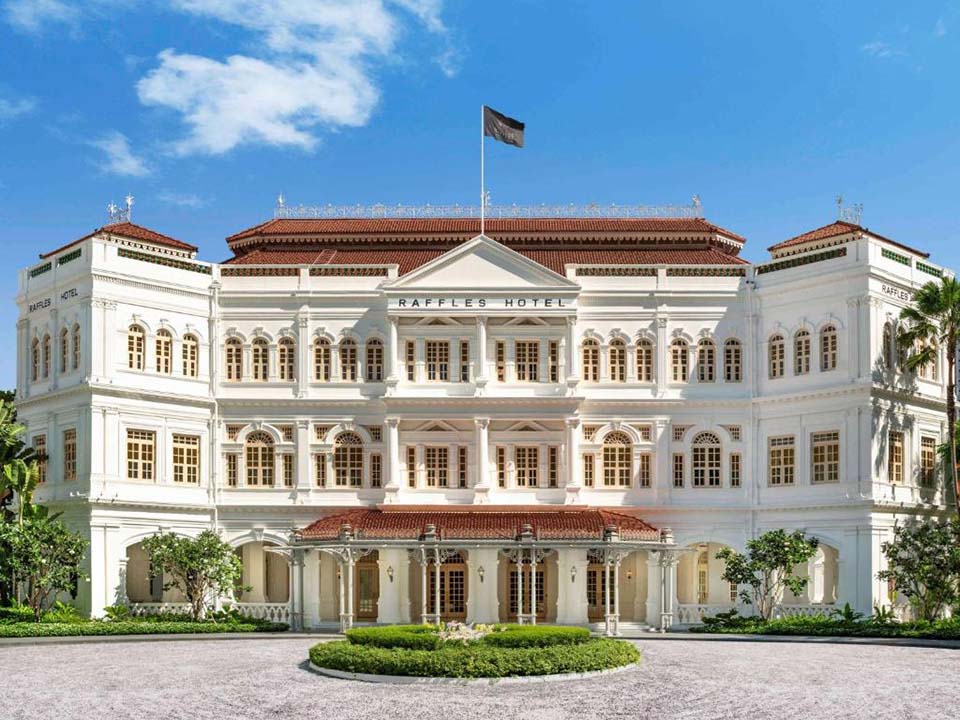 Photo: www.rafflessingapore.com/
Established in 1887, Raffles Singapore is a 19th-century hotel that lives up to its history. As soon as you arrive at the driveway, you will see the preserved historic facade of its 1900s look. Upon check-in, you'll be served afternoon tea while waiting. Once you're in your room or suite, the butler will ensure all the arrangements (dinners, spa bookings, and simple food orders).
This hotel has 115 rooms and suites with 24-hour butler services ideal for family staycations. For food options, you have 15 restaurants serving various cuisines to pick from. You're also in for a serene and ambient relaxation from its large outdoor pool, spa, and gardens.
Raffles Singapore is situated at Beach Road, with a five-minute walk to the City Hall MRT station and 10 minutes to Esplanade station, making it ideal for train trips you wish to make around the area.
4. The Fullerton Hotel Singapore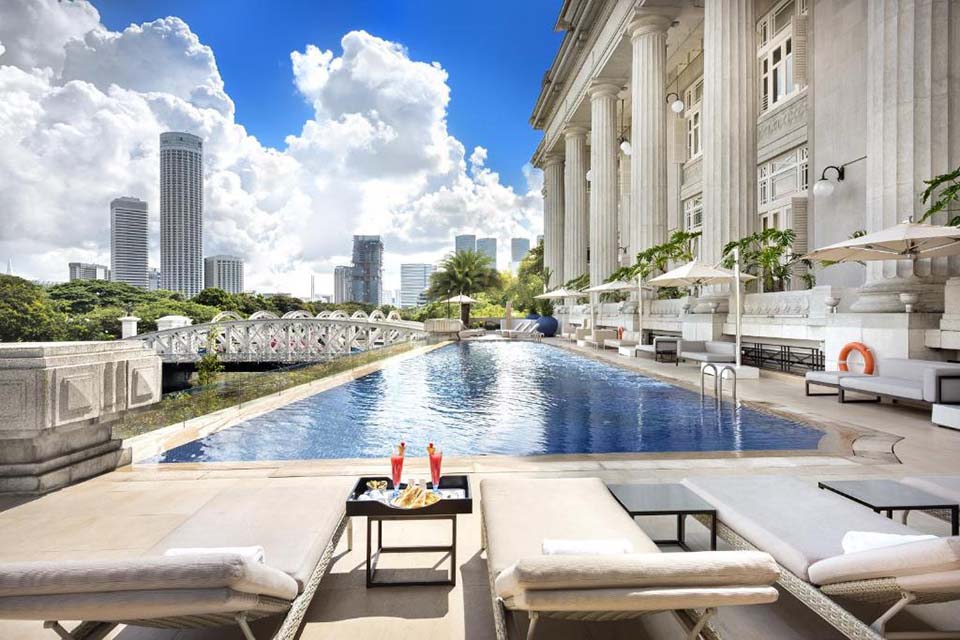 Photo: www.fullertonhotels.com/
The Fullerton Hotel Singapore houses some of the country's rich histories. In December 2015, it became Singapore's 71st National Monument. Founded in 1928, it was once the building where the Exchange, Chamber of Commerce, General Post Office, and Singapore Club stood. Now, it's a heritage hotel with 400 splendid rooms for tourists and locals to enjoy.
Walking into the lobby, the Fullerton Heritage Gallery showcases the hotel's historic establishment with complimentary guided tours. For rooms, you have panoramic skyline and waterside view options. To fill your stomach, restaurants offer global cuisines.
This hotel is located at Fullerton Square.
5. Shangri-La Hotel Singapore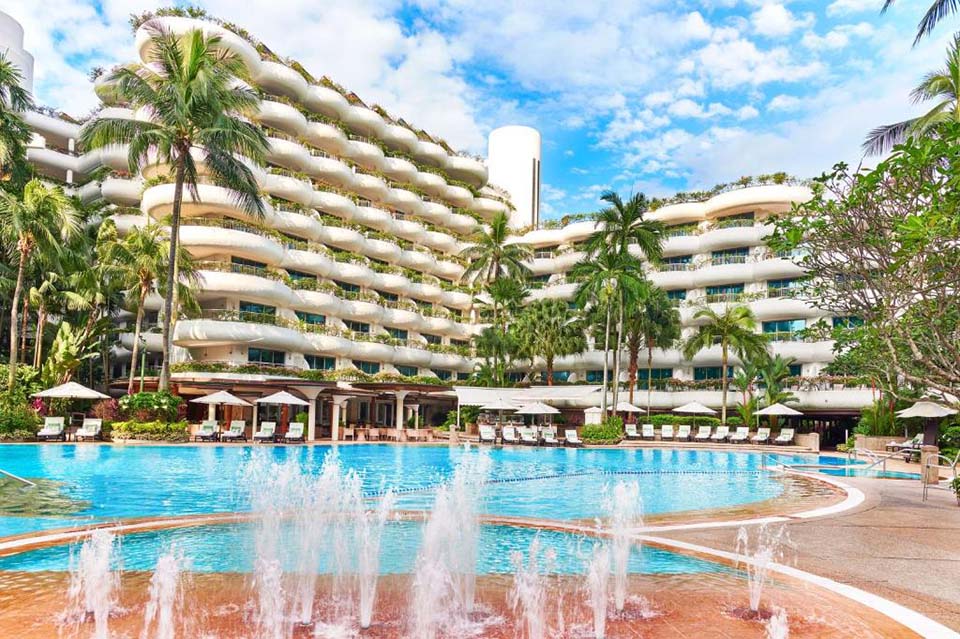 Photo: www.shangri-la.com/
If you're more into the tropical and earthy feel, the Shangri-La Hotel Singapore is the ideal hotel to book as it has 15 acres of stunning and open landscaped gardens. This hotel also has three towers (Tower Wing, Garden Wing, and Valley Wing) dedicated to various indoor and outdoor activities.
The foods served here include a Peranakan-inspired buffet with prawn noodle soup and deep-fried buns with chili crabs. Tower Wing's 24th floor has Nami, offering well-known Japanese cuisines. This hotel is family-friendly. It has 792 rooms and suites. Located at Orange Grove Road, it's a 15-minute walk to Orchard and Stevens train stations.
6. The Warehouse Hotel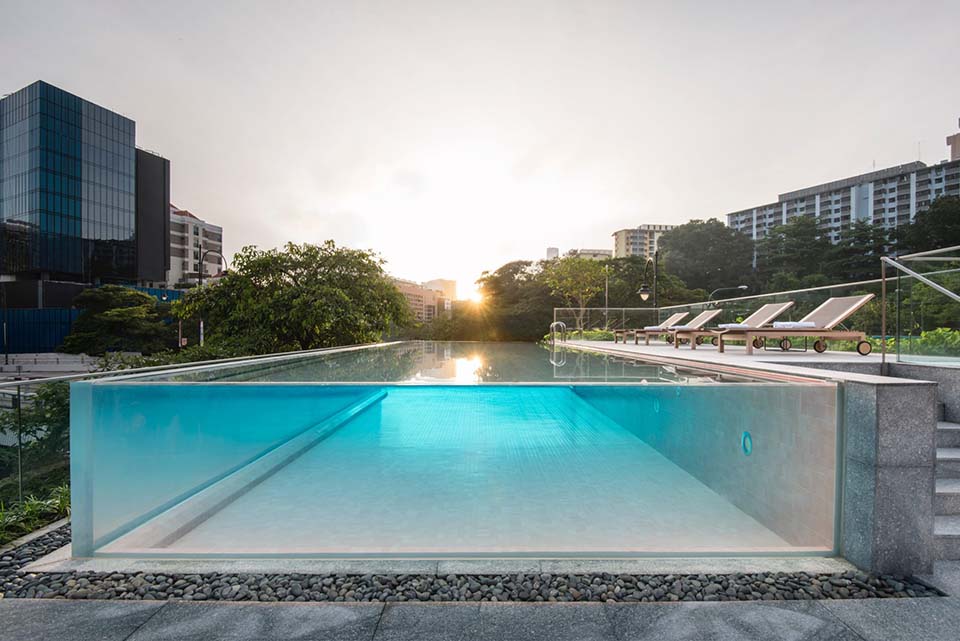 Photo: www.thewarehousehotel.com/
Situated along the Singapore River, The Warehouse Hotel has a 19th-century ambiance mixed with modern facilities and design. It features 37 rooms and suites with striking views of both the river and the city's skyline.
In The Warehouse Hotel, you can indulge in tasty local and international dishes, drink and relax at the rooftop bar, and swim in the infinity pool. It also presents Singaporean history, heritage, and culture. Clarke Quay, the nearest MRT station, is a 20-minute walk away. It is located at Havelock Road, Robertson Quay.
7. The Ritz-Carlton, Millenia Singapore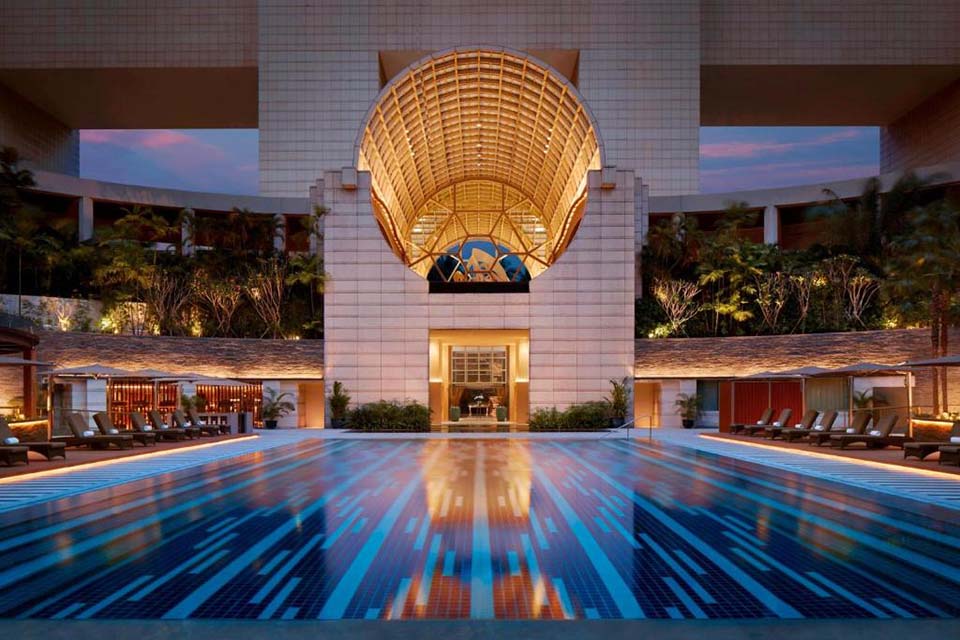 Photo: www.ritzcarlton.com//
Indulging the spectacular panoramic views of Marina Bay, The Ritz-Carlton, Millenia Singapore has spacious and well-appointed rooms and suites with windows catering to natural light. Besides the gorgeous Marina Bay, you can get views of the skyline and the Singapore Flyer here.
A world-class dining option awaits you through the Michelin-starred Summer Pavilion and other local and international cuisines. At the same time, it offers wellness services such as a spa, outdoor pool, and fitness center. The club lounge delivers a striking view, and it also has a 4,200-piece art collection.
The Ritz-Carlton is located at the center of Marina Bay. Book your reservations to enjoy a luxurious travel experience in this hotel.
8. Andaz Singapore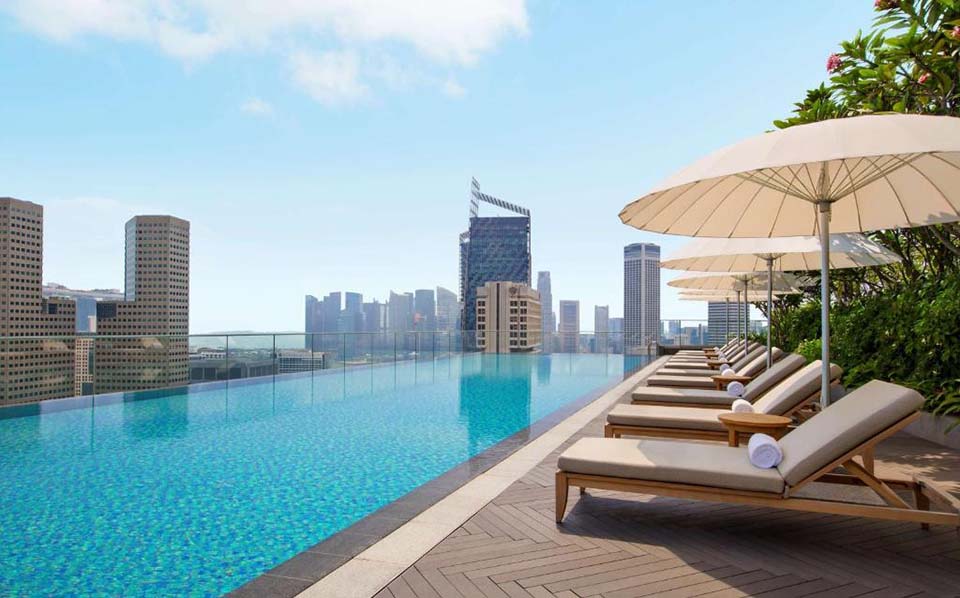 Photo: www.hyatt.com/
Andaz Singapore is ideal for leisure and business travelers. It features 342 rooms (26 suites) with soundproof floor-to-ceiling glass windows to enjoy the outdoor view.
Most of this hotel's designs are inspired by architect Andre Fu, embodying Singapore's urbanity. There is a multitude of artworks for art lovers to enjoy.
Here, you will eat your heart out on local cuisines from the six restaurants. It also has three bars from which you can sip some drinks.
This hotel sits on Fraser Street, near cultural districts such as Kampong Glam, Little India, and Bras Basah, which are excellent for cultural explorations.
9. InterContinental Robertson Quay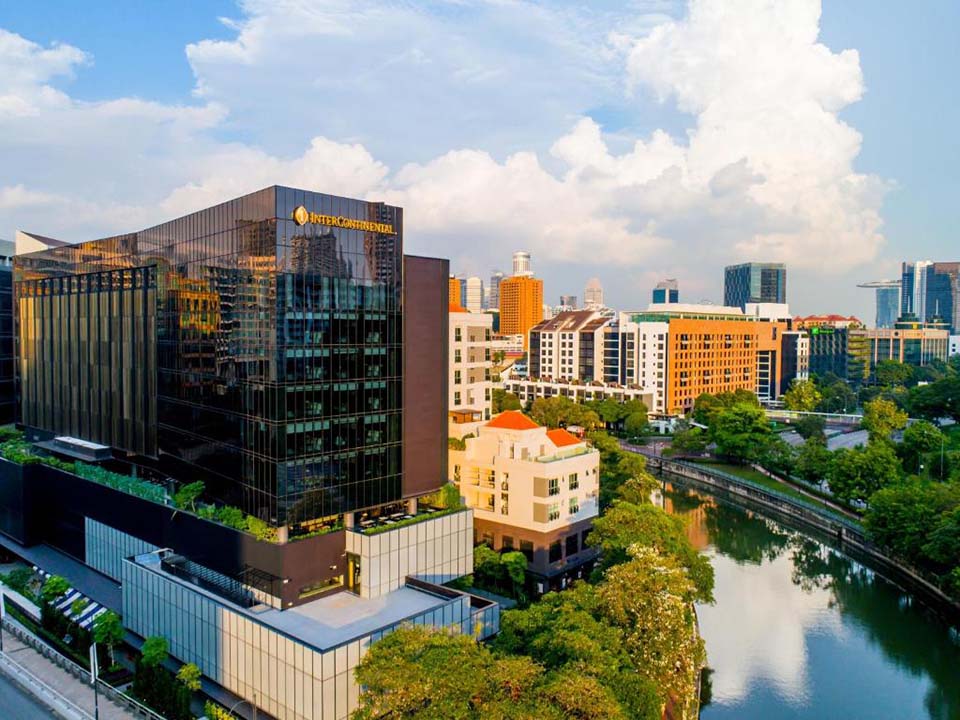 Photo: www.ihg.com/
Sometimes, a relaxing trip should make you feel homely, which is what the InterContinental Robertson Quay boasts. The hotel's 225 guest rooms and suites are equipped with modern amenities paired with relaxing natural light from floor-to-ceiling windows.
Publico Ristorante, a contemporary Italian restaurant, will satisfy your pizza, pasta, and other Italian food cravings during your stay here. The lobby also has a lounge perfect for cocktails, tea, coffee, and snacks. Although children are allowed, it's not entirely family-friendly. Suites are advisable for babies and toddlers since studio rooms may not have enough space to cater to them.
10. The Capitol Kempinski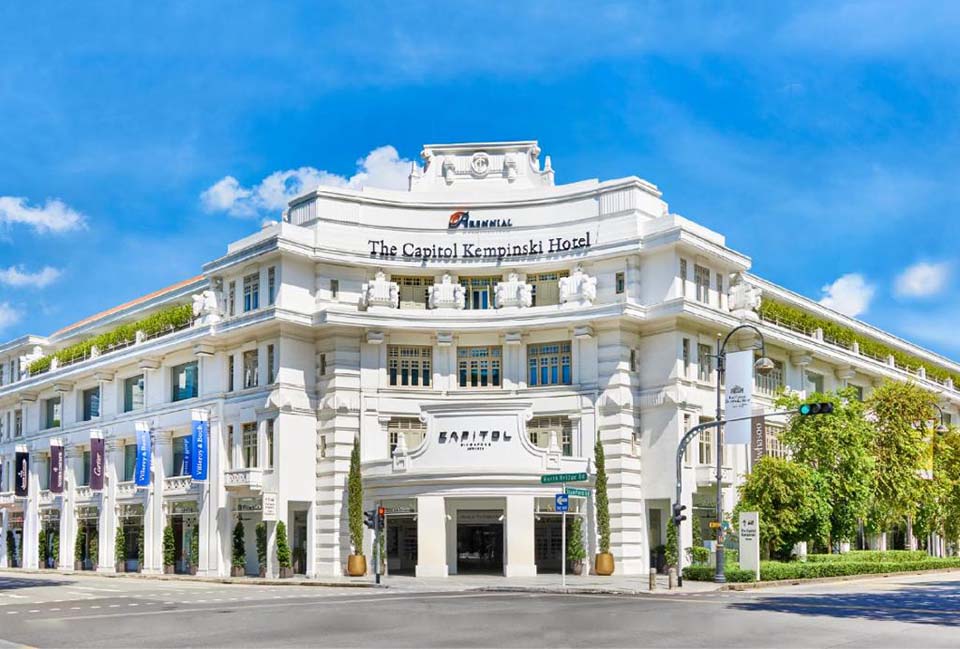 Photo: www.kempinski.com/
The Capitol Kempinski sits at the heart of Singapore's Civic and Cultural District, with heritage buildings built in the 1920s and 30s. It has 157 rooms and suites with different designs. Although there are grand windows, stunning views are limited.
This hotel's style and character blend history and modernity, representing Singapore's contemporary culture. It is also ideal for families through interconnecting rooms. Similar to other hotels, reservations are needed.
Enjoy Luxurious and Cultural Travels With the Best Hotels in Singapore
Overall, the best hotels in Singapore are grand and comfortable, which can be costly. All of them also offer wellness services and facilities. These options will help you decide what to book based on your itineraries, budget, and travel duration. Preparations are necessary to ensure enjoyment and worthwhile experiences, no matter what hotel you choose.