There aren't many spots that take vegans seriously, but that's beginning to change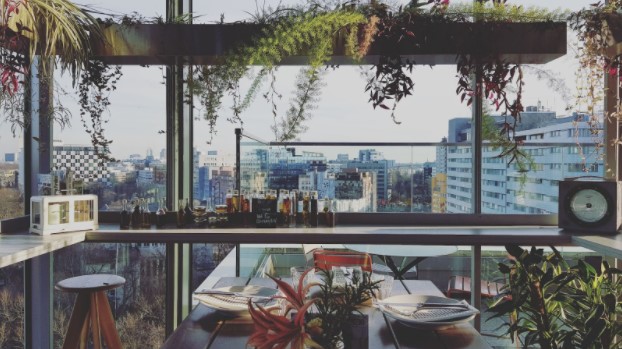 Everyone agrees rooftop bars and restaurants are awesome. You get the open air, scenery, and a sense of freedom that isn't available in any other setting. But finding a rooftop spot that serves good vegan food can be a bit of a challenge. It's not mission impossible, however, as choices – especially in major cities – are beginning to become more abundant and below we'll name some of the best ones.
It's probably too much to expect at this point in history. There are no major vegan-only rooftop spots that we know of, but plenty of places, from the swanky to the humble are offering non-meat options and trying to be vegan-friendly. To qualify as being 100% vegan-friendly, however, the establishment should have more on its menu than salad. We're talking about real food choices. Meat substitute classics such as vegan burgers and other bar-friendly vegan food, count too. So, let's start in London as the UK capital is a global champion in truly vegan-friendly rooftop bars and restaurants.
Skylight is one of London's better-known rooftop bars that also has an indoor cinema and sports screen. What sets Skylight apart is not only a food menu that's clearly divided into two equal categories for vegans and non-vegans but the spot also takes into consideration vegan needs when it comes to cocktails. For example, instead of mixes that use egg whites, you can order ones that use the chick-pea brine aquafaba instead. This focus on both food and drink for vegans – plus their delicious vegan dog – a plant-based Frankfurter, is why they come out on top. This place is about as vegan-friendly as it gets and to top it off, Skylight is not as pricey as some of the other options in the city.
Also, in London you'll find Bar-Elba with more than a couple of vegan options such as plant-based burgers, jackfruit taco – which is "sweet, yellow pulled jackfruit marinated in barbecue sauce, served on soft shell tacos on a bed of lettuce, onion, and tomato… topped with pineapple, fresh coriander, salsa, and lime." – Yes, please! Vegans at Bar-Elba can also dine on Mediterranean choices such as hummus and a sourdough pita. As noted above, London is the shining star of the vegan rooftop bar and restaurant universe.
Moving across the pond to New York City, we land on the RH Rooftop Restaurant located in the historic meatpacking district. The service there is described as fabulous and reviews promise "plenty of vegan choices." Not far away, the Refinery Rooftop restaurant in NYC – named America's number one rooftop bar for three consecutive years – is a great option, if you can get a table. This rooftop bar is part of the luxury Refinery Hotel so expect posh people and posh prices. While not abundant, there are vegan options and the view of the iconic Empire State Building is excellent.
To the west of the Big Apple, you rise up to Raised: an urban rooftop bar in Chicago, Illinois. Raised has gotten five-star reviews from vegans for its food options. The views from this rooftop of the center of Chicago are impressive and the chic interior makes it a delightful choice… if slightly pricey.
You would think considering its location in San Diego, California, that highly rated rooftop bar Rustic Root would have more vegan options but they are limited to one veggie/vegan dinner option and a Beyond Burger brunch option. Perhaps a better place for drinks than full meals for vegans. Staying in California if you want to experience Hollywood at its best you probably can't go wrong with the Waldorf Astoria Beverly Hills Rooftop by JG. Again, surprisingly considering its location, the vegan options are there but not abundant.
Moving down under to Melbourne, Australia, Naked in the Sky has been described as the best spot to view the Melbourne skyline while also being praised for its many vegetarian options… but slightly fewer completely vegan ones. More vegan-friendly in that city is the Fitz Cafe and Rooftop. The Fitz Cafe menu stands out for having two vegan options on their breakfast menu, vegan tapas, a plant-based burger option, eggplant Parma, spicy vegan dal, and more! –Good job, Fitz Café! Over in Sydney, you'll find a decent Beyond Beef burger at The Rook with the option of making it vegan, but to be honest the majority of patrons there are probably not people who have given up shrimp on the barbie.
India is known for its vegetarian and vegan choices and you'll find them at Blue and Beyond Rooftop Resto Bar in Kolkata, West Bengal. A charming location in a busy city. Finally, just in case you find yourself in Mandalay, north of the Burmese capital of Naypyidaw, and are looking for a rooftop option there is the Wave Rooftop bar. Burma – now officially known as Myanmar – isn't a tourist or business option at the present, but all things change and one day this delightful country will once again welcome visitors. When that day comes, check out Wave Rooftop.