Tips for Throwing an Unforgettable Rooftop Party
Published: October 14, 2019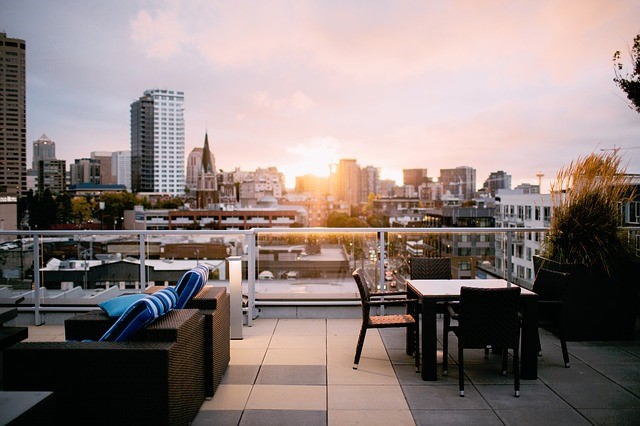 https://pixabay.com/photos/urban-city-buildings-skyline-2569550/
The holiday season is a few months away, but it shouldn't stop you from planning an awesome rooftop party for your office Christmas celebration. Rooftop parties are crowd favorites. One, it creates a welcoming ambiance. Two, rooftops have the best views. Three, it's easy to decorate. So, how do you throw an unforgettable rooftop party?
Add Some Shade
If you're planning to host a morning party, it would be wise to add some shade. You wouldn't want your guests squinting while trying to enjoy the drinks. Incorporate large umbrellas into your design to create enough shade for those who don't want to stand in direct sunlight.
Place Comfortable Seating
When you're hosting a rooftop party, you should think about seating. While guests like to move around and mingle, they would also appreciate comfortable seating areas when they get tired from dancing. Depending on your theme, you can add cushions and blankets. You may also want to arrange the chairs and lounge areas in a manner that allows for conversation. You can even select one spot as a designated photo area, and before you know it, your party makes it to Instagram as one of the best parties in the neighborhood. Remember not to put too many seating areas, so you also encourage socialization.
Decorate with a Purpose
Rooftop parties rarely need elaborate decorations. Most often, the key element that you need to add is lighting, particularly if you're planning a night party. Your decorations should not hinder the smooth flow of people. It should just be enough to make the guests feel that the party is well-thought out. If you can incorporate the lighting in the decorations, it would be a lot better. Add lanterns or colorful string lights. They create a festive mood and make for great lighting, too!
Food, Food, Food
One thing that makes a party successful is food. If you are renting a rooftop bar, make sure they serve good food. If your party starts at lunch, ask whether the bar has a lunch menu. If you are hosting a party on your building rooftop, make sure to prepare food in large batches, so you don't have to go back and forth, filling up the serving dishes. If you can, order a large pizza and cut it in bite sizes. If you don't have any kitchen skills, you can always hire a caterer to bring in food — just make sure to order enough for the duration of the party.
Drinks Galore
Of course, a party would not be complete without the drinks. If you're planning a family-friendly rooftop party, make sure that the child-friendly drinks are kept separate from the adult beverages. You wouldn't want to deal with drunk kids at the party. It's just unacceptable. If you're renting a bar, you might want to consider kid-friendly bars.
Jazz it Up with Music
Never forget the music. You can start the party with mellow and chill music as guests arrive so they can converse with other people. Change it up as the night marches on so that guests can show off their moves on the dance floor.
Corporate Housing
If you're planning to throw a rooftop party for your company's New Year's Eve party, you might want to consider renting corporate housing in your area. It would be convenient for your employees who might be bringing kids to the party to have a place to stay nearby. Corporate housing is often cheaper than a hotel, plus you can use the area as a place where your employees can convene before the party.
Rooftop parties are one of the easiest parties to plan and host. You just have to look for the best rooftop bar, or you can even use your rooftop to convert into a bar. It's all about creativity!