New Yorkers like to puff that their home turf is "the city that never sleeps," but Angelinos can offer plenty of proof that L.A. is no slouch in the nightlife department, with plenty of cool after-dark activities. Here is a rundown of fun things to do at night in Los Angeles, whether you want culture, a great place to eat, or take in a panoramic vista.
Nighttime Activities
Situated at a highpoint of Griffith Park, nested among the luxury enclaves in the Hollywood Hills and just a short way from the iconic Hollywood sign, the white domes of the art deco observatory are another classic L.A. landmark. Better still, their public telescopes are available for free use by members of the public all year round.
You can drive here, but the intrepid might like to take one of the two sinuous walking routes, the Firebreak Trail or Fern Hill Nature Trail (aka Boy Scout Trail), both of which are around 1.3 miles long and offer spectacular views of the city. A note of caution – these are not well-marked routes, so you'd be best advised to attempt them before sundown or join an organized group hike (see below).
Stargazers will appreciate the daily updates that the observatory post online telling you what to look for and where. Expect to pay for parking and for tickets to the Samuel Oschin Planetarium if you want to make a day of it.
A popular destination for fishermen, diners, and mild thrill-seekers alike, Santa Monica Pier is a historic focal point for both locals and tourists. Brightly illuminated and adorned with the 85-foot high Ferris wheel (the world's only solar-powered one), the pier has someone to offer everyone.
Described as "double-jointed," Santa Monca Pier comprises two structures dating back to 1909 and 1916, conjoined by the Pacific Park amusement park. Beyond the entertainment arcades and rides, the boardwalk extends a further 500ft into the Pacific, providing wonderful views of the L.A. skyline.
A range of restaurants and cafes extend along the pier - we'd recommend Mexican fare and margaritas as the sun sets at Maria Sol at the very end of the pier. Alternatively, for a beachfront view, while you watch the game, Big Dean's Ocean Front Café is an unpretentious local favorite.
For over twenty years, this Glendale attraction celebrating all things neon has been providing an after-dark "Neon Cruise" in a British double-decker bus. The tour includes the marquee lights of L.A.'s downtown theatre district plus Hollywood's glitz and glamour and culminates with Chinatown's sparkling pagodas.
The museum offers a unique insight into the development of "noble" gases for advertising displays, including neon and its sister elements (learn that Krypton isn't only Superman's home planet). If you would prefer to tour the city's illuminations on foot, the museum runs walking tours of the Miracle Mile, Chinatown, and Glendale.
If you haven't had enough of the bright lights just yet, Urban Light is a dazzling public artwork by Chris Burden, situated outside the County Museum of Art at Wilshire Blvd. The artist, who died in 2015, had himself deliberately shot with a small-caliber rifle for the 1971 conceptual work Shoot. Urban Light comprises 202 cast iron lampposts which once illuminated the city streets. They were assembled in a large grid from the artist's collection of restored street furniture, which began with a chance flea market find.
The installation is solar powered and switched on every night between dusk and 10pm.
Based at Universal Studios, Universal City, the CityWalk is a horseshoe-shaped enclave of restaurants, shopping outlets and, of course, a seven-story IMAX cinema with state-of-the-art LASER theater, making this the best screen in a town with no shortage of them.
Stores include Sketchers, Sephora and Abercrombie & Fitch and there are outlets selling Universal Studios and L.A. Dodgers memorabilia. There are plenty of places to dine out too, including Forrest Gump fans, the famous Bubba Gump Shrimp Co.
Visitors report that CityWalk is compact enough to see in one visit, and outlets are reasonably priced. It's open until 10pm nightly.
Nighttime Viewpoints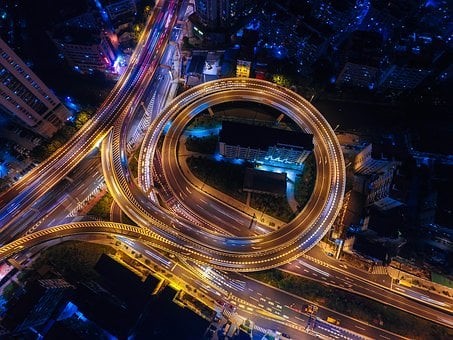 If that all sounds just a little too hectic and you'd rather head for a quiet romantic spot to watch the sunset and the Miracle Mile light up, we can recommend two in particular:
Not far from Universal Studios on Mulholland Drive (made infamous by David Lynch) you'll find the Universal City Overlook, a vantage point with scenic views of the San Fernando Valley and Verdugo Hills.
For those more energetic in their pursuit of a photo opportunity, join the Sierra Hiking Club for weekday evening hikes and monthly moonlit explorations of Griffith Park. Meeting at 7 pm, the group walks for approximately two hours, and hikes vary in difficulty, ranging from beginners (level 1) to strenuous (level 6).
Restaurants with a View
If all the hiking and touring is making you hungry, why not stop for a meal with a view of the bright lights? Our two top picks are:
Castaway in Burbank, which offers idyllic mountain and cityscape vistas, as well as a huge wine selection and a fascinatingly varied steak-forward menu. Diners have reported that it's one of the most romantic date venues in LA but do ask to be seated on the patio for the best views.
Alternatively, transport yourself to a Japanese mountain palace, at the Yamashiro Mansion, situated 250 feet above Hollywood Boulevard and named after a province near Kyoto, Japan. Opened in 1914, Yamashiro is a celebrated L.A. institution with an excellent sushi bar, ornate garden, and a huge collection of Asian antiques.
In summer, Yamashiro hosts the Hollywood Night Market with stalls, drinks, and live music. Remarkable panoramas of downtown Los Angeles are available from a range of vantage points within its lush grounds. Yamashiro is a feast for all the senses, its ornate pagodas contrasting with the gleaming Hollywood skyline.