A country of great tradition and the most unique lifestyle. A country of enormous potential and things you have never seen before and most likely never imagined. A hint for this magnificent place is one of the biggest countries in the world and most certainly the most inhabitant ones. Here is a small fun fact: over 1.2 billion people live in this territory. Of course, it is China. This fascinating country is home to a huge number of imposing buildings, and therefore, there are a huge number of skyscrapers. To this end, there are many rooftops that will enable you to see some of the most beautiful cities in China at full display. Besides, restaurants and cafes on these rooftops are considered to be some of the best places in the world. So, we have made a selection of a couple of rooftop bars that will completely blow your mind.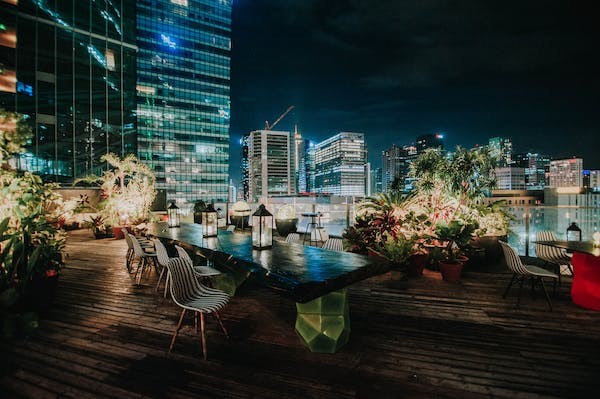 Do Not Let Language Be Your Barrier
Before we dive into some of the best bars in the world, it is important to tell you a couple of words about the thing that usually concerns tourists. Yes, you are right, it is language. Most people coming to China are concerned because of the language since they assume they will not be able to communicate, and there are some rumors that the Chinese cannot communicate in English. However, worry not, you can always learn a couple of Chinese phrases that can help you navigate the space and get what you want. So, why not try to practice speaking Chinese with a teacher on Zoom who is native and can lead you through this language and make sure to get all the things done correctly? These classes will not only help you order your drink but will also help you meet new people and establish conversations. Try these classes out prior to your trip and you will see how effective they can be. Now, when we have eliminated concerns about language, let us start with the bars. The River Terrace at Regent Chongqing Hotel is coming your way.
River Terrace at Regent Chongqing Hotel
The River Terrace at Regent Chongqing Hotel is one of the best spots for having a business drink and attending a social occasion with your friends. It is a once-in-a-lifetime experience since you will enjoy some of the best drinks while watching the sunsets over Chongquing. It is a modern and jazzy environment, decorated in alfresco decor and combined with a jaw-dropping view of the urban skyline and the Yuzhong and Jialing Rivers. The hotel is located at the top of the Jiangbeizyui financial center, which is at the same time the new bustling business district of Chongqing. The hotel is located just 30 minutes from Chongquing Jiangbei International Airport between the rivers Jialing and Yangtze.
Wooloomooloo
As interesting as the name suggests, it is one of the most attractive rooftops in Hong Kong. You will see why. First and foremost, it is located in the heart of Wan Chai. This rooftop bar is one of the best places you can visit in Hong Kong. To be honest, Hong Kong has numerous places that can offer you prime service. However, Wooloomooloo has it all doubled. The view that features Victoria Harbour, Wan Chai, and Happy Valley, combined with some of the best bites you will have a chance to taste in your life, will make this takeout one of the best life choices you have ever made. The taste of the steak at the steakhouse will become one of the memories you will cherish for a long time. The steak house is on the floor under the terrace, while the top is reserved for the rooftop bar. Another good thing about this rooftop restaurant and bar is the in-house DJ that will make the atmosphere go wild.
Migas Mercado
This restaurant is the perfect refreshment for the entire Beijing skyline. Foreigners usually, when visiting China for the first time, like to go local and taste fish in the local restaurants because of the unique way it is prepared and served. However, this place is the most unique Spanish-influenced Chinese fish restaurant you will ever encounter. It is located on the seventh floor of the China World Mall and features the entire Beijing skyline. It serves stylish fish dishes in combination with trendy cocktails. It has two parts, the rooftop terrace, and the cozy indoor part, from where you can observe and enjoy the sparkling lights of Beijing. You can have lunch or dinner here and then move to one of the top-notch clubs after dark or on the open terrace.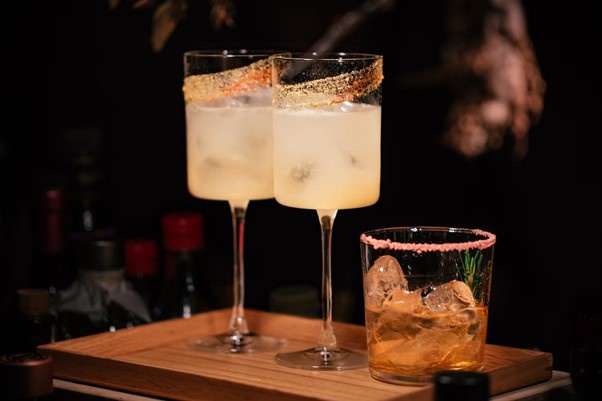 The Roof Bar
Imagine having fun 70 stories above the ground. Yeah, you heard it well. 70 stories. This unique experience is something that The Roof Bar in Guangzhou has prepared for you. Believe us, it is as impressive as it sounds. Engulfed in glass and floor-to-ceiling windows combined with a spacious and airy terrace, guests are offered the opportunity to enjoy a lively city during the day and vibrant lights during the night. The top bar is a perfect place to have your bougie cocktails or late-night drinks. If you are a fan of whiskey or cognac, then this place will make you super happy. The Roof Bar has one of the widest selections of these drinks in the town. Professional mixologists will make cocktails with next-level experience while they put their soul and body into making them in front of you. Moreover, the specially compiled selection of Asian and Western snacks will make your taste buds dance. First-hand tips, imperial caviar, and fine oysters in combination with a glass of premium champagne will make you remember why China is a lifetime experience.
China is the home of a great number of megapolises, which offer many rooftop restaurants and bars that will make your China visit unmatched by any other experience. You should go local and taste some of the greatest tastes to exist while reserving nights to enjoy the beautiful lights of the city.