The Biggest and Most Beautiful Sea Views
Published: August 19, 2019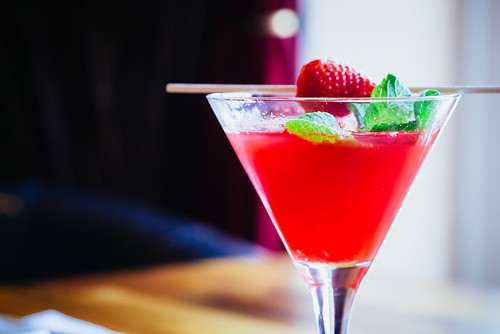 Caption: What could be better than enjoying a strawberry martini on the rooftop? Photo by daspunkt / CC BY 2.0
There's nothing like sitting on a rooftop and staring out to sea. Whether you're soaking up the sun with friends, or staring into a lover's eyes of an evening, there's a certain romance that only a sea view can bring. Whilst rooftop bars are undoubtedly something special, their ocean location gives these ones the edge.
Utopia - Capetown, South Africa
Capetown is fast becoming a place to see and be seen. Whilst it's had a rocky road to its new destination status, one thing that has always remained spectacular is this city's stunning landscape. With table mountain looming over the cityscape from one side and a plunge to the deep blue ocean to the other, if you're on a rooftop in Capetown, you're guaranteed a good view. For this reason it was really hard to narrow it down to just one rooftop bar, however Utopia clinches it. This elegant bar sits on top of the Mirage Building with a complete 360 degree view of its surroundings. That means that you can sip on a (delicious) cocktail and take in views of all Capetown's main attractions, including Table Mountain, Lion's Head, Signal Hill, The Waterfront and Table Bay! Remember to dress up a little, it's a classy establishment and in the right dress, it'll be a night to remember.
The Fairmont, Monte Carlo, Monaco
For those who want to rub shoulders with the elite, there's no place like Monte Carlo. Whilst Monte Carlo has its fair share of roof terraces, there's one that has views that are difficult to beat. The Fairmont in Monte Carlo has an unparalleled view, from one side taking in the breathtaking rooftops of the Casino Monte Carlo, home to the PokerStars Championship, in the other direction the bright blue Mediterranean. If you're lucky enough to be visiting the Fairmont whilst Monaco hosts the Formula 1 Grand Prix be sure to keep your eyes peeled - it's a favourite spot for many favourite faces! If you're feeling flush then treat yourself to a glass of Champagne whilst you peruse the menu. The food here is really something special, but be prepared to pay for it. A beer in a standard bar in Monaco doesn't come cheap, so champagne and a three course dinner on the rooftop of a fancy hotel, could be more than a few euros!
Couleur Locale, Athens, Greece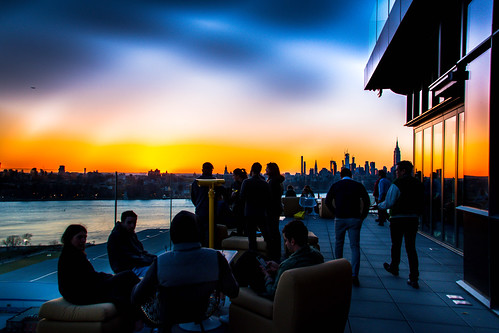 Caption: Is there a more beautiful place to watch the sunset? Photo by Maria Elkind / CC BY SA 2.0
This is a slightly more low key roof terrace, but in views alone it has more than earned its way onto the list. The entrance to this bar is hidden in the backstreets of the Monastiraki neighbourhood. Enter through a lift in an arcade and make your way up to the third floor. Once the doors of the lift open, you will be amazed that a place like this exists here. With a simple wooden terrace, decorated with vintage furniture, the focus at Couleur Locale is all about the view. Grab yourself a cocktail (nothing else will do, the cocktails here are truly works of art!) and enjoy the view of the magnificent Acropolis. Though most terraces are great at any time of day, there's something very special about being here in the evening. Wait until the lights on the Acropolis come on and the sun starts to sink behind the Aegean sea, it might just be the most beautiful place in the world.
Memmo Alfama, Lisbon, Portugal
Another city that's relatively new to the must-visit list is Lisbon. This colourful capital city sits amongst 7 hills, so finding uninterrupted views of the sea can be a little tricky. - that's where Memmo Alfama comes in. This rooftop can be found on top of the Memmo Hotel. Laid out in decadent white marble, this rooftop is a beautiful spot for a sunny afternoon. The outdoor pool is tiled in red to match the rooftops of the surrounding houses, another nice benefit of being red is that it holds onto the heat of the sun a little. Find yourself a lounger or a table dotted around the terrace and enjoy table service whilst you soak up that Mediterranean sea view.