30 amazing rooftops for a fantastic 2018 New Year's Eve party!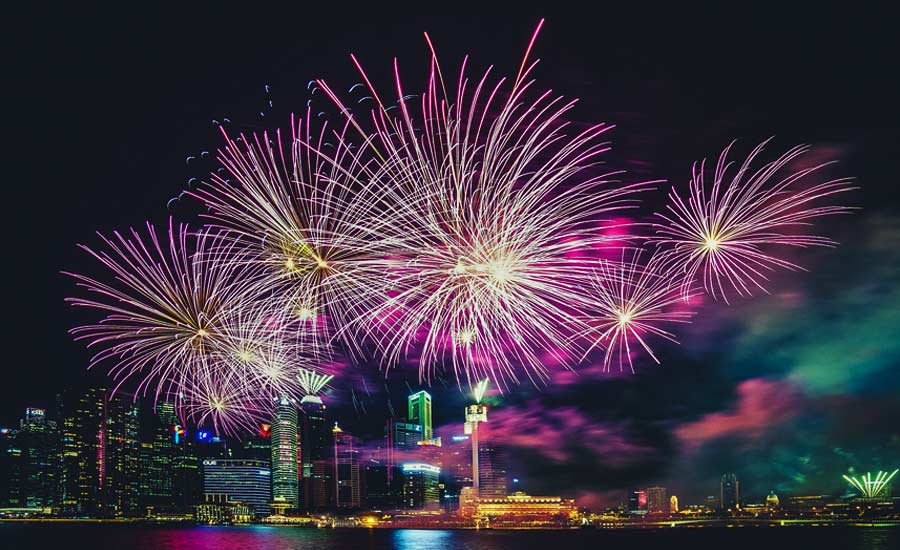 Bring on 2019!
Say 'hello' to 2019 on a high note, in all meanings of the word.
A New Year's party at a rooftop is probably the best place to enjoy both fun and sky-high vibes, while also getting the best spot to watch all the fireworks. If you would like to celebrate New Year's Eve at a rooftop and want to enjoy the fireworks with the best view, this is the list for you. All the way from Budapest to Sydney. Here's the best rooftop bars for a grand New Year's 2018/2019 (in alphabetical city order).
The capital of the Netherlands is probably most famous for canals, tulips and the city's Red Light District, but do also come with some very nice rooftop bars.
1.

SkyLounge

/ Amsterdam

SkyLounge Amsterdam is a place among the rooftop bars in Amsterdam where both tourists and locals meet up to drink cocktails and enjoy the stunning panoramic views. A great rooftop bar perched on top of Double Tree by Hilton. Evening and night time the rooftop bar transform into a nightclub with DJs playing until 03.00. An impressive wine list is complemented with a luxurious interior and a pleasant lounge-feeling.
---

About the NYE event

---
SkyLounge Amsterdam throws a glittering New year's party in gold. And the dress code applies to that as well. Dress in gold and party all night long with the city of Amsterdam as a mighty backdrop. Treat yourself with an oyster from the oyster girls and watch in amazement as the skyline of Amsterdam lights up with fireworks. Beats, cocktails, bites & spectacular views are a couple of words that describes this New Year's party! Pre-ordered tickets are needed, and then the doors are open from 9pm till 10pm. Seats at SkyLounge Amsterdam are on a first-come first-serve basis, so please be early to not miss out on a table or a seat. There is also a Combination ticket available, which will include dinner at the ground floor Eastwood Beer & Grill and also entrance to the Gold, Glitter & Glamour at the 11th floor SkyLounge.
When: December 31, Dinner: starting between 5.00pm-6.00pm, SkyLounge: 9:00pm – 3:00am (doors only open between 9-10pm)
Price: 1. SkyLounge only: Entrance fee €150.00 per person including a glass of Champagne and a surprise bite. Excluding other consumptions.
2. Combo ticket, Dinner at Eastwood Beer & Grill + SkyLounge: €240.00 per person including various starters, main dishes, desserts and a seafood bar at Eastwood + entrance fee at Sky Lounge with a glass of Champagne and a surprise bite. Excluding other consumptions.
Dress code: Touch of Gold, Glitter & Glamour
Other info
11th floor
Amazing party atmosphere
Be early to get a good seat
Great place to see fireworks
Ah, the tropical dreamland of sand, waves and palm trees. And even though you're not allowed to build higher buildings than the palm trees in Bali, there are some really cool places to drink with a view on this beautiful island
2.

Double Six Seminyak

/ Bali

With its 1 700 square meters, the Rooftop Sunset Bar is the largest rooftop bar in Bali. Located at the Double-Six Luxury Hotel in Seminyak, it really lives up to its name, as the views you get over the Indian Ocean, especially around sunset, is out of this world. Best enjoyed from one of the luxurious floating lounge-pods at the edge of the terrace. A perfect rooftop in Bali to see all the fireworks and the ocean.
---

About the NYE event

---
They call the party "Tropical New Year's Eve Party". The rooftop opens its doors at 4pm and will celebrate NYE until 2am. The party starts of with a Tropical Deep House soundtrack. Then there will be DJ and Sax Sunset Sessions, followed by a playlist of party music by the resident DJ. There will also be sunset packages available, as well as NYE party packages that include wines and party masks.
Bangkok, or 'the City of Angeles', is an ever buzzing city that offers an abundance of things to see and do. It is also considered as one of the world's top cities in terms of rooftop bars and roof terraces.
3.

Octave Rooftop Bar

/ Bangkok

A roof that extends over three floors and with a stunning 360-degree views across Bangkok. Here you can sit down in the comfy lounge furniture while peeking at the New Year's fireworks and enjoy delicious cocktails and tasty food. Located a little outside the city center, but the eventual taxi trip here is worth every penny.
---

About the NYE event

---
Begin 2019 on a high at Octave Rooftop Lounge & Bar. Free flow of drinks and cocktails, delectable nibbles and panoramic views, make Octave a great place to ring in the New Year. Dance the night away to live DJ's as you prepare for the countdown. Tickets include free flow of drinks and bar bites all night long.
You might think sun, you might think tapas, you might think strolling along the beach. Barcelona is a city filled with perks, so it is almost not fair that is is also one of the top spots in Europe when it comes to rooftop bars.
4.

La Dolce Vitae Majestic

/ Barcelona

Perhaps the best rooftop bar in Barcelona. Here you get a magnificent view over the city all the way to the Mediterranean Sea and the beach. The Majestic is a 5-star hotel located in the center of Barcelona. The prices are quite high, but the view, the drinks and the comfortable atmosphere makes a perfect rooftop bar to celebrate New Year's Eve at. Dinner is not available out at the terrace. But this is a perfect venue for drinks and to see the fireworks.
---

About the NYE event

---
Majestic Hotel in Barcelona hosts a grand New Year's dinner and party. Exclusive food from a luxurious set menu with delicatessen like Foie Gras, truffle and Dom Perignon. But it comes with a high price tag. If you like luxury, are a true epicurean and would like to celebrate the new year with one of the best views in Barcelona, La Dolce Vitae at Majestic Hotel is the place to be.
A city filled with history, divided in Buda and Pest by the Donau river. And while there are not rooftop bars on every corner in Budapest, there are a couple of the very highest class.
5.

High Note Skybar at Aria Hotel

/ Budapest

Budapest's best rooftop bar located on the luxurious and modern hotel Aria Hotel - which usually ranks as one of the best hotels in Hungary. The location is central and the view extends 360 degrees around the city. Many comfortable lounge furniture to settle down in. But dress warmly, Budapest is cold in the winter and this is one of few rooftop bars in Budapest that is open all year round.
---

About the NYE event

---
A New Year's Eve gala dinner, with a six-course culinary food experience paired with wine, theatric entertainment, live music and dancing in the new year. On the rooftop, DJ Andrew J is playing rock 'n roll and party tunes from the Old to the New year. At midnight there's a buffet available on the rooftop and drinks are included from 10pm – 2am.
One of the most luxurious cities in the world. Yachts, festivals, party, jet set and lots of fancy restaurants and bars. In other words, perfect environment for some high end rooftop terraces.
6.

JW Marriott

/ Cannes

A better location is hard to find in Cannes when speaking of a New Year's party. Overlooking both the beach, the sea and city. Here you have a front row seat in terms of everything. Large terrace with room for many guests. In the bar you can order both good drinks and a little simpler food from a bar menu. The hotel is located right on the beach boardwalk.
---

About the NYE event

---
JW Marriott Cannes are organizing a classic New Year's dinner with DJ from 7pm on the 31st of December. The setting is super luxurious and sophisticated. Dinner is inside in the restaurant, while you will be allowed up on the terrace around midnight to see all the fireworks over the Mediterranean Sea and the city. The terrace is the ultimate space to witness this amazing spectacle. The price is €249 and includes a 4-course dinner, welcome and midnight champagne, wine and mineral waters.
America's third largest city, the 'Windy City', one of America's best sports cities. With loads of sky scarpers, Chicago is also a top place for rooftop bars, offering views over both Chicago River and Lake Michigan.
7.

LondonHouse

/ Chicago

LondonHouse Rooftop is a fantastic tri-level rooftop bar, located right by the Michigan Avenue bridge and Chicago River. The tri-level setting consists of an indoor lounge, called LH on 21, the main and largest terrace called LH on 22 and the private dining space called Cupola. The terrace at LH on 22 have a superb view among the city's skyscrapers and out towards Lake Michigan and the Chicago River. Probably the best in Chicago.
---

About the NYE event

---
Enjoy the grand party with a General Admission ticket or book a VIP table for your group of friends. Passed hors d'oeuvres will be available throughout LH on 21 until 10:00pm along with a 4-hour open bar, party favors, a lively dance floor, confetti cannons, two live DJs and a complimentary champagne toast. A perfect setting for a great night.
The largest city in the UAE, ever growing and ever developing. Filled with luxurious places and also the the world's tallest building Burj Khalifa. And while that one do not have a Dubai rooftop bar up top, there a a lot of other great roof terraces to visit.
8.

Level 43 Sky Lounge

/ Dubai

A magnificent open-air terrace located 155 meters above ground. From up here you get a magical 360-degree view of the entire city of Dubai amid the skyscrapers in the downtown area. Grand views over all the famous monuments along with sunset views over the Jumeirah coastline. Quite large and very stylish terrace with a lot of lounge furniture's, along with a smaller indoor lounge with a cool bar.
---

About the NYE event

---
Level 43 Sky Lounge hosts a classic New Year's party with a buffet and different kind of options for drinks. Choose between the three different 'menus' available. The grand views and closeness to the skyscrapers makes this an awesome rooftop to celebrate the new year at.
The capital of the Tuscany region and a city filled with historical attractions. The easiest way (and probably also most cosy, fun and romantic) to get a good view over all the historic sites at once is to visit one of sveral great Florence rooftop bars.
9.

Plaza Hotel Lucchesi

/ Florence

Plaza Hotel Lucchesi Florence has a very luxurious rooftop terrace, showing off with a lovely rooftop pool and an American rooftop bar called Empireo, along with an absolutely stunning view of Florence skyline and the surrounding enviroment. From here you can catch the Doumo, Fiorentina's home stadium Artemio Franchi, the Arno River and see all the way to the Tuscany Hills.
---

About the NYE event

---
There's no full on party up here on New Year's. But you can book a table for a dinner at the hotel and then around midnight there will be a toast on the rooftop to ring in the new year and watch all fireworks over this beautiful and historical city. There's one meat menu and one fish menu to choose from. Both including wine package.
Truly a city of the world, with one of the most iconic skylines there is. Not only that, Hong Kong is the home of a bunch of fantastic rooftop bars, including the highest rooftop bar in the world. Overall a fantastic destination for any rooftop enthusiast.
10.

Ozone at the Ritz Carlton

/ Hong Kong

The world's highest rooftop bar located 480 meters up and with an outstanding view of the entire city of Hong Kong. The bar and restaurant is super luxurious and have a great party atmosphere. A much better place for a fantastic rooftop New Year's party is probably impossible to find in the whole world. Located in the Kowloon area of Hong Kong, about 10 minutes by taxi from Hong Kong Island, with views across the skyline.
---

About the NYE event

---
A grand party hosted by The Wizard of Ozone. Dorothy and her bunch of special friends will entertain you with interactive fun whilst the famous DJs Ari Houmous & Storm Mollison spin their records on the decks for the ultimate countdown to 2019. The highest rooftop bar in the world with views over one of the most iconic skylines you can find. The New Year's party at Ozone is something extra.
11.

Wooloomooloo

/ Hong Kong

Wooloomooloo Steakhouse Hong Kong have perhaps the best location of all rooftop restaurants in Hong Kong, located right in the heart of Wan Chai. There are actually two Wooloomooloos in HK, but it is the one at the 31st floor of the Hennessy building that offers an absolutely magical view of Wan Chai, Happy Valley and Victoria Harbour. The Wooloomooloo restaurant is a steakhouse with lots of fantastic meat dishes.
---

About the NYE event

---
Wooloomooloo will host a simple yet amazing New Year's party with one of the best views in Hong Kong. The tickets include two drinks and complimentary canapes that are served from 9:00pm. Expect a nice party vibe in a relaxed, yet luxurious environment. From the terrace you'll get a top-notch spot to see all the fireworks at midnight.
The capital of Malaysia has one (or two maybe) very famous and distinct marker: the Petronas Twin Towers. But they are by no means the only high buildings in the city, so it is quite easy to find great Kuala Lumpur rooftop bars with fantastic views over the city and all of Klang Valley.
12.

Fuego at Troika Sky Dining

/ Kuala Lumpur

The restaurant with the best terrace and view at Troika SkyDining is called Fuego. Fuego is a South American restaurant aiming to offer new tastes and a fun and festive atmosphere. The food is mainly focused on South American tapas and the cocktails are well made classics with a new twist. At the colorful terrace there is a festive and sophisticated vibe and the views you get over the skyline and the Petronas Towers are simply breathtaking.
---

About the NYE event

---
A classic New Year's dinner with two different menus to choose from. Supper is served from 10:30pm until late. Only dinner seats are available. With spectacular panoramic views over the Petronas Towers and the city, Fuego is an ideal place to see the fireworks and to toast in the new year.
Built on hills along the Atlantic coast, Portugal's largest city and capital is a lovely place with a great climate. And it doesn't matter if you want views over the water or the hills, a cosy place or a luxurious place. The array of Lisbon rooftop bars offers something for everyone.
13.

SEEN at Tivoli Avenida Liberdade

/ Lisbon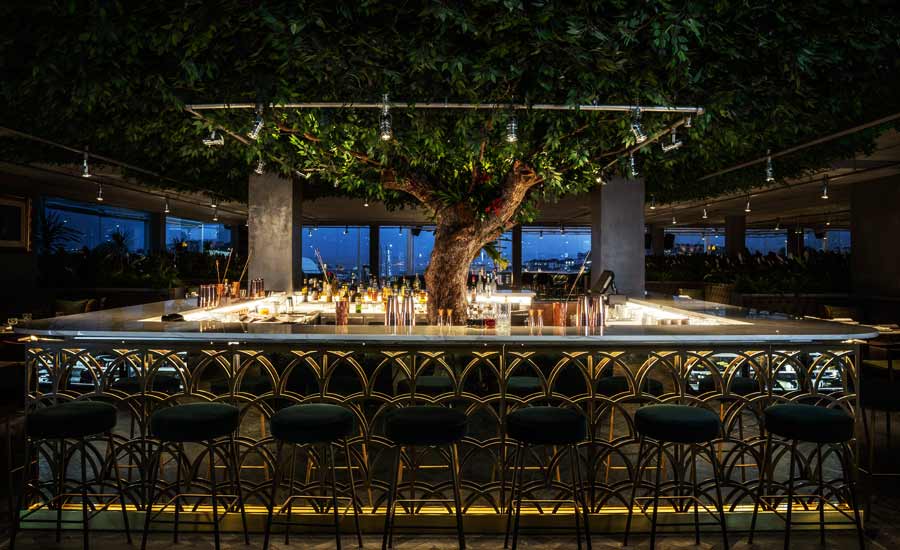 SEEN at Tivoli Avenida Liberdade
Located on top of the modern and chic Hotel Tivoli, right in the center of Lisbon, you find Sky Bar Lisbon and the rooftop restaurant called SEEN. The 9th floor location and open-air feel of the terrace means there is a really panoramic view of the city on display, from downtown all the way out to the river. SEEN has a unique concept guaranteed to excite Lisbon nights and attract the hippest and the coolest.
---

About the NYE event

---
New Year´s Eve celebrations at SEEN in Lisbon, which opened in November, offers, in addition to dining in one of Lisbon's most hyped environments, a live music party and open bar with fantastic cocktails to toast in the new year with. At midnight, the fireworks will illuminate the skyline of the capital and guests will find it difficult to resist prolonging the fun with accommodation at the hotel and a buffet breakfast on the first day of the year.
The largest city in Europe, filled with history and happenings and visited by millions and millions every year. And while the climate is by no means tropical, it is not as bad as many will have you belive, resulting in a great range of London rooftop bars. From playful and relaxed ones to really luxurious venues.
14.

Bokan 39

/ London

Bokan is an easy-going and sophisticated hideaway, that transports you far from the city buzz of the busy streets below. The bar and roof terrace at Bokan 39 feature a specialist gin bar, rooftop daybeds, Sunday jazz sessions, all with spectacular and striking views of London. Explore a wide range of cocktails made by a talented team of London's top mixologists, who will create many innovative cocktails influenced by London's Docklands.
---

About the NYE event

---
There are two options for New Year's Eve at Bokan – one with a dining experience, and one for the bar.
- The dinner: Countdown to 2019 with a six-course tasting menu featuring beautifully plated dishes like seabass tartare; Scottish langoustine ravioli; aged Hereford beef filet 'Rossini'; rosewater and raspberry sorbet; and black forest manjari chocolate, black cherry sorbet.
- The bar: Enjoy Bokan 38th floor bar and 39th floor roof terrace whilst watching the fireworks as the clock strikes midnight! Choose between premium package or just an entrance ticket. More info below.
15.

Radio Rooftop

/ London

One of the most luxurious rooftop bars in London. The location is central and from the roof terrace you'll get fantastic panoramic skyline views over London and all it's famous buildings and monuments. This is one of the best and most famous rooftop bars in London, so expect a lot of trendy people on the terrace. Radio Rooftop is a perfect rooftop bar for a New Year's party or just to watch the fireworks.
---

About the NYE event

---
Radio Rooftop have a great evening planned for NYE with an amazing view of the fireworks. With panoramic views of the London skyline, you will be able to enjoy London's best firework display at midnight to ring in the New Year. Expect a night of luxury and delicious canapés and bowl food, open bar, live DJ set, entertainment and stunning views from one of the most popular rooftop bars in London. Doors will open at 8:00pm and the party will continue until late.
California dreamin', from the Hollywood Hills to the beaches of Venice and Santa Monica. Los Angeles is a city that probably do not need any further introduciton, and with location right by the pacific and a great climate, it is no surprise that it is a fantastic city for rooftop bars.
16.

Spire 73 at InterContinental

/ Los Angeles

Spire 73 is perched on the 73rd floor on top of the famous hotel called InterContinental Los Angeles Downtown. This is one of the highest rooftop bars in the world, and also the highest in the Western Hemisphere. The roof terrace offers spectacular views over the entire city. All the way from Hollywood to the beaches. Fire pits creates a cozy feeling among the different seats, everything from comfy lounge sofas, to classic bar stools and chairs by the edge. Except the fancy view, Spire 73 is famous for its bar. Delicious signature cocktails and a wide selection of different Whiskey's are available.
---

About the NYE event

---
Spire 73 hosts a classic New Year's party on the 73rd floor. The highest location to see all fireworks in Los Angeles. There will be live DJs performing and delicious cocktails and appetizers available for the thirsty and hungry ones. There are several different tickets available here. Everything from entrance ticket, VIP seats and Dom Perignon package. More info on price and options below.
The Spanish capital is one of the most vibrant and lively cities in Europe, and it is in the central parts of town that you find most of the Madrid rooftop bars.
17.

Picalagartos

/ Madrid

The terrace is perched on top of the luxurious hotel NH Collection Gran Via, with breathtaking city views in all directions. The space is divided in three different areas where you can sit. All with their own unique view. The biggest area has a big bar counter and a small DJ booth. The view from here is quite magical. Sweeping city views over Madrid, as far as the eyes could see, and in all directions depending on what area you sit in.
---

About the NYE event

---
Picalagartos hosts a classic New Year's dinner with a party on the terrace afterwards. The dinner consists in sharing plates for starters followed by 3 main dishes and some dessert. All drinks like water, beers, soft drinks and wines are included in the price. After the dinner, the party will continue on the terrace on the 8th floor, where a complimentary cocktail will be served.
Australias second largest city, located in the southeast part of this vast country. Melbourne is a vibrant city, filled with culture along with tons of great bars and restaurants. There is also quite alot of Melbourne rooftop bars mixing the bar, restaurant and vibes and also putting in some gran views as a cherry on top.
18.

Transit Rooftop Bar

/ Melbourne

Futuristic, stylish and industrial in setting, the Transit Rooftop Bar might only be two levels up but still offers magical views of the Melbourne skyline, the botanical gardens and the River Yarra below. Located on top of the Transport Hotel, which is actually not a hotel but a bar / restaurant complex with Transport Public Bar on the ground floor, Taxi Kitchen one floor above and then Transit Rooftop Bar up top. Situated right by Federation Square and the railway station, Transit has both indoor lounge and open-air terrace with quite alot of seating.
---

About the NYE event

---
Here you can spend an explosive and volcanic themed New Year's Eve amongst the fireworks of downtown Melbourne, presented by The LuWOW. The bar and terrace will be decorated in an extensive collection of tiki and jungle props, as The LuWOW puts on a great party to welcome in the new year. The live DJs from LuWOW will be playing an awesome dance mix of lost sixties tunes, rock and roll, rhythm and blues, twist, soul and anything great to shake your thang to. In other words, this will be a party to remember!
'The Big Apple', probably the most famous city in the world and arguably one of the best cities in the world when it comes to rooftop bars and terraces. If you cannot find a NYC rooftop bar suited for you, well, then you are one of a kind.
19.

230 Fifth

/ New York

Probably the best rooftop bar in the world during the colder days. The rooftop at 230 Fifth is equipped with some super cool rooftop igloos where you can sit on the terrace overlooking the NYC skyline while having the luxury of being cosy and heated. The views over Manhattan and the Empire State Building as awesome from up here. A perfect New York rooftop bar for New Year's.
---

About the NYE event

---
All tickets will provide access to both the penthouse and rooftop levels, providing two incredible parties in one night. When the countdown begins, all guests will get a complimentary glass of champagne to toast in the new year. You can reserve different types of tickets. Everything from single tickets, table for 2-10 persons or a private rooftop igloo.
20.

Monarch Rooftop

/ New York

Monarch Rooftop Bar is located on the 18th floor and is perched on the building's penthouse. From the terrace you get a stunning view over midtown Manhattan, and most of all, fantastic vistas of the famous sky scraper Empire State Building. Up here you find a rooftop bar and an indoor lounge, both very modern and stylish with a Scandinavian-chic feel, light and airy with lots of comfy lounge sofas and bar stools.
---

About the NYE event

---
Enjoy a 5-hour premium open bar along with complimentary amenities to include delicious appetizers, midnight champagne toast and festive party favors to boost your party feeling and holiday spirit. A perfect NYE party for partygoers, where you'll also find a live DJ playing your favorite beats of Top 40, rock, hip hop & dance. Although everyone receives quality service, take advantage of Monarch's special VIP seating options; indulge in Table & Bottle Service for larger groups or Couples Champagne Packages for you and your partner.
21.

St Cloud at Knickerbocker Hotel

/ New York

St. Cloud Rooftop is located at the Knickerbocker Hotel, just off Times Square in New York. From the terrace you get a lovely view of all the sky scrapers. In fact, you are right among them. An exclusive rooftop bar that is luxurious and modern furnished. There are seatings both indoors and outdoors, which makes St. Cloud NYC a perfect place both in summer and winter.
---

About the NYE event

---
Ring in the New Year with an over the top celebration just 150 feet below the Times Square Ball - the closest live view of the event in the world. To attend the New Year's party at St Cloud rooftop, you need to stay at the hotel overnight. The accommodation includes countdown to 2019 from a guest room atop Times Square. Perfectly designed with every conceivable amenity for today's discerning travellers. There're two packages available. One regular (Gold) and one VIP (Platinum) where you get some extra benefits. More about that below.
The home of samba and carnivals, Rio is also one of few places in the world where you can find rooftop bars with breathtaking ocean, city and beach views. With an average temperature between 25-30 degrees celsius all year round, Rio is always a great destination.
22.

Fasano

/ Rio de Janeiro

Fasano Rooftop Pool Lounge is ranked as one of the best rooftop bars in the world. Here you get a magical view of the Ipanema beach, Rio's skyline and the sea. At the rooftop bar you can order refreshing drinks, juices and tasty food with a fantastic service. Everything here oozes quality. The interior is very luxurious with a large swimming pool in the middle of the terrace.
---

About the NYE event

---
Fasano Hotel hosts a classic New Year's dinner in a fancy and luxurious way. Guests are welcome in the lobby at 7:00pm to enjoy a glass of Champagne and some appetizers. Dinner and the suggested wine list will be served at Fasano Al Mare Restaurant around 8:00pm. At 11:30pm the terrace opens up on the 8th floor, where all guests are welcome with complimentary cocktails. The view from up here is magical and you can see all the fireworks over the ocean and city of Rio.
The 'Eternal City', the capital of Italy and also the country's largest city. A heaven for both the lovers of food and history, which is probably easiest and best mixed at one of Rome's rooftop bars. Order some great cuisine, drinks and enjoy vistas of all the historical sights.
23.

Hotel Raphael

/ Rome

Hotel Raphael Rome has a very cozy and genuine roof terrace, that also holds a restaurant called Mater Terrae. Here you can expect very good service, great food along with cooling drinks and Prosecco. And a magnificent 360-degree view over Rome. The whole hotel has an organic orientation, and this shows at the terrace and restaurant also. The food is vegetarian, biological and biodynamic and most of the wines from the extensive wine list are organic. So, a visit at this rooftop bar is not only good for the taste buds, but also for the soul and the environment.
---

About the NYE event

---
The NYE dinner is held at the sixth floor at Mater Terrae Restaurant where they will offer a vegetarian tasting menu, using only the best organic and seasonal products. The menu is made by the Chef Ettore Moliteo, studied by the Michelin Star Chef, Pietro Leeman. Dinner will be served in the inner part with large windows from which you can admire the beautiful view of the romantic city of Rome. At midnight all dinner guests will be provided with a glass of champagne and organic lentils on top of the terrace to celebrate the arrival of the new year and admire the beautiful fireworks. For those who prefer to celebrate after dinner, there's a possibility to book a table on the terrace only with the proposal of champagne and organic lentils.
Located in southwestern California, right at the Pacific Ocean and the border with Mexico. San Diego offers a mix between beach and city vibes, and the rooftop bars available does just the same.
24.

Altitude Sky Lounge

/ San Diego

Altitude Sky Lounge is a stunning rooftop bar in San Diego, overlooking the city skyline. Here you can also see into the famous arena where the baseball team San Diego Padres play their home games. On match days people jostle along the railing to get a glimpse of the match. When there is no match, then Altitude Sky Lounge is the perfect place for after work or just some relaxed hangout. Good drinks, great service and a modern decor.
---

About the NYE event

---
From the lobby all the way up to the 22nd floor Altitude Sky Lounge, you can enjoy free-flowing champagne, unlimited well-drinks, domestic beers and two of San Diego premier DJs plus an exceptional selection of gourmet food stations. A lot of food is being served throughout the evening and with the free flow of drinks, you'll have everything you can ask for up here. Sashimi, Nigiri and fresh rolls at the Sushi Bar and carving stations, assorted desserts and a chocolate fountain to please your palate. And all this to the fantastic price of just $189/persons. Enjoy all this to the magical city views of San Diego where you also can see the fireworks in a great fashion.
Southeast Asia's smallest country, but a grand and very modern city in itself. The Singapore rooftop bars are some of the best in the world, offering modern and luxurious settings, great views and in many cases ,fantastic rooftop infinity pools.
25.

CÈ LA VI at Marina Bay Sands

/ Singapore

CÈ LA VI is a large and impressive place, and for sure one of the best rooftop bars in Singapore, and even in the world. Split in two, here you find a restaurant and sky bar on one side (views towards ocean/Gardens by the Bay) and sky deck and club lounge on the other (views towards skyline/Marina Bay). A luxurious setting throughout, with both indoor and outdoor seating, where the terrace comes with large red umbrellas, dining tables, comfy lounge sofas and bar stools right by the edge.
---

About the NYE event

---
CÉ LA VI has always been one of the most iconic countdown destinations in Singapore and the world. Dress for success in a luxurious setting and countdown to 2019 with CÉ LA VI's Glitter Ball! In collaboration with Dom Pérignon, the night is set to burst with festive sparks as CÉ LA VI Resident DJs liven up the atmosphere with dynamic and heart-thumping hits. When the clock strikes midnight, this celebration presents a front row view of the new futuristic musical fireworks.
26.

LAVO at Marina Bay Sands

/ Singapore

Lavo Singapore is an Italian-American restaurant with a luxurious feeling. Everything here oozes of quality. Food, service, design, view etc. The restaurant also has a fantastic roof terrace with panoramic views over the Singapore skyline and Marina Bay. The rooftop and restaurant are perched on the 57th floor of the famous Marina Bay Sands. The loungy and luxurious feeling makes this one of the best rooftops to celebrate New Year's at.
---

About the NYE event

---
Welcome the New Year and catch the dazzling Marina Bay Countdown fireworks display with LAVO at its countdown party from 10:30pm, complete with free-flow champagne, wine and selected spirits, and a lavish Italian buffet spread and signatures that include LAVO's famous meatball. 3-hour buffet and free-flow of drinks. Please take note that no tables will be assigned.
Sweden's capital is one of the most beautiful cities in the world. Charming and friendly, in recent years there has also been a boom of new and trendy Stockholm rooftop bars.
27.

Stockholm Under Stjärnorna

/ Stockholm

Stockholm Under Stjärnorna (Stockholm Below the Stars), located on top of hotel At Six, offers a spacious and colorful 1200 square meters terrace with three bars, a radio station booth, rooftop gym, plenty of different hang-out places and panoramic 360-views over the rooftops of Stockholm and Lake Mälaren's inlet. From the rooftop bar(s) you can order signature cocktails and endless classics, two different alcoholic slushies (Frozé and Friezling), beers and wine along with tasty international street food.
---

About the NYE event

---
The At Six New Year's party features food experiences paired with great people and the unexpected details. To attend the evening, you must book your overnight stay here. A glass of Champagne (or non-alcoholic) and a six course set New Year's menu in the restaurant, will be included. Wine pairing to your dinner is available for a cost of 895 SEK. You will also get exclusive access to Stockholm's most central rooftop – Stockholm Under Stjärnorna, where you can toast in the new year and watch the fireworks over Stockholm. A spectacular view!
Australia's largets city has it all: beautiful views, ocean, harbor, beaches, sky scrapers and fantastic restaurants / bars. And even though most of the Sydney rooftop bars are not perched at super high alltitudes, they do really come in numbers, and there is really a great selection of different type of roof terraces.
28.

Café del Mar

/ Sydney

Café del Mar Sydney is a luxurious rooftop bar that brings a slice of Ibiza right to Darling Harbor and the heart of the city. Both regarding the restaurant and rooftop terrace. Up here you get a beautiful view of the Sydney skyline and the waters of Darling Harbor. The very stylish indoor restaurant with floor-to-ceiling windows opens up to the large balcony terrace. With modern and comfy lounge furniture, blue and white shades and a cool outdoor bar, the beach club vibe is obvious.
---

About the NYE event

---
The party at Café del Mar will be held among spectacular Darling Harbour water views and fireworks display. All guests will enjoy Mediterranean inspired food, premium drinks and entertainment from the famous DJ Sandy Rivera along with supporting acts. There are both general admissions along with VIP and dining packages available with tickets from $99+ bf. Packages includes everything from beverages, canapés and access to Private Bar and VIP area.
29.

Royal Hotel Paddington

/ Sydney

This hotels gem is located on the 3rd and 4th floor, and here you'll find a cocktail bar called Elephant Bar & Rooftop. Up at the small but very stylish rooftop terrace you get fantastic views over the eastern suburbs of Sydney and all the way to the skyline. The decor feels somewhat like an English garden, with old style chairs, round tables and a green hedge framing the terrace, which is also equipped with heaters and cozy hanging lanterns.
---

About the NYE event

---
A classic and relaxed New Year's party in the outskirts of Sydney. Tasty canapés and drinks will be served throughout the evening depending on what kind of ticket you decide to purchase. Both the roof terrace and the 2nd floor are great places to gasp out over the city skyline and get a glimpse of the amazing fire works that Sydney so often boost of with.
Known as 'The White City' due to its fine architecture and heritage, Tel Aviv is Israel's second largest city, located at the Mediterranean coast. With a nice climate year round, the Tel Aviv rooftop bars can stay open all days of the year.
30.

SuraMare

/ Tel Aviv

Up on the 10th floor of an old parking garage in the heart of Tel Aviv you find (a bit surprising) this trendy and beautiful rooftop bar. Living up to its tagline "Drinks & Happy Food", SuraMare rooftop bar also comes with a fantastic view of the Tel Aviv skyline and surroundings. Urban chic lounge and terrace, similar to something you would expect to find in New York City.
---

About the NYE event

---
The rooftop at Suramare will host dinner as usual with extra focus on special cocktails, dishes and wines. A unique New Year's menu in other words. After dinner around 11:00pm there will be a big party on the terrace with spectacular views over Tel Aviv and the fireworks.