Rooftop brunch Chicago
Published: May 13, 2018
Brunch with a view at the best roof terraces in The windy city
How to spend a day in Chicago? That's a though question, especially if you are visiting for fun. Chicago has its own magical vibe. What you should know is that the city is all about mixing business with pleasure with a few cocktails and delicious bites in between.
Here's our list of the best rooftop brunch Chicago and how a typical Chicago rooftop brunch can feel and look like. If you're more interested in relaxation at a rooftop in Chiacgo, you can see the best Chicago rooftop pools here and read about rooftop yoga in Chicago here.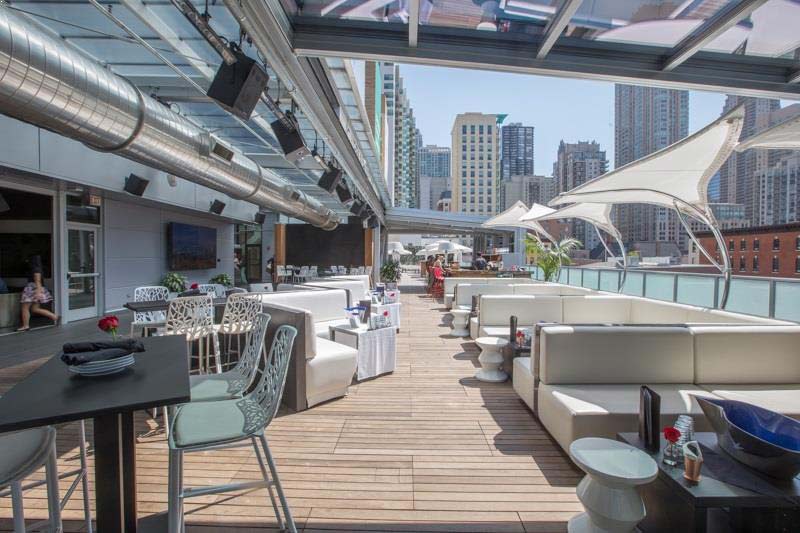 I|O Godfrey | Photocredit: I|O Godfrey
1. Fremont Chicago
No matter what time of day you decide to visit, Fremont keeps the vibe and the view just as breathtaking as you desired it to be. A weekend hot spot located in the heart of Chicago's River North area, and every Saturday and Sunday you can dress up and visit the Boozy Brunch with live DJs, lots of bubbles and a $40 brunch buffet.
For the real brunch-lover, the actually even have 'Brunch for Dinner' every Friday night.
Brunch served: Sat + Sun 10am - 4pm
Visit website: http://fremontchicago.com/
2. Twisted Spoke
If you are a foodie and an urban explorer, Twisted Spoke is the place that shall give you everything you need. It has a large list of delicious food and is a great place for a rooftop brunch in Chicago.
Choose from the menu (called Hangover Hospital) inluding great brunch bites, quality beers, cocktails by master cocktologist and spend a relaxing afternoon surrounded by the unique biker vibe that the interior designers have successfully mixed up.
Brunch served: Sat + Sun 9am - 3pm
Visit website: http://twistedspoke.com/
3. I|O Godfrey
The rooftop with the weird name immediately receives a 5-star rating. Let us just say: great staff, great menu, great view. What else could one possibly want for a great afternoon brunch?
Choose between a fresh start, like the 'Acai Bowl', more recovering dishes, like a 'Steak Benedict', all served with special brunch cocktails.
Brunch served: Sat + Sun 11am - 2.30pm
Visit website: http://iogodfrey.com/
4. Cindy's Rooftop
A nice and cozy afternoon in a rooftop bar in downtown Chicago sounds like the perfect plan to execute while in town. Cindy's can definitely help you out.
The beautiful terrace is surrounded by a surreal and picturesque landscape, overlooking Millennium Park and lake Michigan. The menu consists of fresh drinks and food, while the atmosphere is cozy and relaxing.
Brunch served: Sat + Sun 10am - 2pm
Visit website: http://www.cindysrooftop.com/
5. Tanta
Tanta is the second thing you can think of when someone mentions delicious Peruvian food. This amazing and full of character place is located on 118 W. Grand Ave, and is here to provide you with the best traditional Leche De Tigre Clasico, accompanied by an impeccable selection of their Chef, including habanero peppers, cilantro and choclo. The Tanta Chicago dress code is casual.
Brunch served: Sat + Sun 11am - 2.30pm
Visit website: https://www.tantachicago.com/