Digging Out the Best Rooftop Restaurants In Los Angeles
Published: June 3, 2019
Are you addicted to good food? Well, you are in for a delicious experience when you're in Los Angeles, California. A big reason people dine out is that they want a relaxing atmosphere as well as mouth-watering dishes. So, visiting rooftop restaurants in Los Angeles is a perfect idea.
You'll get a memorable and special L.A. vibe when you visit a rooftop restaurant in picturesque Los Angeles. You'll see a very beautiful view of the city from the above the streets or hills and really absorb everything from the golden beaches to the green hills and high mountains beyond. Nevermind L.A.'s legendary, romantic and sublime sunsets.
Now, the small (solvable) problem is that most people are unaware of the best rooftop restaurants. So here's some specific must-see L.A. rooftops to enjoy a delicious meal: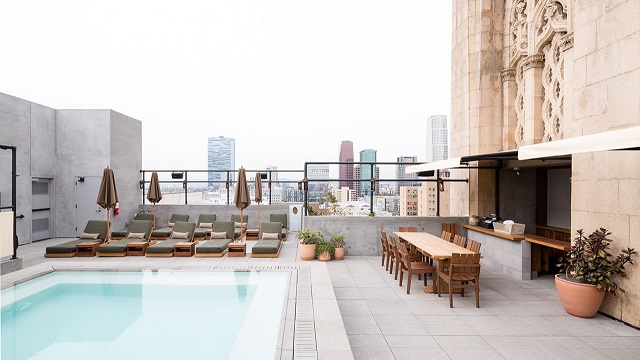 Top rooftop restaurants and bars to visit
The Nomad Hotel
One of the best restaurants to visit in Los Angeles is the Nomad hotel. The restaurant opened up in 2018. It features loads of quality stuff. You will also get a chance to enjoy different types of frozen drinks. They offer tasty bites, also like scallops. The best part is that they have a section for non-alcoholic cocktails too.
Petit Ermitage
The best thing about Petit Ermitage is that it is more of a hidden treasure. The ambience of this restaurant is perfect. It has a beautiful pool, and it serves like Classic American cuisine. However, if you want to dine at this rooftop restaurant, then you need to make your reservation in advance.
Spire 73
What makes this rooftop hotel stand out is that it has 73 stories. The best part is that you get to see different views of Los Angeles while sitting in this rooftop hotel.
Broken Shaker
Another rooftop bar worth visiting in Los Angeles is Broken Shaker. What makes this rooftop bar stand out is that it is colourful. The truth is that the ambience will inspire you to satisfy your appetite for bite menus and delicious cocktails.
Mama Shelter
If you're a fan of panoramic views, then you should make it a point to visit Mama Shelter. Now, this rooftop restaurant has so much to offer to the customers. The best part is that they offer some additional facilities also to relax the customers. They have a complete yoga studio. They serve quality Mediterranean food that you will not want to miss out by any means at all.
Food sources reveal everything
When you plan to dine in the restaurants mentioned above, then you need to keep one important thing into consideration. You need to have an idea about how they source their ingredients.
The top restaurants understand the fact that the food industry is a competitive business so you cannot afford to go wrong here. What most restaurants do is that they hire a professional food distribution service so that they can get hold of quality ingredients on time.
Cheetah- Restaurant supply online is one of the top food distribution services catering to the needs of some of the top restaurants in Los Angeles. The truth is when you have an idea about how a rooftop restaurant sources the ingredients, it instills confidence that your health is safe.
Most people never know where their ingredients come from but we're radically serious foodies and we insist we know so you can be sure our top listings are carefully selected. We know L.A. and fresh foods are our thing. Certain distributors just don't cut it and when we hear of one we know constantly messes things up - we see a pattern that the restaurant that uses them is also producing subpar dishes.